Our 2016 season started early again at Watergrasshill, just north of Cork City, on 3 January when Mallow Autograss promoted their fifth annual "Fun Sprint", supported once again by McNamara Motorsport. The first three Fun Sprints were held on New Year's Day but this year Mallow again settled for the first Sunday of the year and, like last year, this was a fortunate decision as far as the weather was concerned.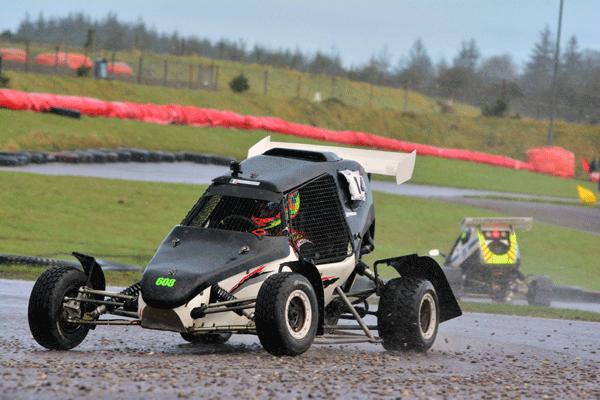 Most competitors and visitors had to battle through floods and road closures to reach the event, but once at the excellent facility of the Kartworld Adventure Centre, they were treated to a mild day of sunshine and showers.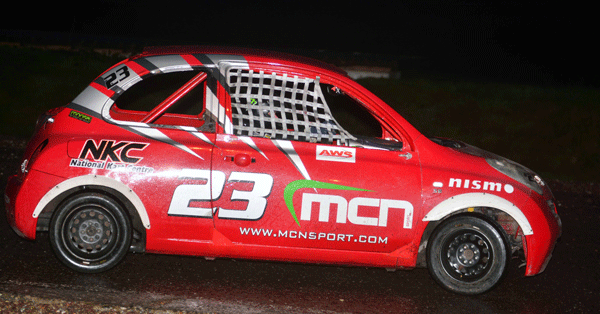 The twisty three-quarter mile tarmac track never had time to dry out between the showers and the conditions weren't in favour of the National Hot Rod star Dave Casey, who was aiming for a fourth consecutive overall win. The ideal machine for the day turned out to be the 600cc Autocross buggy of Christopher O'Callaghan, whose first visit to the event brought him a well deserved outright win, ahead of Jason Ryan's familiar 1600 Starlet rally car and the rapid 1300 Starlet Hot Rod of Kevin McGann.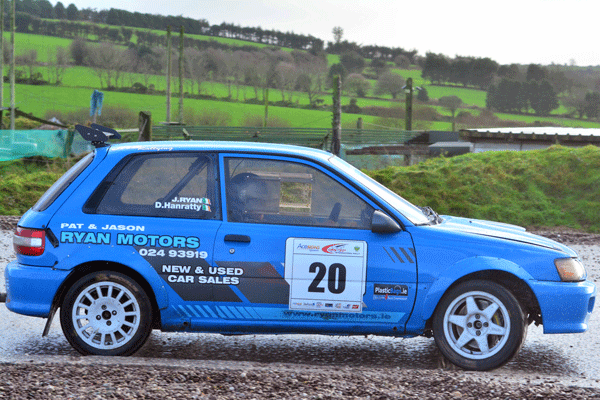 The entry was as usual oversubscribed, being restricted to 80 or so drivers due to limited pit space and the time needed to give everyone their money's worth; each driver had a practice lap followed by four timed runs of four laps each, with three cars on track at a time. Each timed run was separated by demonstration runs from four of Ireland's drifting stars, led by young Jack Shanahan, offering passenger rides for charity.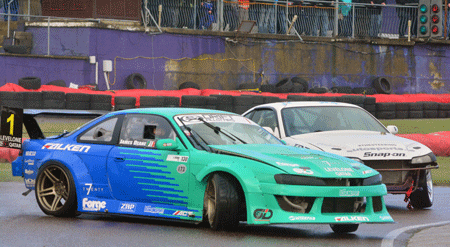 One remarkable aspect of the event, especially in the changeable conditions, was the consistency of the top drivers. 53 of the 82 starters managed to complete all four timed runs and 25 of these had ten seconds or less difference between their fastest and slowest runs. Sean Kenny's FWD Starlet Hot Rod completed all four runs with only 1.5 seconds between his best and worst attempts! Consistency was important as the results were calculated rally-style on the aggregate of all four runs, rather than on individual fastest times like a normal Sprint.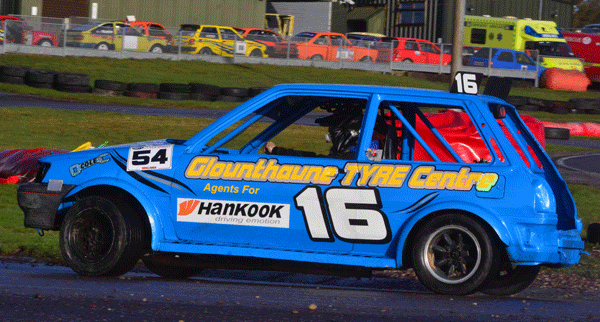 The number of Autograss cars taking part has dropped off, probably due to the impossibility of getting many grassers round the four hairpin bends that feature in the track layout, but several well known grassers appeared in other machinery and many more joined the good crowd of spectators.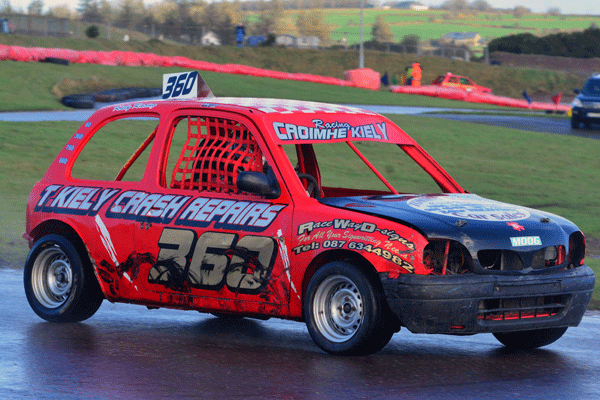 CLASS 1 catered for the Juniors with the 17 entries all in Hot Rod prepared Micras and Starlets. The same car actually took the top three positions. Sisters Caoimhe and Catriona Keily shared one of their usual pair of Micras to take first and third respectively, but they also let Conor Shanahan take a turn in the car after lunch (the hastily prepared Starlet that Conor was sharing with Mick Boland having broken) and Conor stole second place.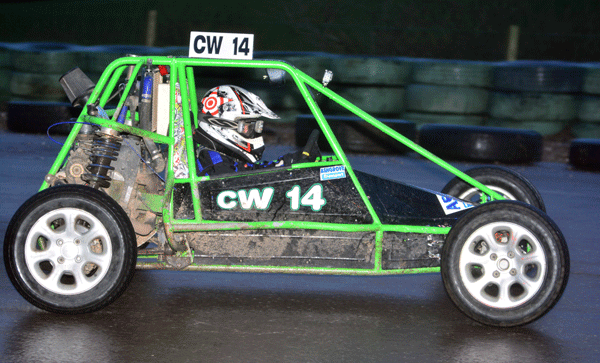 This year the Junior Specials were given their own division as CLASS 2 and a strong 7-car entry saw Carlow member Michael Ryan continue the promise he showed in his late season debut last year, taking the win from Dean Browne and Jack Brennan, who was contesting his first event.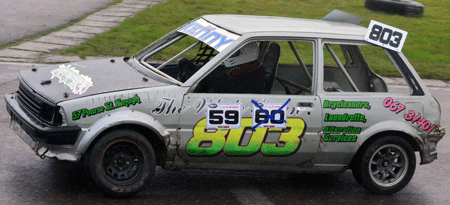 CLASS 3, for anything up to 1300cc, brought out a mixture of Hot Rods and Rally cars, plus the newly acquired ex-Paul Boland NASA Class 4 Micra of Owen and Lewys Walters, who had a few mechanical problems. Kevin McGann's Starlet was over ten seconds quicker than any of his rivals on all his runs, but as he took one of the splendid crystal overall trophies, he was excluded from the class results where the shared Starlet of Sean Kenny and John Ryan took first and third, sandwiching Brendan Lewis in yet another Starlet.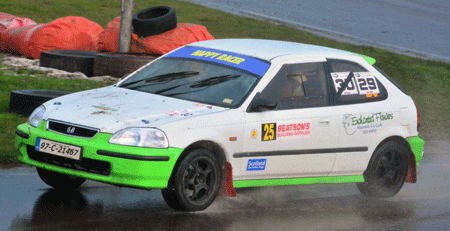 CLASS 4 went up to 1600cc with many of the Rally cars falling into the best supported group of the day. Jason Ryan was quickest on each run but as he featured in the overall trophies, the class win was handed down to Alan O'Riordan after four tidy runs in his civic, ahead of Francis Kelly's Nova and Stephen O'Shea's Starlet. Paul and Aaron Browne's Civic was close on Jason's heels in the first two runs but developed problems after lunch, robbing us of what would have been a good battle.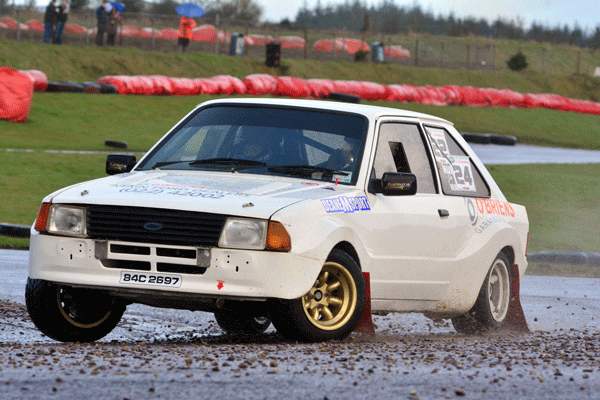 A varied field in CLASS 5, up to 2000cc, included the splendid Classic Hot Rod Escorts of Trevor Cusack and Austin Fitzgerald, while the quickest saloon time of the day went to event sponsor Charlie McNamara in his now Toyota-powered K12 Micra. It was the RWD Mk3 Escort of Micky Walsh and Darragh O'Riordan that took first and third in the class, with Charlie in second.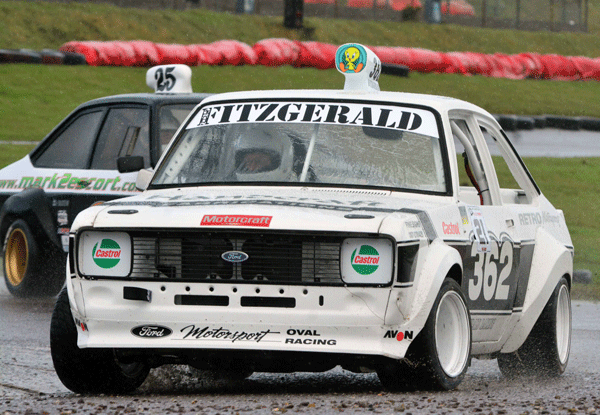 CLASS 6, for Specials, comprised three of the screaming 600 Buggies, plus former Cork Autograss chairman (now concentrating on rallying) Steve O'Donovan in an R1-powered kit car. Christopher O'Callaghan's four very rapid runs brought him the overall win, leaving Peter Brennan to pick up the class trophy ahead of Tommy Daly and Steve O'Donovan.
Finally all the National-type Hot Rods were grouped together in CLASS 7 where the National cars were closely matched with the 1600cc versions. Dave Casey headed the class with his closest rivals being the shared 1600 car of David Wall and Ger Connors.