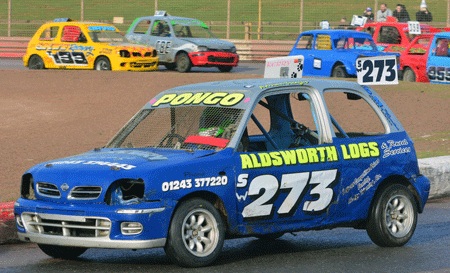 This was the eleventh annual running of the Oval Racing expo since the event took over from the Brentwood Racing car show as the major close-season event for oval racers in the south-east. The Expo's evolved oer the years to become primarily a racing event with the "show" element now having virtually disappeared, although it still attracts a good selection of trade stands. A constant factor throughout those years has been the invitation to NASA and SEGTO drivers to enjoy some winter tarmac action and the 2016 Expo attracted a record entry of SEGTO cars, making up for only a handful of NASA entries.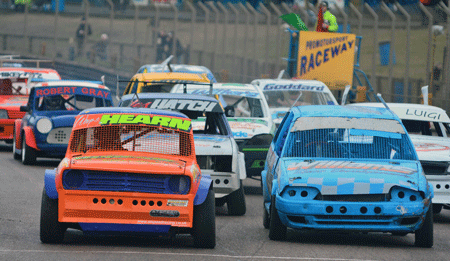 This was always going to be a packed weekend, with 39 races scheduled each day. It turned out to be even longer than expected, with frequent stoppages in the Ninja Sprint World Cup races and the time taken to line-up reruns meaning that it was well after 7 pm before trophies were being dished out each day.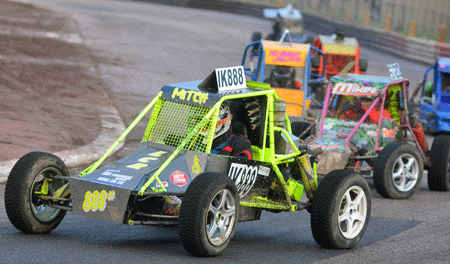 PRODUCTION A attracted a capacity entry of 25 cars (including a couple of NASA Class 1s). Perhaps fortunately there were a few non-arrivals, leaving a 17 car field each day. Saturday's first heat was led most of the way by Jason Cornell's new Micra but Adrian Treagus came through from eleventh place on the pre-drawn grid to take over in the last couple of laps, with the two Micras followed home by the 1-litre Novas of Standlake drivers Robert Wakelin and Matthew Kerbey, and Michael Gaut in the first of the Minis. Adrian got involved in a first corner tangle in heat two and Matt Kerbey passed Concord Class 1 racer Paul Wilson's Micra to win. Matt Kerbey and Ade teagus shared the front row for the final and it was the Micra that led all the way, with Matt holding second from Rob Wakelin, Jason Cornell, Kevin Knutt's Micra, Paul Wilson, regular Super Saloon driver Daryl Ambrose in a hastily acquired Mini, Michael Gaut and young Josh Simmonds, first time out of Juniors in his refreshed Micra.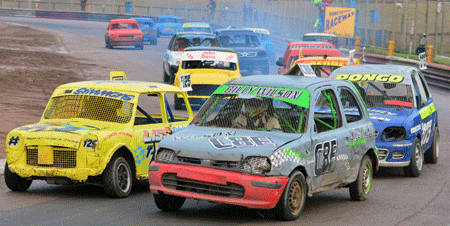 PRODUCTION B and MODIFIED C shared the track, with the Cs joined by some NASA and SEGTO Stock Hatches. Ashley Manktelow's Nova won the first heat from Angmering driver Stuart Orford's Starlet, with Concord's Carl Brooks' in his Stock Hatch Corsa heading the Mod Cs. Heat two saw Kieron Chappell beating Josh Cole and ash Manktelow in the Bs and Carl Brooks taking another Stock Hatch win. Kieron then beat Ash away and held him off all the way in the final, although their battle was hampered in the closing stages as they were caught by a couple of Stock Rod drivers who'd been allowed out on the condition they didn't interfere with the race! Rob Orford took third from Josh Cole and Charlene "Chubby" Brown's Nova. Carl Brooks took another win in his stock hatch with Angmering promoter Jim Hazelgrove bringing his MG ZR home second after problems in the heats.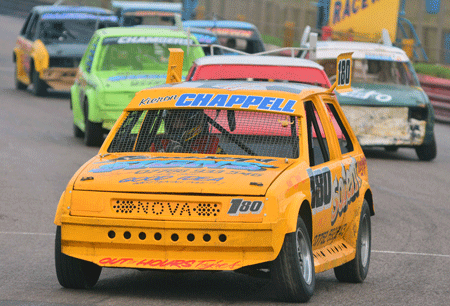 As has become a tradition on the Expo Saturday, the SUPER SALOONS and 1450 HOT RODS were combined but split into FWD and RWD groups, which always seems to provide the most evenly matched groups. From a 13-car FWD grid Ian Withers' Corsa won the first heat from sister Jody's similar car and Liam Hanley's Citroen AX, while Tim Cook's Mini had an unfortunate clash with the Armco . The second heat was led for ages by Clacton-based Wayne Hearn in a 2-litre Redtop powered Mini (originally the Norman Mead NASA Class 6 car) but a slight clash with Jody Withers saw Wayne spinning out and Jody went on to win from RTS 1450 champ Chris Constable, first time out in his new Corsa, and Standlake's Les Hatch. Jody Withers and Les Hatch qualified on the front row for the final and both had turns in front until Ian Withers took over, only to get spun out in the final stages after a misunderstanding with Chris Constable. Chris went on to win but inevitably picked up a black cross, dropping him to third as Les Hatch won with Jody second. Liam Hanley went well in his new AX (a step up from his previous Prod Rod/Euro Rod version) to take fourth from Graham McClelland's Nova, Wayne Hearn, Rob Gray's evergreen Mini, Michael Brooke's 2-litre Peugeot, Justin Winfield's Nova and Lee Birch's AX.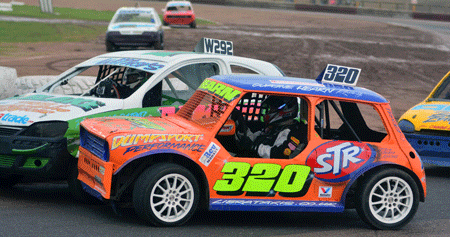 The RWD SUPER SALOONS had 18 entries and just one non-starter, guaranteeing hectic action. The lone NASA Class 3 among the SEGTO cars, John Berry's starlet-Volvo, stole a big lead at the start of heat one, but had to give best to Rich Barton's Hot Rod Starlet, with Greg Moore's Puma coming in second after Karl Jordan spun his challenge away in his Starlet. After struggling in the first heat, Martin Faherty dominated the second heat in his Fiesta-Vauxhall, winning from Ashley Lock's R1-powered 205 and Lee Munday's 2 litre Hot rod-spec Nova. Martin Faherty again led all the way in the final, with Rich Barton spinning out of second. It nearly went wrong for Martin when he collected the spinning John Berry with a lap to go, but the reds came out and Martin was still running so he got the win from Ashley lock, Lee Munday, Graeme Taylor's new Hot Rod Corsa, the Starlets of Dave Bullen, Darren Nash and Karl Jordan, and Standlake driver Darren Taylor in the ex-Graham Fulker Nova.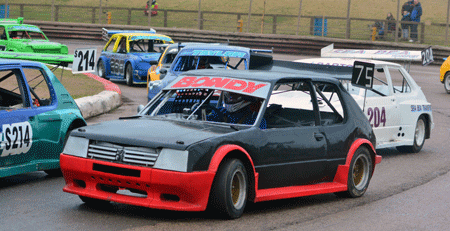 There was a small field of seven SPECIALS after last year's chaotic races, with Mitch Hollingsbee's Class 9 and Callum Sweatman's Junior Special taking on five SEGTO cars. Bradley Lock's Zetec-powered car won the first heat, with Callum Sweatman getting his old Junior car as high as third before spinning out. Mitch Hollingsbee won heat two, just holding off SEGTO man John Smith's Vauxhall-powered DRD. Mitch went on to take the final with Bradley Lock coming through to second as SEGTO champion Michael Habicht spun his ex-Gareth hankey Hayabusa out on the last corner. Mark Stevens' ARD-Hayabusa was third from the clutchless John Smith.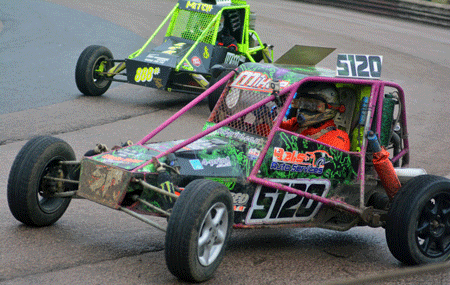 Billy Wilson was the only NASA driver to take on the SEGTO JUNIORS. The Novas of Archie Terrell and Bradley Wells headed the Micra of Alfie Alderton in both heats, although there was again an issue with interloping cars from other classes (a couple of Spedeworth Junior Rods) being allowed out without being part of the race, which confused some onlookers! Archie Terrell won again in the final, but Billy Wilson drove a good race to take second from Brad Wells, Alfie Alderton, Kyle Nash's Mini, Josh Roberts' Nova, Amy Clark's Nova, Bradley Peters' Micra and Laura Connors' Nova.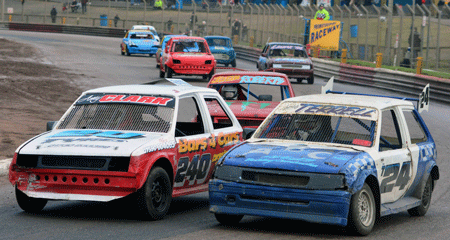 SUNDAY RACES …….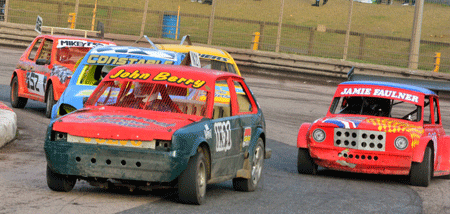 On Sunday the production groups, Specials and Juniors raced in the same format, but we tried something different with the Hot Rods. Due to low numbers of Outlaw Hot Rods in the past they were officially off the programme, but with a high proportion of the SEGTO Super Saloons now being traditional Hot Rod machinery, we thought we'd hive all the Hot Rod type cars off into an "Open Hot Rod" race, where the Outlaws were welcome to join them, and then run all the grass-type cars together. We ended up with an 18 car grid of assorted Hot Rods, but when several of them decided to get their money's worth by doubling up in the SEGTO race, there was a 22 car grid for the Super Saloons. Spectacular racing was guaranteed!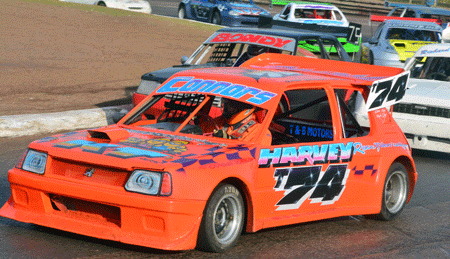 The OPEN HOT RODS suffered a bit from the timetable, with four hours between their first and second heats and a few cars were missing from the final due to the lateness of the hour, but the racing left everyone wanting more of the same. Ex-grasser Ian Tatchell (maybe the only Hot Rodder in Wales?) won the first race in his colourful Corsa, while Standlake driver Graham Fulker took his new 206 CC Outlaw to victory in the second race. Graham earned pole for the final, with Darren Nash's 2-litre Starlet alongside and Graham led all the way until the race was cut short by Mick Day's Fiesta having a heavy shunt into the armco. Danny ellis' Clio took second from Martin Faherty, Ian Tatchell, Rich Barton, Luke Ashton-Jones in a Lightning Rod Sierra, Karl Jordan, Graeme Taylor and Tim Reeve's Clio-Duratec, while Stuart Orford bravely entered his Prod B Starlet and wasn't outclassed by the quicker Hot Rods.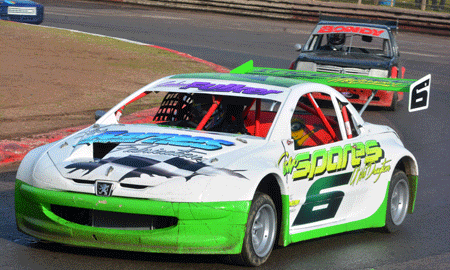 The SUPER SALOONS had a good, if hectic, first race in which Les Hatch got spun out of the lead and Lee Munday went on to win from Chris Constable. The second race fell apart after an early yellow flag – some drivers slowed up and were instantly overtaken and then the green flag was waved without sorting the mess out. It wasn't long before there was another stoppage and no result could be counted. There was a more manageable grid of 11 cars for the final, which was won by Chris Constable's Nova from Lee Munday and Jamie Faulkner's unique RWD Mini – unique among modified Minis these days as having its 2-litre Vauxhall engine in the front!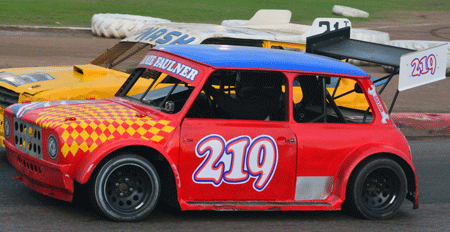 PRODUCTION A was joined by Class 3 star Martin Beaney in his new Class 1 Yaris, but up front it was business as usual for Adrian Tragus, winning the first 17-car heat from near the back of the grid and the second heat from near the front. In the final, though, Tom Kerbey got away in front of Adrian and was then followed through by Robert Wakelin. Robert took over thelead and held on in front of Adrian, Jason Cornell, Tom Kerbey, Martin Brown's AX, Dave Simmons' Mini, Martin Beaney, Josh Simmons and Alex Smith's Nova.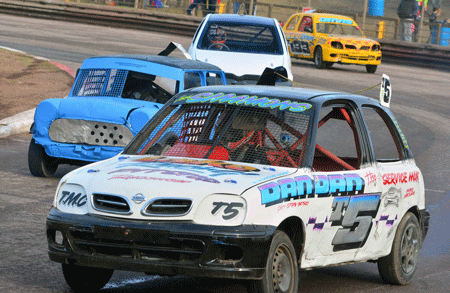 In PRODUCTION B Kieron Chappell won the first heat but was pushed off the grid for the second. Ash Manktelow won this and went on to win the final, chased by Chubby Brown, Stuart Orford and Dan Fletcher's Nova. Jim Hazelgrove headed the Prod C/Stock Hatch ranks in the heats but Ben Alderton overcome a series of problems before taking his Corsa to the final win ahead of Jim.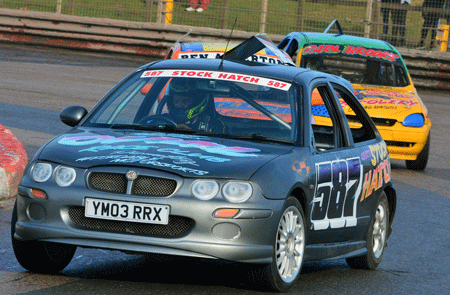 The SPECIALS were joined by Concord's Glen Doddington with his Class 9, plus the welcome addition of Will Corfield, making a day trip from Shropshire with the superb Lexus V8-powered Millington Special – yes, it still exists! Will spent the two heats on spectacular catch-up drives after problems getting going, but unfortunately had to leave before the final. Mitch Hollingsbee and Bradley Lock won the heats and then Bradley took the final from Nick, Mark Stevens, Glen Doddington, Ryan Stafford, in his dad Danny's familiar crossflow-powered car, Callum Sweatman and John Smith after a spin.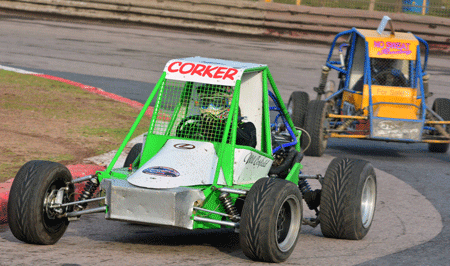 Billy Wilson again kept the SEGTO drivers busy in the JUNIORS. Billy won the first heat and then came a close second as Archie Terrill won the second heat and final. Brad Wells was third from Alfie Alderton, Kyle Nash, Josh Roberts and Laura Connors.