Carlow Season Opener
20 MARCH 2016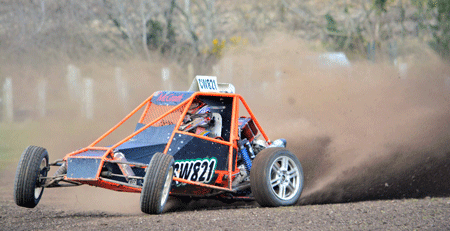 Carlow club has over the years regularly been given the first slot on the Irish Autograss calendar, and this year the early date actually paid off, with a week of dry weather allowing the Knocknatubbrid track to be prepared to its normal superb standard, while race day proved dry and mainly sunny. The turn in the weather of course caught out many drivers who'd never seriously expected to be racing a qualifier in mid-March, but there was still a respectable 50-car field and, encouragingly, a packed spectator area. Some classes were thin on the ground but with the talk over the winter having been of full fields of Class 8s in Ireland, their grid indeed hit double figures, with several more cars close to their debuts.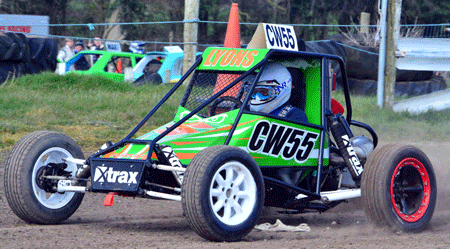 The heats provided plenty of action with wins for Joe McGrath, Mick Hogan, Ray Carey and Patrick Lambert, who was making the move from Class 10 in the ex-Paul O'Brien early ARD. Chris Dimond moved from F600 to the ex-Mousey Creane Keating car and had a dramatic first corner roll in the second heat, which didn't stop him coming out for the rerun. Other newcomers included young Jamie Lyons, whose Junior experience had been gained at the Ballyshannon Hot Rod track, with the ex-Joe McGrath Keating. Mick Hogan held off Joe McGrath to win the final, with Ray Carey, Niall O'Brien, Patrick Lambert and Shane Smyth battling for the next places and Jamie Lyons doing well to complete the finishers; Shane Houlihan, Con Healy, Chris Dimond and Sean O'Grady didn't make the final.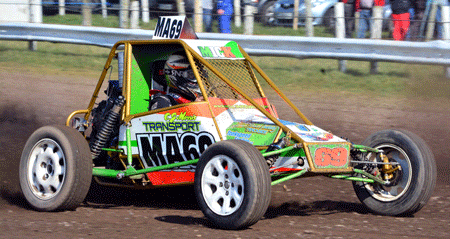 Next best numerically was Class 1, with seven Micras on the grid although John Fyffe's spotless new car didn't last long. Another very smart new car, for former Class 1A driver Dougie Nunan, was never headed all day, fending off new Carlow chairman Shane Farrell, with Junior graduate David Meagher (filling in before his Class 4 is ready) in third from Seamus Farrell and Davie Timmins, with Peter O'Grady having as miserable a day as Sean did in the 8s.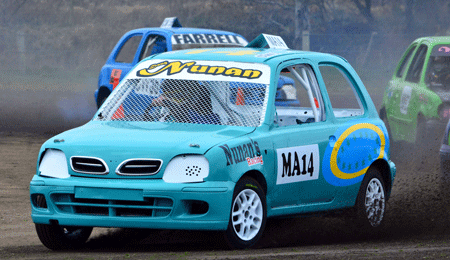 There were just two Class 1As although the class can't be written off yet as both were newcomers; John Hannon beat Killarney-based Daniel O'Keeffe.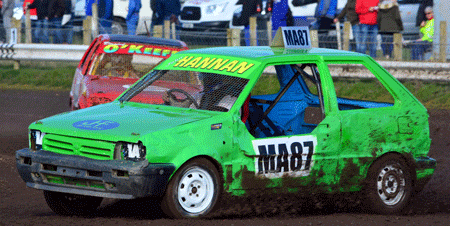 Class 2 only fielded two cars; Ricky Houlihan's hastily fettled Micra played up and he had to surrender to All Ireland Champion Dylan Roche.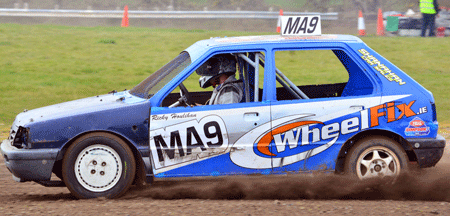 No Class 3s turned up, while Class 4 is another expected to bring out lots of new talent this year. Several regulars were missing but Mike Fuller's winning Mini was given a run for its money by John Heffernan's new Keating-built Micra, with Craig Roche's Fiat again proving troublesome.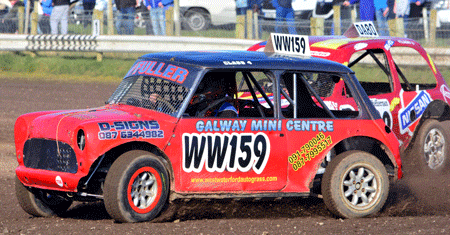 A rapid trio of Class 5s saw two heat wins for PJ Cronly, but Kevin Carron, back in the seat for this meeting at least, grabbed the final as though he'd never retired, beating PJ and Chelsea Brady.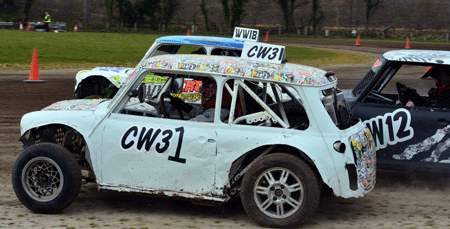 Unfortunately Declan Browne's immaculate new Class 6 only made half a lap before glancing off the armco and getting clipped by a passing car to sideline him for the day. After a quick driveshaft change, Evan Curran won all three races, holding off James Sinnott, while David Heffernan ran well despite a standard 1600 motor in the ex-Brian Nugent Starlet/Honda.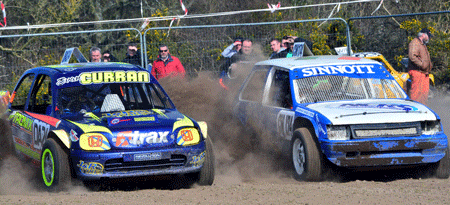 A delayed start for Keith Kelly's superb Mini Traveller in the first Class 7 heat saw Alan Long the winner, but Keith held the upper hand in the second heat and final.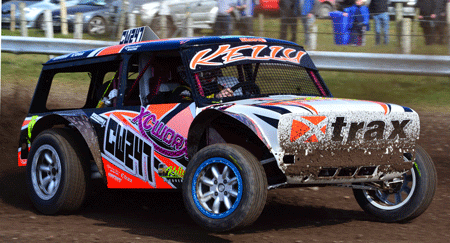 Class 9 was a two-way fight all last season but already looks like a three-way battle this year with the addition of Padraig Leeson, yet another Kildare Hot Rodder to show instant form on his grassing debut. Padraig's Honda powered car stayed with John Fuller and Eamonn O'Brien in each race before losing power. Eamonn won both heats but took until the last lap to fight past John in the final, only to hit problems in the last corner.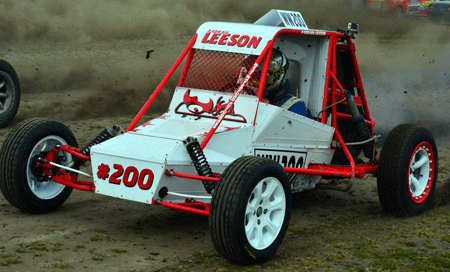 Paul O'Connor in the ex-Chris Behan car was the only Class 10 and spent the day battling with the sevens.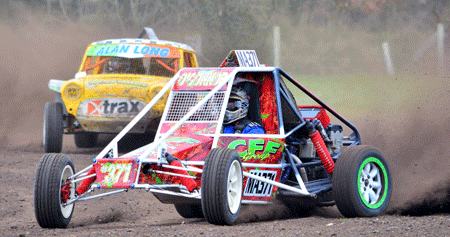 New to Carlow were the pair of "NI Oval TV" backed Specials of Johnny Teggart and Brian Lammey who battled all last year in the North. They raced side-by-side most of the day here, swapping places on every corner in the final before Brian took the win. As for their class, we think "adults in Junior Specials" isn't much of a title so, until somebody comes up with something better, we're calling them Formula 1200.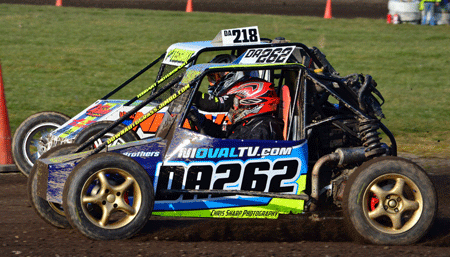 Three Juniors raced in Class 1. Adam Browne in his Mini held off the Micras of Chloe Heffernan and Sean Reeves in the heats, but Chloe took the lead in the final and then Adam picked up a puncture leaving Chloe to win from Sean.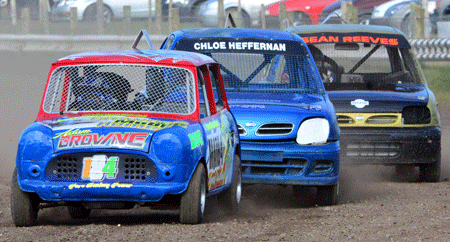 Aaron Long, now into the last year of his long Junior Special career (Class 8 beckons next year) won all his races but Darryl Culbert was on his tail throughout, with Michael Carron and Michael Ryan battling just behind and Lauren Doherty acquitting herself well on her debut.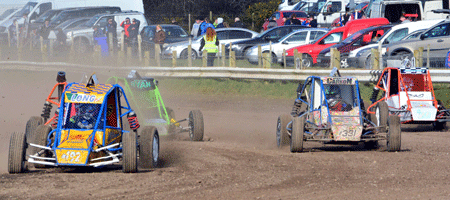 Finally the Ladies were all in Class 1 cars. Amy Heffernan's Mini won all the races, but had a strong challenge from Aisling Meagher, in her first ever meeting, with Aisling Hutton taking third.