The Oval Race Club had the honour of opening the 2016 SEGTO season on Easter Sunday at Angmering, and a very enjoyable day it was at this most driver and spectator friendly of venues.
Since ORC came back into the SEGTO Championship last year they've successfully combined the championship rounds with the "non-contact days" they run on Bank Holiday Sundays. The idea is that the big Banger meetings that the popular south coast venue holds on the Mondays will bring in the crowds, so they can afford to run non-promoted, non-profit making days on the Sunday that will give the local racers plenty of track time in their own classes. The seven SEGTO groups were supplemented by a selection of the local classes that illustrate the Angmering philosophy – whatever car you turn up with, they'll find a class for you to race it in!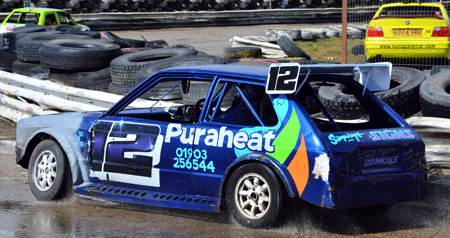 Of course, every event this Easter was run under the shadow of the worst possible weather forecast, but the reality wasn't so bad – the worst of the storm passed just before racing started, giving way to an afternoon of sunshine and showers (it was just a shame the showers saved themselves for the Super Saloon heats!)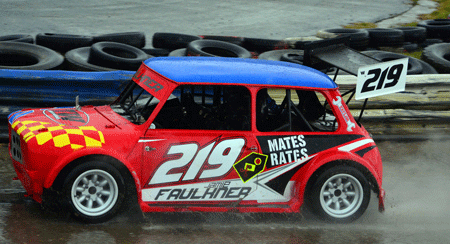 The only disappointment, no fault of the Angmering promoters, was a rather patchy turnout of SEGTO racers, with quite a few leading lights having decided not to go for the SEGTO points this year and chase club championships instead. For some time it's been a bonus that, to succeed at SEGTO level, you need to master a variety of surfaces – this year's championship being split equally between tarmac, concrete and dirt, although the chalk of Horndean and Layhams is sadly missed! The dirt cars perform pretty well on the hard tracks, and those who've risked tarmac cars on the Tongham dirt have also been pleasantly surprised, but it's still causing concern that a "grass track" racing organisation is down to just one dirt-based venue. Fingers crossed for SAA changing that in the future!
PRODUCTION A saw two convincing heat wins for Mark Davis' Micra, but a new experiment in the SEGTO rounds is to handicap the final on heat performance, leaving Mark with some catching-up to do, which was interrupted by an armco-crunching clash with Josh Simmons. Young Josh had led quite a bit of the final, fending off his dad James, but Jason Woodgate's AX found a way past the Micras and took the win with Rob Wakelin's Nova beating James Simmons and Jason Cornell's Micra for second. Mark Davis, Josh Simmons and a troubled Alex Smith completed the finishers while Nick Marlow, returning to Standlake and Angmering after a ten year plus lay-off, didn't make the final after a good run in the heats.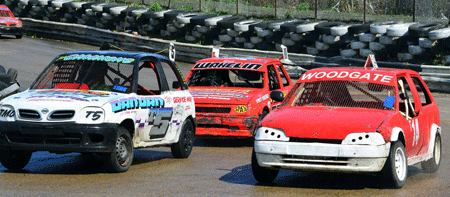 Only five PROD Bs made it, and that was soon reduced to four when the unfortunate Kelly Adamson had her Fiesta squeezed into the infield barrier at the start of the first heat. Macaulay Johnsey's Nova won the two heats but wouldn't fire up for the final, in which Stuart Orford took his Starlet to victory from Josh Cole's Nova and Laura Chappell's Tigra.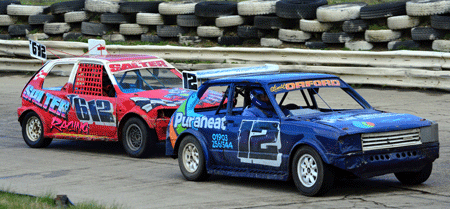 Stuart Orford doubled-up in MOD C (SEGTO rules allow you to race the same car in the next class up) and Stuart battled all day with Rob Salter's 106, only for it all to go wrong in the final as the two tangled. Stuart rejoined before cannoning hard into the armco, leaving himself a lot of overnight straightening for Monday's meeting. All three race wins, however, were taken by track owner Jim Hazelgrove in his immaculate MG ZR, pioneering the new SEGTO Stock Hatch class which is to run alongside the Cs. Barney Hayhoe retired his normally front-running Nova after the first heat.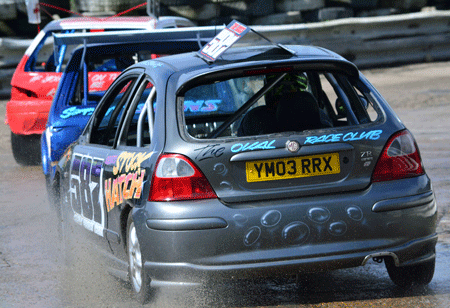 Mick Browne in his Fireblade-powered Imp was on great form in the 1450 HOT RODS, coming through from the back to snatch both heat wins. A quick spin at the start of the final left Mick with too much to do though, and Graham Goddard in his 106 took a clear win as local driver Les Croucher, in a standard 1300 Civic, held off Ashley Lock's R1-powered 205, the rapidly closing Mick Browne and Mick Worrell's Mini Suzuki. John Smith, having a change from his usual Specials, chased this lot home in the ex-Guy Stallard single-bike Class 7 Mini.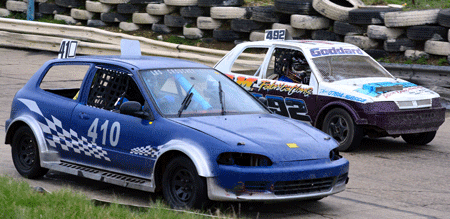 The SUPER SALOONS were the best supported SEGTO group, with nine on the line. Ian Withers' Corsa and Dave Bullen's Duratec powered Starlet raced through heavy rain showers to win the two heats and get moved back in the final, where Ian's rapid start saw him tripping over Ian Staff, taking to the air and landing atop the armco. On the restart Lee Birch's AX led before Jamie Faulkner took over in his Mini-Vauxhall. Jamie's engine never sounded quite right after getting drowned in a puddle in the pre-meeting practice but he led most of the way before a good drive by Graeme Taylor saw him take his Starlet round the outside to win from Jamie and Andi Wood's Toyota MR2. Lawrence Connors, in his Hot Rod 205, Dave Bullen, Ian Staff's FWD 205, Lee Birch and Paul Lofting's new 2-litre Corsa completed the finishers.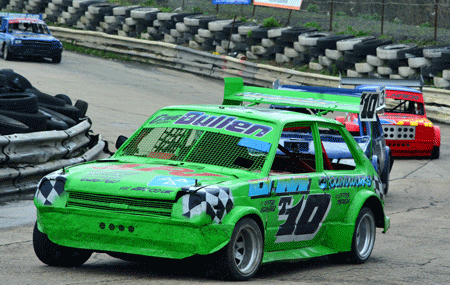 There were four SPECIALS and Bradley Lock dominated, finishing nearly a lap up in each race as Mark Stephens' ARD-Hayabusa took second. Chris Jewer, after loads of teething problems in his initial "test meetings" with his Honda, took three straight finishes, and held off Ryan Stafford's "classic" SEGTO Special for third.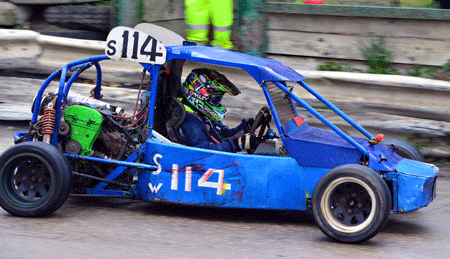 Only three JUNIORS lined up and Brad Wells won all three races from the back of the grid, with Levi Oughton's new AX following him home in the heats before Archie Terrell claimed second in the final.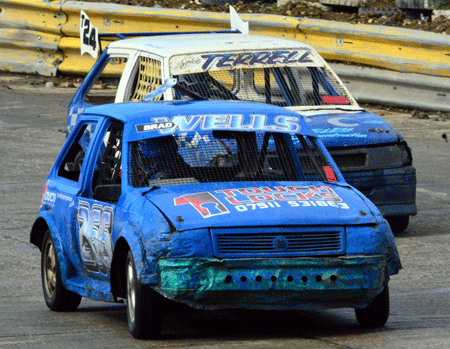 Among the non-SEGTO classes, the ORC JUNIORS had their own races and here too Brad Wells, driving his second Nova, had three straight wins, beating Alfie Spokes' Micra, Summer Spokes' Saxo, Kaylee Smith's Micra and Sophie Spokes' steaming Ka.
The biggest grid of the day was in the PROD STOX, equivalent to other tracks' Prod Rods as the budget non-contact class. Of course, nothing at Angmering is quite like you'll see anywhere else and this class was dominated by MG ZR or Rover 200s with a Clio and Micra in the mix. Dan Smith's MG won all three races from the similar car of Phil White while Dan Brand's Clio took third after leading much of the final, followed by the five distinctive yellow MG/Rovers of the "Dangerous Devils" squad, Gemma Mitchell heading Dan Archer, Paul Brett, Jay Parsons and Gareth Morris. Billy Styles' Ka won the Novice class.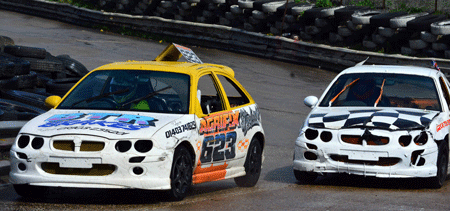 The SALOON RODS, an unlimited production class, was split between FWD and RWD races. In the FWDs, Ben Parker's fresh off the road Ford Probe was up against the Civics of Sam Harris and Steven Mills, with Sam taking the final win. The RWD grid featured six BMWs, a Mazda RX8 and a Ford estate car of some description; Martin Bristow won the final in the Ford ahead of Steven Adams' Mazda and the BMW Compact of Lewis Walsham.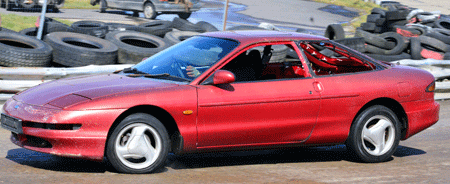 There was only one STREET STOX, a Mondeo for Ryan Sawkins, but he raced with the new MICRA STOX group – lightly ironed-up 1-litre K11 Micras that looked good (every one smartly and distinctively painted) and provided ultra-close racing. Piers and Jamie Brunton eventually headed Chris Harris over the line, chased by Graham Quinnell, Chris Holden and Barry Reed.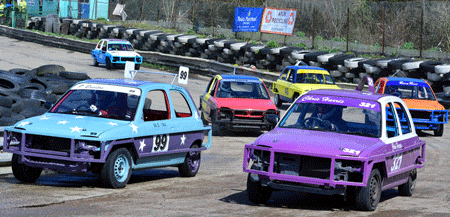 There'll be more non-contact only days at Angmering on 1 and 29 May and the SEGTO Championship reaches its final here on 28 August but those are only three meetings out of Angmering's very busy and varied racing season - click here to download their colourful fixture poster.