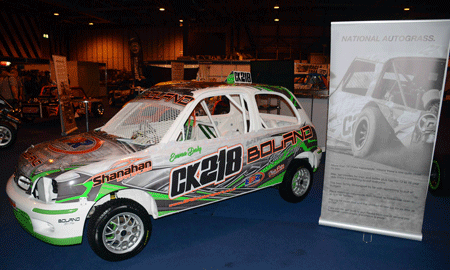 Another superb turnout from oval racers of all disciplines made for an excellent weekend at Birmingham's NEC, where we were delighted to welcome the large number of Autograss and other grass roots racers who visited the show from all over the UK and Ireland.
Forming part of Europe's biggest annual motorsport show, in our (of course unbiased) view the interest and standard of preparation of the oval racers again eclipsed anything seen in the rest of the show.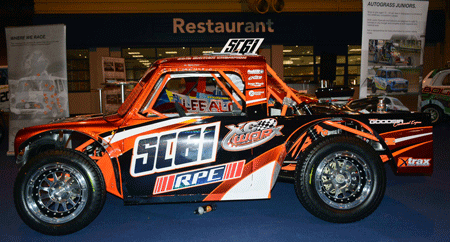 NASA Autograss took centre stage with the pride of place on the stand going to Andy Holtby's stunning RPE V8-powered Class 7. However, the standard was universally high, with the main stand also featuring probably the furthest travelled car in the show, Paul Boland's Class 1 Micra. Further Class 1 representation came from Emily Zammit's Micra, much admired for its "classic" livery and signwriting, and the state of the art Minis of Jared Parry and Aaron Mullen. Class 2 was represented by the Micra of brother and sister champs Ollie and Vicky Sole, unbelievably last year's well raced car under the new panels, plus Matt Cake's new Micra with perhaps the most eye-catching colour scheme of the show. Featured in Class 3 was Kev and Caroline Bowes' superbly presented Nissan-powered Fiesta, plus Martin Beaney's "old school" Starlet, a car originally built for his dad several years ago but for one reason or other never raced.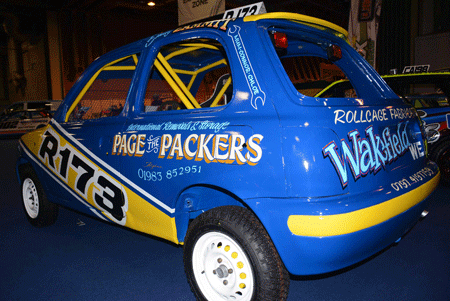 Continuing the "old school" theme, Class 4 featured Ryan Taylor's Mini, again superbly turned out despite having seen at least eight years' racing action. Class 5 was represented by Junior graduate Louis Jackson's Vauxhall-powered Mini. Stuart Thompson's Lee Almond-prepared Citroen C2 was one of a sensational pair of Class 7 exhibits, the other being the unique Skoda Fabia shelled, Duratec-powered car of Dane and Zoe Coupland, based on an ex-Chris Juggins frame. Class 7s were aplenty with the Mini Pickups of Kenny Perry, Patrick Sheahan and grassing newcomer, but former rally star, Wyn Humphreys.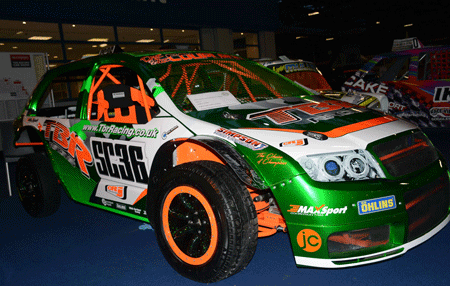 The open-wheel line-up featured the matching Llewellyn chassis of father and son Paul and George Evans - former North Wales racer Paul, returning to grassing from a successful rally career, has the ex-Gaffer/Cooper Duratec-powered Class 10 alongside George's Junior special. Class 8s featured were from James Heselton/Aidan Taylor and Gareth and Charlene Hankey, while 9s came from Kevin Chaffe's new Bennettbuilt car and Katie Addyman. Completing the "official" NASA exhibits were Willow Osborne's Stock Hatch Citroen AX, receiving much attention as its class really seems to be capturing the imagination of potential low-budget racers, and UK champ Mollie Richardson's Junior Special.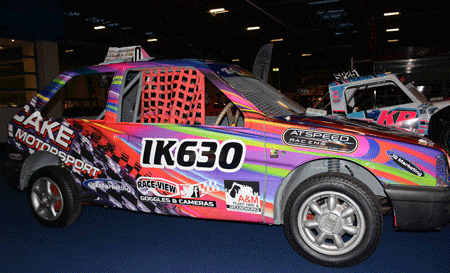 Three more grassers featured among McGill Motorsport's huge and varied line-ups; All Ireland Champion Paul Parr's new Rawlinson built Class 3 Nova saloon, Jason Richardson's superb new self-built Class 9 and Josh Hassell's refreshed Class 10.
Vision Plus and BPG Motorsport provided the usual backup to the NASA stand, but the only constructor represented this year was DRD, with a Class 9 exhibit, although Jamie Dodd's outfit really hit the headlines after he revealed just how affordably he could get customers into open-wheel racing with a turnkey F600 car. This impressed two NASA Directors so much that they promptly ordered one!
Spedeworth, BRISCA and ORCi put on their usual professional showing, slightly lower key than usual thanks to the last minute arrangements that affected all exhibitors this year. One or two regular high profile stands were missing, with McGill Motorsport stepping into the breach with a fantastic variety of exhibits ranging from a UK Modified and a pair of Grand Prix Midgets to several Ninja Karts.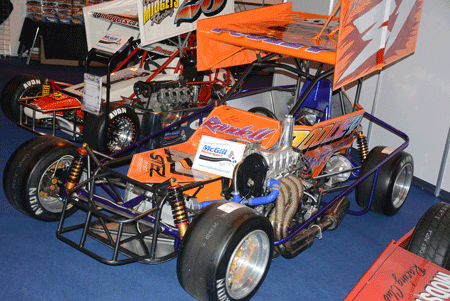 Hopefully you'll find every car in our photo galleries (links to the left) - we missed one late arriving oval racer but we hope nobody will spot that!
On stage in the hall, star interviewees Keith and Joey Matthews, Michelle Cusack, Richard Danby, Lee and Emily Zammit and Dave Robins all made a great presentation of different facets of the sport.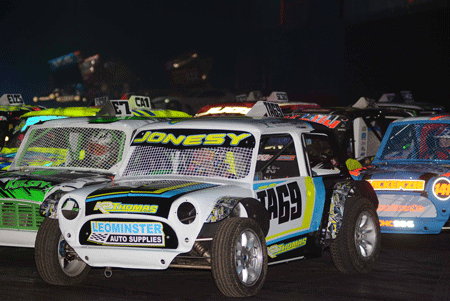 Of course the Live Action arena was the other main focus of the show. The programme was slightly depleted with the absence of the National Hot Rods and BRISCA F2s missed by most observers, while some of the replacement features didn't generate quite so much excitement. But the demonstration of Rallycross cars through the ages was well received and of course the invariable stars of the show, the Autograssers and BRISCA F1s again set the hall ringing.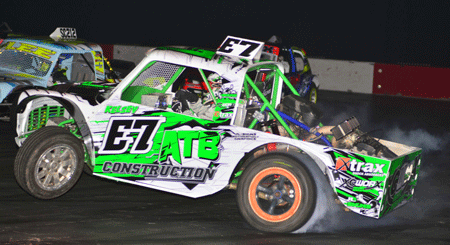 Class 7s and 8s were on the bill this year and every one of the invited drivers did the sport proud. In Class 7s we had Bill Bradford, Lee Forster, Nicola Mackenzie, Keith Kelly, Andy Kelsey, Wayne Hartwright, Rupert Lomax, Chris Juggins, Jake Lee and Adam Jones, while the Class 8 line-up comprised National Champ Phil Cooper, Matt Stratton, Ben Harper, Tom Chadwick, Dan Thomas, Alex Hall, Nathan Rees, Josie Tomkinson, Matt Thompson/Rhiannon Smith, and Daz Mullen. A new addition was match racing between Huw Jones' Class 4 and Ben Gadsby's Class 6.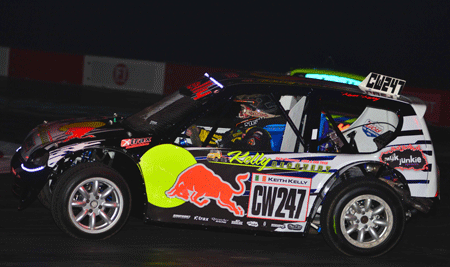 The innovation of a "grand parade" of the grassers and F1s at the beginning of each show was excellent, as were the behind the scenes interviews in which Josie Tomkinson represented the sport brilliantly. The action was as spectacular as ever, too spectacular at times when Lee Forster and Billy Bradford ended up in the wall, and Tom Chadwick got upside down, but all came out smiling and survived to run again. After several practices, shows on Thursday and Friday and five shows a day on Saturday and Sunday (8 out of the 10 cars appearing in each show) the drivers and crews certainly worked hard to show off their pride in their cars and their sport.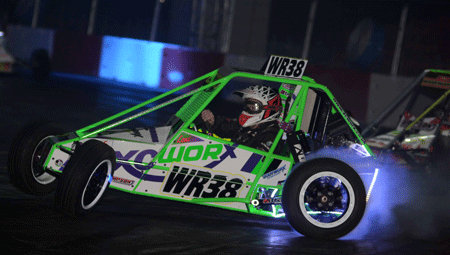 Overall, with the support of loyal oval racing and Autograss exhibitors, the show definitely came up to scratch this year despite the regrouping required following the retirement of the much missed long-term organising team of Malcolm and Brenda Forbes. With exhibitors from all branches of the sport working together, the show can certainly get even better in future, so here's to next year!