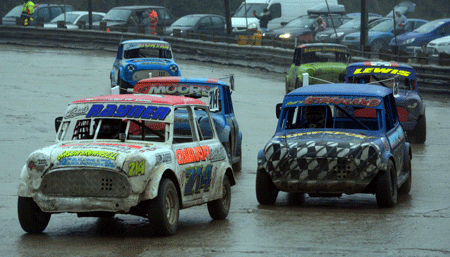 After our winter break from racing, which lasted all of two weeks, Standlake Arena kicked off our regular 2017 season on the sort of day that should have convinced us that we're mad to want to go racing in mid-February. A wet start followed by snow flurries through the morning led to a bitterly cold afternoon and truly filthy track conditions. But Standlake's staff and racers responded with a slickly run programme, a good turnout and some excellent racing, so we still haven't learned our lesson!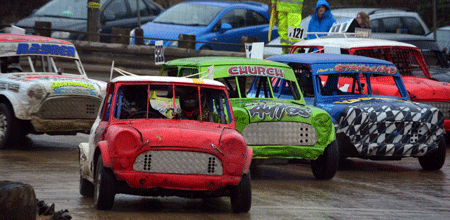 The stars of the show were the JUNIORS with 16 Minis lining up, including five of last season's top six, and four complete novices. Despite the mix of experience and the mucky, greasy surface, the standard of driving was superb throughout the field. 2016 champion Lewis Saunders came from the back to pip Luke Holdsworth to the first win of the year. Jack Bunyan just held off Lewis in the second heat and an equally close fought final saw Louis Rayner come out on top, from Luke Holdworth, Zak Moores, Lewis Saunders and Henry Strickland.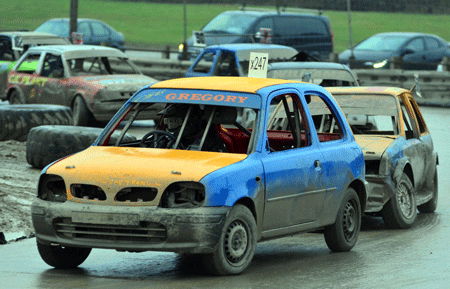 The senior PRODUCTION As had 17 cars in the pits and although only 14 actually raced they put on some first class action. Keith Passey took the first heat from Aaron Charles' Micra while Paul Beer grabbed the second heat win after long time leader Rob Little was swamped in the closing stages. The final almost had a runaway winner as newcomer Chris Gregory drove a well controlled race in his Micra, maintaining a steady gap until a battle with a backmarker on the last lap let the chasing pack catch him. Chris held on for a well deserved win from Kelvin Passey, Kyle Williams, Matt Kerbey, Aaron Charles, James Strickland and Paul Beer, with nothing between the top seven at the flag.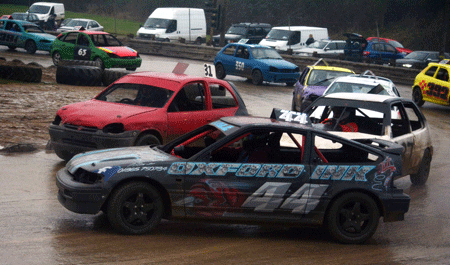 The biggest grid came from the 1600 PRODUCTION class with 21 cars lining up. Again the driving standards were excellent with only a handful of incidents in the slippery conditions. Scott McKenzie's Focus couldn't be caught in the first heat but Northamptonshire driver Dean Quinsee dominated the second heat and final in his multi-formula 1400 Saxo (which also races as an Incarod and won as a Mod C at the Arena-Essex Expo!). Liam Hanley claimed second from the back of the grid in his 106, ahead of Adam Ryves' Civic.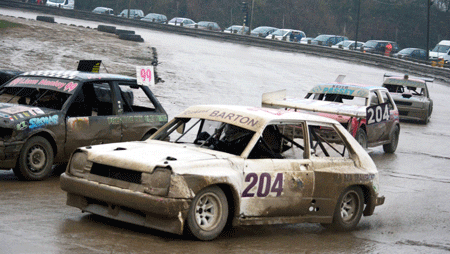 The HOT RODS were the smallest class of the day, with three RWD and three FWD cars but they provided excellent racing with the conditions levelling out the performance of the two groups. Liam Hanley's 1600 Nova won a close battle with James' Watts' Stock Rod-spec car in the first heat, and Liam then featured in the day's most spectacular race as he battled side-by-side with Rich Barton's Starlet for most of heat two. Liam completed an excellent day by winning a close final from James Watts, Darren Taylor's 2-litre Hot Rod Nova, Rich Barton and Rowland Passey's 2 litre Clio.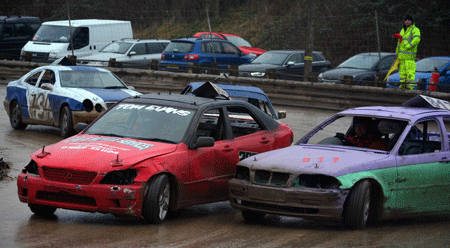 It was a bit early in the year for the DRIFT RODS who had the smallest turnout in their three year history, just ten cars, but still laid on an entertaining show with heat and final wins going to Steve Argrave's BMW and Tom Evans' Expo-winning Lexus taking the other heat. Meanwhile Dave Wilson in his Jag left no doubt that he deserved the "best drifter" award.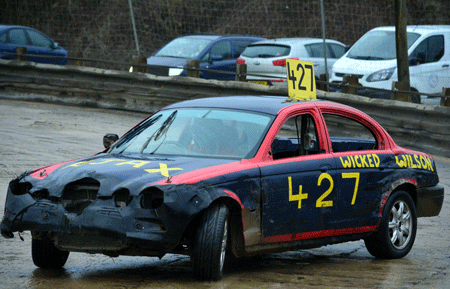 Of course we were focused on the five "racing" classes but we can't overlook Standlake's status as surely the best Banger racing venue in the country. A 60-car field raced in split heats before a 48-car final in which somehow ten cars survived the havoc to take the chequered flag. An Allcomers' Dash and a DD completed their programme.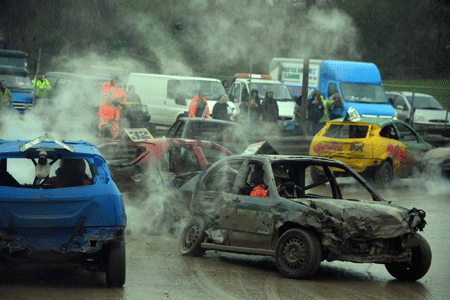 There are one or two changes at Standlake this year; an earlier 11.30 start for all meetings contributed to this being the first time we could remember leaving a winter meeting here in daylight. The Hot Rods, which continue to struggle for numbers despite 36 cars appearing at some stage last year, have had their fixtures pruned and will now mostly alternate with the F2/Superstox class, which makes its first 2017 appearance on 26 February.