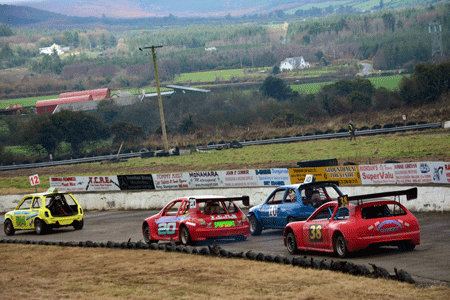 The return to racing at the Waterford Raceway for the start of the 2017 season was bound to be an emotional day for all concerned but the whole occasion was carried off with great sensitivity and professionalism by The Pike's close racing community.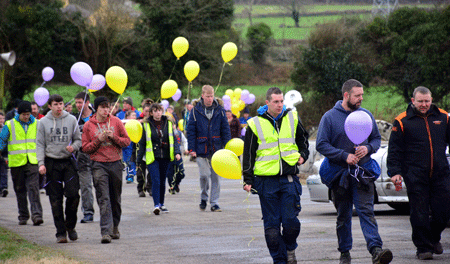 The day started with all 41 competing cars parked in formation on the track while the competitors, officials and spectators gathered for a blessing of the track and everyone present by Stradbally's Parish Priest, Fr Jerry Condon. This was followed by a minute's silence, ended by the revving of a single engine, a musical tribute arranged by one of Mairead's closest racing friends and rivals Meaghan O'Daly, and a release of balloons in Mairead's purple and yellow racing colours. Then, following the most moving occasion we've ever witnessed at a race venue, it was time to be distracted by some racing.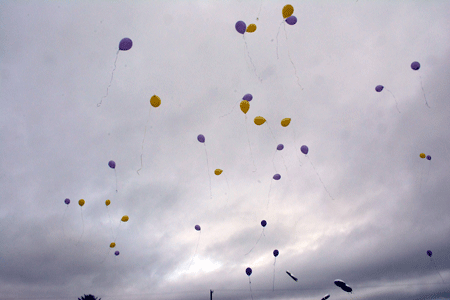 With extensive improvements having been carried out around the track in the preceding weeks, the race programme was kept deliberately low-key as a non-championship warm-up event, but the afternoon, blessed with overcast but dry and very mild weather, soon developed into some very close and competitive racing, with each driver getting a practice run and three rounds of racing. The generous race distances (most classes running 12 laps of the uniquely shaped one-third mile track,) combined with well planned handicap starts, led to quite a few spectacular finishes.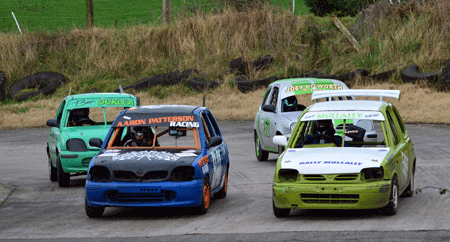 As with most Irish tracks, the Juniors took pride of place with their three classes accounting for nearly half of the total entry. The Rookies' class, where drivers start at ten years old in restricted spec Micras, featured a two car run-off to decide the cup winner from the previous uncompleted event, and after a neck and neck battle Tadgh Foley just held off Darragh Healy at the line. Tadgh took two wins to Darragh's one in their regular heats, with Jack Browne (now joining brother Adam on the tracks) and Liam Kiersey also in close contention, while Megan Kirwin took her first steps in the sport.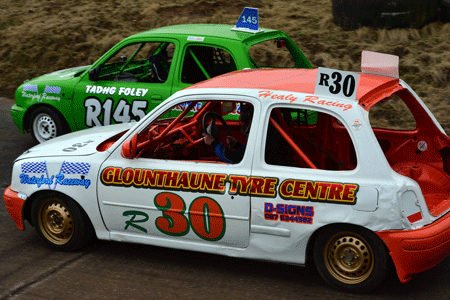 The next step up for the Juniors is Class 1B, for strictly standard one litre cars (all three Junior classes were actually 100% K11 Micras) and this brought out a very healthy field for some close and sometimes action packed racing. Aaron Patterson was to the fore, winning two of the heats, and also picking up the cup from the last event, and Evin Harding won the other race. Joey Dilworth, Gavin Mullally, Jack Pollard and Aidan Heaney were all well in contention while Ben Dunlea had a bit of a mixed day and new boy Leon O'Shea looked very promising.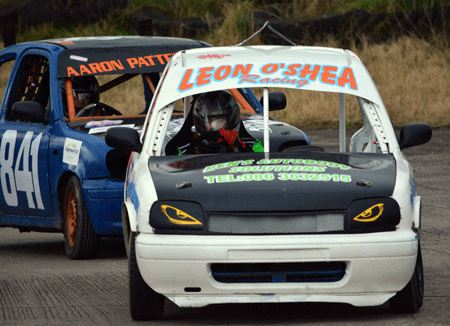 The final progression for the Juniors is the full Class 1 machinery which, although mods are restricted (the easily understood class rule book runs to nearly a whole page!) produces some very rapid and well set-up cars. Jack Hickey won the first race while Orla O'Sullivan had a close encounter with the wall; some rapid repairs on Orla's car (being very hard worked with three drivers) saw her back out to win race two by passing Adam Browne, after a spectacular exit by earlier cup winner Shane O'Shea. The last race went to Cian Deasy, holding off Jack Hickey, Rolan Foley and Adam Browne, while Jason Corbett was well in contention during the day.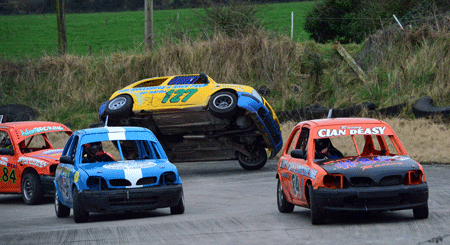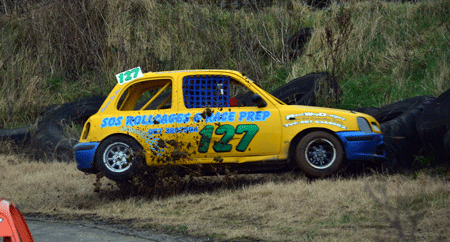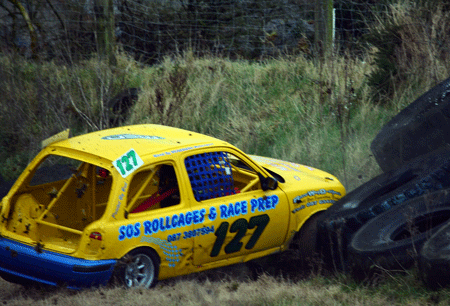 The senior Class 1s enjoyed some fast racing with Nathan Whelan winning the first race from the back, in the Orla O'Sullivan Micra. 2016 Driver of the Year, Michael Baldwin took the second run from Colm O'Sullivan and Robert Magee after Craig Kinsella made the early running in his lone boxy Micra.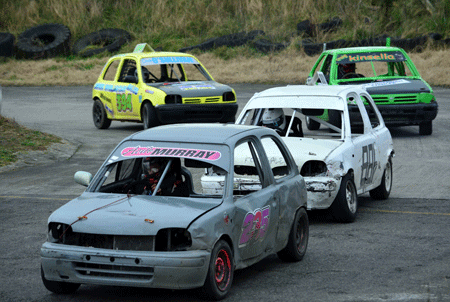 The other classes were quite thin on the ground, but running Classes 2, 3, 4 and 6 together produced some spectacular action. The first race was led most of the way by Steven Condon, running in Class 2 with Orla O'Sullivan's Class 1 Micra. Steven was caught on the last lap and as the top five cars piled into the final hairpin bend together, Ronan Waters' Class 3 (1400cc) Starlet edged ahead to the line with Seamus O'Riordan's Class 2 Micra, David Wall's Class 4 1600 Hot Rod and Martin Fitz's Class 6 National Hot Rod also up there. The second outing saw Steven Condon and Seamus O'Riordan battling before the quicker Hot Rods hit the front. David Wall was under heavy pressure from Martin Fitz until Martin put a rear wheel on the dirt and spun out exiting the hairpin. Mick Boland and Stephen Healy in their Fiat-powered Starlets were the other Class 2 contenders. Alan D'Arcy's very smart new 70-series Starlet took runner up in Class 3 while Nicky Banville joined the Class 4 ranks with another 1600 Vauxhall/Opel powered 206.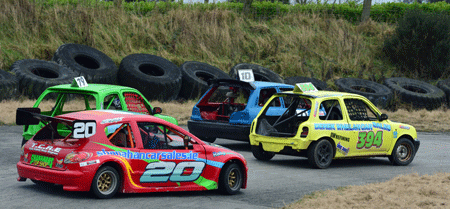 The last run saw the Class 1s mixed in with the bigger cars which meant Steven Condon couldn't race the Class 1 Micra as a Class 2, so Mick Boland loaned his Starlet. Rob Magee's Class 1 led most of the way but Steven came through in the end to take a well deserved win.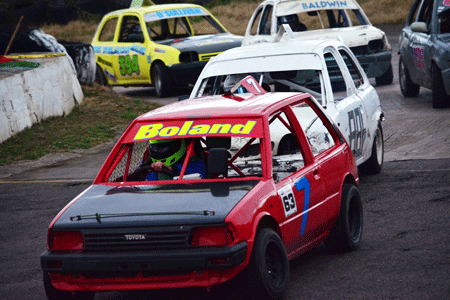 A class unique to The Pike is the "Stock Rods" – no relation to the Stock Rods we all know, but a basic fun class for 1600 production saloons, allowing the use of types of car that you'd never see on a race track in England, with the honourable exception of Angmering, where nothing would surprise you! Johnny Patterson's Mazda 323F, Alan Houlihan's Hyundai Lantra and Joe Fitzgerald's Nissan Almeira were the race winners, chased by Shane Guiry's Mitsubishi Charisma, Martin Redmond's Alfa 156, Brian Weston's Mazda and Luke Dalton's Nissan Primera, with Andrew Burke's Ford Focus representing the Rosegreen-based Premier Rod class. Also running with the Stocks was the only senior Class 1B runner, Keith Kirwin.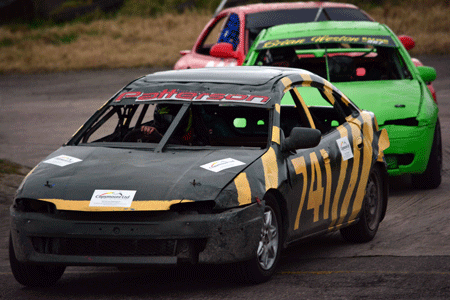 Completing the programme were the Ladies, featuring a welcome return to regular competition by Meaghan O'Daly. Drawing special inspiration from somewhere (we know where!) Meaghan drove two superb races in her trusty "Boxy Starlet", winning her first run convincingly to earn a very severe handicap in the second, but overcoming that to catch and pass Nathanya Houlihan's Hyundai with a lap to go. Anita Pollard just did the first race in the borrowed Gavin Mullally Micra after her intended car expired and Michelle Fitzgerald had a run in Stephen Healy's Starlet. In the last race of the day Orla O'Sullivan's Micra joined the ladies and took a good win from Nathanya and Meaghan.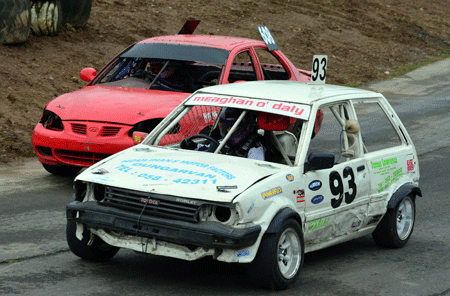 At the end of a day when thoughts of Mairead had naturally been to the front of everyone's mind, the event had turned out in a way that she would undoubtedly have approved of – a well organised day of first rate racing which brought many of her friends back together to start enjoying their motorsport again, and hopefully leading up to a successful , safe and enjoyable season at this unique venue.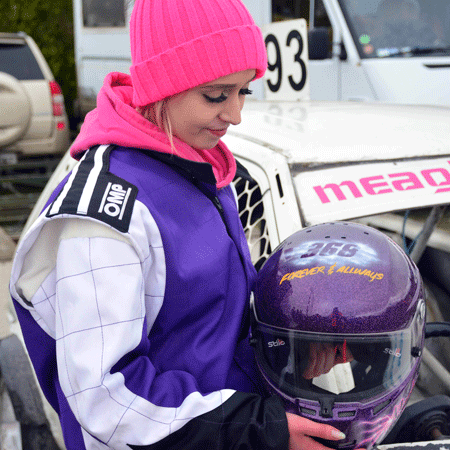 Once again we'd like to thank all at the Pike, and especially the D'Arcy family, for their welcome and hospitality, and we look forward to being back here as soon as we possibly can.