Carlow Season Opener
26 MARCH 2017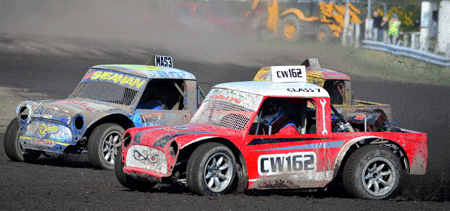 We got the impression over the winter months that there was much more enthusiasm around for the coming Irish Autograss season than had been the case for the last couple of years. A few weeks ago the NASA rollcage "tagging" exercise brought the best part of 250 Irish cars out of the woodwork, and although that included quite a few that will probably never see a live race track, it suggested that race meeting turnouts ought to be a lot bigger than they've been in the recent past.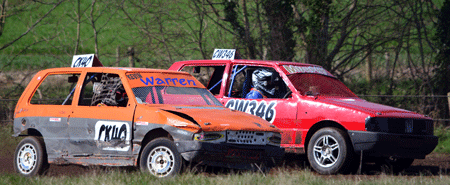 On Wednesday night much of Ireland found itself covered with a couple of inches of snow. But on Sunday Carlow Autograss (admittedly the snow had missed this part of the sunny south-east) bathed in warm spring sunshine and with near perfect track conditions the hoped-for good turnout materialised. 71 cars and 74 drivers may not seem much to some clubs, but it was the best turnout for a club meeting in Ireland for a while and included a good few new cars and new drivers, so it's to be hoped Carlow has set the pattern for the season to come.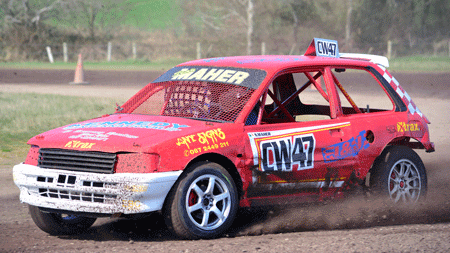 CLASS 1 had the biggest field with 14 cars present of which 13 were allowed to race, all Micras apart from the Kehoe family's eye-catching three car team of Minis (even if they hadn't quite made it to the numbering page of the rule book!). The first race of the season was disputed between a driver who'd only just come out of Juniors (Sean Reeves) and one who'd moved from Class 6 (Liam Eyre), with Liam winning both his heats, while John Kehoe's Mini also claimed two wins. John Kehoe escaped from the pack to take the final win, with Liam Eyre taking second from Sean Reeves, Dougie Nunan, Alan Kehoe, Anthony Murphy and Seamus Farrell, Carlow's Chief Marshal who felt obliged to station himself near the back of the pack so that he could keep an eye on the others! Completing the finalists was the most successful newcomer, Ryan McCauley in a John Fyffe-prepared Micra. Two more newcomers, Adam and Dale Delacey, just missed out on the final, in company with Patrick Percival, John Brophy and Daniel Kehoe's Mini.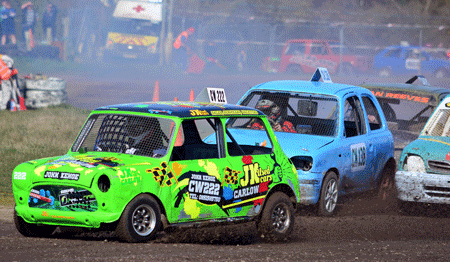 A trio of CLASS 1As proved very evenly matched with Mallow's Daniel O'Keeffe taking both heats and the overall win although Cork man Paddy Walsh won the final. Martin Murphy was well in contention to take third in his first day's racing.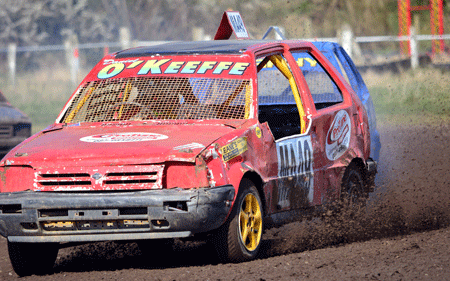 The CLASS 2 final was maybe the best race of a day that saw many close battles. Shane Farrell's returned to the Twos with the ex-Ricky Houlihan Micra and won both heats, but in the final Stephen O'Neill held on in front until the last couple of laps. Shane finally got past Stephen only for the Cork boy to reclaim the lead. Gary Shannon joined in to make it three abreast down the back straight with Shane edging in front before Stephen again came through on the inside of the last corner. It still wasn't over as Shane stayed out wide and took the win in a photo finish over Stephen and Gary. Northern visitor Peader Devlin had a good Class 2 debut (in the lone Nova pitched against the Micras) to beat Callum Hallinen for fourth with Craig Roche and John Cashel completing the closely matched field.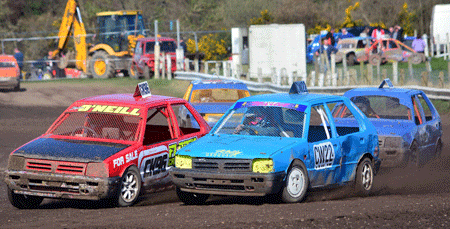 Ed Sheehan returned to action in CLASS 3, with his Micra-Vauxhall proving evenly matched with Andrew Irwin, one of two drivers travelling from north of the border, with his unique BMW 318-powered Hyundai. Ed took both heats but Andrew demonstrated his winter development work on the Hyundai by leading the final until the local man stole the win from him on the last corner.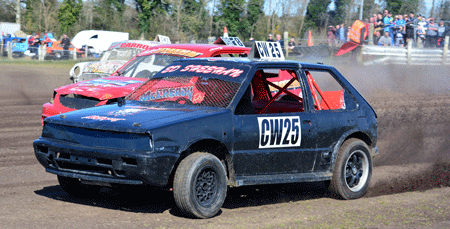 CLASS 4 had a strong 6-car field, with a couple of other leading lights content to be spectators at this stage of the season. The action started with a bang as Brendan O'Leary's Rover 200 and Kevin Warren's Fiat tangled and tested the armco – the fence passed the test but both cars were soon back in action. Evan Curran, whose his Class 6 wasn't quite ready, took his dad's Peugeot which unfortunately fell sick, as did Martin McGrath's Yugo despite holding on to win the first heat. Courtney Brady was on good form in her Micra to take heat two and the final, with Brendan O'Leary ending up second. The best news in the class though was the return of former Class 2 star Aidan Murphy after four years out of action. Aidan was instantly on the pace with his Uno, battling with Kevin Warren's similar car in the second heat although both succumbed to rear suspension breakages in the final.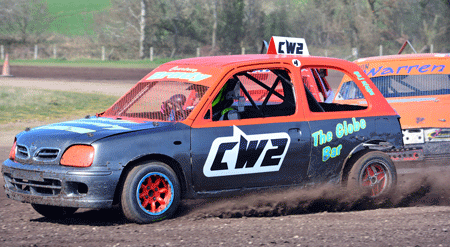 CLASS 5 had three entries, but provided really close racing. James Percival's Fiat-powered Mini won the first heat with an effective wide line but PJ Cronly took the second heat and final, and young Michael Carron also looked impressive as he just beat James for second.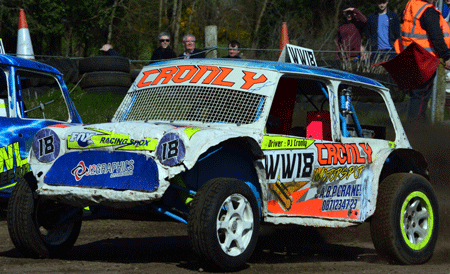 In CLASS 6 James Sinnott took up where he left off last year, taking his Micra-Vauxhall to three wins although he was challenged by former Hot Rod racer Sean Maher's Honda-powered Starlet before Sean dropped out in the final. Also going well was David O'Leary with a Rover turbo-powered Micra.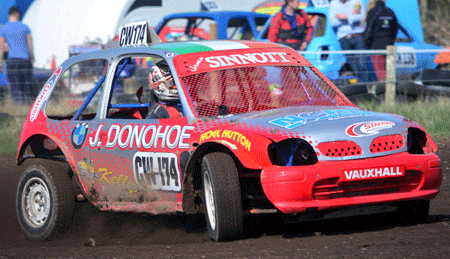 CLASS 7 was always strong in Ireland before dropping right off last year – this season it's going to be back to its best with new top line twin Busa-powered Pickups in the hands of Keith Kelly, Patrick Sheahan and Tom Buckley, and the ex-Terry Falvey/Alan Long Pickup in the hands of new owner Sean Maher. Some coincidence with two ex-Hot Rod racers making their grassing debuts, both called Sean Maher, but the Class 7 Sean, from Limerick, comes from a tarmac Hot Rod background at Rosegreen, while the Class 6 Sean is a graduate of the Kildare dirt tracks. Jamie Lyons' twin GSXR-powered Seicento unfortunately didn't make it to the startline, but the line-up was completed by former Junior Specials champ Liam Roche, newly promoted to oust dad Kevin from the driving seat of their home-built Pickup. Young Liam proceeded to make a sensational debut, winning the first two races against his top class opposition. In the final Patrick Sheahan turned the tables to win while Liam held off Keith Kelly and Tom Buckley for second, while Sean Maher had a more troublesome debut.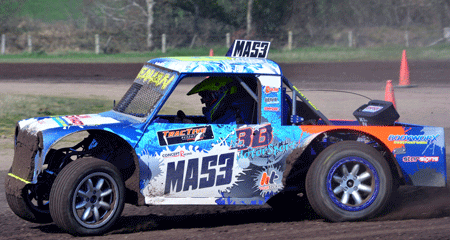 The Irish CLASS 8 ranks have continued to grow, with speculation that the class would hit three grids – they didn't quite make that target this time, but will do soon! Joe McGrath continued last year's form to win both his heats. Ricky Houlihan won the first race of his career as a full-time Class 8 driver and Ray Carey took a heat win first time out in his ex-Marc Clayton car. In the final Ray Carey got a great start and swept round the outside to take a lead he held all the way, fending off Niall O'Brien. Joe McGrath was close behind in third from Kenneth Cashel, Shane Houlihan, Ricky Houlihan and Jess Browne, after Jamie Lyons dropped out on the last lap. Con Healy, Shane Smyth and Patrick Lambert just missed out on the final while Cian O'Mahony had a frustrating day in his newly acquired WL car, never getting away from the line.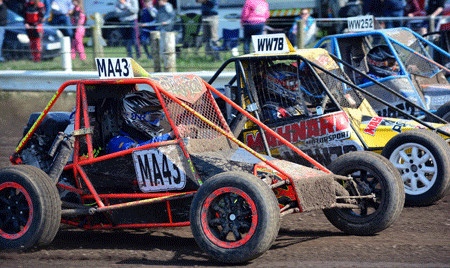 The two CLASS 9 entrants, John Fuller and Ryan Mulroy, raced with the lone CLASS 10, Ray Mackey, the latest owner of the ex-Tony Wilson Z-Car. Ray didn't reappear after all three cars landed in a heap in the second heat, while John ended up on his own in the final after Ryan laid a massive smokescreen, luckily without serious damage thanks to some good work by the marshals with their blue flags!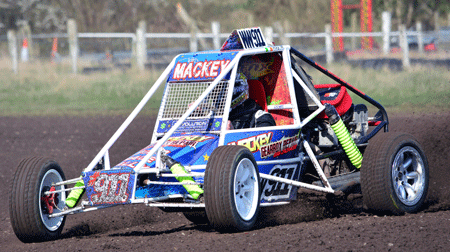 The first LADIES' race saw Denise Heffernan uncatchable with a fast and confident debut drive in the Class 4 Peugeot, which sadly didn't last long enough to give her another outing. A trio of Class 8s then fought the class out. Louise Browne took the honours from first heat winner Jenny Houlihan, while Michelle Cusack made her Class 8 debut and took third after car problems in the heats.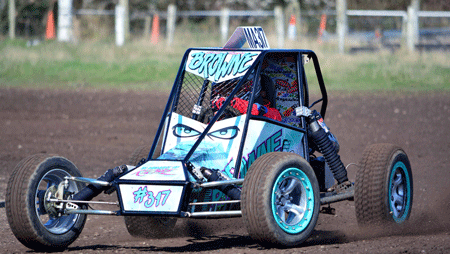 There were just three entrants in JUNIOR CLASS 1 and none in Class 1A – most unusual for Ireland where the Juniors tend to dominate the entry at most events. Adam Browne in his DNG Mini took a heat and final win but picked up a misfire in the second heat, which Zara Percival won during a very competitive debut run in the ex-Ben Scott Micra. Completing the trio was the eye-catching pink Micra of Courtney Kelly, obviously thoroughly enjoying her first day's racing.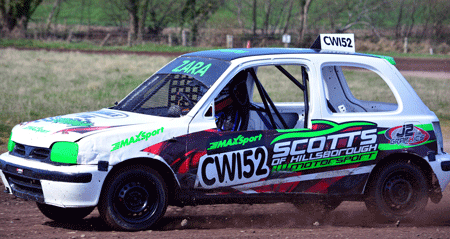 Completing the line-up was the usual full grid of JUNIOR SPECIALS which ended the day with Daryl Culbert unbeaten in the heats and final, but having some great battles to get there, particularly in the second heat where Jack Brennan led until the last lap when he got shuffled down to fourth in the ultra-close pack. James O'Riordan, Daryl Culbert and Eoghan Cusack fought for the lead in the final with Daryl hanging on in front for the last few laps, crossing the line neck and neck with the National Champ and just ahead of Michael Ryan, with James O'Riordan ending up fourth ahead of Ciillian Cusack, Jack Brennan, Dan Nash and Edward Carron.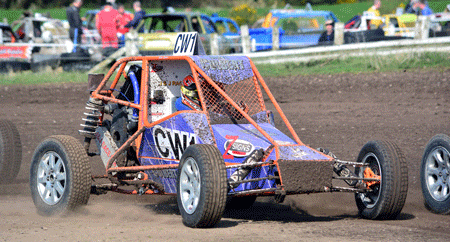 The day ended with a HELPERS' RACE in which Sean Maher was allowed out to iron out some problems with his Class 7, winning from Alan O'Riordan in his boy's Junior Special and Claire Boland in the Mulroy family Class 9.
A busy spell's in store for Irish Autograss with a week's break before a five week run begins with the National qualifiers at Mallow, West Waterford and Cork leading into the Mallow BAS round, and a return to Carlow for the first All Ireland round, so we hope that this excellent season opener has set the standard for the weeks to come.