All Ireland Autograss Series Round 2
CAUSEWAY - 3/4 JUNE 2017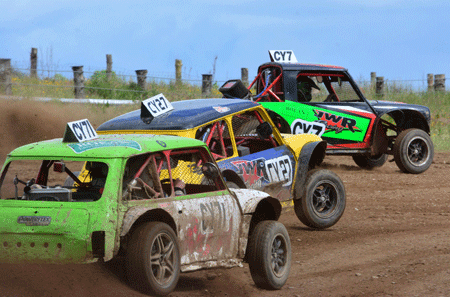 After a successful opening round at Carlow, the All Ireland Series travelled north for round two at Causeway, a club that we always enjoy visiting, but where the series unfortunately reached its lowest point. Two years ago, the first AIAS round held at Bond's Glen Raceway had attracted 57 cars; this time just 40 cars arrived and 44 drivers signed on. 18 of these were from Causeway, 8 from Carlow, 5 from Down, 4 each from Cork and West Waterford and 3 from Mallow.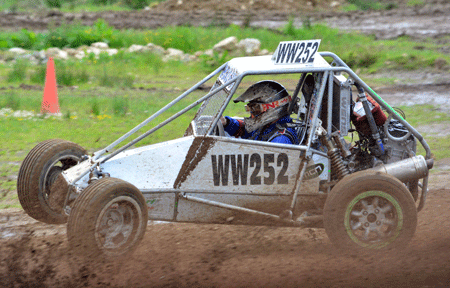 It left those promoting the All Ireland series scratching their heads about what they could do to attract commitment from the Irish drivers, while Causeway also wondered what else they could try to persuade drivers to give their venue a chance. Admittedly the travelling times and distances are beyond what most British racers could comprehend; up to six or seven hours on the road for southern drivers who might not have the quickest of tow vehicles. But the round had been deliberately scheduled on the Irish bank holiday weekend to make the travelling less of a burden. Causeway's track, it has to be admitted, isn't the most popular among Irish racers, who tend to be spoilt with the quality of venues available to them. However, without the support of visiting drivers to build up local interest and attendances, it's hard to see how the cycle can ever be broken.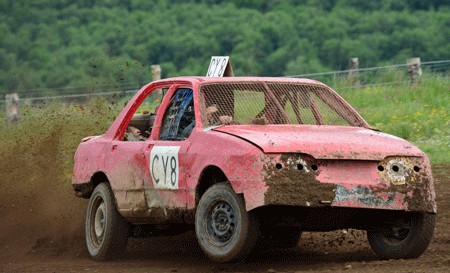 Once again Causeway's meeting was cursed with a dismal weather forecast, although the reality was nowhere near as bad as predicted; a weekend of sunshine and showers, with the heaviest showers, on Saturday, still leaving the track hard and grippy and very raceable, despite an accumulation of loose soil. On Sunday, after frequent light showers, heavy rain was forecast at 2.30 pm so the heats and finals were run through non stop and the rain arrived just as the last final left the track!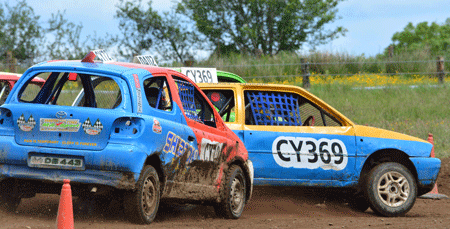 CLASS 1 attracted 6 cars although Shane Bryson's Peugeot only managed a couple of heats. Young Ben Scott, with the only Mini in the class, won all Saturday's heats with Jamie Thorpe's Micra generally heading the pursuit, but on Sunday Patrick Percival's Micra held off Jamie to score Patrick's first ever Autograss win. Normal service was resumed in the final, where Ben took a good win over Jamie, with Graham Loughlin's Peugeot, after a couple of breakdowns in the heats, a competitive third ahead of Cork's Anthony Murphy and Patrick Percival.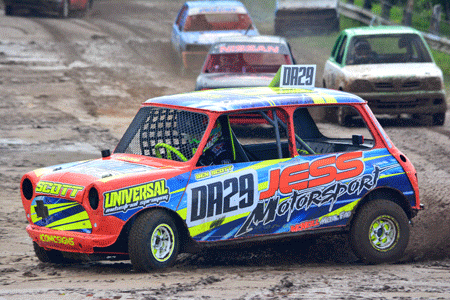 The two CLASS 1As were allowed to race with the Ones on Saturday, but were split out on Sunday. Jack Houlihan narrowly beat Paddy Walsh in all the heats before a rather unusual final. Jack was allowed to continue racing despite a black flag hanging over him for a jump start; Paddy managed to catch and pass Jack before pulling off after four laps and having to be persuaded by a marshal that the final was actually six laps! Paddy eventually rejoined to take the win, an outcome that both drivers seemed to find highly amusing!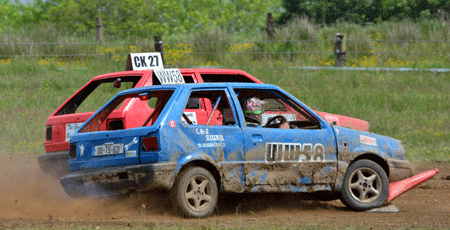 The disappointing entry meant that Classes 2, 6, 7, 9 and 10 were missing altogether, but CLASS 3 proved interesting with a trio of local cars on the grid. Ron Gamble, with the Rover V8 from his well-known BMW now transplanted into his ex-Ian Fay Micra shell, won three heats and the final, with Ivor McKee's Duratec-powered Sierra in spectacular pursuit. Declan Bryson, having his second outing with an immaculately refurbished ex-SEGTO Hot Rod Starlet-Pinto, overcame gearbox problems to pip Ron in heat one, but when overheating added to his woes he sadly had to give up.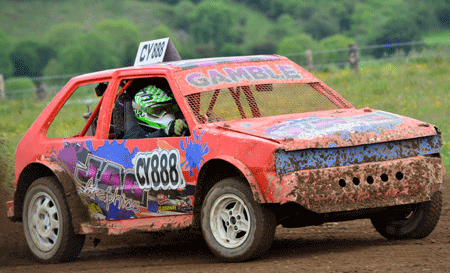 In CLASS 4 Jason Gibson's ex Alex Fretwell/Keith Theakston Mini was the car to beat, although Cork traveller Kevin Warren's Fiat managed just that in the first heat and came close, nearly too close, in the final. Causeway secretary Matthew Mayne was well on the pace with his Peugeot, but tripped over a loose bit of track in the Sunday heat and upended himself. The Fours shared the track with a pair of STOCK HATCHES; Down's Chris McCandless ended up with a perfect score although his rival, Hugh Bryson's Peugeot, dropped out after two races.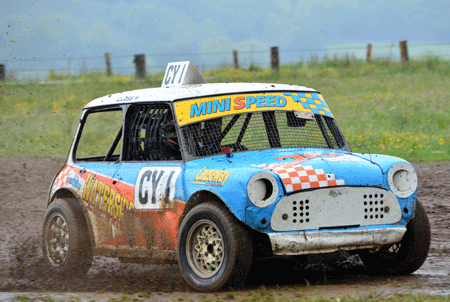 There's never any doubt that CLASS 5 will be strongly contested at Causeway, although this time National Champ John Wilde was unbeaten, just being denied a maximum score when his Pickup wouldn't start for Saturday's last heat, presumably with water in the works. Aaron Wilde won that one, to keep it in the family. John Marley led the final away, but John and Aaron Wilde demoted the club chairman to third, and last finisher, after Derek Gurney's smoky Mini eventually caught fire. After Saturday we lost Carlow's Sean Lambert, who'd been well in contention before car problems, and Damien McAteer.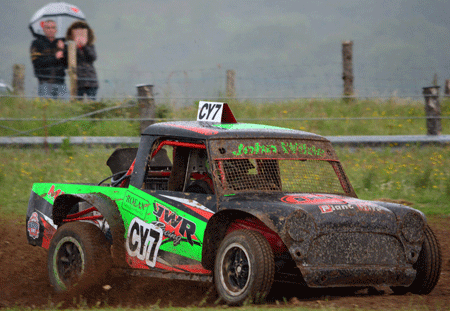 CLASS 8 was contested by four cars and Kenneth Cashel ended the weekend unbeaten, although he was made to work for every win. Shane Houlihan, having taken over the one-off Endaf Owens built car from cousin Ricky, gave Kenneth a good run in the first heat, while in the final Wayne McKenzie, looking very impressive in the '06 Russ Shepherd Extreme car, led before losing it briefly. Wayne and Shane then battled for second but contrived to finish fourth and fifth after getting the joint blame for all the cones on the bottom bend going missing. Con Healy retired after a frustrating weekend having only brought the wrong profile tyres with him.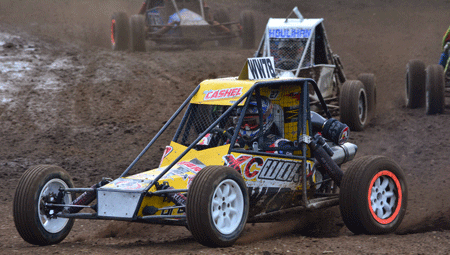 The only full grid was in JUNIOR SPECIALS and the eight evenly matched boys behaved excellently all weekend, apart from a first corner tangle in the first heat. Darryl Culbert won the first two heats but Colin Linehan won the next two. In the final Colin led all the way with Larry Lynch having his best race of the weekend to take second from Daryl Culbert, Michael Ryan and James O'Riordan, while Dean Browne, Jack Brennan and Dan Nash battled for the remaining places, with the former two both getting green flags for cone-scattering.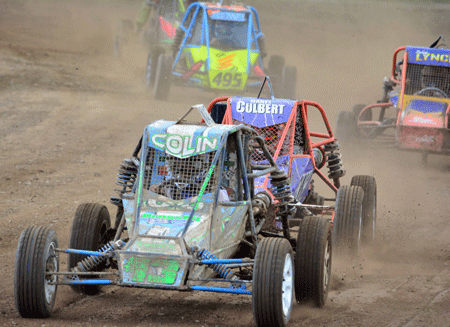 The JUNIOR CLASS 1s were won in all Saturday's three races by Adam Browne's Mini, but the third race was rerun on Sunday after a disputed jump start call and Aaron Darragh's Micra beat Adam in that and then the fourth heat. In the final Adam was back in front, chased by Aaron and John McKee's AX, with Eoin Marley's ex-Ben Gould Yaris and Adam McKee's AX completing the runners.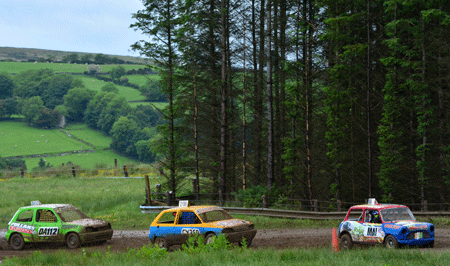 On Saturday there were just two LADIES' entries with Sarah Collier's Micra beating Sarah McKee's AX in all three races. On Sunday Jenny Houlihan joined in, having had to fly in from Leeds, and she won the fourth heat and final chased by the two Sarahs in the same order. Jenny also jumped in Class 8, but with no other ladies' specials present there was no alternative but to run on her own to claim her series points.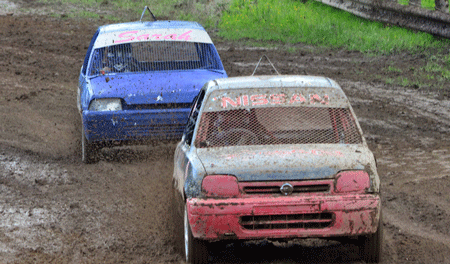 The Causeway club had done a good job to make the best of the support they were presented with, but couldn't hide the disappointment. The AIAS now takes a six week break before reconvening at the other end of the country, in Cork, where a much better turnout is confidently expected!