Down Autograss
10/11 JUNE 2017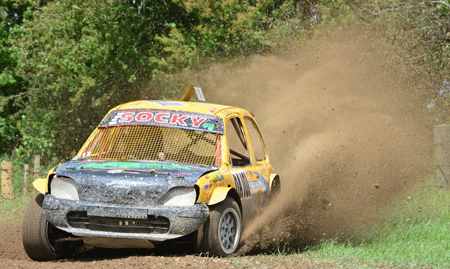 It doesn't seem long since Down Autograss left their highly rated track at Maghaberry, but this is their fifth year on the "new" track at Brague Road, Banbridge. That means the club's in the last year of its original lease of the track, but hopes are high that it will be extended as the location, despite being hidden away in the rolling green hills of County Down, has been very successful in recruiting new members from the local area. There's only a relatively small proportion of the current membership who even remember racing at Maghaberry.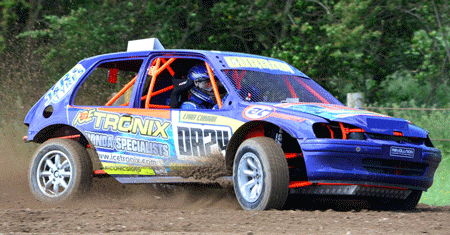 This year, with it being Causeway's turn to host the Northern round of the all-Ireland series, Down's season purely comprises club racing, with the events organised as weekend double-headers around once a month. The weekend we attended wasn't expected to draw too big an attendance, coming after the National qualifying meeting and before the "King of Down" trophy meeting, but it attracted a respectable 40 cars on Saturday and 39 on Sunday.
Down counted themselves lucky to be racing at all on Saturday. Torrential rain storms across Northern Ireland on Thursday afternoon didn't bode well, but by Friday afternoon the hilly venue had dried out perfectly. Then it rained again most of Friday night, but a slightly delayed start meant that the track was again in fine condition for a relaxed four rounds of racing on a pleasant sunny afternoon.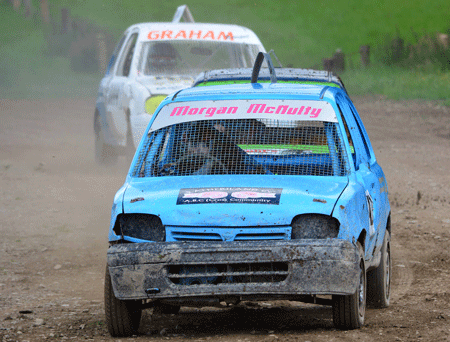 Sunday wasn't so lucky; another very relaxed start to the day meant the fine morning had passed and the rain clouds were approaching by the time racing started and a downpour towards the end of the second heats led to the club calling it a day at that point – nobody was too upset as the double header format had already given most drivers plenty of racing.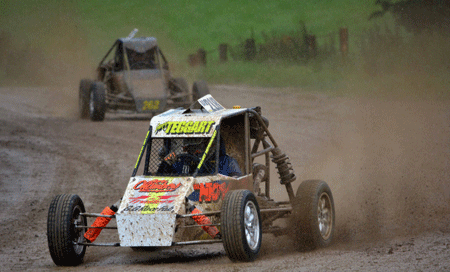 CLASS 1 was unusually all Mini on Saturday, but once first heat winner Ben Scott departed with a broken cv and Matt Jess with a puncture, it ended up a two car race with Davy McNeill returning to the wheel to chase reigning Junior National champ Alexander Weir. On Sunday these two were joined by Causeway Micra pilot Mark Johnston, who was able to split the two Minis.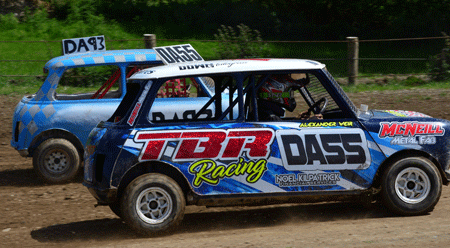 Peadar Devlin's Nova was the only CLASS 2 entry, but he mixed it well with the CLASS 4s, even beating them all in one race. John Heffernan's Micra mostly headed the 4s but Jonny Mills' AX was running away with the final until it blew up. Stephen Kearney's Micra was in contention all weekend and Jamie Coyne joined in on Sunday. We should also have seen Andy Brown's ARC-registered Peugeot on Sunday but it broke its timing belt and got no further than the unloading area.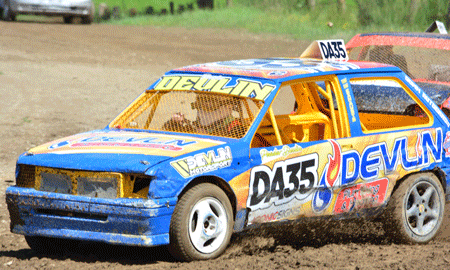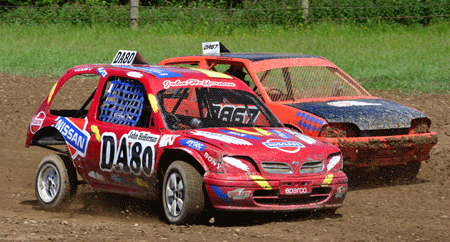 Unfortunately most of Down's normal varied field in CLASS 3 were missing, just leaving Marty Bryans' BMW Compact to provide the entertainment, although Jim Lee joined in for one race on Sunday with his ex-Paul Cusack Starlet. They shared the track with a trio of CLASS 5s in which honours were shared between Gordon Mathers' Cinquecento and the brand new Bennett built Pickup of Conor Devlin, showing plenty of promise despite a nagging misfire. Curtis Sizer made a welcome return, the ex-Junior Specials driver out in the Cinquecento as raced by his much-missed father, Andy.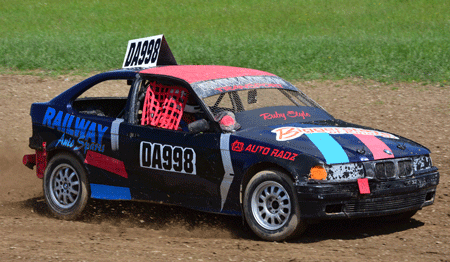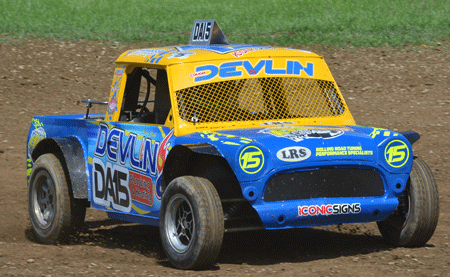 CLASS 6 was one of the strongest classes, with a 6-car turnout on Saturday. Two of the heats were headed by Evan Curran, on a shakedown run in his new Honda-powered 106, but the weekend's other races all went to fellow Kildare driver Sox Coyne, on flying form in his Micra-Honda. Adam McCready's Astra, Andrew Greenaway's familiar Clio-Rover, Mark Burke's Starlet and newcomer Stephen Moore's Golf-Honda were all going well.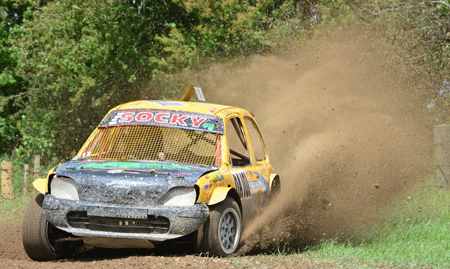 There were three evenly matched STOCK HATCHES. In their first heat Eddie Murphy's Saxo just beat Junior Murphy's similar car but Junior held the upper hand for the rest of the weekend with Chris McCandless usually managing to split the father and son.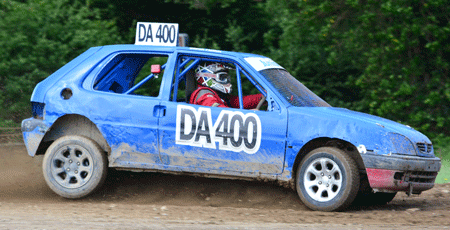 On Saturday Barry Leech was on his own in CLASS 8, but on Sunday he was joined by Wayne McKenzie's older Xtreme car, with each of them winning one race. There was just one CLASS 10, but it was a "proper" Class 10, Jonny Mills' vintage Rover V8-powered car that made entertaining progress before breaking its gearbox after two races.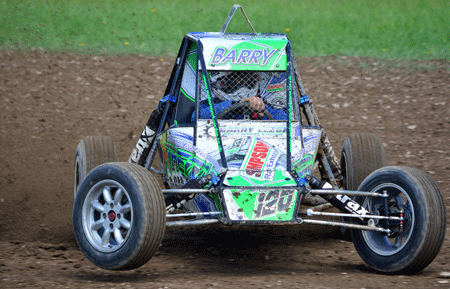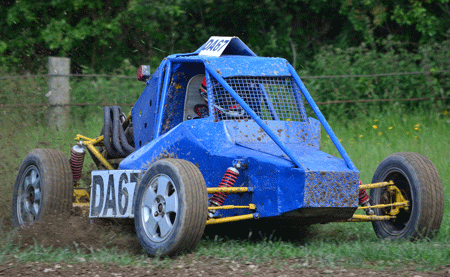 A four car field turned out in FORMULA 1200 with the highlight being a side-by-side battle in the first Sunday heat between Brian Lammey and Johnny Teggart. Johnny took a good win in the wet last race but on Saturday Brian won everything with Johnny having a couple of breakdowns before losing a wheel. Darren Pearson, in Brian's old car, and Gerard Darragh, racing for the first time since doing Bangers 30 years or so ago, were both on the pace.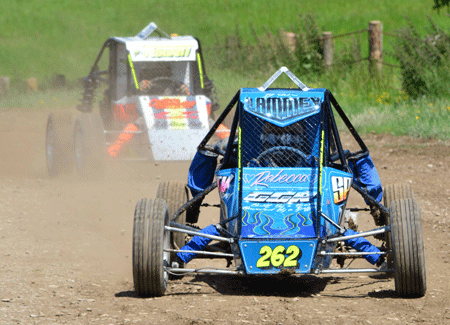 The other four JUNIOR SPECIALS generally followed Larry Lynch home, but Larry had problems in a couple of races which were won by John Newport and Sian Thomas. Shane Parr was in the thick of the action while Aaron Darragh had a good open-wheel debut, sharing the car with his dad.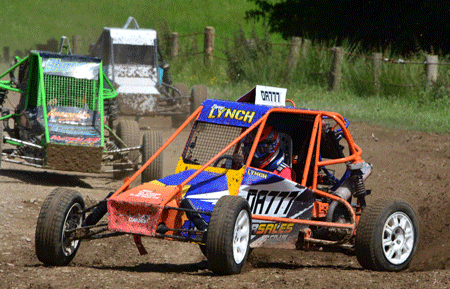 The biggest field was in JUNIOR CLASS 1, with 11 cars on Saturday and 10 on Sunday. Aaron Darragh's new Special didn't distract him too much from the Micra, winning all his races except for Sunday's first heat, when he had a puncture. Conor Parr and Jack Martin took a heat win each, while the three Keith Graham team Micras of twins Scott and Ross Graham and Brad Bowman each picked up a win as well as getting in the thick of the action. Brad also won Saturday's B-final and brought Sunday's racing to a halt when he lost a wheel while battling with Morgan McNulty, who featured well in all her races. Also in contention were the Micras of Kyle McGinnis Mallon and Eoin Murphy and the two Minis of Ruari Thomas and Adam Cochrane.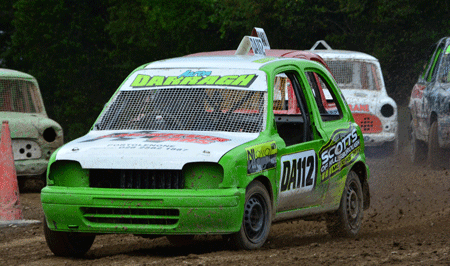 An enjoyable weekend's racing then, on Down's spectacular and challenging track which is unlike any other NASA track with its various gradients and cambers. Well done to the Down members who kept the show running well but who knew when enough was enough after the hard working marshals got a soaking!