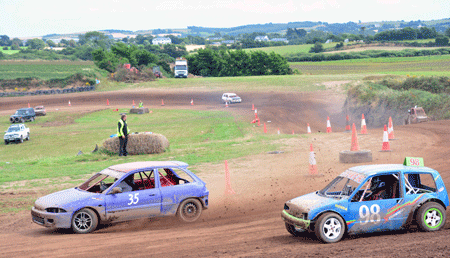 This time last year we had our first taste of Wexford Hot Rod Racing, courtesy of the Revs Hot Rod Club at Ballymitty, in the south of the county near Wellingtonbridge. There we enjoyed a chaotic, friendly and fun weekend, despite only 23 cars turning up over the two days. At the time racing in Wexford, once a busy centre of dirt Hot Rod action, was at a fairly low ebb with Revs being the only club surviving. Then early in 2017 problems at Ballymitty caused Revs too to shut their doors, hopefully not for ever, although several of the major players in the club have turned successfully to tarmac racing at The Pike.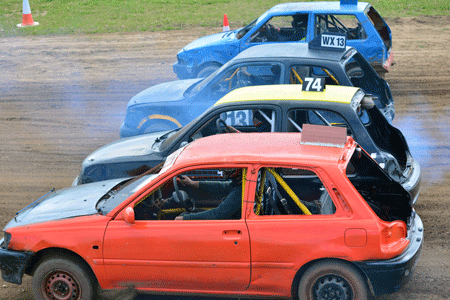 However, all was not lost for the Wexford dirt racers as last August a new club held its first event just outside Ballymurn, off the beaten track (as much of Wexford is!) between Enniscorthy and Wexford Town. That first meeting, on a huge track marked out on land just claimed from an in-filled sand quarry, was very well received and the new Ballymurn club held a couple more events, both on the grass track and on stubble up the road at Oylgate.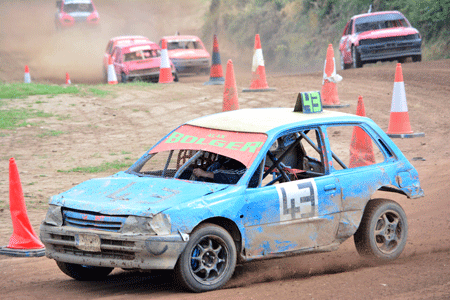 After that promising start, a massive amount of effort went in over the winter to turn the wide open spaces of Ballymurn into a unique permanent race track. The basic track layout, with long uphill and downhill straights joined by tighter corners than an Autograss racer would be used to, had proved a hit, so banks were built up and the spectator areas marked out with high catch fencing and anti-stone netting. Loose sand traps were put in that have proved very effective in keeping errant cars out of the banks. With the undulating land restricting spectator viewing, a covered trailer/grandstand was erected next to the pits at the top of the hill, similar to one of Ireland's other leading independent dirt tracks at Ballyshannon. Equipment was collected that enabled the club to turn the sandy ground into a racing surface that would be the envy of many Autograss clubs.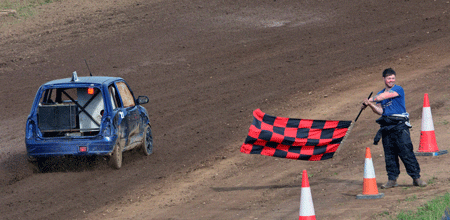 For 2017 the Ballymurn club, headed by a group of experienced Wexford racers including Willie O'Connor, his son Daryl and Ciaran Fortune, set out a fortnightly schedule of events, and soon there were stories emerging of good car turnouts, slick organisation and spectacular racing that meant the good times were here again for Wexford Hot Rodders. Don't forget that this local scene with its back-to-basics, cheap and cheerful racing, had trained many a future Autograss star!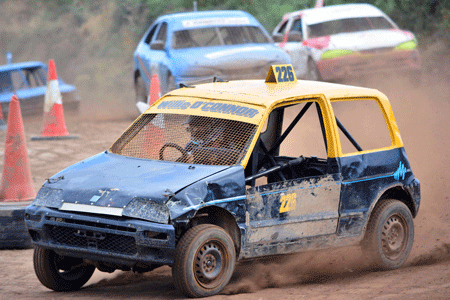 It sounded as though this was a venue we really needed to take a look at, and the opportunity arose when the club announced that 30 July would see its first major trophy event, with Senior, Junior and Ladies' cups put up by the O'Connor family in memory of Nancy and William O'Connor. The venue was easily found (thanks to Google literally putting it on the map!) and with an early (by Irish standards!) start to scrutiny, the field filled up through the morning with a total of 50 cars and 56 drivers finally signed on.

There was also a good spectator turnout and, especially in the constantly full grandstand, the club had a great atmosphere going, with a lively commentary provided by Carlow Class 8 racer Patrick Lambert.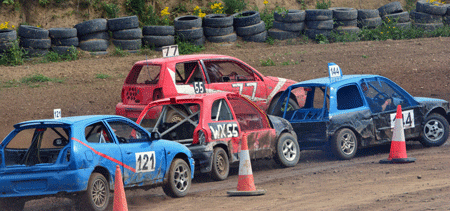 The turnout maybe would have been bigger if there hadn't been a forecast of heavy rain; in the event there were a couple of very brief showers (while Enniscorthy, around 8 miles away, was hit by thunderstorms!) and for most of the afternoon the sun shone and the dust flew, causing plenty of work for the impressive water bowser that could sweep the full width of the track. Close, and often slightly fraught, racing was the order of the day from the typically varied field of Hot Rods, and 5 lap heats and the 10 lap Cup races on the long track gave plenty of race time, with the quick turn round of races allowing for a couple of generous breaks.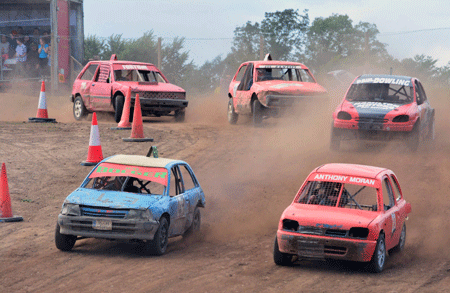 An interesting approach to the class structure means that Classes 1, 2 and 3 (1100cc, 1310cc and 1410cc limits) are split between "standard" and "modified" cars; normally anyone deemed to be modified will be handicapped at the start, but when there are full grids the modifieds can be given their own races.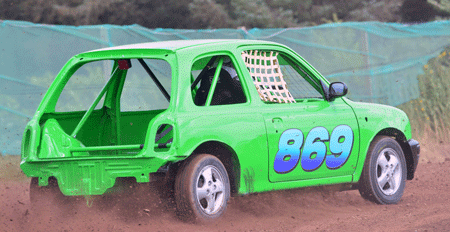 This time the standard CLASS 1 had a good field of nine Micras. Wicklow based Willie Eager dominated as he won all three heats, with son Aaron chasing him home in the first heat. Brendan Mahon was Willie's closest challenger in heat two and in round three Willie was chased in by Johnjoe Jordan, Aaron Eager and Shane Doyle. Others in contention in the closely matched races were Nigel Dempsey, Chris Mahon, Philip Mahon and Dean Foley.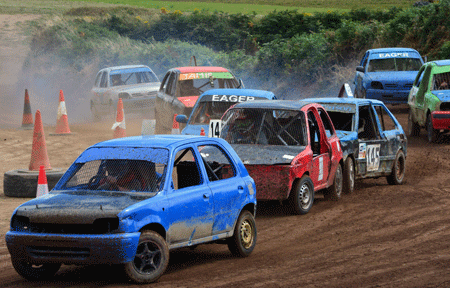 The three MODIFIED CLASS 1 and three standard CLASS 2s raced together. Mick Boland came out on top in all three races with his immaculate Micra (built as a Rosegreen Production car), chased in the 1M class by John Fernihough and Paul Redmond. John Codd's Mitsubishi Colt won two rounds in Class 2 and "Stato" in a Starlet took the third, with Robert Breen's Uno completing the class.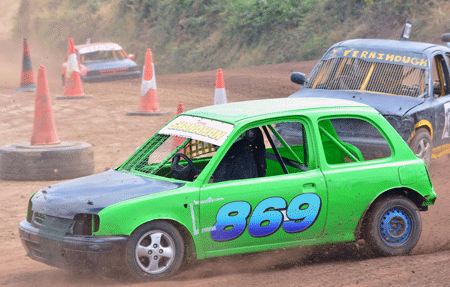 CLASS 2 MODIFIED had an 8-car grid, and was the first of the "hybrid" classes, with Mitsubishi engines looking favourite to be found in unexpected bodyshells. Maybe the quickest of the lot was Daryl O'Connor in his dad's screaming Cinquecento, but it didn't want to do too many laps and take Daryl away from his flag waving duties! Craig Kinsella's Colt won two rounds and the third went to Mark Mullen in an ex-Autograss K10 Micra, now also with a Mitsubishi engine. Mick Boland also featured in this class with a Toyota-powered Starlet, while other front runners were Basher Mahon's Mitsubishi-powered VW Lupo and Joey Sinnott's Colt. Also in the mix were Bengi Cullen's Corsa (also Mitsubishi under the bonnet) and David Rossiter's Nissan 8 valve powered K11 Micra.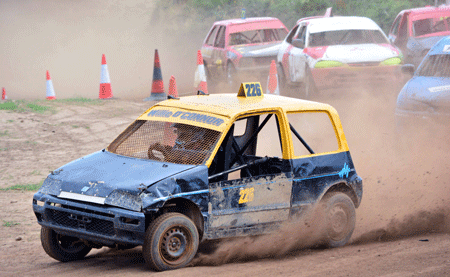 CLASS 3 featured one "standard" car, Mike O'Neill's 16 valve Toyota powered Starlet, starting up front, chased by a pack of seven "modifieds", most of them using probably the favourite engine of the Irish Hot Rodders, the 1400 SOHC Honda Vtec. Mike O'Neill put up a good fight against the quicker cars but the first winner, with a good last lap pass, was Paul Dowling's mid-engined Honda-powered Corsa. The other two races went to Alan Bolger's Starlet-Honda, chased by Anthony Moran's Micra-Honda and Ciaran Fortune's Nissan-powered Starlet. Matt Flynn's Starlet-Honda was another strong contender, but we lost Jamie Dooley's Starlet-Honda and Pat Nolan's Civic after the first round.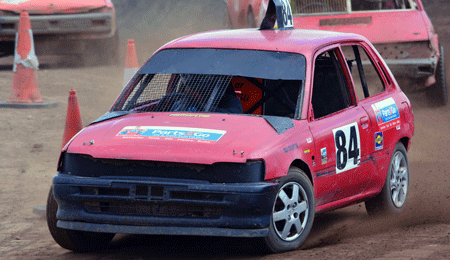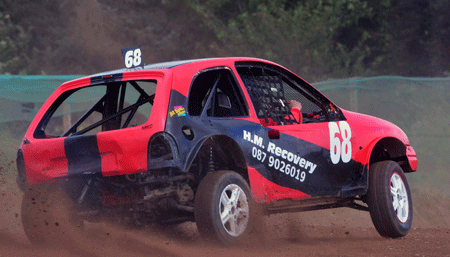 CLASS 4 (up to 1600cc) featured a classic Irish Hot Rod from an earlier era, Alan Tigh's VW Beetle, with a smoky Nissan 16 valve motor hanging out of the back. Alan claimed the engine and the steering rack were the only bits on the car less than 50 years old! It went well too, leading away in the first heat although a watered track for the next couple of rounds didn't suit the Beetle. The rest of the class were all front wheel drive and powered by 1600 variants of the SOHC Honda. Jimmy Boland's tidy Civic won two rounds but was just held off in the other by Shane Benson's Micra with Billy Clince's Starlet in contention and Mick Lambert's Starlet eliminated early on.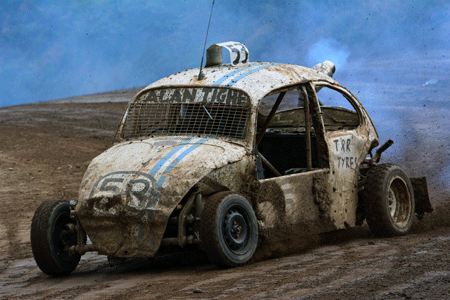 CLASS 5 (1700cc including twin-cam Vtecs etc), CLASS 6 (over 1700) and CLASS 7 (Specials) all ran together. David Martin's Vtec-powered Starlet was the only Class 5 contender, while in Class 6 Trevor Moran's Proton beat John Dwyer's Starlet, both Vtec-powered. The Specials class featured Mikey Benson in an ex-Class 9 chassis with a Vtec and Ken Power in an ex-Class 7 Cinquecento, now with a SOHC Honda in the back, but pretty spectacularly driven.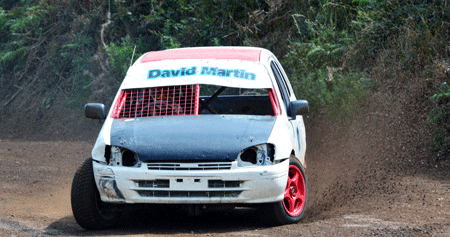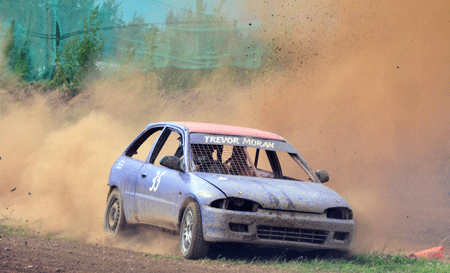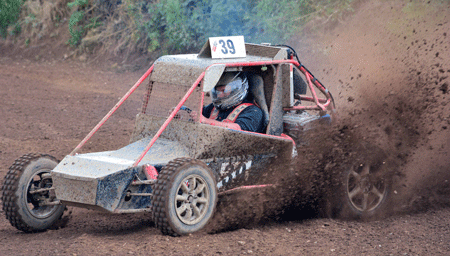 There was a 6-car grid of JUNIORS, who can race from 9 to 17 years old in Class 1 or 2 cars. Four Micras lined up with two 3-cylinder Daihatsus. The first heat was abandoned after a couple of pile-ups while Jake Stamp's Daihatsu won the second. The last race went to David Houlihan's Micra from Jake and Kyle Stamp in the two Daihatsus, with the K11 Micras of Tom Cowman and Brandon Eager and the K10 of Adam Benson being the other contenders.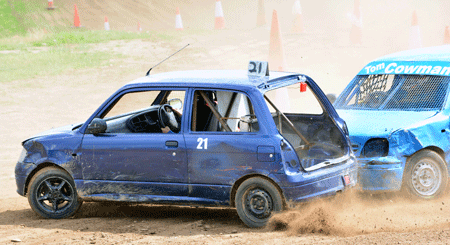 The LADIES raced up in a varied 8-car line-up. Amanda Cloke was going well on her first race day, but the winners were the more experienced Joan Redmond (in a 12 valve Starlet) in the first round and Shauna Foley's Colt in the other two. There were a few tangles along the way, with Niamh Newens' Starlet getting a heavy hit in the door, but others who featured were Amanda Lambert (switching between Buster Mahon's Lupo and Joey Sinnott's Colt), Katie Egan in a Civic, Lucy Egan's Starlet and Chantelle Wallace in a Micra.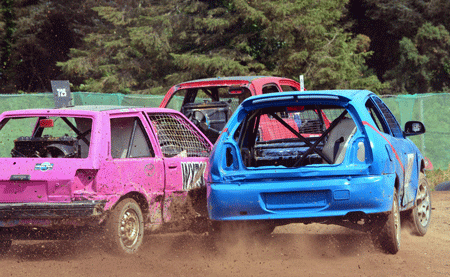 Incidentally, please do tell us if we've got anybody's names wrong – the signing on got a bit hectic and we couldn't quite read all the names in the registration book!
That left the three ten-lap Cup races to be contested, after a break to sort out the qualifiers. The Ladies' and Juniors' races were easy enough, with all runners going through, but competition was tight for the two places per class in the senior race. The Ladies' race was stopped when Amanda Lambert lost a wheel. Lucy Egan, Amanda Cloke and Katie Egan also dropped out, but there was no stopping Shauna Foley, who finished almost a lap ahead of Joan Redmond and Chantelle Wallace, to become Ballymurn's first big trophy winner.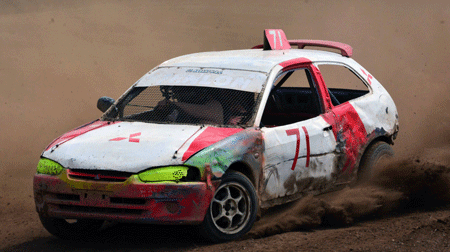 The Juniors followed, with Adam Benson pulling off before the start and Jake Stamp straight after. However, Jake's brother Kyle dominated the race in the other Daihatsu, finishing well clear of Tom Cowman, Brandon Eager and David Houlihan, to win a trophy that was almost as tall as him!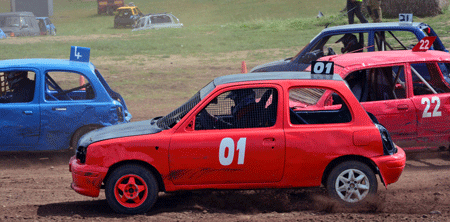 15 of the 19 qualifiers turned out for the main race which defied predictions by running almost without incident. Willie Eager and Shane Doyle led the early laps but Alan Bolger's Class 3 Starlet stormed through the field and then pulled away to take a well-earned win. Giving chase were Shane Benson, Jimmy Boland, Anthony Moran, John Dwyer, Ken Power, Joey Sinnott, Mike O'Neill, John Fernihough, Willie Eager and "Stato" with Mick Boland, Shane Doyle, Craig Kinsella and John Codd pulling out.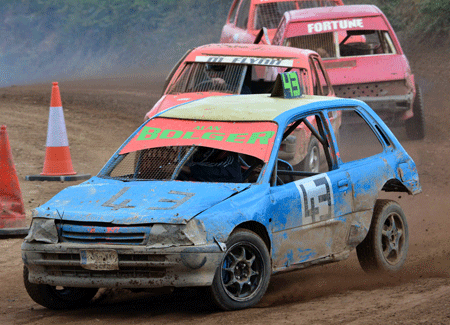 We have to say we liked the club's approach to post-race scrutineering. At the drivers' briefing everyone was told the winners would be pulled aside for checking, with heads to be taken off if there was any cause for concern "so if your car's wrong, don't win the cup!". At the end of the day, the winning car was parked in the middle of the pits and all the drivers were called up and asked "Does anyone have an issue with this car? Do you want to give this man the cup?" The reaction made it clear that no check was necessary and everyone went home happy with a great day's racing, in accordance with this promising new club's motto "just for fun".
Thanks to the Ballymurn club for their hospitality – definitely this is one of the ever-growing list of Irish race venues we intend to return to at the first opportunity!