The race days at The Pike seem to be getting better and better. Our last visit, when we made a quick dash down from Derry for the June Bank Holiday meeting, was plagued by torrential rain, but still provided a good day's racing for the 60 drivers signed on, which was a season high at the time. We missed the regular June, July and August rounds due to clashing grass racing commitments but the entries held up, with just a brief dip at the July meeting with quite a few regulars being away. The August meeting had to be abandoned when heavy rain was capped by the track disappearing into the clouds. When that day was rescheduled a week later (unfortunately for us, on the day of the All Ireland Autograss finals at Mallow) entries reached another season high with 63 drivers.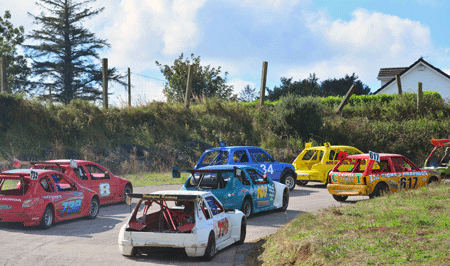 When we finally managed to get back to the Pike on 17 September we were greeted by perfect weather and another great turnout, with 70 drivers in the main programme plus another ten signed on for the fund-raiding "Mammies' Race". The only real problem all day was congestion in the pits, which is a good problem to have these days!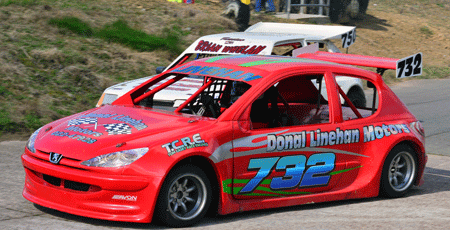 The Mammies Race was an inspired idea by whoever thought of it; raising funds for the continuing track improvements by inviting lady drivers with little or no racing experience to raise 100 Euro or more in sponsorship, borrow a car and have a go. The target 10 car grid was reached (with the inclusion of a couple of "ringers"), sponsorship targets were exceeded and everyone enjoyed the experience. With an impressive standard of driving displayed by all the newcomers, one extra consequence could be a few new drivers for the regular ladies' class – we hope so, anyway!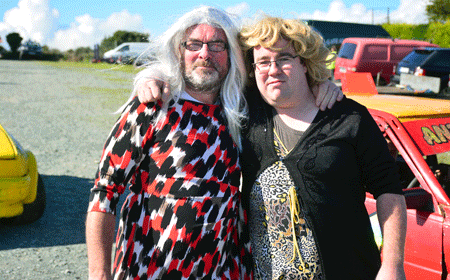 The theme of the regular class racing was the closer and closer racing across all the classes, encouraged by the usual expert handicapping although virtually every driver was managing to find at least one evenly matched opponent, or five or six of them in many cases. CLASS 1 featured six rapid Micras with nothing to choose between them. Michael Baldwin made a last corner move to snatch the first race from Steven Condon, Jamie Bowen and the immaculate new car of Sean Lynch. The second race saw all six finishing in one block with Tipperary drivers Ger Russell and Michael Russell heading them across the line. The third race was joined by Classes 2 and 3 and came to an early end, with Michael Russell just having taken the lead from Jamie Bowen. Michael Baldwin took first overall from Steven Condon and Michael Russell.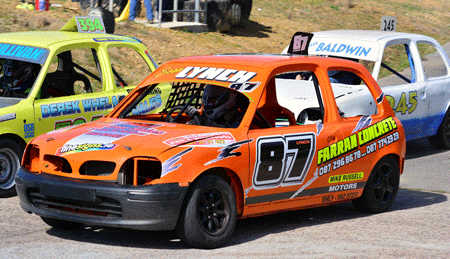 CLASS 2 and CLASS 3 ran together, with Stephen Healy's Fiat-powered Starlet dominating Class 2 while a spectacular running battle between Alan D'Arcy's Suzuki Starlet and Ronan Waters' Honda Starlet in Class 3 was one of the highlights of the day. Alan held off Ronan in the first race but Ronan looked set to reverse the order in race two until Alan made a move round the outside of both Ronan and Stephen to grab a last corner win in race two.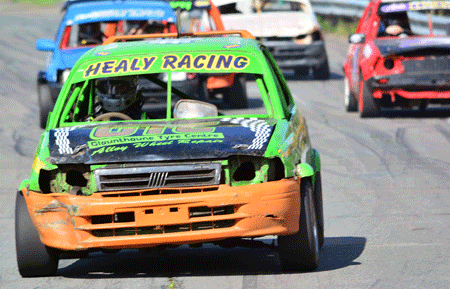 Race three saw Alan hit problems just as the race was stopped with Stephen Healy in trouble. That just left James McCoy's Starlet in Class 2, while behind Colm O'Sullivan's Opel-powered Starlet and Ronan in Class 3 were the Starlets of Daniel O'Sullivan and Shaun Lonergan, with Michael Berrisford's Micra-Honda also in contention in the earlier races. Stephen Healy took the Class 2 trophy from James McCoy and Alan D'Arcy won Class 3 from Ronan Waters and Shaun Lonergan.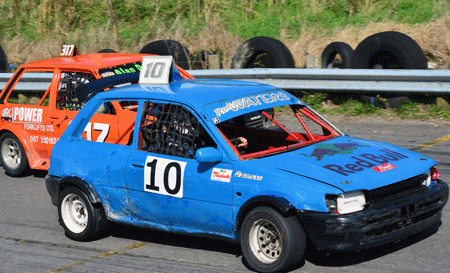 Classes 4, 5 and 6 all ran together, making quite a spectacle from the mixed FWD and RWD field. The three "Outlaw" type Hot Rods in CLASS 6 started half a lap behind the others but carved through the traffic with Brian Whelan's Nissan Turbo -powered 205 just beating Donie Linehan's 206 in each race. Donal Linehan's immaculate Honda-powered 206 unfortunately exited the first race with rear suspension damage.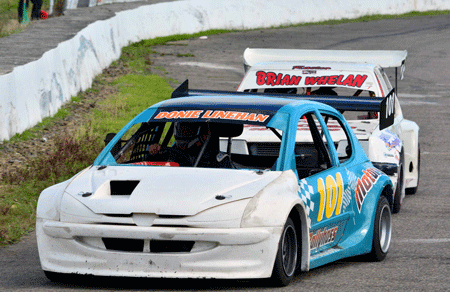 CLASS 5 was contested by three Honda 1500 powered cars from the growing ranks of Wexford drivers; Andy Foley held off Andrew O'Brien in the first two races in a battle that couldn't have been closer, proved by Andrew finishing the second race on his roof (the things he'll do to give Veronica some spectacular on-board footage!). Andrew was back with a win in the last round while Pat Power's Micra-Honda finished all three races despite some engine gremlins and a quick spin into the wall.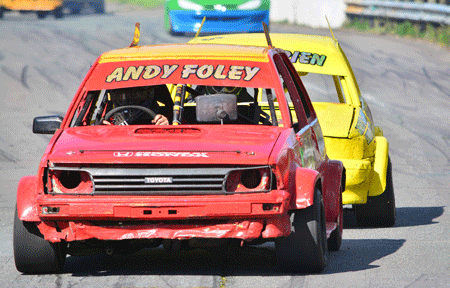 CLASS 4 was the domain of the Pike's breed of 1600 Hot Rods, with 8 valve Opel motors effectively powering the National-spec 206s of Nicky Banville, who won the first two races, and Peadar Wall, who took the third. They were joined by the ORCi Stock Rod Nova of Philip Heery (one of several Rosegreen regulars having a first Pike outing) and Gavin Mullally, who's graduated from Juniors by sticking a 1.4 engine in his Micra. The overall results saw Peadar Wall winning Class 4 from Nicky Banville and Philip Heery in joint second. Andy Foley took Class 5 from Andrew O'Brien and Pat Power while Brian Whelan won Class 6 from Donie Linehan.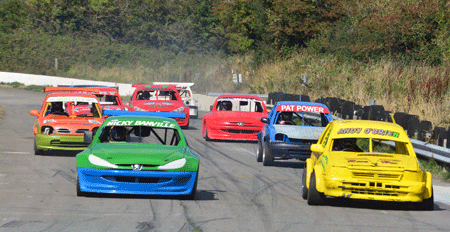 One class that's been growing all year is CLASS 1b for standard Micras, most of which are shared with the standard Junior class to provide ultra close and cheap racing. Keith Kirwin, John Ivers and Shane Harding all took race wins with John getting the overall win from Keith and Shane, just ahead of Johnny Patterson, newcomer Mick Cashin and Willie Heney.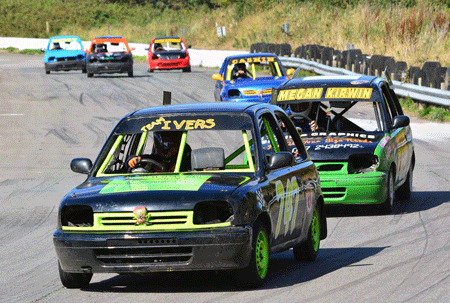 The STOCKS provide similar close, cheap and cheerful racing, and this class also featured a couple of Rosegreen Premier Rod racers trying the Pike for size. With drawn reversed grid heats, rather than the usual handicap starts, Joe Fitz took race one in his Nissan Almeira, but got into a tangle in the second race with Jamie Condon in the Mitsubishi Charisma, bringing out the reds. Marty O'Riordan's Focus won that one, but Graham Nelson's Astra, one of the cars to beat at Rosegreen this year, came into contention in second, and Graham then led the final race all the way, holding off Marty, Joe and Jamie with Paul Weston's Mazda completing the finishers. Aidan Kennedy, another Rosegreen regular, dropped out of the final race and meeting sponsor Brian Weston was also out of luck after two good runs in the earlier races, despite getting another rear bumper knocked off his Mazda. Overall the winner was Marty O'Riordan from Graham Nelson and Joe Fitz.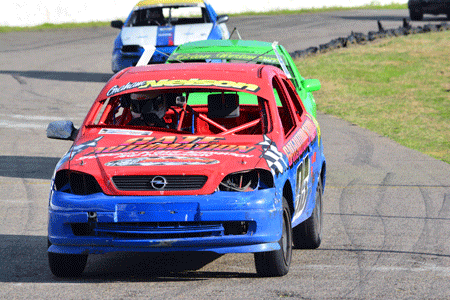 A couple of newcomers to the LADIES' class swelled the Wexford ranks even more; Chantelle Wallace had her first Pike outing after a lot of success on the Wexford dirt tracks, using the ex-Leon O'Shea Micra, while Lizzie Murray just got out for one race in Andy Foley's car. The two Anitas, Pollard and Lonergan did their best to hold off the Wexford girls in their Starlets and Anita Lonergan won the first race. Next time out though Chantelle led nearly all the way, just getting passed in the closing stages by Jamie and Katie Egan, with Anita Pollard also stealing a place right on the line. The third round saw the ladies sharing the track with the Class 1bs again and the race came to an early finish when Willie Heney's Micra made an unscheduled exit. Among the ladies, though, Chantelle was well ahead of Katie Egan and Anita Lonergan with Jamie Egan dropping out. Chantelle took the first place trophy from Anita Lonergan and Katie.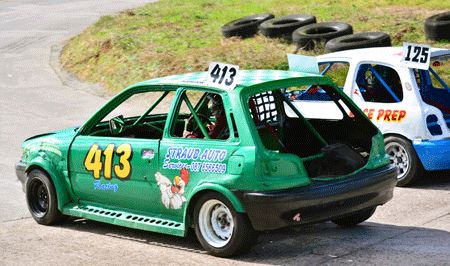 The three classes of Juniors all had good grids, also using a drawn and reversed grid format, starting with the CLASS 1 (Modified) group. Cian Deasy got away from the battling pack to win the first race. Jack Maher led the second race nearly all the way but slowed in the closing stages as Ronan Foley held off Luke Russell for the win. The last race had a handicapped start and Jack Pollard led away in his sister's Starlet before Mark O'Connor took over in his Starlet and led all the way to the finish. Alex Loftus and Ronan Foley took second and third from Jack Hickey on the last lap. Ronan was the overall winner from Cian Deasy and Mark O'Connor.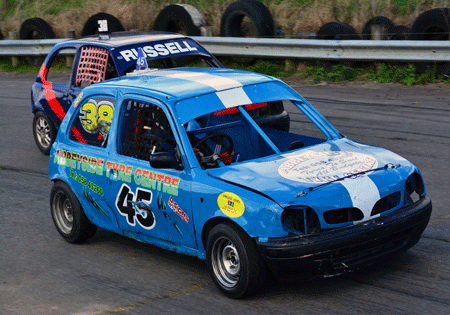 The standard CLASS 1b Juniors also had a runaway winner in the first race as Cathal McGivern left everyone else fighting for second, a battle won by Ben Furlong. Second time out Ted McGrath was the winner, holding off Evin Harding and Aaron Patterson with Cathal McGivern catching up to join the battle. The final race was equally hard fought and again it was Ted McGrath in his very well presented car who held off Evin Harding and Cathal McGivern, Aaron Patterson, Ben Furlong and Aiden Heney in just as close a fight for fourth after Joey Dilworth pulled off.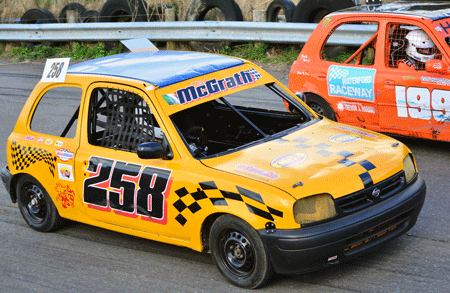 The third Junior class was the ROOKIES, joined by another newcomer, Callum McCoy, to make a ten car grid. Their first run saw Tadgh Foley chased to the finish by Brian Scannell and Ian Kelleher. Tadgh and Brian also headed the second race, with Darragh Healy just beating Dylan Ivers for third. Dylan Ivers then led the final race all the way, with a six car battle for second going to Ian Kelleher from Liam Kiersey, Ross Ryan, going very well on only his second outing, Tadgh Foley, Brian Scannell and Megan Kirwin. Another driver on her second day's racing, Abby Hewitt, did well to keep this lot in sight.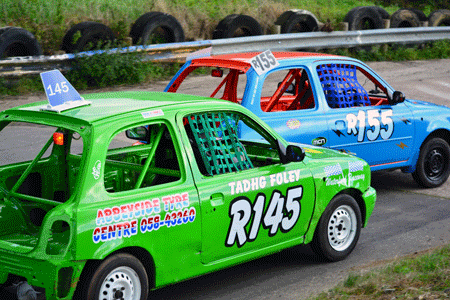 That just leaves the two "Mammies Races" in which the eight ladies lined up in front of two slightly dubious entries but "Antonia" Lawton and "Adriana" Powell had proved their credentials by performing their duties as commentator and flag marshal all day in very convincing female attire! The first race saw Sandra Healy, in the Class 2 Starlet, coming through from the back of the grid to take a dominant win, ahead of Linda Connolly (Class 1 Micra) and Beccy McCall (Stock Focus). The second race proved how much all the new drivers had learned as Sandra had a much harder job getting to the front. Eventually the leaders were caught by Adrian Power, in Michael Berrisford's Class 4 Micra, whose bid for the lead put him in the wall and brought out the reds. On the restart Sandra again read the traffic well to emerge in front after three laps and then went on to a double win ahead of Linda Connolly, Ciara O'Connor (Class 1 Starlet), Beccy McCall, Anthony Lawton in Gavin Mullally's Class 4 Micra, Fiona Maher (Micra), Geraldine Hickey (Micra) and Grace Pollard (Starlet, while Michelle Morgan in Jack Pollard's Micra didn't get out for the second race. Overall the winner was Sandra Healy from Linda Connolly and Ciara O'Connor but all the ladies had put on a great show and deserve to become regular racers!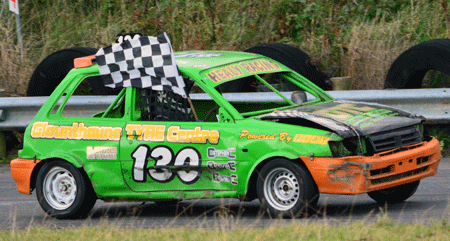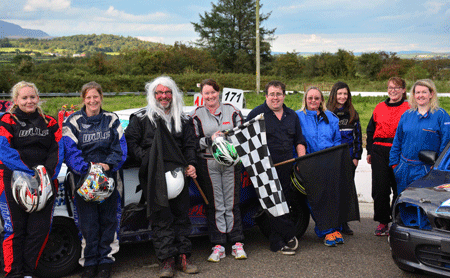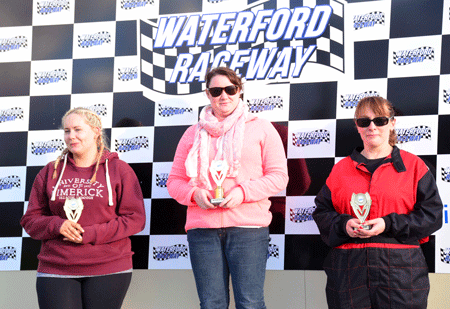 That just leaves two rounds of the Waterford Raceway Driver of the Year Championship, on October 14 and November 12, and on this showing they'll be days not to be missed!