This year's Autosport International show at the NEC, Birmingham, featured the usual strong representation of Autograss and a reduced, but still interesting, display of Oval Racing machinery.
Autograss was featured again in the Live Action hall, as it has every year since the original Short Circuit and Rallycross Show, held from 1990 to 1995 at Brentwood in Essex, moved to the NEC to become part of the long established Autosport International. This year the live action, with its original organiser Malcolm Forbes back at the helm, was revitalised with a greater variety of racing classes on show and a reduced reliance on the video segments and road car parades that had spun the show out in the last few years.
The Autograss content was reduced to one group this year, with a mixed field of invited Class 7 and Special drivers. In the Class 7s we had Alice Bevans, Phil Cooper, Liam Evans and Andy Holtby in Mini Pickup shelled cars, and Paul Waldron's Metro. Present as a reserve was Phil Rogers' Mini Pickup, but Phil was called into full time action at an early stage when Andy Holtby's RPE V8-powered Pickup suffered problems in Thursday's runs and Friday's morning practice that couldn't be fixed. The Specials contingent comprised the Class 8s of Clare Horner, Dan Mackenzie, Daz Mullen and Russ Shepherd, plus James Poltimore's Class 10. Alex Hall's Class 8 was invited as a reserve but ended up taking part in the majority of the shows - as ever, one show each on Thursday and Friday after practice runs (annoyingly, no photography was permitted in the practices this year which has reduced our coverage a bit), with five shows a day on Saturday and Sunday.
There'd been plans for each segment to be preceded by a brief appearance by a car from the category's history. For Autograss, despite the request coming very late, it was hoped to show an exact recreation of a mid-1960s Jalopy racer, to be built by Granville Cottle and a small team of veteran racers. Although the car, based on an original E93A Ford Popular chassis, rapidly started to come together, the project was thwarted by availability of Ford sidevalve engine parts. Rather than compromise with non original parts, the project was deferred - it will still be built but the "then and now" aspect of this year's show had to be reduced to a quick presentation on the big screens.
The other staple of the Live Action shows, the BRISCA Formula 1 Stock Cars, put up their usual good show with a field of 12 drivers.
One historic element that did survive, as the opening to each show, was an appearance by the Classic Touring Car Racing Club - a field with two Minis, two Anglias, two Morris Minors, an Imp, a Ford classic and a thundering Ford Falcon made an impressive spectacle. Then there were the NORA Superlites, the very quick 900cc buggies that were spectacular and noisy, and had one or two unplanned moments such as a double rollover in a Friday morning practice run. Featuring here was former Class 9 Autograss racer Derek Warren, who's been competing in the series for the past year alongside former Class 6 racer James Lewis.
Returning to the Arena for the first time in several years were the SHP Pickup Truck circuit racing series, whose field of mainly ex-oval racing drivers made them an ideal and popular addition to the show. Completing the line-up of racing categories was the Suzuki Swift one-make Rallycross class.
The show featured an appearance by Billy Monger after his successful British F3 season, while British Rallycross Champion Mark Higgins demonstrated both a 1996 Subaru Impreza and his current Peugeot 208 RX. The 60th birthday of the Mini was maked by a loosely "Italian Job" themed chase sequence, while Terry Grant's stunt team as always featured in a variety of acts - the theme of which is often lost on us as the commentary can't be understood from the trackside photographers' pens. The show was completed by the "swamp thing" monster truck that was back up to speed by the weekend, having fallen over in Thursday's show.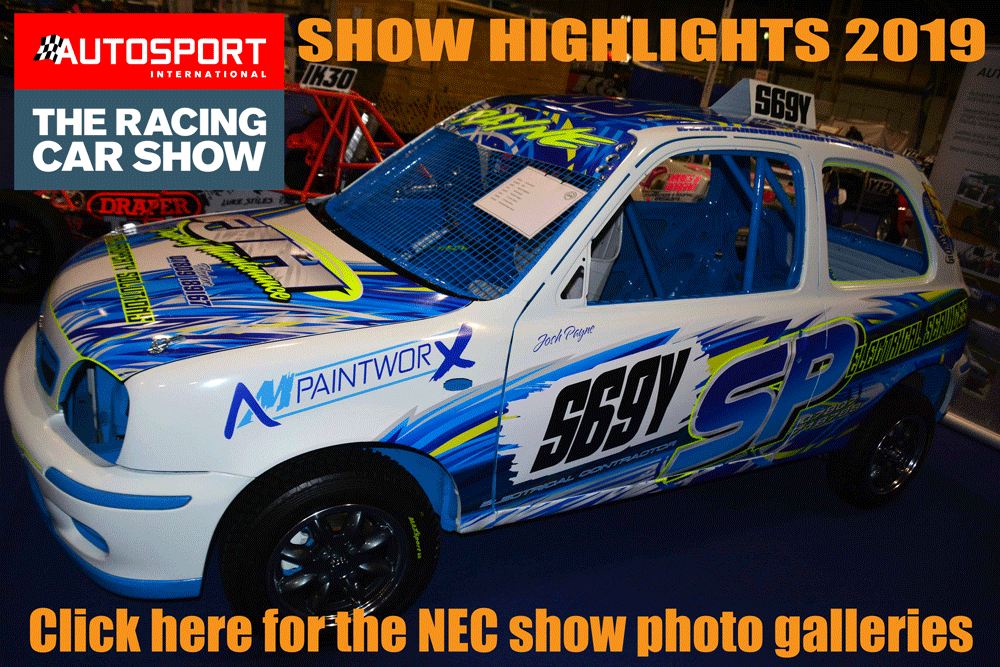 The main show had been relocated to Halls 1 to 4 of the NEC to accommodate the "LAMMA" show which had moved to the NEC this year, to be held earlier in the same week. The main consequence of this was that the oval racing show, open on Saturday and Sunday, entirely used the hall vacated by Thursday and Friday's Engineering show, rather than the Engineering hall just being an overspill area as in the past. This meant the show build-up couldn't start until after 8 pm on Friday, but the traffic was managed very efficiently and most people were done soon after midnight, and back for the show opening at 9 am.
The NASA stand was the dominant presence, with 27 cars on display, as well as promotional stands for the UK Autograss Championship, the Evesham hosted National Championship and the Southern League's Ladies' and Junors' Nationals. Trying to remember all the cars is a challenge but they included:
CLASS 1 - a beautiful Micra built for new Scarborough Junior racer Josh Payne, which came together after being let down by the original car builder, plus North Shropshire's Harry Ashley with a new SMMC-powered Mini, recreating the "retro" look of the ex-Josh Fowler car that was written off last year.
CLASS 2 - Sinead Tivy's TRM Sport Micra from West Waterford, put back in pristine condition after a hard year's racing in 2018; Russ Victory's RC Racefab/Chater Nova, built to show standard which belied the fact that it had five years' racing behind it, and a new NB Racing Nova for Southern League man Thomas Ireland, one of the key organising team of this year's Ladies' and Juniors' Nationals.
CLASS 3 - two new Lee Almond-prepared spaceframe cars; a Starlet for St Neots' former Class 7 racer Todd Horwood, and an Exon Duratec Polo saloon for Teifi's Adrian Davies (or rather his daughter Naomi), plus a similar TBR Duratec Starlet for now Scunthorpe-registered Dave Simpson; not an Almond car despite confusingly carrying number 270! Completing the Three line-up was Pat Smith's Mk7 Fiesta, now carrying his C12 number after racing in 2018 under an experimental NASA number.
CLASS 4 - just the one car, a superb new Mini Pickup for Invicta Kent member Jack Redford, with a home-built JK Fabrication spaceframe chassis.
CLASS 5 also had just one representative, Melton's Ben Harper's self-built Williams Fiat-powered Mini.
CLASS 6 was represented by three cars - drawing massive attention was Dane and Zoe Coupland's replacement for last year's Skoda Fabia, still TBR Duratec-powered but now with a Red Bull-liveried Audi A1 shell. The new Vauxhall-powered PC Fabricatiions Saxo of Martyn and Emma Canning joined the Evesham Club's stand promoting the Nationals, and Connor Green's RAG Racing/CAP Nova was one of two cars displayed on a double-deck PRG trai/er
CLASS 7 - there was just one car on the official stand, which was Mike Barrett's self-built Hartley V8-powered Mini Pickup. Cambridge Chairman Lee Forster had his XCWorx Mini on the McGill Motorsport stand carrying a sinister black estate body - although it might be a Pickup again when next seen!
CLASS 8 - quite a line-up of these, featuring North Wales' Jay Thompson (XCWorx-DM Hayabusa) and Dan Borman (Berrisford-DM Hayabusa), STAR's Joel Edwards (Bennett-DM Hayabusa) and Whiterose's Sean Wright (Unique-DM Hayabusa). Another North Wales car, Connor Jones, was on the McGill stand with Garreth and Charlene Hankey's new Bennett-Hayabusa was on the Rock Oil stand. Most attention, through, was drawn by Brad Gallagher's new Xtreme car, with the 1290cc KTM "Superduke R" v-twin, the first time as far as we know that the Austrian built engine has appeared in a grasser.
CLASS 9 - Jenny Shepherd's Xtreme-Honda was the only 9 on show, while CLASS 10 was represented by Ayrton Ellison's XCWorx, powered by twin TT-prepared GSXRs.
The club classes were represented; FORMULA 600 had Stranraer-based Liam Harvey and Brooke Irving with their Kawasaki ZX6-powered NRE chassis. STOCK HATCH was represented by Yorkshire Dales' Lauren Kelly with her Saxo.
There were three JUNIOR SPECIALS - Portsmouth-based Invicta member Luke Stiles' Bennett car; North Wales' Georgia Beatty with a TBR-powered Llewellyn chassis and Radford's Jim Pinches with a Berrisford.
Completing the Autograss line-up, the British Autograss Series again put on their own stand with the Class 6 cars of Jonny Barber/Sarah Trott and Jay Colegate, Stuart Taylor's Class 9 and Abijayde Bennett's Junior Special.
With most oval racers committed to the new "Motorsport with Attitude" show at Peterborough, the general Oval Racing scene wouldn't have been represented at all without the efforts of McGill Motorsport to draw cars from a number of different backgrounds, although they were let down by quite a few cars, leaving a bit of empty space in the halls. Topping the list (of course!) was Raymond D'Arcy's 8 valve Opel powered Fiesta, representing Waterford Raceway for the first time in the UK.
Perhaps the other star car for us was one of the best presented Junior Minis we've ever seen, ready for 10 year old Ellie Fulker to make her debut at Standlake Arena this year. The car was presented to Ellie at the show as a total surprise after her original car was lost in a devastating workshop fire in October that had also claimed father Graham's National and Classic Hot Rods.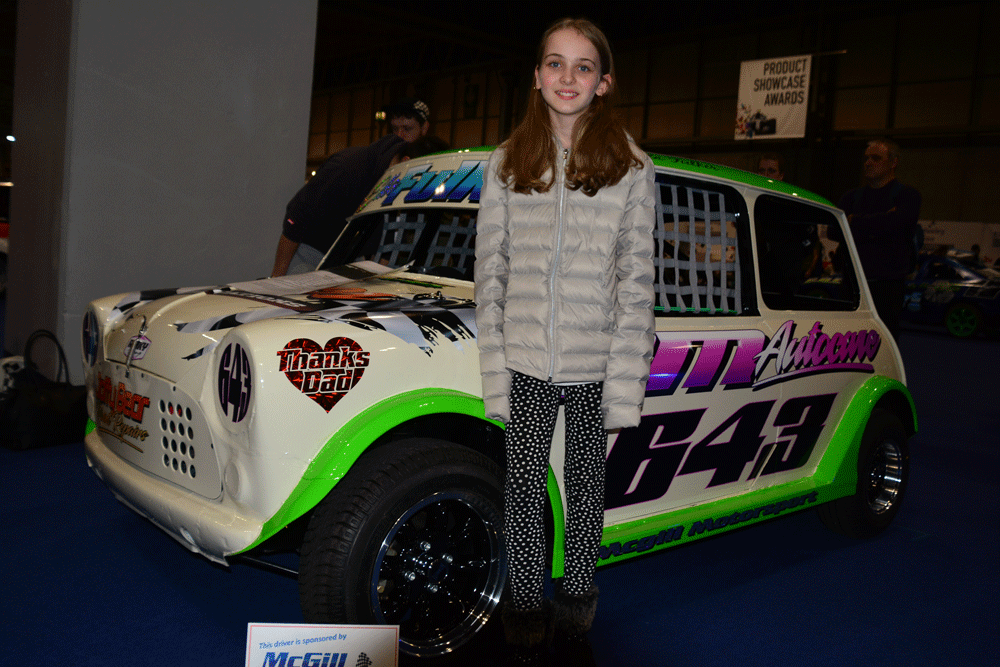 The Grand Prix Midgets are invariably the most technically interesting exhibits at the show; this time there was a new offset car for veteran ex-F2 Stock Car man Roy Slocombe.
There were two Classic Hot Rods; a Pinto-powered Mk1 Escort for sometime Radford Class 7 driver (among other things!) Darren Anslow and a Sunbeam for Nick Ross. More conventional Hot Rods were the National-spec Tigras of Lee Carlin and Lee Rudge, and a home built 2-litre Saxo for former Standlake Junior and Legends racer Michael Barber. Attracting lots of attention on the A1 Performance stand was Lee Carlin's second car in the show, an SHP-built National Hot Rod clothed in what is now regarded as a "retro" Peugeot 205 shell. This was joined by Dan Smith's 2-litre Hot Rod ands one of the new SHP Sprint car-style circuit racers.
There were only two F2-type Stock cars in the whole show; former World Champ Kelvyn Marshall and White top Nigel Davies. There was a decided Scottish bias among the exhibits, including former F2 racer Holly Gren's 2-litre Saloon Stox. There was a 1300 Saloon for Charle Folan and a line-up of Ministox for former Ninja Sprint champ Charlie Hardie, Owen Robbins, Lewis Evans and Charlie Santry. Also from the Junior ranks were a Micro F2 for Lana Middler and Ninja Sprints for Rachel and Dougie Kidd and one with an Autograss connection, Holly Godfrey with an Owens Fabrication built kart. Three Bangers, including a Ford Ka and Reliant Robin, completed the oval show.
Also of interest were some of the Rallycross cars on a nearby stand, which included ex-Ministox and Autograss Class 4 and 6 star Gary Cook, returning to the BTRDA championship with his trademark MG/Rovers replaced by a Supermodified Exon Duratec-powered Fiesta. Also of oval interest was a Junior Micra for former rolling Thunder Show Junior racer Alfie Jeakins.
We might have missed the odd car that our readers would be interested in, but we think we captured all the oval racers in our photo galleries. We'll have to work a bit harder at Peterborough, though, with over 300 cars booked in already!