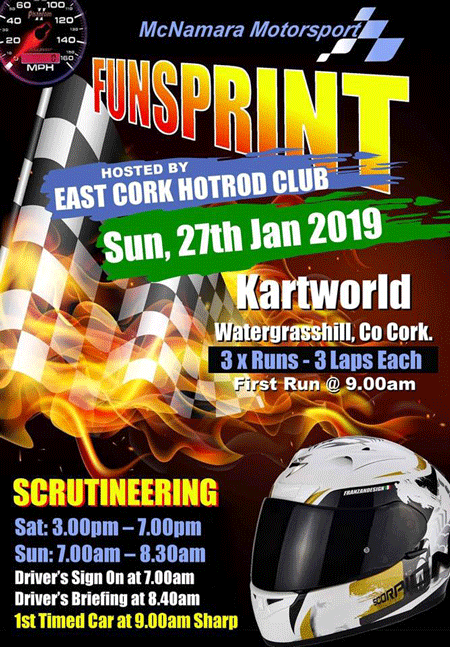 After five years of being a popular way for Irish race and rally drivers to greet the New Year, the McNamara Motorsport Funsprint was "rested" last year with the actual New Year's Day scheduling appearing to discourage the usual full entry list. After the original hosts, Mallow Autograss stood aside, this year the event was revived by East Cork Hot Rod Club, who set a new date at the end of January.
East Cork were rewarded with an entry list that quickly reached its 100 car limit, with a healthy reserve list. The entry included quite a few drivers who already knew their way round the twisty tarmac track at Watergrasshill, north of Cork City, but the new hosts brought many others who hadn't tried the event before, or even driven on tarmac before. Inevitably, there were a few non-arrivals and a few late entries, with a final total of 99 drivers assembling in the pitch dark on Sunday morning, although quite a few had already been scrutineered on Saturday. With car sharing encouraged there were actually 80 cars present; two of these initially didn't appear on track although one of them later appeared as a reserve car for another driver and one or two others swapped cars during the day. With everything from a Rookie Micra to a bike engined sports racing car, via lots of tail happy RWD rally cars, a spectacular day was guaranteed.
Of course it was impossible to drive into the Watergrasshill site without thoughts of Donal O'Brien, who'd been such an inspiration to this event and who'd always been the first to greet us in the cold dark mornings. But on the bright side the East Cork members had assembled their own very effective organising team, so now we were greeted at the gate by the friendly face of Joe Dilworth, who stuck to his post all day from a 5.30 am start!
Heavy rain on Saturday morning and evening was blown away by some fierce overnight wind, and Sunday's action began at 9 am in the forecast sunny but very cold conditions. Rain returned after lunch for the third runs and the sensible decision was to not push on for a fourth run; Mallow always used to run on into the dark under the floodlights, but this time everyone felt they'd already had their money's worth and at just after 4 pm it was time to retire to the clubhouse for presentation of the very impressive set of trophies. Everyone was to get three timed runs of three laps each. Two years ago Mallow had used a tyre chicane to slow cars at the track exit, with the timing line immediately before, so that nobody could take a flying finish without risking demolishing the chicane and losing their time. A different twist this time was that the timing beam was sited after the chicane. It worked, as nobody took the beam out, and it meant that a tidy run through the tyres made a big difference to the final time. Cars ran three at a time and overtaking was discouraged – anyone catching a slower car and sitting behind it would get a rerun. Especially among the Juniors it seemed to be the objective to catch the car in front, because they'd then get an extra run for their money!
Each set of heats started with demo runs from a couple of Irelands most promising young Kart racers. 16 year old Kayls Cole showed off her new "Mad Croc" Senior Max Kart, graduating after only one full season in Juniors which was capped by a Junior Driver of the Year award – she'll definitely be one to look out for in 2019. Alongside her was 9 year old Cole McGann who appeared both in his junior Kart and an oval Ninja Kart that he's raced up north at Tullyroan.
The timed runs then commenced with the JUNIORS. The Standard class had an amazing 24 entries, every one in a K11 Micra. With results being determined by the total time for the three runs, rather than the individual fastest time, consistency was rewarded, but the overall winner, Darragh Walsh not only came in with less than 4 seconds difference between his three runs, but also scored the fastest time on two of the three runs, only beaten on the third run by Ted McGrath, who was second overall, while Joey Dilworth's smart new car claimed third. Next up were Jack Browne, Ben Kenneally, Tyrone Cusack, Sam Shanahan and Kyle Browne. Best of the Autograss cars was John Gray in ninth overall ahead of Fionn Breen (Autograss regulars Jack Browne and Tyrone Cusack were both using their Hot Rod cars). Some of the Rookie class contenders from the Pike were having their first taste of their Micras with the restrictor plates taken out, and Tommy Cronin and Ryan Hickey completed the top twelve. Then came James Deane, sharing the car in which his little brother Darryl was making his track debut. Toby McGuire was another Rookie driver running well, finishing ahead of Chloe O'Brien, who unfortunately collected the pits gate at the end of her first run, putting her Autograss Micra out of action, but she completed the day with the generous loan of Ross Ryan's car, with Ross unable to take part. East Cork grass regulars Aaron Dilworth, Daniel Seaman, Sean O'Mahony, Sean Quirke, Daniel Fitzgerald, Aaron Cotter and Kyle Read took the next places, all driving well although not quite on the pace of the tarmac cars, and Darryl Deane completed the order with a big grin following his first day's driving.
The JUNIOR MODIFIED class had six very competitive drivers in the field, but none could better the times put in by Shane O'Shea, who topped every run and won the overall Junior cup – although in the wet third runs the standard cars matched the modifieds' pace and Darragh Walsh and Ted McGrath actually stole second and third in the overall Junior rankings. National Autograss Champion Adam Browne, in his Hot Rod Micra, dropped 10 seconds over the day to finish second ahead of the Junior 1000 Rally car of Konan Heney, and the Hot Rods of Alex Loftus, Cian Deasy and Noel Deasy.
The first senior class was CLASS 1, with 19 entries, a mix of Class 1 and 1b Hot Rods, plus one Autograss Mini. Competition was pretty close but ended up with a remarkable family domination of the trophies; Shane Hickey won overall in his green Micra, with second and third taken by cousin Ben Hickey sharing the blue Micra with nephew Jack Hickey, having his first run out of Juniors and narrowly topping the times in the wet third heat. Anthony Cronin was fourth from Jason Corbett and Jamie Bowen, while the quickest of the standard 1b cars was Declan Heney, just beating his nephew Aidan, another graduate from the Juniors. The best of the grass cars was East Cork Class 1 champion Nicholas O'Leary, a late entry with his K10 Micra. Kieran Deasy completed the top ten with his "Dukes of Hazzard" liveried Micra. John O'Sullivan, with the lone Starlet in the class, was next up from Gary O'Brien, sharing Cian Deasy's Junior car, Mallow grasser Pat Doyle in his newly acquired Mini, and another Autograss car with Cliff Desmond driving Siobháin O'Sullivan's Micra. Andrew Geoghan shared the "General Deasy" Micra; Paul Buckley was in a Class 1 Hot Rod and Seamus O'Riordan brought out his Class 4 grasser but struggled with rear brakes that wanted to face him the other way. Rally Hally shared Aidan Heney's Micra and would have been well up but opted not to take the re-runs he was entitled to after catching slower cars in all his runs. Completing the order with just one run completed was Aaron O'Brien, sharing another car but we never spotted which one!
The 1300 HOT RODS class featured six Starlets and a Micra. Seamus Healy shared one of the family's Fiat-powered Starlets with Stephen, who'd entered his interesting sounding new Honda-powered Fiat X1-9, which is a little way from being ready yet. Seamus was just four seconds ahead of Jason Ryan's Micra, while Mick Boland turned up with the ex-Martin McGrath Starlet and claimed third ahead of the similar car of Paul Fitzgerald. East Cork secretary Noel O'Mahony brought a Rally/Autocross Starlet, beating Stephen Healy, whose chance of winning disappeared with an excursion on the last run, and Cian O'Mahony stepping out of Juniors and sharing Noel's Starlet.
Just two cars contested the 1600 HOT RODS class, with three tidy drives giving the win to event sponsor Charlie McNamara in a BMW Mini that's maybe destined for Hot Rod duty this year. Padraig Smiddy in his ex-Charlie Mac Micra-Toyota was quickest on the first run but broke a driveshaft on the second and ended the day in Jason Ryan's Micra – which promptly broke its throttle cable.
There were three cars in the 2000 HOT RODS, but all very popular in their own way. Trevor Cusack's Mk2 Escort beat Tom McSweeney's National Hot Rod Tigra by a hundredth of a second in the first run, but widened the margin in the next two runs, to the extent that Trevor claimed an excellent third overall. Completing this class was Austin Fitzgerald's Pinto-powered Starlet, a car that many assume must be a survivor of 1980s National Hot Rod racing, but as far as anyone knows this one was actually born in Donegal.
The last of the Hot Rod classes was the LADIES with four Micras entered. Caoimhe Keily headed the class on every run, but very close behind her each time was Jasmine Cusack, in the new Micra she shared with brother Tyrone. Siobháin O'Sullivan was next up in her Class 1 Autograss car while East Cork Class 2 Champion Catherine Walsh had to make do with fourth after a few off-course moments.
There were two well supported classes for Rally cars with the 1640cc RALLY CAR class bringing out 18 drivers in 13 cars. Heading them in fine style, and taking second overall and top saloon in the event, was Jer O'Brien in his FWD Honda-powered Starlet. Just a few seconds behind was the spectacular Mk2 Escort of Barry Meade, while third went to the smoothly driven Civic of Gary Kelly, who was second fastest overall in the final run. Aaron Browne in another Civic took fourth ahead of the first of the ever popular Toyota Corolla AE86s (simply "twincams" in Ireland), this being William Walsh's forever sideways car. Former Hot Rodder Kevin McGann brought his eye-catching Civic home sixth in front of Pa O'Mahony's equally immaculate Civic. Next up was probably the most spectacular of all, Colin Roche's inimitable RWD Starlet which would have been much higher up the order if his last run hadn't turned into a doughnut display! Dan O'Mahony's shared Civic was next ahead of Peter Leahy's Citroen C2, Denis Murphy's Civic, Cian Walsh in the family Twincam, and yet more Civics driven by Kieran Baverstock and Keegan O'Farrell. Class 7 Autograss favourite Paul O'Connor had his first ever FWD drive, sharing a Civic with son Sean, while the class was completed by the shared Nova of Ray Foley and Ray O'Farrell, who had all sorts of problems.
The big RALLY CARS (up to 2500cc) were headed by the Subaru Impreza of forest rally star Lucasz Czapnik, maybe the end of an era as Lucasz suggested it might be his last event in the very recognisable Impreza – if so he went out in style, topping the time sheets overall in the last round. Second went to Alan O'Riordan in a 2 litre FWD Fiesta ST and third to Donal McGrath in another spectacularly driven Toyota Twincam. Yet another crowd pleaser, Ian Laracy in his Opel Manta 400, took fourth ahead of Niall and Daniel McGrath in the triple driven Twincam. James O'Riordan shared the Fiesta with his dad. Brian Weston tried something rather different from his regular Mazda when he turned up with the ex-Tom Hill BMW E46 and soon got into drifting mode with it. Completing the class was Andy O'Connell with a Celica coupe.
Expected to produce the fastest times of the day was the mixed BUGGY AND KIT CAR class. This year just one of the very quick Autocross buggies entered, Peter Brennan with his GSXR 750-powered Kazmat. Peter set fastest times on the first two runs and although the two quickest rally cars headed him in the wet run, Peter ended up with over 20 seconds' margin to the second placed car overall. Runner up in the class was Ray O'Farrell's Raptor, a Caterham-style car with 1000cc Honda Fireblade power, while a similar engine powered Mike Ward's Arion S2, a Suffolk-built sports racer.
An excellent day's sport had proved the Watergrasshill event to be as popular as ever – and a very helpful fundraiser for the improvements being made at the East Cork club's home track near Midleton. Our thanks to all involved in putting on this brilliant curtain-raiser to the Irish motorsport season.