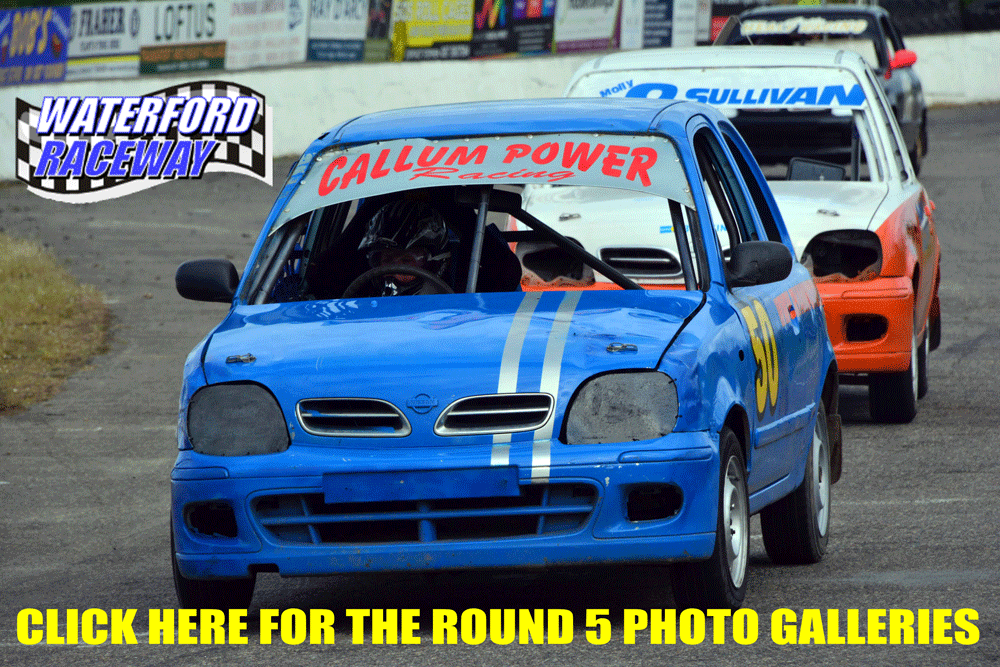 The third of the Pike's bank holiday fixtures this year was due to be something special. The regular race day on Sunday, as well as round 5 of the 2019 championship, featured the annual cup races for the Junior classes. For those that could stay over, a barbecue was laid on over the road at Bridgie Terries on Sunday night, before the track reopened on Monday for the unique "family fun day", raising funds for local charities in memory of Mairead D'Arcy.
There was another good entry with 63 drivers signing on and 54 race cars in the pits. Yet again there was a new driver making his debut at the meeting; Callum Power becoming the youngest member of the Rookies class, and he'd certainly be making an impression before the day was out.
Both Junior classes had their first major cup races of the year on offer, but with the added twist that, after the dropping of the modified class, there were three cups available for the two classes. Generous support as ever from Brian Weston and Stephen O'Shea made that four cups. With numbers still requiring split groups, the first four from the A and B groups would contest the first cup race for the Productions, and the first three from each group in the Rookies, with the others all going into a second cup race for each class.
Several of the PRODUCTION JUNIORS were coming fresh from their championship race at Rosegreen the previous night, where Ted McGrath had dominated proceedings before a mysterious electrical gremlin stopped him in the final. There was still a clean sweep by drivers who have become Pike regulars, with Eoghan Burke taking the cup from Cian Clancy and Lisa Nelson, and Ava Moloney also well in contention.
There was more excitement for all the Juniors in the morning as all 25 Micras were lined up and stripped of their ECUs, which all went into a big box and were shuffled before being handed out at random. A rather effective scrutineering ploy that was justified when there were no surprise changes of form on the track, convincingly demonstrating that everyone had been running legally! It was also worth watching the look of relief on each driver's face as their cars all (eventually) fired up after their brain transplants and drove away from scrutiny!
Unfortunately, despite a late night followed by changing more and more bits during the day, Ted McGrath's problems continued and he failed to finish all three races for the seeded "A" group. Aiden Heney fended off Cian Clancy and Ross Ryan to win the first race, while Rosegreen champ Eoghan Burke was out of luck as he got spun out. Second time out Ted McGrath got away in the lead, but only lasted two laps, and Ryan Hickey then held on to take a close win over Eoghan Burke, with Lisa Nelson challenging until she too broke down in the closing stages. In the final, Lisa beat Ted McGrath from the start and Ted was soon out, while Lisa pulled out a useful gap as everyone else, leaded by Joey Dilworth, fought for second. As Lisa took the win, Eoghan Burke finally grabbed second from Joey and Aidan Heney, with Ryan Hickey, Cian Clancy and Ross Ryan equally close in the next places.
Group "B" was headed in the first race by Brian Scannell, but Ben Kenneally finally found a way round the outside to win from Brian, James Deane and Darragh Healy, with Ava Moloney having problems. Ava was in the wars again in race two with a high speed collision with Ben Kenneally sending Brian Scannell bouncing off the wall. They all survived though, with the only casualty being Ava's door mirror! Ben went on to win the restarted race and Ava grabbed second back from James Deane after a close battle. Ava then held off Ben to win the final, with James third from Brian and Darragh.
A brief shower of rain during the main cup race didn't slow the action down at all, with Ava Moloney going straight into the lead as the battle between her pursuers got more and more fraught. Into the closing laps it looked as though the Limerick girl was set to stay out of trouble, and in front, but disaster struck as Ava coasted to a halt on the back straight – the car apparently jumped out of second gear and in the heat of the battle it took Ava a moment too long to notice what had happened. Then her luck turned – before the lap was completed Ryan Hickey was facing the wrong way in the middle of what was now the battle for the lead, and the red flags were waving. From the last completed lap, Ava was the well deserved winner taking the cup with Aidan Heney second and James Deane third, ahead of Ben Kenneally, Eoghan Burke, Brian Scannell and Cian Clancy. A second cup race was run for the non-qualifiers, which was soon stopped after a spectacular coming together for Ross Ryan and Lisa Nelson. On the restart finally Ted McGrath's gremlins seemed to have been put to bed as he soon grabbed the lead from Darragh Healy, Ted going on to win, chased by Ross, Joey Dilworth, Lisa and Darragh.
The ROOKIE JUNIORS also enjoyed split races and shared the wins around. Liam Kiersey took a run round the outside of the pack to go from the back of the grid to first, winning the first heat of the "A" group from Conor Fitz, Martin Power, Callum O'Shea and Molly O'Sullivan. Second time out it took six attempts to start the race, but Liam again took the win from Martin, with Molly holding off Conor and Callum for a good third. The final saw Callum leading away but Martin Power was soon in front, and was still there when the race was stopped early after Callum took a hard hit into the armco barrier. Conor Fitz was holding second from Liam Kiersey with Molly O'Sullivan catching up well after clutch problems at the start.
Toby McGuire probably should have been in Group "A" as he won Group "B"'s opening race by over half a lap from Liam Og Power, Darryl Deane, Davan Leahy and new boy Callum Power, Martin's little brother doing really well in his first ever race. In the second round, though, it was Davan Leahy's turn to star, holding off Toby for the win with Liam Power heading the rest. The group final was led for most of the way by Aoife Healy, but Toby McGuire had just found a way past when the race was stopped after a coming together with Darryl Deane spun Callum Power out and brought Paddy Fitz to a stop to avoid them.
The Rookies' first cup race saw Liam Power, Davan Leahy and Conor Fitz all tasting the lead in the first couple of laps, but when Liam Kiersey hit the front he stayed there, with Martin Power coming through for second from Conor Fitz, Toby McGuire, Liam Power and Davan Leahy. The second cup race was unlucky for Callum O'Shea, whose bent car had to be pushed off the grid. But when the race started it was new boy Callum Power who went straight to the front from the second row of the grid, and he went on to tale a superb win in his first ever day's racing, holding off the "experienced" Molly O'Sullivan (in her fourth race day!). Aoife Healy came in third from Darryl Deane, battling with Paddy Fitz.
On to the other classes. CLASS 1 had six entries, including two shared 1B cars, but among the modified cars, Jack Hickey continued his good form to win race one from the battling Darragh O'Shea and Ronan Coughlan. Shane Hickey missed that race after practice problems but was back for round two when he featured in a close four car battle, which ended with Jack in front again, but only just, from Darragh, Ronan, who'd led much of the race in his Starlet, and Shane. The final saw another close scrap, with Jack Hickey getting ahead of cousin Shane in the closing stages to win again, with Ronan Coughlan stealing second from Shane after Darragh O'Shea pulled out. John Cottrell's standard Micra completed the finishers with team mate Alex Prince not making the final with his hard working Micra running in three classes.
CLASS 2 was again fought out by three drivers who all had their sons racing in other classes. Eddie Baldwin, the only one of the three not sharing a car, won all three races chased by Pat Ryan, while Michael Coughlan did his best to keep the two Micras in sight with the Class 1 Starlet, eventually picking up second when Pat retired in the final.
CLASS 3 was a fight all day between the Micras of Jason Ryan and Michael Baldwin, although they had their work cut out to catch and pass the Starlet of Paul Fitzgerald. Jason ended up the winner in all three races, just beating Michael in the first round while in the second and third rounds Paul managed to hold Michael off. Getting ever closer to these three was Gavin Downey, having his second outing in the ex-PJ O'Sullivan Starlet-Suzuki.
Classes 4, 5 and 6 started the day running together, but although they completed the first race again without incident, it was decided that the closeness of the Class 5 battle in particular was making the action a bit fraught when all the traffic came together (as it always does at the Pike), so the 5s were split out to race with Class 2. CLASS 4 saw another perfect score for Raymond D'Arcy in his immaculate Fiesta. Raymond took the first heat from Peadar Wall's 206 and Mick Boland's FWD 1300 Starlet. Second time out Peadar held on in front for seven laps, but eventually Raymond was through to win, just holding off Class 6 winner Martin Fitz at the line. Tom Hill's 205 reappeared with a Honda engine replacing the Opel 8 valve and looked a lot stronger as Tom led the first half of the final. When the leaders went three abreast, though, it was Raymond who came out in front and he won again from Peadar, with Tom pulling out and Mick Boland taking third.
CLASS 5 was down to two cars, but was as hard fought as ever with nothing between Andy O'Brien's Starlet-Honda and Padraig Smiddy's Micra-Toyota. After racing side by side for most of race one, and nose to tail throughout heat two, Andy just fended off Padraig both times. Padraig then beat Andy away at the start of the final but immediately lost drive, leaving Andy on his own to play among the Class 2s.
CLASS 6 was evenly split between FWD and RWD as Ronan Waters returned with his Honda Vtec powered Starlet to take on Brendan Dee's similarly powered Rover, and the Outlaw Hot Rods of Martin Fitz's Tigra and Donie Linehan's 206. Martin made the best progress through the traffic in the mixed class races to win all three, chased by Donie, with Brendan showing good form as he led much of the way in the final, just losing second to Donie at the end, while Ronan didn't make the final.
The CLASS 1B ranks were joined by Alan Houlihan, who took the first race win while Willie Heney and Stephen Healy battled for second and Liam Fitzgerald eventually got past Luke O'Donovan for fourth after a battle involving Darren Prince and Arthur Cottrell. Second time out the race featured a fierce battle between Willie Heney and Alan Houlihan, with Willie just holding on despite getting turned sideways on the last lap – but they were racing for second as Liam Fitzgerald took advantage to escape at the front. Again in the final the battle was so intense that the race leader was allowed to pull away and win without interference, although this time it was Stephen Healy who was in the right place. Liam Fitzgerald did his best to keep Willie and Alan behind him, but this ended with Liam launched on two wheels, just managing to come down right side up but heading for the armco. Willie ended up second, holding off Alan, Darren Prince and Arthur Cottrell, while Liam recovered to finish ahead of Luke O'Donovan, limping in with a puncture.
A three way fight in the STOCKS saw Joe Dilworth's Focus collect its first win in the first heat after Brian Weston's leading Mazda ground to a halt on the last lap. Brian recovered to win the second race with Stevie Slattery's Almera just beating Joe for second. Stevie went one better in the final, holding off Brian and Joe all the way to take the win.
Five LADIES turned out with one or two regulars missing (Jamie Egan had work commitments but arrived in time to help by marshalling) but a very welcome addition was Nathanya Houlihan, making a comeback in the Class 1B Micra. Nathanya led the first race after catching the ever improving Mary Prince in the other IB car, but Orla O'Sullivan wasn't to be stopped as she swept past for the win. Once more the handicappers had the problem of moving Orla further and further back and still not be able to stop her, although in race two it was only in the last three laps that her Starlet caught and passed Nathanya with Mary in third. After problems before the start in her first race, Katie Egan reappeared in Andy O'Brien's car but found it a handful, while Gemma Linehan was going well on her second outing in the ex-PJ O'Sullivan Starlet. The final was stopped when Katie had the bonnet fly up, but a fresh bungee was found to get her back in the race and this time she mastered Andy's beast, coming through to take the lead from Nathanya with a lap to go – only for Orla, this time starting a full lap behind, to grab the win on the last lap, with Katie second from Nathanya, Mary and Gemma.
With the Juniors having their cup races, everyone else got a bonus allcomers race to round off the day. The Ladies, Stocks and 1Bs ran together with Stephen Healy's 1B leading when the red flag waved after a spectacular exit by Katie Egan. Luke O'Donovan was next among the 1Bs, ahead of Willie Heney, Liam Fitzgerald and Darren Prince. Alan Houlihan was missing as Nathanya was in the car and she took another second behind Orla O'Sullivan and ahead of Gemma Linehan. Stevie Slattery again headed the Stocks from Brian Weston and Joe Dilworth.
Last race of a very full day was Class 1 to 6 allcomers, with 14 cars on track and classes 4 and 6 starting a lap behind the rest. Jack and Shane Hickey raced side by side in their Class 1s but Jack finally got away and took another win, with Eddie Baldwin coming through to second from Shane, Darragh O'Shea and Ronan Coughlin, with Martin Fitz and Donie Linehan just catching this lot at the end. The handicap gave the Class 4s a lonelier race than the others, but Raymond D'Arcy again headed Peadar Wall after Tom Hill's driver's door came adrift.
Then it was time to prepare for what would be a very different sort of day on Monday!
CLASS RESULTS sponsored by Hickey Auto Repairs
CLASS 1: 1st Jack Hickey, 2nd Ronan Coughlan, 3rd Darragh O'Shea
CLASS 2: 1st Eddie Baldwin, 2nd Pat Ryan, 3rd Michael Coughlan
CLASS 3: 1st Jason Ryan, 2nd Michael Baldwin, 3rd Paul Fitzgerald
CLASS 4: 1st Raymond D'Arcy, 2nd Peadar Wall, 3rd Mick Boland
CLASS 5: 1st Andy O'Brien, 2nd Padraig Smiddy
CLASS 6: 1st Martin Fitzgerald, 2nd Donie Linehan, 3rd Brendan Dee
STOCKS: 1st Stevie Slattery, 2nd Joe Dilworth, 3rd Brian Weston
CLASS 1B: 1st Willie Heney, 2nd Stephen Healy, 3rd Alan Houlihan
LADIES: 1st Orla O'Sullivan, 2nd Nathanya Houlihan, 3rd Katie Egan
PRODUCTION JUNIOR A (Cup Race): 1st Ava Moloney, 2nd Aidan Heney, 3rd James Deane
PRODUCTION JUNIOR B (Cup Race): 1st Ted McGrath, 2nd Ross Ryan, 3rd Joey Dilworth
ROOKIE JUNIOR A (Cup Race): 1st Liam Kiersey, 2nd Martin Power, 3rd Conor Fitzgerald
ROOKIE JUNIOR B (Cup Race): 1st Callum Power, 2nd Molly O'Sullivan, 3rd Aoife Healy