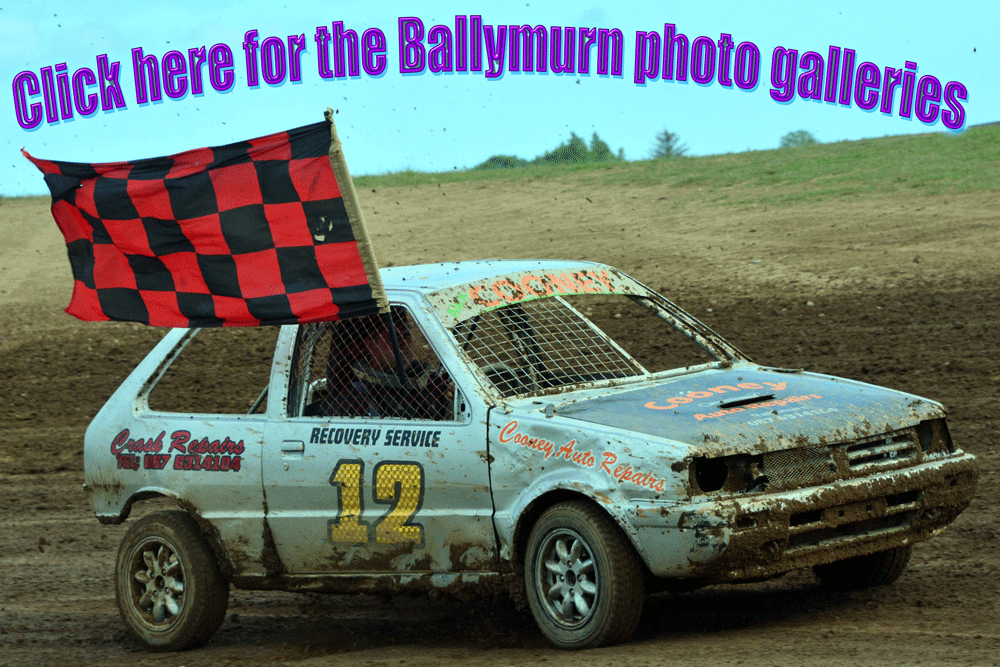 Wexford's Ballymurn Hot Rod Club has been enjoying good turnouts and excellent racing so far in the club's third full season, so their first major cup meeting of the year seemed a good opportunity for us to pay our annual visit to Ireland's newest race track.
The unique long Ballymurn track, with its up and downhill layout, banked corners and soft run-off areas, was in its usual perfect condition to greet drivers coming from far and wide. These days there are just four independent dirt Hot Rod clubs in Ireland, one in Wexford, one in East Cork and two further north in Kildare, so although these clubs all exist primarily to provide local racing, a few drivers are starting to explore the other tracks. A few weeks earlier we'd seen the Wexford racers very strongly represented at Ballyshannon, and this time drivers travelled to Wexford from both East Cork and the second Kildare track at Carbury. We're sure all these drivers will tell you what a warm welcome they received in Wexford, just as any visitor to Ballymurn can expect.
Ballymurn's variant on the normal Irish class structure, with Classes 1, 2 and 3 all split into "standard" and "modified" groups gives a bit of extra flexibility in mixing classes on the day. The first race is run from an Autograss style straight line start at the bottom of the hill, and then the following rounds are handicapped on drivers' best results so far – which very successfully mixed up the order and produced plenty of close racing.
CLASS 1S ran on its own, with East Cork visitor Jack Hickey winning the first race after an initial challenge from Owen Doolan's boxy Micra. The second round saw James O'Toole's 16 valve-engined K10 Micra leading the way as Jack Hickey battled through to second. Third time out the visiting drivers were again to the fore, but this time Jack Hickey was narrowly beaten by Kildare driver Jason O'Neill, representing Carbury well with a 16 valve Micra engine in a Peugeot 106 shell. Also well in contention was regular Wexford racer John Fernihough's K11 Micra.
Alex Cooney's well-prepared 8 valve K10 Micra was the only entry in CLASS 1M and he raced with CLASS 2S, which featured Mick Boland in a Toyota-powered Starlet and Kyle Stamp, with a bigger engine now in the Daihatsu that he used so successfully as a Junior. In the first two rounds the Class 2s, headed by Mick, couldn't stay with Alex, but on a watered track in the third round Kyle held off Mick for the overall win.
CLASS 2M featured a varied trio of cars; Daryl O'Connor's Fiat Cinquecento, Benji Cullen's Mitsubishi-powered Corsa, and Jimmy Boland armed with the ex-Aidan Murphy NASA Class 4 Fiat Uno, now with a 1300 engine. They were joined by Mick Lambert is a Nissan-powered K10 Micra that was the only car in CLASS 3A. In the first heat the action got a bit too close between Mick and Benji, while Jimmy Boland shot off into the distance, but second time out they settled down with Jimmy not quite catching Mick Lambert for the overall win. Darryl's Fiat went well but expired in the second round. The third race saw Jimmy again in front of the battle between Benji and Mick.
The busiest class of the day was CLASS 3M, with eleven of the quick 1400 FWD cars, ten of them Honda-powered, needing split heats. The first group was headed in the first race by Joe Cowman's Micra K11, chased by Andy Foley in one of his older Starlets, Bob Breen in a newly built Starlet, Boo Mahon's Micra K11, Michael O'Neill, who was the odd one out with Toyota power in his Starlet, and Jamie Egan's Starlet. The second run for this group saw Jamie leading most of the way, surviving a coming together with Bob Breen, but eventually Joe Cowman came through to win again from Jamie and Andy Foley, while Boo Mahon pulled out. In the third round they were all chasing Bob Breen, but the rapid Joe Cowman, having a rare outing in his son's car, came through to win yet again, with a last lap sort out seeing Andy Foley, Michael O'Neill and Bob crossing the line three abreast.
The second group was led first time out by Anthony Moran's Micra, chased by Ciaran Fortune's Starlet, Barry Stone's K10 Micra and Alan Benson's Starlet, with Pat Nolan retiring his new Starlet. Their next race soon became just a two car battle, but it was one of the best races of the day with Ciaran Fortune and Anthony Moran side by side virtually all the way, Ciaran just holding Anthony off at the finish. Third time out Anthony took the lead but was sent off course with a puncture, letting Ciaran lead again, chased by Andy Foley's car (maybe Boo Mahon driving?) with Barry Stone retiring.
Unfortunately there were no entries in Class 4 or 5 this time, but CLASS 6 featured three Honda Vtecs plus Craig Fenlon's lovely sounding Mivec-V6-powered Colt (a regular in Class 6 Autograss this year). The first race was a battle between Craig and Wes Martin's Honda-powered Colt, with Wes just winning, while John Doyle's Starlet took third from David Martin's slowing Starlet. The second race saw Craig drop back with a puncture as Wes Martin won again. David Martin was still struggling and John Doyle lost drive at the end. Craig took a good lead in the third race but another puncture intervened before the front corner collapsed altogether, ending his day with a ride on the forklift as Wes took another win. Racing with them was the one entry in CLASS 7 (Specials). Mikey Benson returned with his Vtec powered ex-NASA Class 9 chassis and made spectacular progress before loading up after two races.
There were three entries in the LADIES, including East Cork's Catherine Walsh on her first visit to Ballymurn. Catherine's Class 1 Micra just lost out in the first race to the Class 2 car of experienced local racer Amanda Lambert, with young Katie Nolan's Micra in third. Katie was rapidly gaining in confidence as she led the second race, no doubt urged on by Jamie Egan in the passenger seat, until she spectacularly rolled out of the lead. She was back in the very battered Micra for the next race, won unchallenged by Catherine after Amanda had problems at the start.
The JUNIORS raced in "experienced" and "beginners" groups, with a further split needed as eight drivers signed on for the experienced group. The two four car grids produced very close fought racing, with David Browne (this week in a K10 Micra) beating Conor Murphy and Niall Doolan in the first race. Next time out Jack Cooney held them all off for the lead and in their third race David Browne again just beat Conor Murphy, with Niall Doolan getting spun into a marker tyre on the last corner. The second group started with the Starlet of Barry Brady, who's been racing both on dirt at Carbury and tarmac at Coolronan, battling with local boy Jake Stamp's new Micra, but East Cork's Shane O'Shea nipped past both of them to take the win. The next race saw Shane again demonstrate his racecraft as he one by one picked off the battling Barry and Jake, and then the race leader David Hamilton, who then got spun out while defending second. It was the same again in the third race; David leading the way while Shane judged every gap right to work his way to the front on the last lap.
The JUNIOR BEGINNERS raced with the day's biggest single grid of seven cars and brought out the day's first red flag when Thomas Sinnott's Yaris collected a marker tyre while leading the first heat. After the restart he chased back to second behind Ryan Goldsmith's Micra. The second race was won by Shane Roe's Fiat Uno, chased by new boy Josh Power, looking very promising in his boxy Micra, and Jack Nolan's Micra. The third race saw Thomas Sinnott back in front and this time leading all the way, with Alex Deveraux's Micra next up ahead of Ryan Goldsmith, Josh Power, Shane Roe and the now mis-shapen Micra of Jack Nolan (quickly hammered into shape after Katie's roll). Jack Kennedy spun out of contention after consistent results in the first few races.
That just left the main races of the day, for the Betty and Jim Murphy Memorial Cups.
The LADIES' CUP race was led for a couple of laps by Katie Nolan, before Catherine Walsh took over, holding off Amanda Lambert. They got a bit too close at one stage, with Catherine turned sideways and Amanda taking to the infield, but Amanda closed up again and saved her move for the last corner, grabbing the inside line to take the cup from Catherine and Katie.
The JUNIOR CUP race started from a closed up 8-car grid with the top qualifiers at the front. David Browne took off into a good lead, but Shane O'Shea reeled him in and completed the ten laps to take the cup back to East Cork, with David chasing in second. Barry Brady came out in front of a good scrap for third, ahead of Jake Stamp, Jack Cooney, David Hamilton, Conor Murphy and Niall Doolan.
The BEGINNERS' CUP race followed and, after consistent scoring during the day earned him a front row start, Jack Kennedy led all the way, holding off an early challenge from Thomas Sinnott before the close racing for second let Jack pull out a few yards' lead. Alex Deveraux snatched second on the last lap with Thomas Sinnott third from Josh Power, Ryan Goldsmith, Shane Roe and Jack Nolan.
Ten of the thirteen qualifiers survived the day to line up for the MEN'S CUP race. Jason O'Neill and Jack Hickey raced for the lead before Alex Cooney came through, chased by Jimmy Boland. After a couple of laps of side by side racing, though, Jimmy was off into the sand trap, leaving Alex with a good lead which he maintained for the rest of the ten laps to take the cup. Ciaran Fortune came through to second, chased by Joe Cowman, with the finishers completed by Mick Lambert, Jack Hickey and Jason O'Neill. Mick Boland, Wes Martin and Benji Cullen all retired.
Finishing the day was an ALLCOMERS race for the non-qualifiers. Damian Murphy joined in for his first race in 20 years in his son's Junior car, while Patrick Lambert appeared in a Toyota-powered Micra that had sat in the unloading area all day, apparently with its battery wired the wrong way round! Anthony Moran took the win chased by Wes Martin's car (maybe not with Wes driving?), Damien Murphy and Jamie Egan.
That just left post race checks on the cup winners' cars before they were all declared legal and the impressive selection of cups was handed out to complete another excellent day of racing at Ballymurn. Thanks to all at the club for their help and hospitality through the day – a most enjoyable place to go racing!