ALL IRELAND AUTOGRASS SERIES ROUND 2

Causeway Autograss - Bond's Glen Raceway
6/7 July 2019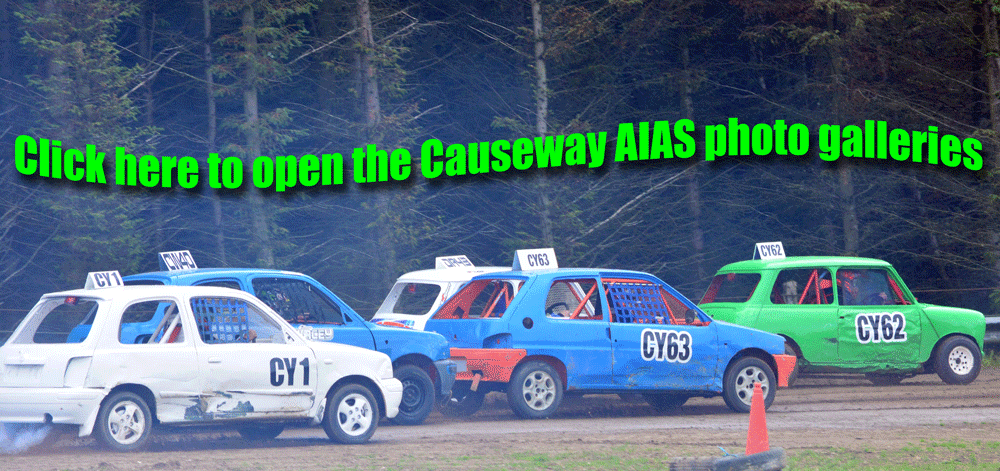 The "new" track for Causeway Autograss, NASA's north-western outpost, at Bond's Glen Raceway has already reached its seventh season, and for the third time was to be the host of the northern round of the All Ireland series.
After only 40 cars raced at the All Ireland round two years ago, while enthusiastically promoting the event for the All Ireland committee, Damian Shannon set a target to get 70 cars to Causeway, which would have beaten the club's best turnout to date (55 cars at their first All Ireland round in 2015) by quite some way. In the end, 94 cars raced with 98 drivers signed on. There were another four cars in the pits that, for one reason or another, never found drivers, so the numbers could even have beaten the magic 100. The club also did lots of local social media promotion, which was rewarded by a promisingly busy spectator area.
With a massive amount of work having gone into the track, it was obvious as soon as racing started that this was going to pay off. The warm weather meant lots of trips out for the water cart, but it did just enough to keep the dust down, while any previous problem spots on the track had been successfully smoothed out. The reprofiled first corner was working well – finally removing all track of the original layout with its hairpin bend and left hand kink, while the long downhill and uphill straights and two contrasting bends were keeping the racing interesting. The weekend started with two sets of six lap heats but although it was very welcome to see improved race distances at an All Ireland meeting, some engines were finding the warm weather a bit much, so laps were cut to five for the third heat and again to four for the fourth heat, before reverting to six laps for the finals.
After an excellent day, with very few incidents, on Saturday, the club, and all the racers, excelled themselves on Sunday. With more warm sunshine after a chilly start, the final set of heats was rattled off with not one single stoppage. The track was holding up well, but to preserve it further it was then decided to run the finals in reverse order, from Class 10 down to 1, with an exception made to put Class 1A first so that Damian Shannon could jump out and video the rest of the finals! Through the finals there were just three stoppages, two for minor incidents and one for a broken down car. All the racing was finished by ten past three, meaning that most drivers could wait for the prizegiving and still be on the road home by four.
Having put so much into this event, the Causeway members were very quick to acknowledge the tremendous help they received from all the other Irish clubs, with members from north and south helping out everywhere. It's unfair to single anyone out, but we will anyway – Dorothy McGrath was impossible to ignore as she combined the job of calling cars for every race with running up and down the hill in the pits all weekend lining them up. And only occasionally letting her language slip!
By all accounts this was a superb weekend that without doubt has transformed the way that most people in Irish Autograss look at Causeway club.
Reigning champion Jamie Thorpe went through the meeting unbeaten in CLASS 1 with his Micra. Gerry O'Brien, sharing daughter Chloe's Micra, won his first heat but was eliminated after a first corner fracas in his second race. The other heats went to Mini racers Ben Scott, Martin Murphy and Jemma McNeill. Jemma had her father Davy for company but after a good second in his first heat, Davy was in the thick of the action in his other racers. Although Jamie led the final all the way, he finished with John Fyffe's Micra hot on his heels, after a strong showing all weekend by John, with Ben Scott closing right up in third. Martin Murphy took fourth ahead of Aaron Darragh's Micra, Adam Cochrane's Mini, Adam Delacey's Micra and Jemma McNeill. Among the local drivers, long time Causeway racer Mark Johnston was out in his Micra on Saturday only. Newcomers this year Abbie and Craig Browne showed well in their first race but Craig's Mini blew its second engine of the year next time out. Abbie continued in her Peugeot with a good third place in her last heat, but just missed out on the final. Declan Bryson did the first two heats in a Micra but then concentrated on his Class 8. The other driver not making the final was Carlow Micra man Ryan McCaulay.
CLASS 1A just saw two boxy Micras make the long haul from Cork, but they put on a great show. Series PRO Damian Shannon looked to have the edge in the first two heats but Paddy Walsh turned the tables in the third and fourth runs. The final saw the lead change a couple of times, but in the end Damo came home ahead of Paddy.
CLASS 2 has been thin on the ground so far this year. Four cars turned up, but one was without a driver and then Peadar Devlin's Nova got no further than the first corner in his first three heats. That left Dale Delacey, in the ex-Hannah and Jess Hinton Yaris, chasing after Gary Shannon's BAS heat winning Micra. Peadar finally got the Nova going on Sunday and split Gary and Dale in the fourth heat, before taking a convincing final win, with Gary second and Dale third.
CLASS 3 had a four car line-up on Saturday, with Ron Gamble disappointingly not being able to race his V8 Micra. The battle was between the evenly matched Starlets of Kildare's Dylan Roche and Cork's Anthony Murphy, with Dylan winning all four heats and the final, Anthony chasing in second. There was a duel between contrasting Fords for third, but Nigel Park secured the place in his Pinto powered Fiesta, ahead of David McNeill, in the ex-Ivor McKee Sapphire, with David adopting not only the car but also Ivor's crowd pleasing driving style! They were joined on Sunday by another Sierra, an ex-Lightning Rod for Mark Conwell, but it died on the line for both its attempts.
CLASS 4 also broke up into two closely matched pairs. Jim Hayde's 106 and Kevin Warren's Uno battled all weekend, with two heat wins each, but Kevin took the advantage in the final and just held off Jim for the win. David McNeill (junior) in the ex-Matthew Mayne Saxo fought out third with Pat Doyle's "Class 1 and a bit" Micra. David had the upper hand early on, but the Saxo slowed with various issues in addition to the smoke it was puffing out, so Pat ran third in their last three races.
CLASS 5 ran with split grids all weekend, although after new Causeway driver James Gilmore's Mini-Vauxhall retired there were just eight cars running. The heats saw some very close racing between John Wilde, Adam Browne and Conor Devlin, with John ending up with three wins to Adam's two. The heats when John and Adam were drawn together were among the weekend's highlights, the result (so far) being John 2, Adam 1. Other winners were Maeve Devlin, Bill Martin and John Marley. The final was red flagged after Conor and Meave Devlin both went round on the first lap. John led away in the rerun but Adam got his nose in front on the second lap and then held on all the way for an impressive win, with John holding second from the rapidly closing Conor Devlin. John Marley came in fourth, with Bill Martin getting the better of Damien McAteer and Maeve Devlin after Ricky Maguire exited their battle on the last lap.
CLASS 6 started with a full eight car grid, causing everyone to wonder how they'd get round the tightened first corner – they didn't! The unlucky one on the outside of all the action was Pat Warren, leaving the Cork man to sit out the rest of Sunday's races while rebuilding a shock. The rerun had everyone on their feat as the unbeatable Evan Curran was given a close run by Matt Jess – and eventually Matt found a way past for a sensational win. Second time out Evan got away in front as Matt fought through to second. And the third heat again saw Evan hold the upper hand, with Alan O'Brien taking second. On Sunday morning, though, another spectacular run by Matt saw him hold off Evan to the flag. Seven cars lined up for the final, with local man Joe Bryson having problems with his inique Vauxhall Ecotec-powered 106. Andy Greenaway was a disappointing first lap retirement, having impressed all weekend with his Rover Turbo now rebuilt from the familiar Clio into a Citroen C2 shell. At the front, though, Evan Curran led all the way, with Matt Jess right on his tail at the finish. Dave Heffernan's Micra-Honda held third from Down's Adam McCready, who'd gone well all weekend in his Astra, with Alan O'Brien and Pat Warren completing the finishers.
A three car CLASS 7 grid became two after a couple of races, with the casualty unfortunately being potentially the most entertaining car present, Richie Nugent with his ex-Wesley Stockdale Chevy V8 Saxo. Well, it was a Saxo this week – the exact model depends on what panels happen to be top of the pile in Dick Nugent's yard! After some spectacular laps, a hose popped off and the ensuing cloud of steam spelt bad news for the Chevy. Alan Long's Metro-Honda was on top form again, finishing all five races ahead of Sean Maher's twin Pickup (Alan's old car).
A ten car field of CLASS 8s was ideal as it meant two five car heats on each run, and no reruns at all! Barry Leech (we won't stoop to using the "Barrier Leech" name) and Gavin Coughlan each took three wins with Kenneth Cashel claiming the other two. Jack Creaven was fourth qualifier, the Galway boy having his best outing yet in his ex-Jack Grainger car, which we were surprised to learn had started life as Antony Ross' Powertec V8-powered Class 10 – a Nationals winner in 2006 and still worth £5k of anyone's money! Encouragingly for a club that until recently had no specials at all, there were three Causeway cars running; former Class 3 man Declan Bryson in a Kawasaki powered ARD, Ryan "Bubba" Wilson in a DRD chassis, and Sean Quinn having his first ever outing with the ex-Tori Coles Berrisford. Steady performances by Sean saw him make the final, although the other two local men were unfortunately the two non qualifiers. The final brought out what was, amazingly, the first red flag seen all day on Sunday as Gavin Coughlan and Jamie Coyne tangled at the start. At the second attempt, Gavin led away with Kenneth Cashel going out on the first lap as Jack Creaven and Barry Leech took up the chase. Barry's challenge for second saw him bounce off the out-of-shape Jack and spin out, so Jack (thrilled to be racing in this company on a Class 2 budget) came home second from Jamie Coyne and Colin Linehan, with Barry just snatching fifth on the line from Rob Crowley, and Sean Quinn completing the finishers after not putting a wheel wrong through his debut weekend.
CLASS 9 started with four runners and finished with one, but there was some excitement in between! John Fuller won three races, but Eamonn O'Brien bounced back from a misfiring first heat to give John a run for his money, and just beat him in Sunday's race. Dermot Kelly chased these two while various problems beset young John McKee, stepping from his Junior AX into a Peugeot 16 valve powered 9 (we think maybe the ex-Lawrence Connors and Tom Tilley SEGTO car) and driving it in a style that gave away his family heritage! With Eamon O'Brien missing, John Fuller took off into the lead of the final but only lasted a lap before slowing dramatically as Dermot Kelly took over. John McKee threw his car round to close in on Dermot, but then cut out and coasted to a halt leaving Dermot as the last man standing.
There were two CLASS 10 entries but unfortunately we didn't see the expected battle between Jamie Lyons and Cian O'Mahony. Jamie led the first heat for two laps before his rear suspension broke. He was back for race two but in this one Cian suffered a puncture. Cian had more problems in heat three, which Jamie won, but on Sunday it was the other way round with Jamie in trouble and Cian taking two runaway wins.
FORMULA 1200 also had just two starters. Billy O'Keefe was unbeaten, chased by Gerard Darragh, but Billy missed the first heat after his shared car picked up damage in the Junior Specials, so Gerard, having completed the first race on his own, had enough of a points advantage to keep the overall win.
The STOCK HATCH racing got a bit too close at times, with three cars from Down up against two from Causeway. Causeway's Junior Murphy pulled away from the battle to win heat one with his Saxo, but was in the thick of it in heat two, which Keith Graham won in his Peugeot after the other four came together in the first corner, leaving Chris McCandless' Corsa with a broken gearbox after bouncing off the armco. Keith won again in heat three after Derick Copeland's Corsa pulled out of the lead. An overnight gearbox rebuild saw Chris back in action on Sunday and the competitiveness of the class was proved when the car that had been at the back on Saturday, Richard Callan's Saxo, held off Derick to win, while Keith Graham did a wall of death on the armco. After an early skirmish with Junior Murphy, Keith Graham then led the way to take the final win, chased by Junior, Derick, Richard and Chris.
The LADIES all raced together, with five drivers signed on. The four saloons proved evenly matched with Jasmine Cusack's Mini winning the first race, but the shared car found the long Causeway track and the warm weather too much and blew up in the second race, which Catriona Nugent came through to win in her class 4 Pickup from Ellen Waide's Class 1 Mini and Pamela Horgan's Class 2 Micra. Martin Murphy then kindly offered Jasmine his Mini, and she went straight out to win heat three. On Sunday it was Ellen's turn to win and then in the final Ellen held on all the way, despite a couple of close moments, and at the flag just held off Jasmine, Pamela and Catriona. The only Specials entry was Michelle Cusack who, with her regular Class 8 having been left the wrong side of the Irish Sea, used Cillian's Junior Special to score a maximum points haul.
JUNIOR CLASS 1 fielded 11 cars, although Chloe O'Brien was soon sidelined after her dad's mishap in Class 1, and Tyrone Cusack also lost out after car sharing; he's been a definite contender with second to Jack Browne in his first race, then leading his second for quite a way with a punctured front tyre. Jack Browne won all his heats, surviving a coming together with Tyrone in the second race. Aaron McGrath's impressive first season in the Yaris continued with a win and two seconds, but then blew his diff out of the gearbox at the start of heat four – but that wasn't the end of his weekend! John Gray's Micra was also a winner while Ethan Long quickly got on the pace with the ex-Amy Heffernan Mini and ended up with two wins. The only non qualifier was Oisin Martin, who hadn't scored at all on Saturday but got his sick engine going for a better run in Sunday's heat. A full eight car grid lined up for the final, thanks to the generosity of Ryan McCaulay, who offered Aaron McGrath his first taste of a Micra. Ross Graham pulled out on the first lap while Leah Conwell's 106 died at the start and got going just in time to be lapped. At the front Jack Browne led all the way, chased by John Gray, while Aaron McGrath made a cautious start in the borrowed car but then rapidly caught up, snatching third on the line as Ethan Long's Mini started to splutter. Scott Graham's Micra, Eoin Marley's Yaris and Leah Conwell completed the finishers.
With nine JUNIOR SPECIALS lined up only one was going to miss out on the final and that was resolved when Jack Maher had a troubled weekend and only finished two heats. The other major drama befell Artjom Segeijs, who got taken wide in the first heat and wiped off a front corner on the armco, but he was back for his second race. The top qualifier was Cillian Cusack, with three wins and a second, beaten only by Jack Brennan in the first heart. Jack ended up with two wins, as did Sean Nugent, while Patrick Daly was always in contention, taking one win. A good start in the final by Charlie Coffey saw him battling for the lead with Cillian, but Cillian eased ahead and led to the flag, although he never got away from Charlie, whose best drive yet saw him holding off Sean Nugent and Patrick Daly. Artjom Sergejs took fifth from battling brothers Daire and Ruari Thomas, with the unlucky Jack Brennan's car dropping off the pace and sinking to the back of the pack.
So after a great effort by the Causeway club, and everyone who travelled to support them, the All Ireland Series can take a rest for a couple of months before what will no doubt be a fitting finale at Mallow.