WATERFORD RACEWAY


Round 7 - Saturday 10 August 2019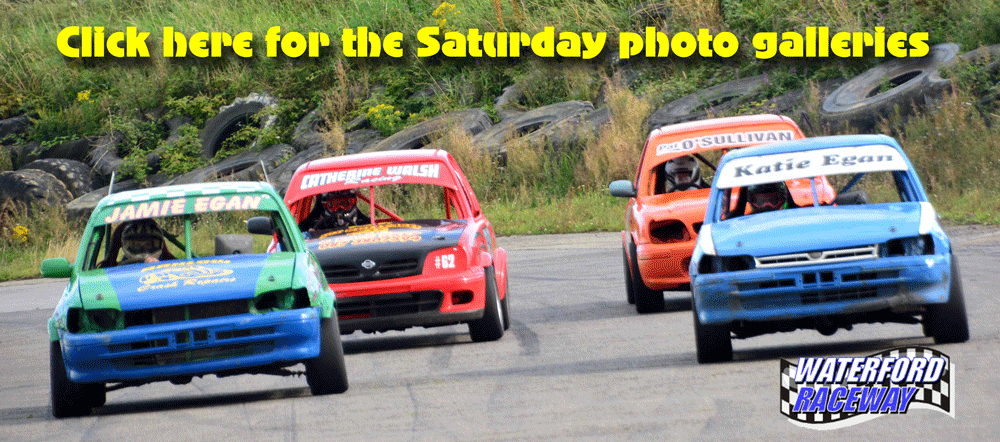 Waterford Raceway's eagerly awaited August double-header weekend, with two full scoring championship rounds scheduled, was threatened at one stage to be a bit of a washout, with heavy rain forecast at least for the Saturday afternoon. However, this didn't stop drivers turning up in good numbers, with a total of 59 cars and 66 drivers in the pits, although a couple of these didn't get round to racing.
Not for the first time, the Pike benefited from the unpredictability of the Irish weather. Just when the rain was forecast to arrive, the sun came out instead, and the track kept completely dry, while the nearest village, a mile down the road, had heavy showers all afternoon.
Saturday's format was a couple of rounds of class racing, qualifying drivers for the first of the weekend's big cup race, the Tony Dunphy trophy, which would take place on Sunday morning after a third round of qualifying. Then there'd be two more full rounds before completing the weekend with another big 20-lapper, the Maura Walsh Trophy, open to allcomers except for the top three from the Tony Dunphy race.
Kicking off on Saturday were the ROOKIE JUNIORS, once more split into A and B groups based on championship points, while Sunday's groupings would be adjusted on a "two up, two down" system, promoting the top two B drivers to Group A, and moving down the two lowest Group A scorers. Group A started with Molly O'Sullivan in front but she got shuffled down to sixth as Martin Power came through to win, despite losing a bumper somewhere along the way, beating Toby McGuire, Liam Kiersey, Connor Fitz and Liam Og Power. Second time out Martin won again, chased by Liam Kiersey, Toby, Conor, Molly and Liam Power.
Group B saw Aaron Kenneally back after missing a couple of rounds and he won the first race from Paddy Fitz, Daryl Deane, Davon Leahy and Aoife Healy, with Callum Power dropping out. Aaron won again on the second run, beating Callum Power, Aoife, Daryl and Paddy.
The JUNIOR PRODUCTIONS also needed a split with 15 drivers signed on. The drawn grid for race one gave Ted McGrath a front row start and he then ran away with the race, while Aidan Heney held off Cian Clancy, Ross Ryan, Joey Dilworth, Ben Kenneally, Ava Moloney and Darragh Healy. The reversed grid second heat never had a clear leader as Ben Kenneally and Cian Clancy ran most of the race side by side, but Ted was impressively finding all the right gaps to work through the field, ending up in third on the tail of the leaders going into the last corner, which he judged perfectly to edge alonside Ben crossing the line, although Ben was just warded the win from Ted and Cian, with Aidan, Ross and Joey right behind and Darragh just beating Ava.
Group B was no less competitive. Eoghan Burke took the first race, chased by Ryan Hickey, James Deane, Darragh Walsh, Eoghan Doherty and Tadgh Foley, with Dylan Ivers moving up from Rookies with a very well turned out Micra. On their second outing Ryan Hickey held on in front as Darragh Walsh closed in, with Eoghan Burke heading Tadgh Foley, James Deane, Eoghan Doherty and Dylan Ivers.
CLASS 1 fielded seven cars and gave Cian Deasy a runaway win in the first heat, with Darragh O'Shea reducing Cian's lead as he broke away from the battling Paddy O'Sullivan and Shane and Jack Hickey, with Shane just grabbing third on the last lap. Noel Deasy and Ronan Foley completed the runners. The second race saw the Hickey cousins heading the pack, with an outside pass giving shane the win, while Jack ended up in the wall on the last lap, defending second from Darragh O'Shea. Paddy O'Sullivan, Cian Deasy, Ronan Foley and Noel Deasy were all in close contention.
CLASS 2 featured its regular trio of drivers, but it all went wrong for Pat Ryan. After losing the lead to Eddie Baldwin, Pat got sideways into the tight uphill bend, clipped the inside bank and took a heavy tumble. Eddie won the class from Michael Coughlan.
CLASS 3 also had three starters and, although the first race was less than twenty minutes after Pat Ryan's roll, son Jason was on the grid in their shared car, although it was threatening to shed panels round the track. The race was stopped after Michael Baldwin and Alan D'Arcy tangled; on the rerun Michael held off Jason after Alan's fuel pump let him down. The wrecked Ryan Micra didn't appear again and Michael was the only finisher in race two after Alan's exhaust fell off.
Out with the Threes was the only CLASS 5 entry, Padraig Smiddy debuting his new Honda B16-powered Starlet, a stunning car that promises to perform as well as it looks.
Three CLASS 4s were joined by Martin Fiz, on his own in CLASS 6 today. Raymond D'Arcy continued his winning ways, while Tom Hill and Peadar Wall each chalked up one second and one retirement. Martin beat the handicap and passed Raymond in the first race, but didn't quite catch Raymond or Peadar in the second.
Best racing of the day without doubt came from the LADIES. With her usual drive in Mick Boland's Starlet not expected until Sunday, Orla O'Sullivan took over her dads' new Class 1 Micra, which saw her evenly matched with Catherine Walsh's similar car and the two slightly larger engined Starlets of the Egan sisters. Katie Egan held on to win the first race with Orla and Catherine side by side over the line, just in front of Jamie Egan. The second race saw all four cars glued together. Katie led the way but Catherine got her nose ahead of Orla and then did everything she could on a brave outside line to pull ahead of Katie. Finally Catherine emerged in front, only to run wide and let Katie in again, with Catherine then taking a wild ride round the banking before ending up in the back straight wall, fortunately without too much damage. Katie then held off Orla and Jamie to win.
CLASS 1B had their two races both in the second half of the programme, to aid those who had to switch restrictor plates on Rookies' cars between race. Ten cars were signed on, but only seven made it out for the first race, led all the way by Alan Houlihan as Steven Healy led off Jason Ryan, Willie Heney, Luke O'Donovan and Liam Fitzgerald, while Conor Harty retired. Second time out Ronan Foley joined in with Tadgh's car. This time Willie Heney led most of the way, but in the end Jason Ryan came through to win, with Alan Houlihan getting the better of a close battle with willie and Stephen Healy for second.
The STOCKS grid grew to six, with Evan Harding out in a fresh Almera and Rosegreen regular Andrew Burke returning to the Pike with his Focus. Andrew won the first race from Brian Weston's Mazda, Evan Harding, Joe Dilworth's Focus, Stevie Slattery's Almera and Jonathan McGovern, second time out in the Alfa 156. Their second race saw Brian narrowly holding off Andrew, with early leader Evin in third and Stevie just beating Joey for third.
The day's action ended with a HELPERS' RACE, won by Steven Condon in Paddy O'Sullivan's Micra,, chased by Ben Hickey (in Jack's car), Ann McGuire (in Alan's 1B Micra), Ger Clancy (in Peadar Wall's 206), Kevin Healy (in Aoife's Micra), battling with John Ryan in the other Healy Micra, Conor Harty (in his own Micra after not getting a full lap in during the class racing), Michael O'Shea (in Darragh's Class 1 Micra), with James Leahy retiring.
CLASS RESULTS sponsored by Premier Auto Engineering
CLASS 1: 1st Shane Hickey, 2nd Darragh O'Shea 3rd Cian Deasy
CLASS 2: 1st Eddie Baldwin, 2nd Michael Coughlan, 3rd Pat Ryan,
CLASS 3: 1st Michael Baldwin, 2nd Jason Ryan, 3rd Alan D'Arcy
CLASS 4: 1st Raymond D'Arcy, 2nd Tom Hill, 3rd Peadar Wall
CLASS 5: 1st Padraig Smiddy
CLASS 6: 1st Martin Fitzgerald
STOCKS: 1st = Brian Weston & Andrew Burke, 3rd Evin Harding, 4th = Stevie Slattery & Joe Dilworth
CLASS 1B: 1st Alan Houlihan, 2nd Jason Ryan, 3rd Stephen Healy
LADIES: 1st Katie Egan, 2nd Orla O'Sullivan, 3rd Jamie Egan
PRODUCTION JUNIOR A: 1st Ted McGrath, 2nd Aidan Heney, 3rd Cian Clancy
PRODUCTION JUNIOR B: 1st Ryan Hickey, 2nd Eoghan Burke, 3rd Darragh Walsh
ROOKIE JUNIOR A: 1st Martin Power, 2nd Liam Kiersey, 3rd Toby McGuire
ROOKIE JUNIOR B: 1st Aaron Kenneally, 2nd Paddy Fitzgerald, 3rd Daryl Deane
HELPERS' RACE: 1st Steven Condon, 2nd Ben Hickey, 3rd Anne McGuire