WATERFORD RACEWAY round 8
Tony Dunphy & Maura Walsh Cup Day
Sunday 11 August 2019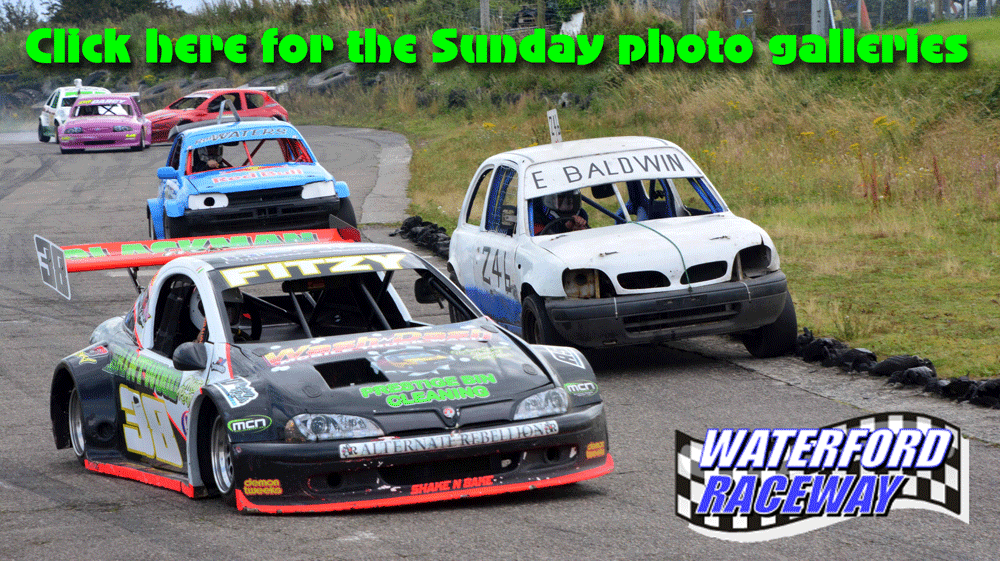 Everyone was up bright and early for day two of the August double-header at the Pike. There was a lot to squeeze in, with three full rounds of racing planned in addition to two of Waterford raceway's most prestigious annual cup races, the Tony Dunphy Memorial Cup and the Maura Walsh Memorial Cup. With these races catering for the main classes 1 to 6, plus the ladies, there were additional cup races scheduled for Class 1B, the Stocks, and of course both classes of Juniors.
A busy day was obviously in store – of the 59 cars that had been in the pits on Saturday, only two were missing by the time scrutiny closed, and twelve more had turned up. These included Jim Scannell, making a very welcome comeback in Class 4 with an Opel-powered spaceframe 206 – the car last raced by Nicky Banville, but unrecognisable in its new colours, and set to give Jim his first ever taste of rear wheel drive. Brian Whelan made his first appearance of the year with his Nissan-powered 205, while the day's sponsors, Anita and Shaun Lonergan, managed to squeeze in a rare racing appearance between a weekend of high profile singing engagements. There were two brand new drivers, both brought in by the ever expanding Ballinhassig Racing Team from West Cork; Derek Shears would be driving in Class 1B and young Fionn O'Donovan would make his debut in the Rookies, both driving Arthur Cottrell's familiar Micra.
After getting lucky with the weather on Saturday, Sunday's forecast was for a fine day, so everybody feared the worst, but after a quick shower dampened the track for the first few races, the rest of the long day stayed dry, with racing kicking off an hour earlier than usual, at 11.50.
Saturday's two rounds had set much of the field for the TONY DUNPHY TROPHY, but in some classes there was scope for latecomers to sneak into the big race via one more round of qualifying. Sixteen of the twenty qualifiers lined up for the 20 lap race, which took five attempts to get under way. After a couple of laps Padraig Smiddy's immaculate new Class 5 Starlet-Honda broke down to bring out the reds. After a second false start a two car tangle stopped the third attempt and when the reds flew for a fourth time everyone was sent off to cool down for half an hour. When they reassembled Padraig and Brian Whelan were missing, but this time they went the distance, with Shane Hickey setting the pace from fellow Class 1 qualifiers Darragh O'Shea and Ronan Foley. It took nine laps for Class 6 man Martin Fitz to unlap himself, and as the laps counted down the Class 2 of Eddie Baldwin came through to take the lead, only to be passed almost immediately by Fitzy. We thought that was Martin's race, but unknown to us he still had another lap to make up and came in at the back of the field, as Eddie Baldwin took the flag, chased by son Michael's matching Class 3 Micra, with Shane Hickey still hanging on to third from Ronan Waters' Starlet (now in Class 5) and Pedar Wall's Class 4 206. Raymond D'Arcy had to ease off for a few laps mid-race, but was catching up again at the end, taking sixth from Orla O'Sullivan's Class 4 Starlet, Darragh O'Shea, Paul Fitzgerald's Class 2 Starlet, and finally Martin Fitz, with Brendan Dee's Class 6 Rover, Alan D'Arcy's Class 3 Starlet and Ronan Foley not making the finish.
At the end of the day the MAURA WALSH CUP was open to allcomers, excluding the Baldwins and Shane Hickey as the top three in the earlier race. That was lucky for Jack Hickey, who was able to take over cousin Shane's Micra to replace his own worse-for-wear example. Quite a few fancied runners hadn't lasted the day, but eleven cars lined up with a spirited lead battle immediately developing between the three Class 1 Micras of Paddy O'Sullivan, Jack Hickey and Darragh O'Shea, chased by fellow Class 1s Ronan Coughlan and Ronan Foley. The quickest car in the race was Raymond D'Arcy's Fiesta, and he made up the first of his two laps handicap after seven laps, putting him right on course to stage one of the Pike's classic close finishes. As Raymond sliced through the other traffic, the lead battle got a bit heated; Jack Hickey took over the lead but just behind him Paddy and Darragh tangled entering the pit gate bend, leaving Raymond with just Shane and Darragh to catch. Unfortunately for him, at just that moment Sean Lonergan's Class 3 Starlet and Tom Hill's Class 4 tangled to bring out the red flags and the race was prematurely over, with Jack Hickey claiming his second big cup win in a month, and the other places awarded to Paddy O'Sullivan and Ronan Foley. Jack Pollard's Class 2 Micra was still in contention at the end, while Mick Boland, Alan D'Arcy and Ronan Coughlan all retired.
In the class racing, CLASS 1 had eight runners, but six started the first race with Ronan Foley running away with it as Paddy O'Sullivan, Darragh O'Shea and Shane and Jack Hickey battled for second. Paddy and Jack eventually tangled and Ronan led the restart all the way from the closely matched Shane and Darragh and Noel Deasy. The second race, after the Tony Dunphy race, saw Shane lead all the way, with Darragh absolutely glued to his bumper – we couldn't see any sort of gap, but the bumper stayed on!. Ronan Foley pulled out with a spluttering engine and Paddy O'Sullivan chased the leaders in, followed by Ronan Coughlan, Noel Deasy, and John Cottrell in one of the multi-driven Ballinhassig Class 1B Micras. John led the way for half of the class final before his handicap was reeled in, and then Ronan Coughlan's Starlet fended off Darragh, Paddy, Shane and Ronan Foley, four of the quickest Micras around, to take a most impressive win.
CLASSES 2 and 3 were able to run together after the sad demise on Saturday of Pat and Jason Ryan's Micra, which normally runs in both classes. Paul Fitzgerald dropped down a class into Class 2 with a Fiat-powered Starlet and proved uncatchable in the first heat, with Eddie Baldwin an unusually distant second ahead of Michael Coughlan and Jack Pollard, with a fresh engine in his Micra, while John Cottrell also joined in after missing the Class 1 race. Second time out Eddie Baldwin was back on top, beating Paul Fitzgerald, while Jack Hickey took third on a "test run" in a new Micra Charlie McNamara had brought along (we'd hoped Charlie would race it, but that never happened as a queue started to form to buy the car, which had the Nissan engine/Toyota box setup out of Charlie's old Starlet). The final also belonged to Eddie, while Jack Pollard held on to second from Michael Coughlin, with Paul Fitzgerald pulling off.
Alan Darcy's Starlet-Suzuki, back on form, held off Michael Baldwin's Micra in the first Class 3 run, with Sean Lonergan making spectacular sideways progress to third in his Starlet. Alan didn't make the second race, which Michael won from Shaun. Shaun put on a great showing in the final, leading all the way to the last corner, where Michael managed to nip through and steal the win, with Alan slowing in third.
CLASSES 4, 5 and 6 ran together, starting the day with an eleven car grid. They all somehow escaped unscathed at the start as Pat Nolan spun out in Katie Egan's car. Mick Boland in the other FWD Starlet led most of the race, while Raymond D'Arcy struggled to pass Peadar Wall. On the last lap the Class 6 leader Martin Fitz passed them all to win outright, while Peadar took a good Class 4 win over Raymond and Mick, while Jim Scannell had a good debut to take fourth after Tom Hill pulled out. Ronan Waters dropped from Class 6 to 5, with a 1300 16 valve Honda now powering the Red Bull Starlet, and he took the class win over Padraig Smiddy. Brendan See had a good run in the Rover, chasing Martin Fitz through the field to take second in Class 6, while Brian Whelan retired after leading the class for a while.
Next time out there were no Class 5s, and by the end of the race no class 6 as Martin slowed with a suspected gearbox or diff problem. In Class 4 Raymond made short work of taking the lead, and then pulled away as Peadar Wall took second Jim Scannell put on a good show to hang on to third before losing out to Mick Boland and Tom Hill on the last lap. The third round was just Class 4 and Raymond took yet another win after Peadar took a trip along the top straight grass. Mick Boland took second from Tom Hill and Jim Scannell.
After Saturday's close battles the LADIES again didn't disappoint; Orla O'Sullivan was back in Mick Boland's Class 4 car, with the handicapping moving rapidly towards starting her in Dungarvan Harbour – maybe the only way she can be stopped! Mary Prince was leading the field away in the Class 1B Micra and her spirited driving meant it was taking longer and longer to catch her in each race, but the other four, the Starlets of Katie and Jamie Egan and Anita Lonergan, plus Catherine Walsh's Micra, none the worse from its Saturday accident, were impossible to separate, their battle only limited by the width of the track. Orla came through to take the lead of the first race in the last two laps, with Katie just beating Catherine and Jamie, with Mary and Anita close behind. The second race followed a similar pattern, with Jamie, Katie, Catherine and Anita catching Mary just as Orla caught them – it ended with Orla in front and Jamie this time heading Mary, Katie, Anita and Catherine across the line, after Catherine had another close encounter with the wall. The handicap in the final really made Orla work. It took her four laps to get onto the lead lap, giving her another eight laps to make up a full lap on the rest. Into the last lap she'd just caught up to third place; down the back straight she edged ahead of Jamie, and then a wide exit from the last bend saw her outdrag Katie to the line to win by inches! Katie was second, Jamie third, and Mary did a great job to hang onto fourth from Anita and Catherine.
CLASS 1B had their first three races in quick succession, after a couple of shared cars had restrictor plate swaps. With eleven cars on the grid, Alan Houlihan won the first race ahead of Jason Ryan, Willie Heney, Ben Hickey, Darren Prince, Stephen Healy, James Leahy, Luke O'Donovan, Liam Fitzgerald, Adam Cottrell and newcomer Derek Spears. The second race was interrupted by James Leahy bouncing off the back straight wall, although the car was soon back in action. This time Jason Ryan just held off Stephen Healy over the line, with a close battle between Alan Houlihan and Willie Heney for second. There must be a reason why so many of the 1B cars are all blue – less evidence of who's been rubbing who! The third race was again won by Jason, although he only got past darren Prince in the last two laps, with stephen Healy third in front of Willie Heney, James Leahy and Luke O'Donovan.
The 1B CUP race brought out nine cars, with Ben Hickey and Liam Fitzgerald out of action. From pole position (based on the day's points) Jason Ryan led all the way, chased by Stephen Healy, with third qualifier willie Heney going out on the second lap with a puncture. Most unfortunately, post race checks found that Jason's engine had the wrong cam fitted, completely unknown to Jason and one of the perils of running an untouched standard engine. Jason had to be excluded, leaving Stephen Healy the winner from Alan Houlihan, Darren Prince, James Leahy, Luke O'Donovan, Adam Cottrell and Derek Spears.
The STOCKS again had six cars on track; Jonathan McGovern's Alfa was missing, but Anne McGuire was back in the Hyundai, albeit still on its grass tyres after its East Cork exploits. Brian Weston passed Stevie Slattery to win the first race, with Evin Harding third, while Anne battled with the two Focuses of Joe Dilworth and Andrew Burke, crossing the line three abreast. Second time out Evin Harding held on all the way to take the first win for his new Almeira, heading Brian and Stevie, while Anne just beat Joe and Andrew missed the race, trying to fix his broken exhaust manifold. Race three was out very soon after, but Andrew was back and this time he led all the way, despite the car still sounding horrible, with Stevie beating Brian and Evin for second.
Brian Weston qualified his Mazda on pole for the STOCKS CUP race and then led it all the way, holding off Stevie Slattery, with Evin Harding in third. Andrew Burke took a trip into the top bend bank, but recovered to catch Anne McGuire and Joe Dilworth, splitting them across the line.
A sixteen car field for the JUNIOR PRODUCTIONS again needed split heats before they all went together in the cup race. Group A saw Cian Clancy take the first race, with Ted McGrath uncharacteristically spinning off while trying to pass Eoghan Burke for second; Eoghan took the place from Joey Dilworth, Ben Kenneally, Aidan Heney, Ross Ryan and Ryan Hickey. The second heat saw Ted again hit trouble while leading, promoting a battle between Aidan Heney, Ben Kenneally and Cian Clancy, but Cian caught the back straight wall to bring out the red flag, with Aidan, Ben, Joey Dilworth and Eoghan Burke the only ones still running. Everyone except Ryan Hickey made it out for the third race, in which Ross Ryan held off Ted McGrath and Ben Kenneally.
The B group started with a win for Darragh Walsh, chased by James Deane, Eoghan Doherty, Ava Moloney, Darragh Healy, Tadgh Foley and Dylan Ivers, having his first outing in a very smart Micra, after moving up from Rookies. This group also had their second heat cut short after Brian Scannell hit the armco; James Deane was in front from Darragh Walsh and Darragh Healy. The third heat again saw Dames holding off the two Darraghs, while Dylan Ivers was going well to battle with Ava Moloney.
12 cars lined up for the JUNIOR CUP race as Ryan Hickey, Eoghan O'Donovan, Tadgh Foley and Brian Scannell were sidelined. Ted McGrath and Ben Kenneally, joint top scorers, claimed the front row of the grid and Ted led all the way, chased by Ben. Eoghan Burke headed the third place battle from Cian Clancy, Aidan Heney, Ross Ryan and Joey Dilworth. Darragh Walsh, James Deane and Darragh Healy fought out eighth place and Dylan Ivers finally got ahead of Ava Moloney.
The ROOKIES also had a split grid, with thirteen cars signed on. Group A had the honour of kicking off the meeting, on a wet track, and after a lot of sideways driving Martin Power led home Toby McGuire, Conor Fitz, Aaron Kenneally and Liam Kiersey, with Paddy Fitz losing a lot of ground after a spin. Toby came from the back of the grid in only two laps to lead Martin home in their second race, with Conor, Liam, Aaron and Paddy all close behind. The third round saw Aaron Kenneally take the lead from Paddy Fitz after a couple of laps, but Aaron was then caught by Toby McGuire, crossing the line side by side ahead of Martin, Liam, Paddy and Conor.
Group B was headed first time out by Molly O'Sullivan, caught at the end by Davon Leahy. Aoife Healy held off Liam Og Power and Daryl Deane for third, while new boy Fionn O'Donovan had an excellent first race to come in ahead of Callum Power. Callum turned that result round in race two, leading all the way with Davon and Molly chasing him home. There was another different winner in race three as Davon Leahy passed Liam Power on the last lap to win from Liam and Molly.
The ROOKIES CUP race saw twelve cars line up in points order, with just Fionn O'Donovan missing from the ten lap race (compared to the Rookies' usual six laps). Ted McGrath led the first five laps but as the leaders caught Aoife Healy, Toby opted for the outside and Martin Power got through on the inside of Aoife. They then caught Daryl Deane and this time Toby got the advantage on the outside, but three into one over the finish line and Daryl was sent spinning, clipping Liam Kiersey and taking them both into the bank. The result was declared with Martin first, Toby second and Aaron Kenneally third, ahead of Conor Fitz, Davon Leahy, Molly O'Sullivan, Liam Power, Callum Power and Paddy Fitz.
A very full day wasn't over until strip downs had been finished on the engines of the various cup winners' cars - not always an easy task with some of the standard engines that had never been apart before. Once the final trophy had been handed over, that just left three days' racing to complete the 2019 Driver of the Year Championship. Unfortunately we have to miss the September 1 round due to a clashing Autograss commitment, but we'll be back to cover the October 6 and November 10 rounds.
CUP RACE RESULTS
TONY DUNPHY CUP: 1st Eddie Baldwin, 2nd Michael Baldwin, 3rd Shane Hickey
MAURA WALSH CUP: 1st Jack Hickey, 2nd Paddy O'Sullivan, 3rd Ronan Foley
ROOKIES CUP: 1st Martin Power, 2nd Toby McGuire, 3rd Aaron Kenneally
JUNIORS CUP: 1st Ted McGrath, 2nd Ben Kenneally, 3rd Eoghan Burke
STOCKS CUP: 1st Brian Weston, 2nd Stevie Slattery, 3rd Evin Harding
CLASS 1B CUP: 1st Stephen Healy, 2nd Alan Houlihan, 3rd Darren Prince
CLASS RESULTS sponsored by The Lonergans Band
CLASS 1: 1st Shane Hickey, 2nd Darragh O'Shea 3rd Ronan Coughlan
CLASS 2: 1st Eddie Baldwin, 2nd = Paul Fitzgerald & Michael Coughlan, 4th Jack Pollard
CLASS 3: 1st Michael Baldwin, 2nd Shaun Lonergan, 3rd Alan D'Arcy
CLASS 4: 1st Raymond D'Arcy, 2nd Mick Boland, 3rd Peadar Wall
CLASS 5: 1st Ronan Waters, 2nd Padraig Smiddy
CLASS 6: 1st Martin Fitzgerald, 2nd = Brian Whelan & Brendan Dee
STOCKS: 1st Brian Weston, 2nd Stevie Slattery 3rd Evin Harding
CLASS 1B: 1st Jason Ryan, 2nd Stephen Healy, 3rd = Alan Houlihan & Willie Heney
LADIES: 1st Orla O'Sullivan, 2nd Katie Egan, 3rd Jamie Egan
PRODUCTION JUNIOR A: 1st= Ted McGrath & Ben Kenneally, 3rd Cian Clancy, 4th Eoghan Burke
PRODUCTION JUNIOR B: 1st James Deane, 2nd Darragh Walsh, 3rd Darragh Healy
ROOKIE JUNIOR A: 1st Toby McGuire, 2nd Martin Power, 3rd Aaron Kenneally
ROOKIE JUNIOR B: 1st Davon Leahy, 2nd Molly O'Sullivan, 3rd Liam Og Power