THE IRISH FASTEST PERSON ON GRASS
West Waterford Autograss - 24-25 August 2019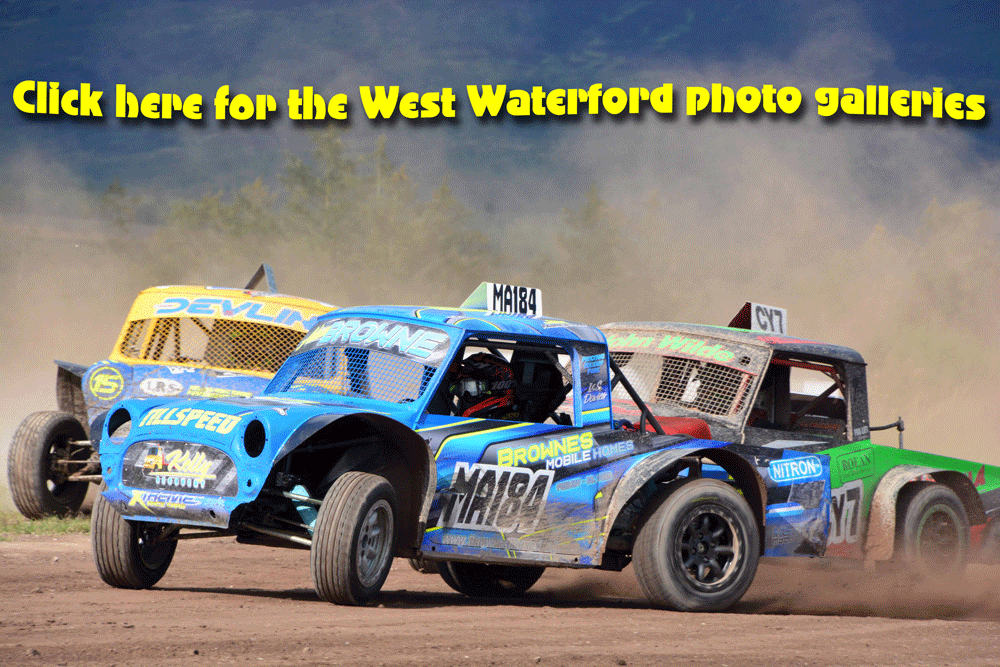 For some people, maybe for most people who've experienced it, West Waterford's "Irish Fastest Person on Grass" weekend is up there with the most unmissable events on the Autograss calendar. For most of the years that we've been attending Ballysaggart's big weekend it's been the final round of the All Ireland Series. Now that all six clubs in Ireland have proved themselves more than capable of hosting first rate All Ireland meetings, the series is being spread around more, but West Waterford's event is none the worse for being a non-points meeting.
Held over the Saturday and Sunday of the last weekend in August (in the UK that's bank holiday weekend, which is helpful for those travelling from the north, although the Irish bank holiday is the first Monday in August), the meeting attracted a strong entry, with 109 cars and 118 drivers signed on and only a couple of classes looking weak in numbers (and as it turned out, these still produced good battles). And to cap it all, the sun shone over the Knockmealdown mountains for most of the weekend, so everyone could enjoy the most scenic venue in Autograss. The format was three rounds on Saturday, followed by two more rounds of heats before the finals and the Champion of Champions on Sunday.
CLASS 1, with 12 entries, ended up with a bit of an accidental winner. Jack Houlihan, confidently expecting his Class 2 to break down again, accepted a drive in the Melleray Autos Class 1 Micra, but as it turned out poor Jack ended up having to take two first place trophies home! With nine Micras, two minis and a Yaris in the field, both Minis were winners, with Paul Pearce collecting a win in his 52nd year of racing (who can top that?) and Peter O'Grady winning in the ex-John Shannon car. Tom Butler and Jack Kelly also won heats, but Jack Houlihan went through the weekend unbeaten, with four heat wins. In the final, though, Jack led the first couple of laps, but Jack Kelly then found a way past and after a battle of two great Irish Autograss dynasties (they're all related in some way!) the Kellys beat the Houlihans, with Peter O'Grady and Tom Butler also in the battle. Kieran Whelan, Paul Pearce, Ryan Feeney and former Hot Rod racer Mark Buckley completed the finishers, while Dylan Feeney, Brian Ward (a new addition in a Yaris), Jamie Relihan and Roisin McGrath, sharing a Micra with her sister in the Juniors, were the unlucky non-qualifiers. On points, Jack Houlihan was the overall winner from Jack Kelly and Tom Butler.
CLASS 1A brought out a five car field although local boy Kian Fuller had to drop out before the final. Denis Healy used his daughter's car to win the first heat, but the remaining three all went, after quite some battles, to a driver who's made a successful return to the class, Cian O'Mahony! Cian and Denis fought hard throughout the final, but when Cian picked a fight with the cones as well, Denis took the advantage to lead Cian over the line, with another local man, Paul Feeney, splitting up the Cork cars by taking third from Paddy Walsh. Overall Cian won from Denis and Paul.
CLASS 2 was disappointing in numbers, but certainly not on the track. With a battle of the Houlihans on Saturday. Ricky won the first two encounters, but broke down in the third, while Jack won the next three heats. Jack didn't have it all his own way after Ricky's retirement though, as Jimmy White turned up on Sunday with his Nova and put up a spirited challenge. The lead changed hands a few times in the final, but eventually Jimmy pushed too hard, ran wide and couldn't get back past Jack. Jack won overall, from Jimmy and Ricky.
CLASS 3 welcomed North Wales visitor Barry Evans for his annual visit – in fact the first outing for Barry's ever immaculate Starlet since last year here. Barry's luck held for once, even to the extent that in one race, when his throttle cable snapped, the red flag was already on the way up! Barry won four times and took one second, with the only one to beat him being Ed Sheehan in Sunday's last heat. Ed was on good form, giving Barry a close run in the first heat but had to bounce back on Sunday after his steering jammed at the end of the second heat, taking him up the armco and onto his roof. Dylan Roche's Starlet didn't appear on Sunday, leaving four cars in the final, where Barry Evans just held on to win after a last lap challenge from Anthony Murphy's Starlet. Ed Sheehan was third and Gary Shannon fourth, making a promising class debut with the ex-Paul Cusack/Jim Lee spaceframe Starlet. Barry took the trophy, from Anthony and Ed.
CLASS 4 was expected to feature a battle between Kevin Macnamara's Citroen C2 and Jim Hayde's Peugeot 106 but, after winning the first heat, Kevin had problems all weekend. Jim, on the other hand, won all the other four heats and took the final, chased by Courtney Brady's Micra, with Pat Doyle again making good use of his standard Micra to take third, with the same result in the overall standings.
CLASS 5 was its usual good value, with five northern travellers among the seven car grid on Saturday, while Adam Browne joined in to make it a full grid on Sunday. Conor Devlin opened his score with a win, while Billy O'Keeffe's Mini-Peugeot was second in the first heat before falling sick for the rest of the weekend. Conor beat John Wilde in he second heat, but the third heat ended with the Down and Causeway cars tangled on the pits bend, Conor getting a black flag and John the win. On Sunday it became a three way battle, with Adam Browne beating Conor and John each time. The final was red flagged after Billy O'Keefe spun on the first lap, but the restart carried on where it had left off, with Conor, John and Adam racing side by side until they settled down with Adam in front. Into the last lap John's engine started popping and banging with a suspected broken cam follower, but some defensive driving in the last corner thwarted Conor's move, so Adam won from John, with Conor recovering to beat Chelsea Brady and Bill Martin over the line. John Marley and a troubled Maeve Devlin completed the finishers. John Wilde's last lap defence won him the overall trophy from Conor and Adam.
CLASS 6 – on yes, there was no Class 6! Still plenty of them around in Ireland but it's one class that's struggling to get cars to the track on a regular basis.
There was a full grid, though, in CLASS 7. Nine cars started, which meant split heats through the heats. Patrick Sheahy's Suzuki was the only one to drop out, leaving an eight car grid for the final. There was plenty of action, even with the split grids, but Tom Buckley was in great form, with a run of five wins through the heats ensuring his Pickup went into the final looking as immaculate as ever, which you couldn't say for one or two of the others! Terry Falvey and Alan Long took a heat win each before Liam Roche got back into his stride and won his last three heats. Liam grabbed the lead at the start of the final and stayed there, with Tom and Alan chasing him home in a very fast race. Terry Falvey held off Sean Maher and Guy Wynn for fourth and Kieran Geaney completed the finishers in the ex-Kevin Dempsey Fiat Turbo-powered Mini, now restored to its original Ken Ansell colours. Paul O'Connor retired from the final after a slightly fraught weekend! Liam won overall from Tom and Terry.
CLASS 8 turned out an impressive 21 cars, who all did very well with only two red flags needed during Saturday's nine heats, and just one in Sunday's six heats. Jamie Coyne had one of his best days yet in the class, winning three heats, which matched the tally of Evan Curran, while Davey Curran and Darragh Roche won two. Single wins went to Colin Linehan, Kenneth Cashel, Ciaran Nugent (who was putting on a great show in one of the oldest cars still in the class), Joe McGrath, and Killian Thompson. With that variety of winners, not every heat winner was going to make the final and the unlucky ones were Killian Thompson and Ciaran Nugent, while Colm Bolger was the only one to sneak into the fiunal without winning a race. Also on the non qualifiers list were Gavin Coughlan, Con Healy, Jack Creaven, Dan Nash, Rob Crowley, Martin Feeney, Anto Coyne, Mick Finnane, Shane Smyth, Eoghan Cusack (who only raced on Sunday) and Cian Shorten (who only raced on Saturday). With that depth of quality in the entry, we really should have had at least a B-final!
The final was run on a well watered track, conditions that always seem to suit Kenneth Cashel. Kenneth survived a close encounter at the start, when Davy Curran and Joe McGrath got too close before Joe was launched high in the air over Colin Linehan, but all survived with Davy emerging in front before Kenneth shot past and held on to win, with Evan Curran just beating his father for second and Colin Linehan and Joe McGrath neck and neck for fourth. Colm Bolder and Jamie Coyne, after a spin, completed the finishers and Darragh Roche pulled off after getting filled in on the first lap. Evan and Davey Curran took the first two places overall, with Kenneth third, but happy as it was the final winner who'd be in the Champ of Champs race!
CLASS 9 started with three cars but had no shortage of close racing as John Fuller held off Eamon O'Brien in the first two heats. John and Eamon got a bit too close a couple of times in their third race and couldn't beat Dermot Kelly. On Sunday former Class 6 star Sox Coyne arrived with his ex-Adam Cronin car to make a four car grid, with John taking two more wins over Eamon. The final followed the same pattern; on a freshly watered track, John led all the way, chased by Eamon, Dermot and Sox, which was also the order in the overall points.
CLASS 10 is on the way up, and it was a long time since we'd seen a seven car grid of them in Ireland. Boosting the numbers was the return to action of Chris and Ciaran Behan, Chris in a twin Fireblade car based on the old Z-Cars Diesel chassis, while Ciaran had the ex-Majic Johnson twin GSXR-powered Berrisford. Both showed well, although Chris eventually dropped out with overheating problems, but at the front were two of this year's on form drivers, Cian O'Mahoney winning three races to Jamie Lyons' two. Jamie had brake problems in Sunday's heats, while Daryl Culbert's expected challenge was thwarted by a couple of retirements. Six cars made the final, but unfortunately Jamie and Daryl hadn't shaken off their problems. Cian led all the way, but there was an exciting finish as Ciaran Behan closed right up on the last corner, only to run wide, taking second from Dean Browne and Mike Fuller. Cian won overall from Ciaran and Mike.
The JUNIOR CLASS 1 and 1As matched the Class 8 entry with 20 cars on the grid both days and 21 altogether; Emma Kelly's Micra was sidelined on Sunday, but Jack Browne joined in just for one race in his Mini. Alex Healy also raced her Micra in this class as she's currently the only contender in Junior 1A, but come the finals, she had to go round on her own. But she got a well deserved trophy anyway. Gary Whelan's Micra topped the points with four wins and a second from his five heats; Tyrone Cusack also took four wins in his Mini but had his car go sick in Sunday's first race. Ethan Long took a couple of wins in his Mini and other winners were Will Comyn's Micra, first year racer Thomas Murphy, again doing well in his Micra, Jack Browne in his one and only race, John Gray's Micra and Aaron McGrath's Yaris. Aaron's comeback was the story of the weekend after the Yaris, for the second time this year, spat its diff out on the startline, this time taking most of the gearbox with it. To the rescue came Dick Nugent's motorsport spares emporium (most passers by think it's a scrapyard!) and a fresh gearbox was fitted overnight, with time to spare. Aaron, despite missing three races, then featured in a run-off with newcomer Sean McNamara's Micra to take a place in the B final.
The A-final was closely fought with Tyrone Cusack making the running until Gary Whelan squeezed past two laps from home, Gary then winning as Tyrone held off Ethan Long and John Gray for second. Sean Nugent, having a guest drive in one of the Feeney family cars, came in fifth from Fionn Breen's Mini, while Thomas Murphy and Joshua Nugent retired. The B-final was led all the way by Aaron McGrath, who after all salvaged a trophy from his weekend, while Emma O'Riordan's Mini fended off the Micras of Cian Cashman and Shannon Morrissey for second. Tony Browne, Will Comyn, Ciara McGrath and Holly Feeney fought out the remaining places. The ones who didn't make either final, but still had a trophy to come for their efforts as the Irish clubs always support their juniors, were Sean McNamara, Maeve Kelly, Emma Kelly and Jack Browne.
The JUNIOR SPECIALS field of 14 cars included most of the current front runners, despite the proximity of their Nationals, and one driver making his Nationals intentions clear was James O'Riordan, who won all his five heats. Cillian Cusack won three races and Charlie Coffey and Jack Brennan took one each. The final saw a close four car battle for the lead; James O'Riordan got his nose in front on the first lap, but Cillian Cusack then got past and held on all the way. James' last corner challenge saw him run out of room and by the time he recovered, Jack Brennan had snatched second on the line, with Patrick Daly a close fourth. Daire Thomas, Jack Maker and Charlie Coffee fought for fifth while Neil Tivy dropped to the back after a first corner spin.
The B-final was stopped after a couple of first lap tangles, but all six cars made the restart, when Ruari Thomas led all the way. West Waterford's star commentator Darragh Sheehy is becoming a good racer as well and he just beat Rhys Fuller for second, with Michael Lynch, Lauren Fuller and Nik Grabowskis taking the other places.
LADIES' numbers are definitely on the up and a total of 16 drivers signed on, split into their All Ireland groups of class 1-6 and 7-10. The first group brought out four Class 1s, three 1As and three Class 2s. In three of the heats Jasmine Cusack's Mini stated in front to win, but in the other two she was just passed by Jenny Houlihan's Class 2. In the final Jasmine lost out in the first corner and Ellen Waide emerged in front, back in her class 1 Micra as her new Mini was being readied for the trip to Somerset. Ellen led most of the way but couldn't stop Sinead Tivy's progress in the leading Class 2. Sinead went on to win with Ellen still second ahead of Caroline Feeney's 1A Micra, Pamela Horgan, by now in Brian Ward's Class 1 Yaris after her class 2 Micra broke, and Jasmine, just ahead of Kelly McCarthy's 1A Micra and Naomi Nugent's Class 1. Jenny Houlihan retired, while non-starters were Catriona Nugent in one of the Feeney Micras and Sorcha Fuller, having her first ever meeting in a 1A Micra.
The 7-10 division saw three Class 8s pitched against two Class 7s, although the 7s never appeared together as Lea Wynn joined in after Chloe Sheehy's car had already broken. Nicole O'Brien won four heats in her Class 8, only headed when Jessica Browne joined in on Sunday, not so comfortable in her dad's car as her own was Nationals bound. Nicole took over again in the final, chased all the way by Jess, while Michelle Cusack was in contention before spinning and bringing out a red flag.
To fill the time before the main race, a HELPERS' RACE brought out 13 cars and was won by Mike Fuller in Peter O'Grady's Class 1 Mini. Chasing him home were Jamie Thorpe (in Kevin Mac's Class 4), Steven White (in his father's Nova), James McNamara (in his son's Micra), Richie Nugent (in Bill Martin's Class 5) and Bobby Nugent (in Tony Browne's Micra). Then came a Class 7 duel between Gavin Tivy (in Tom Buckley's car) and Shane Houlihan (In Patrick Sheahy's), Rob Crowley (trying Martin Feeney's 8), Tadgh Cashman (in Eamon O'Brien's 9) and Catriona Nugent (in Rob Crowley's 8), while Alan O'Riordan (in Gavin Coughlan's 8) and Jack Houlihan (in Sinead Tivy's Micra) retired.
That just left the IRISH FASTEST PERSON ON GRASS final, open to all the men's and ladies' final winners (except Adam Browne, as he'd have needed to race both days to qualify). Nine cars were still fit to run, headed away by Jack Kelly's Class 1 and Denis Healy's 1A. Denis took over in front, with Jack Houlihan soon closing in and Liam Roche entering the last lap right with the leaders. But heading into the last corner, past the lot of them came Kenneth Cashel and it was Kenneth's turn to take the second most prestigious title in Irish Autograss. Jack Houlihan just pipped Denis Healy for second with Nicole O'Brien and John Fuller in hot pursuit of Kenneth, and Jack Kelly right behind as Liam Roche, Jim Hayde and Cian O'Mahony pulled off.,
That was the end of racing, but of course not the end of the event. One thing currently missing for West Waterford is the historic Lismore Hotel, for many years the favoured venue for the prizegiving, but still at the moment closed for business. That wasn't allowed to stand in the way of the traditional post race party, though, and this time everyone gathered for a meal, the trophy presentation, and whatever might have happened afterwards, in the very pleasant surroundings of the Lismore Golf Club, with the West Waterford club laying on a complimentary taxi service for those staying in the town. Yet again, a fitting end to a great weekend's racing and no, there wasn't much work done by anybody on the Monday!