STANDLAKE ARENA


F2 Stox Open Championship


22 September 2019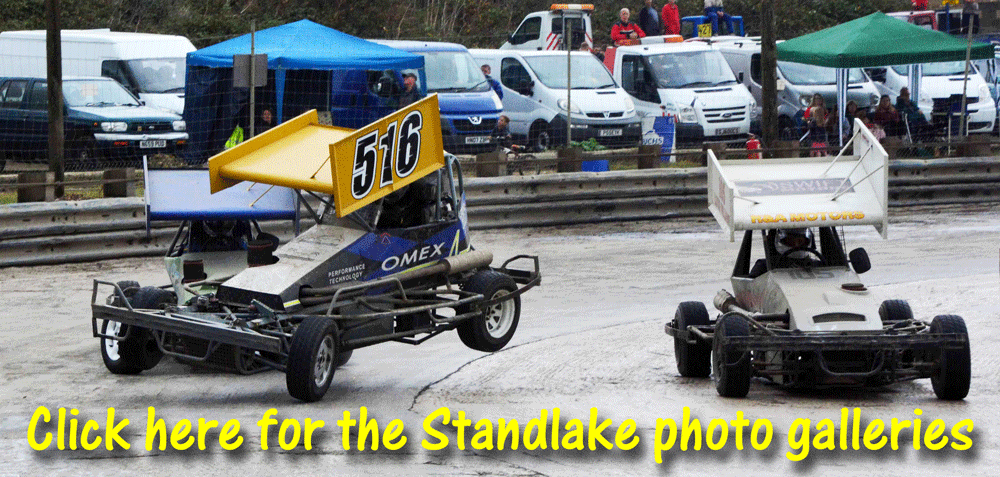 The summer had to end sometime, but it was a shame that it had to be on the day of Standlake Arena's Open Championship for the F2 Stox. A "yellow warning" of rain covered much of southern England for Sunday, with heavy downpours forecast for the late morning and early afternoon. Right on cue, the rain arrived just as the F2 cars took to the track for their first practice session, and it didn't ease off until after the first qualifying heat was completed.
After that it dried out and warned up a bit – in fact it warmed up much too quickly for us and other photographers as camera lenses filled up with condensation on the inside, something that normally only happens if we go from a cold track into an overheated race control. So, apologies for some of the "foggy" photos in our galleries. The F2s ended up experiencing a wide variety of track conditions, with the second heat run on a rapidly drying surface while the final and Grand National enjoyed a dry track with the odd damp patch.
With car turnouts for the F2s at Standlake having ranged from 15 to 22 cars this year, there were hopes of getting up to 30 for the Open, but in the event 20 drivers booked in. Two had to drop out but two late entries made up the number and, although it would have been nice to see some visitors from other "outlaw" tracks, 20 cars was ideal for the closed-grid format of the races. Joining the Standlake regulars was more occasional visitor Paul Quick, maybe the furthest travelled from Cornwall, while Liam Cornish made his first 2019 appearance and Steve Turner was in at the deep end for his first ever F2 outing.
Rob Dobie drew pole position for the first heat, but alongside him on the front row was Andy Webb, who immediately left everyone else in his spray in the pouring rain. Making the fastest progress from his fourth row start was Andrew Cornock, who closed right up on Andy Webb, but a quick 360 spin in the closing stages meant the Cheltenham driver had to settle for second, as Andy Webb took the win. Louis Williams held onto third from Gary Webb, with Terry Butcher, Paul Webb, James Trigg, Ben Farebrother, Jordan Butcher and Stuart Biddle completing the top ten. Other finishers were Keith Richens, Roger Mountney, James Muckian, Paul Quick, Jess Webb, Rob Dobie, Will Adams, Kev Goldup and, after a well controlled debut, Steve Turner. Despite several spinners, Liam Cornish was the only retirement.
The reversed grid for the second heat put Gary Webb on pole, but Ben Farebrother shot through from the second row to lead, with Gary then repassing Ben just before the reds came out, after a tangle between Will Adams and Andrew Cornock. On the restart Gary and Ben again swapped the lead a couple of times before another stoppage, as Paul Quick was stranded mid-track with his bumper embedded in a front tyre. Gary led the next restart away, but Ben hit the front and pulled away to win, chased by the three Webbs as Paul took second from Gary, with Andy coming from the back to take fourth. Louis Williams pulled clear of a battle for fifth with Terry Butcher and Keith Richens; Terry eventually took sixth from Roger Mountney, Jordan Butcher, James Trigg and Keith Richens, with Kev Goldup, Stuart Biddle, Rob Dobie and Steve Turner completing the finishers.
The Open Championship, with everyone but Liam Cornish able to make the start, was gridded in points order:
| | | |
| --- | --- | --- |
| | Inside | Outside |
| Row 1 | 352 Andy Webb | 421 Gary Webb |
| Row 2 | 856 Paul Webb | 105 Louis Williams |
| Row 3 | 115 Ben Farebrother | 508 Terry Butcher |
| Row 4 | 776 James Trigg | 516 Andrew Cornock |
| Row 5 | 261 Roger Mountney | 509 Jordan Butcher |
| Row 6 | 82 Keith Richens | 138 Kev Goldup |
| Row 7 | 623 Rob Dobie | 109 Stuart Biddle |
| Row 8 | 761 James Muckian | 185 Jess Webb |
| Row 9 | 422 Paul Quick | (7 Liam Cornish) |
| Row 10 | 45 Will Adams | 26 Steve Turner |
The action started straight away with James Trigg and Jordan Butcher spinning as they passed the green flag. Andy Webb led away but on the second lap Ben Farebrother surged through on the back straight, with Louis Williams in tow, while Andrew Cornock went three abreast with Andy and Gary Webb. Ben pulled out a small lead, with Louis still chasing, but approaching half distance the three Webb brothers were all closing in again. Andrew Cornock briefly grabbed second, but launched himself over the front of Paul Webb's car, which didn't concern Paul too much as a lap later he took a run at the others and emerged in the lead – just as the red flags came out, Paul Quick and Kev Goldup having bounced off the pit gate, while Louis Williams was also out, with his bid for the lead having ended in the armco.
Paul Webb lined up in front for the single-file restart, with Andy Webb, Gary Webb, Andrew Cornock, Ben Farebrother and Keith Richens behind, and when the lights turned green these six set off into a fantastic high speed battle for the lead. The inevitable big sort out saw Andy, Andrew, Ben and Keith tangling, with Ben rejoining from the infield a lap down. After that Paul Webb wasn't headed again and came home to take his second big win in six weeks, chased by Gary Webb with Terry Butcher taking the third place trophy from James Trigg. Roger Mountney just held off Jordan Butcher, James Muckian and Stuart Biddle for fifth, with a good run for Rob Dobie bringing him home just behind this bunch and in front of Andrew Cornock and Keith Richens. Jess Webb spun out in the closing stages, leaving Will Adams, Ben Farebrother and Steve Turner as the other finishers.
The day ended with the Allcomers' race, with Keith Richens, Stuart Biddle, Andy Webb, Paul Quick and James Muckian missing, to bring the field down to 15 cars with a slightly novel line-up; a closed grid, more or less in graded order, with the top three from the Open occupying the first three places, but of course a lap down. Terry Butcher and Gary Webb led the pack away, but in the "official" order Jess Webb and Will Adams held each other up a bit at the start and Rob Dobie led the first lap, before he lost out to James Trigg and Andrew Curnock, both coming through quickly from the fifth row. Andrew got past James after five laps or so and then pulled away to win, with his luck finally holding after he'd looked to have maybe the quickest car all day. James Trigg kept chasing, but Andrew was uncatchable until the red flags came out to end the race a lap early. Rob Dobie, after his good start, stayed in contention and, although lapped at the end by Andrew, Rob took a very creditable third ahead of Gary Webb, Paul Webb, and Jordan Butcher. Ben Farebrother at one stage made it up to third, but ran very wide into the pits bend, unfortunately when Jess Webb was on his outside, resulting in a heavy shunt into the armco for Jess. Ben recovered to take seventh ahead of Terry Butcher and a slowing Roger Mountney. Liam Cornish and Will Adams tangled early on but made it to the finish ahead of Steve Turner, who'd done well to score four finishes in his first day in the F2. Louis Williams again retired when looking set for a good placing and Kev Goldup also dropped out.
The JUNIORS also had their annual Open event, sponsored by Essex Helmets. To be fair, we didn't think the drawn and reversed grid format suited them as well as the F2s, with a wide range of experience through the 17 car field (there were 18 altogether but Madie Oxlade only appeared in practice). The first heat needed a restart after Ross Burton and Tyler Rayner spun into the armco on the back straight, but with points leader Louis Rayner having drawn a front row slot, there was never any doubt about the winner, as he was chased in by brother Kyle, with Alfie Parker holding on well for third ahead of Kacey Church, who just snatched fourth from Jai-Dee Boland, with everyone else lapped. The second race was led away by Josh Cornish, with Zak Moores soon taking over in front, but from the back row it only took Louis Rayner seven laps or so to hit the front. After a restart, caused by Jai-Dee Boland losing a wheel, Louis went on to win while Zak Moores headed a battling bunch for second, just beating Kacey Church, Callum Martindale, Alfie Parker, Alfie Butler, Tyler Rayner and Jay Moores.
There was a 15 car grid for the final, with Taylor Brigden, in his fourth meeting, and Chloe McQuillan missing. Louis Rayner completed his dominant day by leading all the way, but he was chased hard by the battling Zak Moores and Kacey Church. It was all change on the last lap as Kacey slowed with a puncture and Jay Moores took a good run round the outside to grab third behind his brother, just beating Kyle Rayner, Kacey, Josh Cornish and Callum Martindale. Ross Burton came from the back after his earlier problems to take eighth from Alfie Parker, Alfie Butler, Aiden Howell, Tyler Rayner, Jai-Dee Boland, Riley Bricknell and Alexa Ives, with Jai-Dee Boland winning an award for the best white grader.
The support programme was headed as usual by the PRODUCTION As, with numbers in the class on the up again, thanks in no small part to the number of members of the Passey family who've joined the grid over the last few meetings. It was Andy Passey's Corsa that led the wet first heat most of the way, winning from Craig Passey's Nova and James Strickland's Corsa, while Chris Gregory's Micra held off the next group. The second race saw Craig Passey leading from flag to flag, holding on well under pressure as he finished with Colin Passey, Kelvin Passey, Wayne Chapman, James Strickland, Kyle Williams and Henry Strickland all right on his tail. In the final it was Colin Passey's turn to lead in his smart Nova, only to spin it away, handing the lead to Kyle Williams, who'd made short work of the rest of the field in his Micra. Kyle finished well clear of Andy Passey, holding off Kelvin Passey, who just made it to the end as his engine went sick, and Chris Gregory, with Meghan McQuillan's Mini holding on to a good fifth ahead of Colin Passey, Wayne Chapman, James and Henry Strickland and Paul Hicks' Corsa, while Craig Passey pulled off.
The 1600 PRODUCTIONS also had an 11-car grid. Their wet heat saw points leader Chris Wood bring his Civic through from the back to take the lead from Micky Day's Rover with three laps to spare. Second time out it was John Nichols' Fiesta that made most of the running but he eventually spun out (possibly with help!) and it was Micky Day in the Rover 216 who came home the winner, with Dale Hall's Civic passing Brummie Aldridge's Focus for second, but getting dropped back behind the Focus again in the results. The final brewed up to a close battle with more and more cars joining the queue looking for a way past Brummie Aldridge in the Focus. Eventually a move by David Clarke's Rover broke the deadlock, but unfortunately the Focus went spinning again and David Clarke found himself black flagged after finishing second to Chris Wood. That promoted the matching Rover of Robin Clarke to second, holding off Micky Day, Ash Howard's Saxo and Dan Powell's Civic. Ryan Shelton's Civic came in sixth with John Nichols the only other finisher after Courtnie Smith's Saxo and Dale Hall dropped out.
Although the "Super Drift" class has been dropped, the RWD DRIFT RODS attracted one of their smaller fields, with just nine cars taking to the track. Inevitably the first race in the wet was all about dodging spinning cars, and Tom Evans did this best in his BMW to head home Morgan Gardner's Mazda RX8 and Gary Godsmark's BMW. The next outing was led all the way by Morgan Gardner, with a tidy drive in the RX8, while Kev Hardie's BMW just beat Tom Evans and Gary Godsmark for second. The final was led away by Damian Light's CLK, but he was soon passed by Aaron Rowland's BMW, which pulled away as the CLK held off the others for a while. After the Merc spun out, Aaron was quickly caught by Gary Godsmark and David Wilson, and in a super finish Dave Wilson went for the outside in his Jag and just had his nose ahead over the line to beat Aaron and Gary. Tom Evans was fourth, with Damian Light finishing a lap down as the only other finisher. Kev Hardie pulled out in the closing stages, Robbie Fujak retired after clouting the armco, and Chris Deverick and Morgan Gardner also retired.
The supporting BANGERS, as everat Standlake, turned out in big numbers with 32 cars in the 1800cc Street Banger class, and 17 in the Ladies' class – both classes had three straight races plus an allcomers "dash" and a mixed Destruction Derby at the end. Final winners were Gemma Gardner in the Ladies and Lee Charles in the Street Bangers, while Wayne Boland was the last one running in the 11-car DD.