WATERFORD RACEWAY round 10
The Dick Mackey Cup Meeting
6 October 2019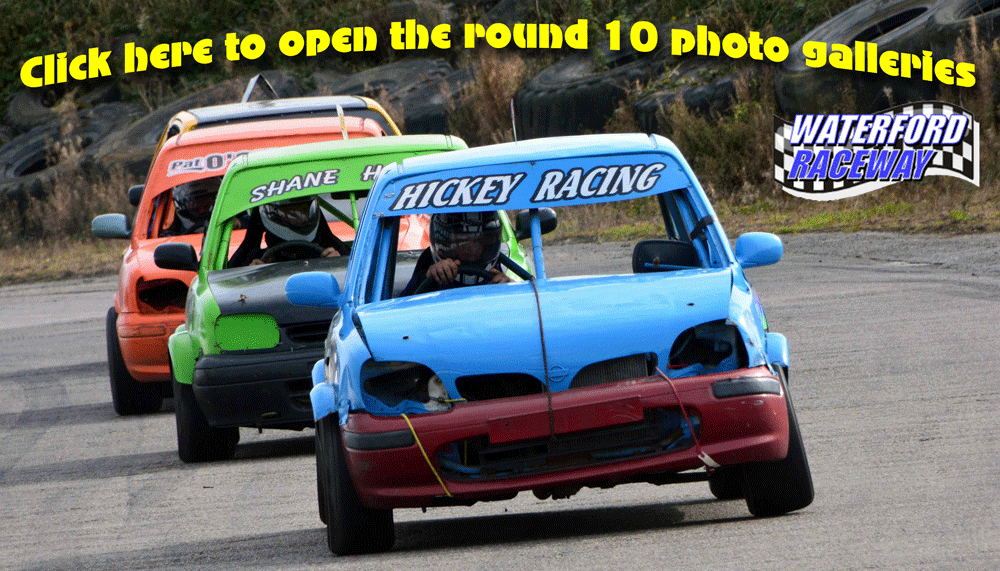 With the season rapidly drawing to a close, there were still several tight points battles to be resolved in different classes over Waterford Raceway's last two championship race days. October brought us to round 10 out of 11, at a meeting that also featured the annual Dick Mackey Cup race, in memory of one of the club's founder members. A bonus this year was the Thomas O'Sullivan Memorial Cup race for the Juniors, which was being held at the Pike for the first time, with a new cup provided for the Rookies to have their own big race.
Even though the latest big storm to hit Ireland, "Lorenzo", hadn't wrecked anything like the havoc that was promised, several days of torrential rain meant that the dry, almost sunny, race day came as a welcome relief, and there was another good entry, slightly down on the last few days, of 56 cars, with 65 drivers signed on. Among them were two newcomers, Michael Cunningham joining Class 1 with the ex-Tom Hill Micra, and David Cronin, making his debut in the Stocks, after a couple of outings in Rosegreen's Premier Rods with a Mazda 323, while Marty O'Riordan returned to the Stocks with his Focus. Also returning to racing action, although he's never really been away, was Ray D'Arcy, joining young Raymond in Class 4 with the s368 Civic.
Both Junior classes had twelve drivers signed on, meaning a nice equal split with six car grids, until everyone came together for the cup races. ROOKIES GROUP A started with a win for Toby McGuire, chased by Martin Power. Conor Fitz held off brother Paddy and Callum Power for third. Martin Power won the second heat while everyone else fought for second, Paddy Fitz getting there ahead of Molly O'Sullivan, Toby McGuire, who completed the whole race with his bumper wedged under the front of the car and Conor Fitz. The final was led until halfway by Molly O'Sullivan, but Toby McGuire eventually got round the outside to win from Martin Power, Molly, Callum Power and Paddy and Conor Fitz.
ROOKIES GROUP B was closely fought with Liam Og Power coming through to win the first race, passing Callum O'Shea in the closing stages, with Davon Leahy, Fionn O'Donovan, Daryl Deane and Aoife Healy all in contention. Liam won the second heat as well, taking the lead from Davon Leahy, with Daryl Deane and Fionn O'Donovan close behind. The final, though, brought Fionn O'Donovan his first win in only his third race day, once again borrowing Adam Cottrell's car. Fionn maintained a good lead all the way, chased by Liam Power, Davon Leahy, Daryl Deane, Callum O'Shea and Aoife Healy.
The JUNIOR PRODUCTION GROUP A started the day with a win for Ted McGrath after a close battle with Ross Ryan. James Deane had another good run to third, beating Aidan Heney, Leon O'Shea and Ben Kenneally, uncharacteristically at the back. That all changed second time out as Ben switched to the other family Micra and held off Ted for the win, with Leon this time beating Ross and James, while Aidan Heney struggled to get to the finish. That meant Aidan too had a car switch, coming out in alan Houlihan's Micra for the final. Again Ben just held off Ted for the win, while Aidan, after leading the early laps, had a moment on the last corner that dropped him behind James, Ross and Leon.
JUNIOR PRODUCTION GROUP B wasn't really for the slower drivers as there aren't any in this class – just quick drivers who've dropped a few meetings in the points. Darragh Walsh took the first race from Joey Dilworth, with Eoghan Doherty beating Darragh Healy for third and Ava Moloney bringing up the rear with a rough sounding engine. Ryan Hickey turned out with a smartly re-shelled car, but was sidelined by mechanical problems. The order was more or less the same in the second heat except that Ava's car was now running better and she split Eoghan and Darragh Healy. Ava was missing from the final, although Ryan Hickey was back, borrowing Ross Ryan's car – to good effect as he led all the way, chased by Darragh Walsh, Joey Dilworth, Eoghan Doherty and Darragh Healy.
CLASS 1 started with an eight car grid, but lost three within a lap as newcomer Michael Cunningham, Ronan Coughlan and points leader Darragh O'Shea all ended up in the barrier. Jack Hickey came through very quickly to win the restarted race, with Paddy O'Sullivan hanging on to second from Shane Hickey and Ronan Foley, with John Cottrell completing the finishers in his Class 1B car. All the bent cars were back on track for the second race, although Ronan Coughlan's Starlet and Michael Cunningham's Micra were off the pace. Jack Hickey started from the front this time and had a runaway win, chased by cousin Shane, as Darragh O'Shea fended off Ronan Foley and Paddy O'Sullivan for third. Jack Hickey took his third win of the day as he caught and passed Darragh O'Shea in the final. Darragh stated in close contention in second, ahead of Shane Hickey and Ronan Foley, with Ronan Coughlin still at reduced speed as he completed the runners.
Classes 2, 3 and 5 all ran together, each having two entries. CLASS 5 provided a close battle all the between the Honda 16 valve-powered Starlets of Ronan waters and Padraig Smiddy. Padraig held off Ronan to win both heats, which meant Ronan started ahead in the final. Ronan then fended off all Padraig's moves until the last couple of laps, when Padraig finally found a gap and came home the winner. CLASS 3 was equally closely fought. Michael Baldwin beat Paul Fitzgerald to win the first race but Paul, now with Honda power in his formerly Fiat-engined Starlet, just managed to fend off Michael in the second heat and final. As these two battled, Eddie Baldwin in the leading CLASS 2 was usually right behind them, with his only class rival, Michael Coughlin, forced to just drive for points after the damage to his shared Class 1 Starlet.
The mixed Class 4 and 6 races as usual provided great spectacle – and on this occasion a fair bit of confusion. The two FWD entries in CLASS 4, Ray D'Arcy's Civic and Mick Boland's Starlet, opted to start at the back, but if they'd been at the front, the handicap would have put them into some close finishes! With Peadar Wall again having problems while leading, Raymond D'Arcy won the first heat, with his father holding off Mick Boland for second, while Martin Fitz held off Brian Whelan in CLASS 6. The second heat was chaotic, with a couple of red flags after Kevin Condon's 206 spun out. Raymond D'Arcy had a terrible misfire, Peadar Wall blew a hose and disappeared in a cloud of steam, Brian Whelan laid down an oil slick and mick Boland trailed his exhaust on the ground. Through it all came Kevin Condon to snatch the win from Ray D'Arcy, while Martin Fitz again took Class 6. Everyone was back on the pace for the final, and with Raymond's problem having finally been diagnosed as a broken rocker (an instant diagnosis once Paddy O'Sullivan joined the crowd around the car!), Raymond was back to his winning ways, with Brian Whelan this time fending off Fitzy all the way to Class 6 honours, just passing Peadar Wall and Kevin Condon at the end, while Ray d'Arcy again held off Mick Boland in the FWD battle.
The LADIES provided some of the day's closest racing, with Orla O'Sullivan back in her dad's Micra and Katie Egan making a temporary switch to the ex-Chantelle Wallace 1.3 Micra. Orla came through to win the first race from Catherine Walsh, Jamie Egan and Katie. Second time out, both Egan sisters drove perfect races, which meant that Catherine could never het past katie for the lead and Orla couldn't pass Jamie for third; they finished tied together with Katie winning from Catherine, Jamie and Orla. The final followed a similar pattern, but this time orla managed to find all the gaps and on the last lap snatched the lead to win from Katie, Catherine and Jamie. The ladies opted to have a fourth race rather than join in the main cup race; with Jamie having to head off to work, the other three enjoyed another close scrap with Orla again beating Katie and Catherine.
CLASS 1B had ten cars on the grid, with a couple of newcomers to the class being Ken O'Shea, in Leon's junior car, and Orla O'Sullivan, having a busy day in Ava Moloney's car. Johnny Kenneally was also back for another go, and emerged in front in the closing stages to win a very close fought first race from Willie Heney, Alan Houlihan and Steven Healy. Orla had a good drive to fifth ahead of Ken O'Shea, James Leahy, Arthur Cottrell and Adam Cottrell, with Luke O'Donovan returing. Luke had more car problems in the second race, in which Johnny Kenneally fended off Alan Houlihan for another win, chased by Steven Healy, Ken O'Shea and Orla O'Sullivan. The final started without James Leahy or Luke O'Donovan, but was soon stopped when Adam Cottrell spun. Luke then managed to join in for the restart, and proceeded to lead all the way to take a great win, chased by Ken O'Shea. Johnny Kenneally, from the back of the grid, made it through to third from Alan Houlihan, Willie Heney, Adam Cottrell, Steven Healy and Orla O'Sullivan, while Arthur Cottrell pulled out.
With the two extra entries, the STOCKS provided good racing, Marty O'Riordan taking a comeback win in the first race, while Evin Harding held off Brian Weston for second. Stevie Slattery got out of shape and accidentally tapped Joe Dilworth into a spin, but they both recovered to catch David Cronin. Brian Weston led all the way in the second race, as Evin Harding held off Stevie Slattery, Marty O'Riordan and Joe Dilworth for second, but the race came to an unfortunate end when David Cronin seriously shortened his Mazda against the bottom straight wall. The final saw Evin Harding again on good form in his Almera, leading all the way as Brian Weston beat Marty O'Riordan in the battle of the green machines, chased by Stevie Slattery and Joe Dilworth.
Then it was on to the three cup races. The Rookies had a ten car grid to race for the new THOMAS O'SULLIVAN CUP. Lining up in points order put Martin Power on pole position, but toby McGuire got the best start and then held off Martin all the way to take an excellent win. Conor Fitz this time just beat brother Paddy for third, with Liam og Power next up, holding off Davon Leahy, callum power, Callum O'Shea, Aoife Healy and Molly O'Sullivan.
The Production Juniors raced for the established THOMAS O'SULLIVAN CUP, which had come to the Pike for the first time. Again ten cars made the start, with a last minute panic when Ava Moloney's engine again went sick; she then jumped into Molly O'Sullivan's Rookie car, but sadly only lasted a lap. Up front, though, Ben Keneally and Ted McGrath continued their battle, with Ben just holding off Ted for the win. James Deane just fended off Darragh Walsh for third, and then came Ross Ryan, Joey Dilworth, Leon O'Shea and Darragh Healy. Aidan Heney was again in Alan Houlihan's car, but unfortunately had an off on the last corner.
That just left the RAY MACKEY CUP, with 12 cars lined up for the 20-lapper. Orla O'Sullivan took an early lead before being passed by Jack Hickey, but then the reds came out with Kevin Condon facing the wrong way. On the restart, Jack again got past Orla, chased by Shane Hickey and Darragh O'Shea. There was nearly a second stoppage when Ronan Foley threw his exhaust pipe along the track, but everyone avoided the debris and carried on. With the bigger class cars not making their usual progress on the by now quite slippery track, it was Michael Baldwin who chased down the leaders. Into the last lap he was right with Jack hickey and they passed the chequered flag side by side, but Jack held on for another big cup win, with Michael second and Shane Hickey third. Then came Darragh O'Shea, Padraig Smiddy, Martin Fitz, Raymond D'Arcy, Eddie Baldwin, Kevin Condon and Orla O'Sullivan, with Brian Whelan slowing in the closing stages.
Yet another close finish to end an exciting day's racing – now it's all down to the final championship round on 10 November.
CLASS RESULTS sponsored by Barry's Metal Recycling
CLASS 1: 1st Jack Hickey, 2nd Shane Hickey, 3rd Ronan Foley
CLASS 2: 1st Eddie Baldwin, 2nd Michael Coughlan
CLASS 3: 1st Paul Fitzgerald, 2nd Michael Baldwin
CLASS 4: 1st Raymond D'Arcy, 2nd Ray D'Arcy, 3rd Kevin Condon
CLASS 5: 1st Padraig Smiddy, 2nd Ronan Waters
CLASS 6: 1st Martin Fitzgerald, 2nd Brian Whelan
STOCKS: 1st Evin Harding, 2nd Brian Weston, 3rd Marty O'Riordan
CLASS 1B: 1st Johnny Kenneally, 2nd Alan Houlihan, 3rd Willie Heney
LADIES: 1st Orla O'Sullivan, 2nd Katie Egan, 3rd Catherine Walsh
PRODUCTION JUNIOR A: 1st Ted McGrath, 2nd Ben Kenneally, 3rd Ross Ryan
PRODUCTION JUNIOR B: 1st Darragh Walsh, 2nd Joey Dilworth, 3rd Eoghan Doherty
ROOKIE JUNIOR A: 1st Martin Power, 2nd Toby McGuire, 3rd Paddy Fitzgerald
ROOKIE JUNIOR B: 1st Liam Og Power, 2nd Davon Leahy, 3rd Callum O'Shea