BALLYMURN HOT ROD CLUB
Nancy and William O'Connor Cup Day
20 October 2019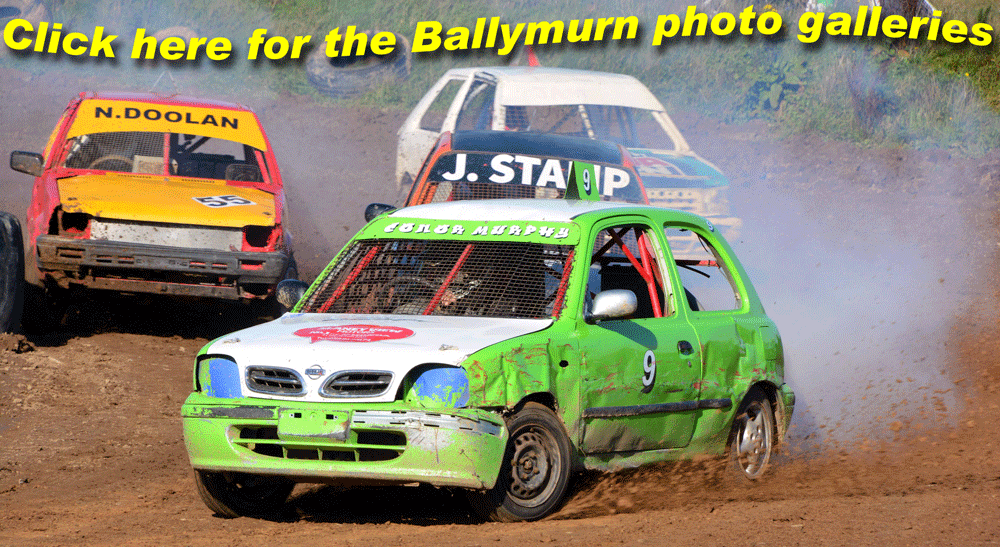 The Nancy and William O'Connor Memorial Trophies featured in the first cup day the new Ballymurn Hot Rod Club ran three years ago, and the third running of the event was planned as the climax of the 2019 Wexford season, on 22 September. An excellent entry of 49 cars turned up, all ready to go – and then torrential rain arrived which quickly transformed the usually immaculate track into a swamp. So everyone had to go home.
The meeting was rescheduled a fortnight later but this time, along with virtually every other grass track meeting across the UK and Ireland, an early cancellation was inevitable. So the club's hopes were pinned on being third time lucky at their last scheduled race day on 20 October – and lucky they were. Actually it wasn't all down to luck – a massive amount of work had gone into the venue, including digging a huge crater at the top end of the pits for the track to drain into. A few compromises were needed – everyone had to unload in the old pits at the top of the track and the chipper van couldn't get anywhere near its usual spot, but the efforts were rewarded by most of the original entries coming back for another go, with 40 cars eventually signed on.
Obviously, with this being an Irish Hot Rod meeting, efforts to get everyone there early were doomed to failure, but racing kicked off reasonably promptly, soon after 12.30, with three rounds of class racing run non stop before a break to sort out the qualifiers for the cup races. From the start there was more than enough of a dry racing line, although at the drivers' briefing Ciaran Fortune made dire threats against anyone who strayed into the normal soft run-off areas. In the end only one car got totally buried there – yes, it was Ciaran Fortune's!
CLASS 1 opened the day with a close race in which Jack Cooney's boxy Micra held off Chalky Nolan in a fresh Nissan-powered Starlet, John Fernihough's K11 Micra, regular Kildare visitor Jason O'Neill's Nissan-powered Peugeot and David Browne (senior) in another boxy Micra. Second time out the order was virtually reversed, with David Browne holding off Jason O'Neill, Pat Nolan beating John Fernihough for third and Jack Cooney dropping to the back. The third round continued the close racing and this time John Fernihough headed the group from Pat Nolan, Jack Cooney, David Browne and Jason O'Neill.
The second group out was a good field of CLASS 2 MODIFIED. Jimmy Boland's Fiat-powered Starlet had the edge here, coming through to beat the Colt of Philip O'Gorman, Basher Mahon's Mitsubishi-powered Micra, Tpot Cadogan in another Colt and Benji Cullen's Mitsubishi-powered Corsa, with David Browne (junior) pulling off in a 16v boxy Micra. David Browne was back out for the second round, though, and won this one, chased by Tpot Cadogan, while Basher Mahon took third from Benji Cullen. Jimmy Boland retired and Philip O'Gorman got himself black flagged after some close racing with Benji. Philip then led the way in the third round, but Jimmy Boland just edged ahead at the finish, with David Browne close in third and Tpot Cadogan, Benji Cullen and Basher Mahon completing the order.
The next three classes each attracted a single entry, so they raced together, with Paddy Lambert's 16v K10 Micra taking CLASS 3, John Codd returning in a K11 Micra to win CLASS 1 MODIFIED and Bob Breen having a few problems with his Honda-powered Starlet in CLASS 4.
The pace picked up as CLASS 5 and 6 came out together, with Nigel Dooley's Honda-powered Class 5 Starlet a good match for the 16v Vtec Class 6 Hondas in David Martin's boxy Starlet, Wez Martin's Colt and Daryl O'Connor's shortened Civic. Daryl's car hadn't run cleanly all day and he pulled off as the other three battled for the lead, but unfortunately the fun didn't last long as David Martin rolled heavily at the top bend. The second run produced a close battle with Wez just beating Nigel, but Wez sat out the third round leaving Nigel to join in with the modified Class 3s.
The more experienced JUNIORS' group were joined by the only LADIES class entry, young Katie Nolan with her Micra, joining three more K11 Micras and the K10s of Jamie Cadogan and Niall Doolan in the Juniors. Conor Murphy tried to smoke his opposition out as he led the first race all the way, with Jake Stamp, Jamie Cadogan, Niall Dooley and Alex Devereaux in hot pursuit and Katie taking things slightly more steadily than she did when she rolled on her Ballymurn debut in the summer. With the grids for the second and third rounds being handicapped, after a straight line start for the first round, nobody ever has an easy day at Ballymurn and Conor Murphy ended up at the back of a close four car battle in the second round, with Niall Doolan winning from Jamie Cadogan, Jake Stamp and Conor, with Alex Devereux chasing the pack home. Conor then came through to win the third round from Jake, Niall, Jamie and Alex.
The JUNIOR B, or novices, group, had enough entries for split heats. First time out Joshua Power's K10 Micra headed his group from Shane Roe's fiat Uno, Jack White's K10 and Tomas Sinnott's Yaris. Michael O'Connor led the other race until he had a bit of a moment and ripped the front pumper off his K11 Micra; new boy Aaron Bolger then took a good win from Michael, Jack Nolan and Ryan Goldsmith. The first group then reversed their result in their second race, with Tomas Sinnott bringing the Yaris home in front of Aaron Bolger, Shane Roe and Josh Power. Michael O'Connor got past Ryan Goldsmith to win his race, with Aaron Bolger and Jack Nolan on Ryan's tail. The third round saw Tomas Sinnott take another win, with a last lap pass on Shane Roe as Josh Power and Jack White got a bit too close heading for the flag. Aaron Bolger impressed with another win over Ryan Goldsmith and Jack Nolan while Michael O'Connor's car stopped on the first lap.
CLASS 7 was next up, catering for a mix of ex-Autograss cars; regular Ballymurn racer Mikey Benson in his 16v Honda was the quickest in the first two races, but was held off third time out by Mark Doran's twin Suzuki GSXR-powered Cinquecento. Joining in the fun was Pat Power, who's opted for some no pressure racing by buying maybe the only survivor from the full grids of Formula 600s that briefly raced in Ireland; the ex-Sean O'Sullivan car being one of the first generation F600 "Hornet" chassis with Yamaha power.
The last class to take to the track was the crowd favourite; CLASS 3 MODIFIED, catering for the typical fast and noisy Honda 1400 powered hybrids with a mixture of Starlet and Micra shells – and one three wheeler. Anthony Moran's Micra led all the way despite breaking a rear stub axle and losing a wheel – as it was the inside rear he didn't notice and completed the last two laps to win from Ciaran Fortune's starlet, Kieran Cooney's Micra and Katie Egan's new Starlet, while Craig Kinsella retired his Micra. In the second heat Anthony Moran wasn't affected by the shock absorber which we suppose he though t was connected to the inside rear corner trailing behind him, but he had to take notice when this time it was the outside wheel that fell off! Meanwhile Kieran Cooney won after he and Ciaran Fortune found a way past Katie Egan. The last race was missing Anthony and craig Kinsella but gained Nigel Dooley's Class 5 car; a very close and spectacular battle resulted with Ciaran just beating Nigel, Kieran and Katie.
The WILLIAM AND NANCY O'CONNOR CUP race saw eleven of the twelve qualifiers line up, with just Jack Cooney unable to run. As a few spots of rain fell, John Fernihough's Class 1 Micra took off into the lead for three laps, before being passed by Jimmy Boland's Class 2 Starlet. As the faster cars all closed up together Ciaran Fortune was forced off into the run off area and, as promised, got totally bogged down, which brought out the red flag. Mark Doran's Class 7 also had to be lifted off the track before the remaining eight cars set off for another attempt at the ten lap race. John Fernihough, Philip O'Gorman and Jimmy Boland had turns in front, but Nigel Dooley was coming through quickly, with a front wing flapping in the breeze after getting a bit close passing Kieran Cooney. For the final four laps Nigel didn't look likely to be caught and he came home to add the cup to his collection from Ballyshannon, chased by Jimmy Boland, Philip O'Gorman and John Fernihough. One by one, Pat Nolan, John Codd, Kieran Cooney, Wez Martin and Mikey Benson pulled off.
This was followed by a NON-QUALIFIERS cup race in which David Browne (Junior) won with his Class 2 Micra, chased by Pat Power in the F600, Tpot Cadogan's Colt, Katie Egan's Starlet and David Browne (Senior)'s Class 1, while Jason O'Neill and Basher Mahon retired and Paddy Lambert boiled up on the startline.
The JUNIOR CUP race followed, with the qualifiers lined up in points order. Conor Murphy earned pole position and then led all the way, with Jake Stamp beating Niall Doolan, Jamie Cadogan and Alex Devereux for second. Katie Nolan also joined in this race to secure the LADIES' CUP. Last race of the day was the JUNIOR BEGINNERS' CUP, with all the cars racing together for the first time in the day, although Michael O'Connor didn't make the grid. Aaron Bolger's heat results put him on pole position and the newcomer mde it clear that he's going to follow in the family tradition as he never put a wheel wrong to lead all ten laps. Tomas Sinnott brought the Yaris in second, chased by Ryan Goldsmith, Jack Nolan, Josh Power, Jack White and Shane Roe.
After a short wait for post race scrutiny checks, the trophies were handed out to complete an excellent third season for the Ballymurn club, keeping the Wexford flag flying in Hot Rod racing, and already planning further improvements to their superb race track ready for 2020. Thanks to Willie O'Connor, Daryl, Nicola and all the rest of the team for their welcome and all their help, and we'll certainly be back whenever our calendar allows.