STANDLAKE ARENA
Championship Finals Day - 17 November 2019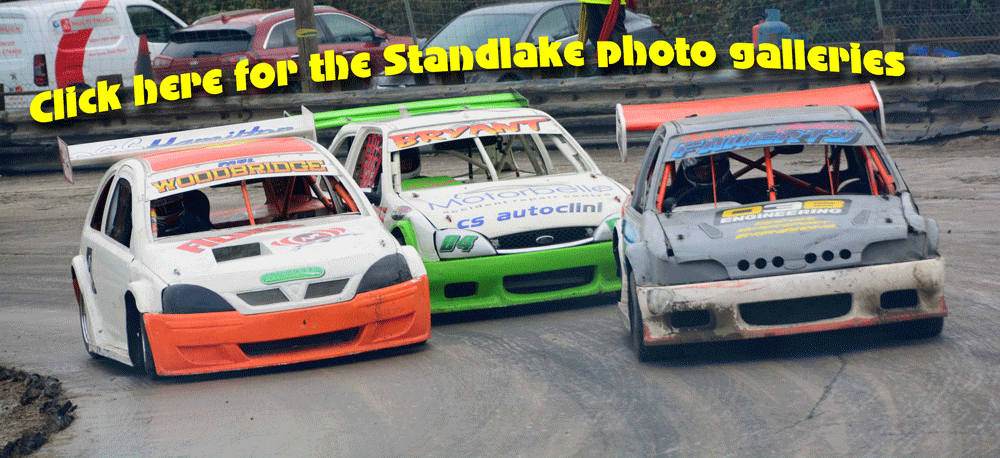 Two weeks after the Standlake Arena was packed out for the annual bonfire meeting, it was back to a rather smaller turnout for the final points meeting of the year. With a total of 52 race cars in the top pits (plus around the same number in the Banger pits) there was still scope for plenty of action on what started as a mild, dry day, but ended up cold and wet for the finals, after a heavy shower during the lunch break.
The HOT RODS were having their final outing of the year and had slipped a bit from their ten car entry last time; just four "regular" drivers turned up, but were joined by two "guest" drivers. Seven times track champion Trevor Harvey was having his first Standlake outing for several years, in Steve Bryant's Fiesta, and former Superstox and now Mini 7 circuit racer Glen Woodbridge made an appearance in father Paul's Zetec-powered Corsa. Unfortunately though, Darren Taylor, the only driver with a 100% attendance record so far this year, was among those who couldn't make it to the final round. The first race saw the two FWD cars pull away at the front on a greasy track, with Pete King leading until Paul Bartlett made an impressive outside pass to take it up. The battling Martin Faherty, in his Redtop-powered Fiesta, and Trevor Harvey closed right up for a spectacular finish; Martin found a gap on the inside of the last corner but he and Paul Bartlett crossed the line locked together and sideways, with Paul just taking the win from Martin, Trevor and Pete. The second round saw Pete King lead all the way, but he had to work hard to stay ahead of Martin Faherty in one of the FWD/RWD battles that work well on Standlake's unique track. Paul Bartlett was close behind in third, but it all went wrong behind him when, after a close battle for fourth, Trevor Harvey and Glen Woodbridge tangled on the back straight and both ended their day in the armco, leaving Rowland Passey, having only his second meeting of the year in the ex-Trevor Harvey Clio-Pinto, to take fourth. On the wet track for the final, there was no holding Pete King, who celebrated his 2019 track championship win by pulling out a three quarter lap lead, before easing off a bit to avoid lapping the other three contenders. Martin Faherty took second, chased by Paul Bartlett and Rowland Passey.
The PRODUCTION As started with a nine car grid, but were joined after the first race by Mark Burton's shared Junior Mini. Shane Steele's Nova and James Strickland's Corsa between them led most of the first race, but over the last two laps James Watts took it up in his Nova to cross the line ahead of James Strickland, with Henry Strickland catching the leaders before spinning his Nova in the closing stages. Shane Steele also spun out as Kelvin Passey came through to third from Colin Passey and the Micras of Chris and Rob Gregory. Second time out Mark Burton's Mini led away but Mick Jones' Micra soon had the lead which he held all the way. Chris Gregory got very close going into the last lap, but must have been too close as he slowed with a puncture, dropping behind Kelvin Passey, James Watts and James Strickland. Shane Steele again led the early laps in the final, but Rob Gregory took over to lead into the last couple of laps. Kelvin Passey moved up to second before a sideways moment dropped him back. James Watts' challenge for the lead saw Rob spinning, while Chris Gregory came into the picture to make sure James didn't gain from that. Chris took the flag to win, while Henry Strickland crossed the line fourth but ended up second after James Watts and James Strickland were both dropped a place. Rob Gregory ended up fifth ahead of Kelvin Passey, Mark Burton, Shane Steele and Mick Jones, with Colin Passey spinning out and retiring.
The 1600 PRODUCTIONS, despite 62 drivers having scored points so far this year, just managed a seven car entry, which included the first Autograss car to appear at Standlake for a little while, Class 6 regular Jon Byrd turning out in the ex-Nigel Bishop Stock Hatch Saxo. The only change needed to comply with the "Prod Rod" rules was to change his K&N filter. Byrdy proceeded to lead the way in the first heat, despite the car sounding as though it was on three cylinders. Eventually he lost out to Dale Hall's Civic, but Byrdy held onto second from Ash Howard's Saxo. On a much dryer track for the second heat the grass car dropped back, while Tom Rogers' colourful Fiesta had another good run, this time holding on to win from Dale Hall and David Clarke's Rover. The final saw Glenn Bell's Fiesta lead away before Tom Rogers took over. Finally Tom was caught and it was Ryan Shelton who brought his Civic home in front of Dale Hall, with Ash Howard third and Tom Rogers just in front of David Clarke, while Byrdy and Glenn Bell completed the order.
The DRIFT RODS just made double figures, with a ten car field starting all three races. Chris Deverick's BMW Z3 came through to win the first race, while early leader Morgan Gardiner's RX8 was further demoted in the closing stages by the BMWs of Tom Evans and Gary Godsmark. A drier track for the second race made no difference to Chris Deverick, who took another convincing win, with Gary Godsmark just taking second from Kevin Hardie and Morgan Gardiner. The final was, as usual, first race out after the break and had a very wet track to contend with. Aaron Rowland's BMW started up front and led all the way, finishing with Chris Deverick, Tom Evans and Kevin Hardie right on his tail, with Gary Godsmark and Dudley Wingrove's BMW chasing this group. Robbie Fujak, after his normal incident-packed races in the heats, came home seventh in his BMW from David Wilson's Jag. Morgan Gardiner dropped to last after a spin, but otherwise proudly bringing up the rear all day was one of the formula's creators, Alan Cartwright, inevitably taking the "best drifter" trophy after yet another crowd-pleasing show in his Volvo Estate.
As usual, it was left to the all-Mini JUNIORS to deliver the biggest grid, although with 19 cars they were back to all-in races rather than the split heats they more often than not require. The first race had a couple of red flags, with the result being declared after Riley Bricknell took a front corner off against the armco with a lap to go. Louis Rayner took the lead from Michael Weston at half distance and claimed the win ahead of Callum Martindale and Kyle Rayner, with Michael dropping to fourth as his exhaust fell off. The second heat was even more fraught with three stoppages, the first coming after at least five or six cars came to grief on the first lap. The reds came on again after Aidan Howell hit the armco, and for a third time after Alfie Butler was launched on two wheels off an infield marker. Michael Weston survived two restarts in the lead, but again it was Louis Rayner coming through for victory, with Josh Cornish doing a fine job of defending second place ahead of Jay Moores, Zak Moores, Kyle Rayner, Michael Weston and Tyler Rayner. Everyone made the final except Riley Bricknell, but including Alexa Ives, who'd missed the two heats with problems in practice following her heavy shunt at the last meeting. In another rain shower, Michael Weston led away, and headed a restart after three laps before last time's final winner Jay-Dee Boland hit the front. It wasn't long, though, before Louis Rayner's wet weather form asserted itself again and Louis came home to a Rayner 1-2 as brother Kyle held off Zak Moores. Alfie Butler came in fourth, while Kacey Church headed Michael Weston and Ryan Glendenning for fifth. Jai-Dee Boland, Jay Moores and Callum Martindale completed the top ten, with the other finishers being Alfie Harding, Taylor Bligden, Aidan Howell and Alexa Ives. Rhys Read spun on the last corner while Josh Cornish also retired and Ross Barton and Tyler Rayner were caught up in the first race-stopping incident.
The LADIES' BANGERS featured in the last of their seven outings this year; an increasingly popular class although our only complaint is that the field always includes a few drivers who've more than proved their ability in other classes where we're sure their skills would still be appreciated! The 14-car field all made both heats and the final, and although there weren't too many in one piece after the final, 12 of them were back out for the allcomers "Dash". Sara Royall and Gemma Gardner were the heat winners before Amy Jones took the final from Sara and Linz Richens. Keeley Macey then won the Dash. The STREET BANGERS of course had masses of cars despite some of the regulars having been at their "World Final" at Ipswich the previous night. With 35 cars turning out for the first heat and plenty of action and wreckage ensuing, there were still 30 left for the final, won by Tom Pearce, 20 for the Dash and 8 for the DD which ended yet another very full day of Standlake action.
That just left one meeting to complete the season, on December 1, a non-points meeting for the regular classes with the promise of something different (maybe a whites and yellows race?) for the F2 Stox and the Drift Rods' Open Championship hopefully attracting a big field.