STANDLAKE ARENA
1 December 2019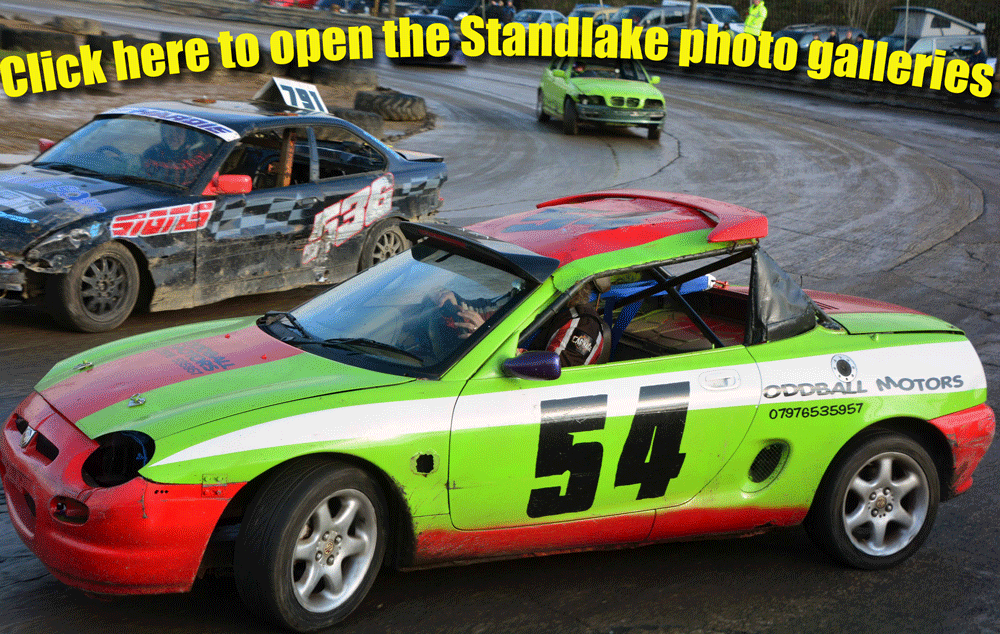 Standlake Arena's long season ended on 1 December on a cold, but thankfully dry day, which attracted one of the best crowds of the season to the Oxfordshire oval. We'd like to say the crowds were there to see an excellent field of the Outlaw F2 Stox, along with the annual Open Championship for the Drift Rods, and non-points season closers producing close racing for the Production A, 1600 Production and Junior classes. However, we have to admit that probably 90 per cent of the crowd was there to see what's become one of the top National Banger fixtures of the year.
Traditionally the last Standlake meeting used to be the Westcountry Videos Open, but in the last couple of years Westcountry's Jeff Guyett has had to admit defeat in the battle to sell professionally produced DVDs in the social media age, and has dropped out of covering Standlake. Stepping into the breach has been the Banger magazine "Caged" whose support and promotion this time brought in a field of 50 1800cc Bangers and 43 in the Unlimited class. This meant a large proportion of the day was devoted to a total of 12 Banger races, featuring plenty of the sort of action that makes Standlake unrivalled as a venue for the Banger fans. But there was still plenty of interest in the classes that we were there to see.
The F2 STOX field was missing quite a few of the regular contenders, but all this did was make more room for all the newcomers and occasional visitors who joined in to make an impressive grid of 22 cars. Regular Autograss racer, and Standlake Ladies' Bangers contender, Maisie Emms was making her debut in the ex-Ben Farebrother car, while another sometime Autograss man, Don Pugh, was out in one of the Terry Butcher hire cars. Dave Muckian made his first Standlake appearance of the year, and Jay Andrews, Ollie Holford and Ryan Mulley joined the other Grimley regulars in the field. For a change the F2s were promoted to an early slot in the running order, in the hope that the final would be completed while it was still possible to see what was going on.
Another change was a car swap between Andy and Jess Webb, and it was Jess in her dad's car who made the early running in heat one, before Keith Walding took over. Cornish traveller Dan Moss was charging through from the back, with Louis Williams and Carl Lewis in tow, and this trio caught Keith with five laps to go. Dan Moss emerged in front to take the win from Louis, Keith and Karl, with by our unofficial reckoning everyone else lapped, headed by James Trigg, Jordan Butcher, Phil Trigg, Ollie Holford and Jim Muckian, ahead of Jess Webb. Andy Webb was among the retirements, maybe lessening the chances of Jess giving his car back, while Dave Muckian had a front corner knocked off at the start.
Dave Muckian was the only non-starter in heat two, in which Jess Webb again led until she was passed by Keith Walding, but this time Keith stayed in front to the flag, chased over the line by Louis Williams, while an excellent showing by Jess saw her take third, holding off Keith Richens, Carl Lewis and Jamie Robson, with Phil Trigg just beating Keith Holcroft for seventh and Jordan Butcher and James Trigg completing the top ten ahead of Andy Webb and Rob Dobie.
All 21 cars from heart two made the final and Jess Webb this time pulled out a fair advantage in the early laps, helping her to hang on to the lead for ten laps, by which time she was in heavy traffic, helping Dan Moss to rapidly close the gap and take over in front. Dan then pulled away to take another Standlake final win, while Louis Williams took yet another second place, after spinning Jordan Butcher out. Jess was heading for a trophy until Carl Lewis stole it from her on the last lap, leaving Jess a still impressive fourth from Keith Walding, Ollie Holford, Jim Muckian and Andy Webb. Phil Trigg was the last unlapped runner in ninth ahead of James Trigg, with Rob Dobie, Ryan Mulley, Steve Goldup, Kev Goldup, Steve Turner again driving consistently in his second meeting, Maisie Emms and Don Pugh completing the runners with Keith Richens, Jamie Robson and Jay Andrews sidelined.
The F2s completed another excellent year at Standlake with a 14 car grid for a combined whites/yellows and mechanics' race. We didn't get a list of names, but there was no doubt about the winner with Prod A and Banger regular Aaron Charles, in Louis Williams' car, passing Jess Webb on the second lap, and going on to win from Josh Mayo in Jay Andrews' car, with Jess third ahead of Jeremy Moss and Rob Robie.
It was the DRIFT RODS' turn to top the non-contact bill, with their annual Open Championship bringing out a respectable 16 car field, racing in a reversed grid format. Northamptonshire driver Dean Quinsee made his first appearance of the year in a Mk2 Toyota MR2 and, after drawing a front row spot for the first heat, led all the way, holding off Chris Deverick's BMW Z3, with the first "saloon" over the line being Darren Taylor's BMW Touring, ahead of the battling BMWs of Kevin Hardie, Tom Evans and Gary Godsmark. With most of the RWD cars treating the super slippery track with respect, the second heat saw Kevin Hardie and Gary Godsmark swapping the lead before Kevin completed the 15 laps just in front of Gary, with Dean Quinsee coming from the back to take fourth, just behind Tom Evans and in front of Alan Cartwright, trading his recent Volvo Estate for the contrast of an MGF.
The heat results put Dean Quinsee on pole for the final, with Kev Hardie alongside, Tom Evans and Gary Godsmark just behind and Chris Deverick and Sheldon Gardiner's RX8 on row three. Dean Quinsee used the mid-engined Mazda to pull away at the start and lead all the way, although once Chris Deverick had fought clear of the battle behind, the Z3 closed right up on Dean, taking second while Gary Godsmark took third from Tom Evans and Kev Hardie. Next up was Darren Taylor from Steve Cooper's BMW Compact, Alan Cartwright, Dave Wilson's Jag and Steve Argrave's BMW. Completing the runners were Sheldon Gardner, Jason Cuddihy's BMW, Mick Rowlands' BMW and Morgan Gardiner, switching to a BMW Compact, while Julian Peapell's BMW 5-series was providing its usual sideways action at the back of the field. Also proving tail-happy was a Nissan 350Z, but this didn't make it to the final.
The big story in PRODUCTION A was expected to be Zak Moores, stepping out of Juniors for the first time with the ex-Ian Round Corsa. But we didn't expect to see his dad, David, joining him on track in Kelvin Passey's spare Corsa, while to complete the line-up newcomer Barry Hudspeth took out brother Jay's Mini. With the 13 car grid including another former Junior Alex Cox in a Micra, Tongham visitor Peter Tilley's Nova and another Tongham numbered Nova driven by Keith Lovegrove, the racing was some of the best seen all year. Shane Steele's Nova led the first heat until he tangled with Keith Lovegrove, briefly promoting David and Zak Moores to fight for the lead until Kelvin Passey came theough, pulling away to win with Zak an excellent second in his first senior race, fending off his dad, Peter Tilley, Colin Passey, Chris Gregory and Craig Passey. Second time out Zak Moores came through from the blue grade to take the lead at half distance from Craig Passey, and Zak then held off Peter Tilley's challenge to win, with James Watts a close third. The final saw a ed flag after James Watts ended up heavily into the armco. David Moores led the rerun away with Zak right behind him, but after Zak tried the outside line to get round David, that let the closely following pack shuffle Zak down the order. David Moores however held on to end his one-off appearance with a final win, with Peter Tilley, Kelvin Passey, Chris Gregory, Colin Passey, Zak and Rob Gregory right on his tail. Alex Cox and Barry Hudspeth completed the finishers after a race that certainly ended the Prod A season on a high note and bodes well for the class in 2020.
The 1600 PRODUCTIONS were down to ten cars, of which one never made it onto the track, but these included a couple of newcomers, Catherine Lawton in a Focus and Ryan Drewitt in a Saxo. The first race saw Tom Rogers' Fiesta take a runaway win, while Ashley Howard (in Mikey Day's Rover) held off Ryan Shelton's Civic, Dale Hall's Civic (before a two place penalty), Glenn Bell's Fiesta, Ryan Drewitt and Lee Loxton's Fiesta. In the second race Lee Loxton led the early laps before getting out of shape in front of Tom Rogers, which opened a gap for Dale Hall to get away in front. Tom Rogers headed the second place scrap but got docked two places, dropping him behind Ashley Howard and Lee Loxton, with Glen Bell and Ryan Shelton right behind. The final was hard fought all the way, with Lee Loxton being passed for the lead by Tom Rogers, but then getting ahead again and then doing everything he could to fend off Dale Hall. The battle allowed Tom Rogers to sneak back past Dale and the two then tangled crossing the finish line, but the win went to Lee from Tom and Dale. Ash Howard came in fourth from Ryan Shelton, Melvyn Charles in the Ka and Catherine Lawton, with Glenn Bell and Ryan Drewett retiring.
A 17 car JUNIOR turnout meant that they were all in one race again, but the third heat that was dropped from the programme was replaced by a parents/mechanics' race at the end of the day, resulting in a few regular racers being squeezed into driving seats that really didn't fit them! The first race was won from the white grade by Taylor Bligden, who survived a restart after Ryan Glendenning spun out, and Taylor held off a double challenge from Louis and Kyle Rayner heading for the line. Alfie Butler took fourth from Tyler Rayner, Ross Barton and Kacey Church, while Jay Moores, Michael Weston and Aidan Howell completed the top ten. The second race was led all the way from the front of the grid by Michael Weston, who drove a well controlled race to come in just in front of the chasing Aidan Howell, Taylor Bligden, Kyle Rayner and Alfie Butler. Taylor Bligden was a non starter in the final, in which Ryan Glendenning led the first couple of laps before getting out of shape and letting through Jay-See Boland and Tyler Rayner, who then both spun into the armco, letting Ryan back into the lead before the red flag came out. From the restart, Louis Rayner was soon into the lead and was chased home by brother Kyle. Kacey Church ended her Junior career with third ahead of Ryan Glendenning, Jay Moores, Michael Weston, Alfie Harding, Callum Martindale, Alfie Parker and Riley Bricknell, with Alexa Ives completing the finishers after Tyler Rayner, Aidan Howell, Ross Barton, Jay-See Boland and Alfie Butler retired.
The "helpers" race was a last minute addition to the programme so we didn't get a chance to collect a list of drivers, so apologies for a bit of guesswork as to who was who! Former Junior champ, and Junior Saloon Car circuit racing champion, Lewis Saunders was flying in Kyle Rayner's car, but got stuck on a tyre avoiding a wayward car, while Glenn Rayner in Louis' car also collected the marker tyres. Ricky Glendenning came home the winner with Luke Martindale holding off Glenn Rayner for second, ahead of the Aidan Howell car, Terry Church Wayne Boland and Craig Ives.