Waterford Raceway Season Opener
Non-points meeting 23 February 2020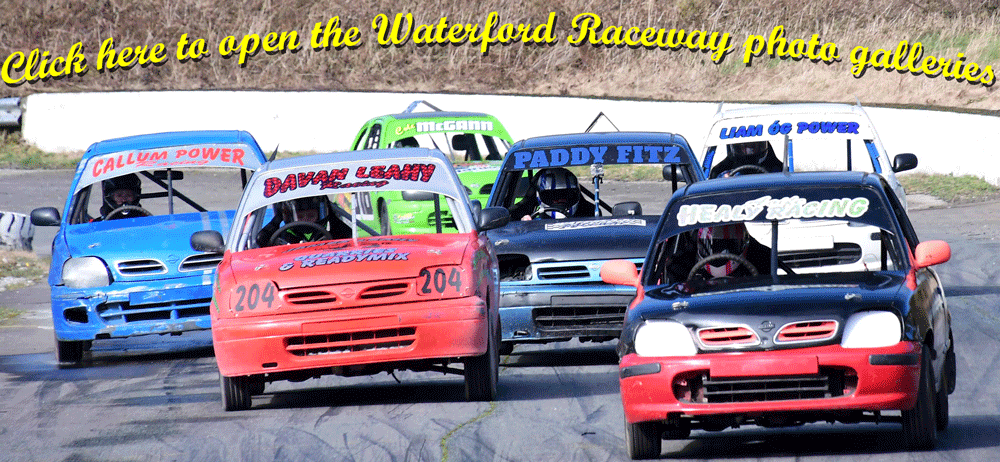 The Irish Hot Rod season finally got under way at Waterford Raceway, after a couple of false starts, when the successive storms Ciara and Dennis thwarted the first two attempts to re-open the Kilflynn track in Kerry. As usual the Pike's season opened with a non-championship warm up meeting and, as a lot of the regulars seemed happy to wait until the first points meeting in March, there was a small turnout, with 32 cars and 35 drivers signed on.
Despite a third week of stormy weather, the wind and rain retreated for just long enough to provide a dry, even sunny at times, day for racing. The club, under the new chairmanship of Anthony Lawton, laid on a well-run 18 race programme, with everything finished by 3 pm. Despite the small entry, there was an encouraging number of new cars and drivers, promising an interesting season ahead.
As usual the Juniors made up nearly half the entry, starting with the JUNIOR PRODUCTION class, featuring three of the main contenders from last year's Rookie class making the step up to restrictor-free racing. The first race saw a runaway win for Darragh Walsh, finishing half a lap ahead of Ross Ryan, Darragh Healy and Tyrone Cusack. The reversed grid put Darragh Walsh at the back for race two, but he hit the front after three laps and came home the length of the top straight ahead of Ross, Darragh Healy and Tyrone. The final was much closer though, with Rookie graduate Martin Power making the early running before Tyrone Cusack hit the front. Tyrone then did a good job of holding off Darragh Walsh until with a lap to go Darragh took a wide line out of the top hairpin, giving him a good run down the straight to edge in front of Tyrone and take his third win of the day. Ross Ryan took third with Martin Power holding off fellow ex-Rookie Toby McGuire, Darragh Healy and the third of the Rookie graduates, Conor Fitz.
The ROOKIE class featured two new drivers; ex-Kart racer Cole McGann had already impressed at the Watergrasshill sprint, but would now get his first experience of racing with the restrictor plate in place, while Charleville's Gerard Hartigan was having his first ever drive. With the new boys starting at the back all day, it was the more seasoned Rookies who headed the field, Aoife Healy holding on in front in the first race, which came to an end a lap early as her closest challengers came together and Paddy Fitz ended up in the wall. Paddy got straightened out for the second race though, and took a flag to flag win over Callum Power, Liam Og Power, Davon Leahy and Aoife. The final saw the day's third winner as Callum Power held on in front of Davon, Liam and Aoife, while Paddy held off Cole McGann and Gerald Hartigan also had a promising debut.
CLASS 1B also had a few new contenders, although Limerick traveller Johnny McGovern, hoping for a less troublesome time than the Alfa Romeo gave him in the Stocks class last year, was out of luck with his Micra that refused to pull off the line. Alan Houlihan was sharing Toby McGuire's Junior car and won the first two races after battling with Tom Hill and Luke O'Donovan. In the final, though, Tom, who was debuting a newly built Micra while last year's Class 4 205 is still for sale, held off Alan and Luke all the way. Kieron Byrne looked very competitive on his first outing, but disappeared before the final.
The other classes all ran in mixed races. There was only one CLASS 1 entry; Edmund Joyce, who won the East Cork club championship in his first full season last year, was having his first tarmac outing in an ex-Pat Nolan Micra, and looked very competitive as he shared the track with the CLASS 2 duo of Pat Ryan and Michael Baldwin, driving his father's car as he hadn't got round to touching his own after the winter. Pat had problems in both heats, but in the final fought a side by side duel with Michael until Michael finally edged ahead to win.
CLASS 3 was mixed with the Ladies and Stocks, with Jason Ryan, sharing his father's car, having problems in the first race, but taking overall wins in the next two, to take the class from Liam Fitzgerald's 1.3 Toyota powered Starlet. The LADIES featured Laura Keegan, having her first race outing in a 1.6 BMW Mini, up against Catherine Walsh, whose Micra's been upgraded to a 1300 this year. Laura gave a good account of herself in her basically standard car, while Catherine won all three races in the class, including taking an overall win in the first race by nipping through on the inside of the last corner. The STOCKS provided a family battle as Shane Harding had acquired the ex-Johnny Patterson Rover 400 to join son Evin's Nissan Almera. Evin won both heats, but Shane just managed to hold off Evin in the final.
The most spectacular racing of the day came from the mixed CLASS 4, 5 and 6. Class 5 featured Padraig Smiddy's Honda-powered Starlet plus a couple of undersize cars; Stephen Healy entered his 1.2 Fiat-powered Starlet as he'll end up in Class 5 when his long awaited X1/9 Fiat-Honda finally hits the track in the summer. Kevin McGann's rapid Starlet belies the fact that it only has a 1300 Toyota engine. Class 4 featured two spaceframe 1600 Hot Rods; reigning King of the Pike Raymond D'Arcy in his Opel-powered Fiesta and the similarly powered 206 of Kevin Condon, while Brendan Dee's 1800 Honda-powered Rover was alone in Class 6. Also joining in briefly was Jack Hickey, who signed on to race despite not having a car there; he was eventually given a run in Liam Fitzgerald's Class 3 Starlet. The first race was led most of the way by Kevin McGann before Raymond D'Arcy hit the front with three laps to go. Some tweaking of the handicaps for the second race gave us a thrilling finish; Stephen Healy set a fast pace in front but was gradually hauled in by Padraig Smiddy, Raymond D'Arcy and Kevin McGann; Padraig snatched the lead going into the last lap only for Raymond to make his move round the outside of the last corner, with Raymond crossing the line just ahead of Padraig, Stephen and Kevin McGann, while Kevin Condon and Brendan Dee were just behind. The final saw a few driver swaps; Jamie Condon took over his father's 206, Jason Ryan jumped in Brendan Dee's Rover while Brendan tried out Laura Keegan's Mini. There was unfortunately a red flag after Padraig Smiddy got stranded with a broken front corner, but the race resumed with Stephen Healy again heading the way and Raymond D'Arcy pushing Jamie Condon through the traffic. Jamie wouldn't move over for Raymond and as they caught Stephen on the last lap Jamie pulled past on the outside of the back straight, emerging from the last corner to take the flag with Stephen still just in front of Raymond and Kevin McGann for second, while Brendan Dee thrashed the Mini to fifth, and Jason Ryan pulled off.
As usual trophies were given based on points from all three rounds, but one change this year will be, when the championship season starts in March, the three rounds at each meeting will all carry championship points, rather than just the first two, as in the past. The season proper starts on 22 March following a practice day on Saturday 21st, so we're looking forward to a full weekend of action.
CLASS RESULTS, SPONSORED BY KIERAN SANDIFORD MOTORS, DUNGARVAN
CLASS 1: 1st Edmund Joyce
CLASS 2: 1st Michael Baldwin, 2nd Pat Ryan
CLASS 3: 1st Jason Ryan, 2nd Liam Fitzgerald
CLASS 4: 1st Raymond D'Arcy, 2nd Kevin/Jamie Condon, 3rd Jack Hickey
CLASS 5: 1st = Stephen Healy & Kevin McGann, 3rd Padraig Smiddy
CLASS 6: 1st Brendan Dee
CLASS 1B: 1st Alan Houlihan, 2nd Tom Hill, 3rd Luke O'Donovan
LADIES: 1st Catherine Walsh, 2nd Laura Keegan
STOCKS: 1st Evin Harding, 2nd Shane Harding
JUNIOR PRODUCTION: 1st Darragh Walsh, 2nd Ross Ryan, 3rd Tyrone Cusack
ROOKIES: 1st = Callum Power & Paddy Fitz, 3rd Liam Og Power, 4th Aoife Healy
......