Return to Kilflynn
Kilflynn Raceway 7-8 March 2020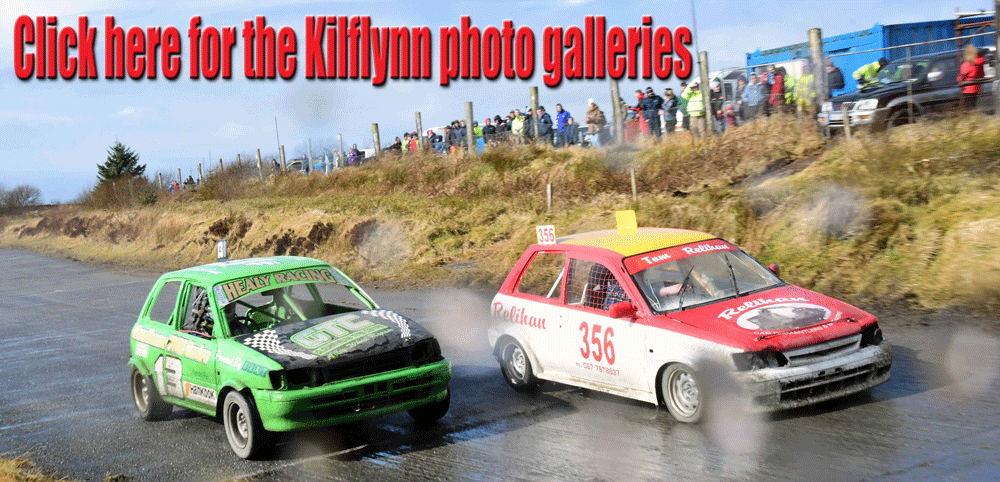 It was worth waiting for in the end! The return of Hot Rod racing to the Kingdom of Kerry, after four years' break, had a couple of false starts, with the event scheduled first on 9 February and then on 16 February, and postponed each time thanks to the successive storms Ciara and Dennis. When scheduled for the third time on 7 and 8 March, the meeting had become a two day affair and this proved a good move, despite weather conditions that meant they'd have just as well have run through the named storms.
The Kilflynn Raceway is owned by the Irish Hot Rod Motor Racing Federation and when it last saw regular action the events were hosted by three of the Federation member clubs, the Kingdom, Limerick and West Coast Hot Rod Clubs. Sadly everything fell apart for various reasons, with the last event we can find records of taking place in April 2016, and now only one club remains within the Federation, the East Cork Hot Rod Club, primarily a grass racing club at its base in Midleton. The East Cork club has been spreading its wings in the last couple of years though – a necessity to cope with present day insurance costs in Ireland. They've taken over the annual race meeting at the Araglen Carnival, revived the McNamara Motorsport Funsprint at Watergrasshill as the curtain raiser for the Irish season, and now they decided to have a go at reopening Kilflynn.
The track itself is a tight and tricky concrete surfaced oval, which in some ways resembles a downscaled version of the Pike, with downhill and uphill bends and a left hand kink leading into the first corner. The setting couldn't be more different though, high up on the bog between Tralee and Listowel, where the forest that once surrounded the track has been replaced by a forest of wind turbines.
On Saturday, the action was scheduled to start at 4 pm, with two rounds of racing to be fitted in, while Sunday would see a full three rounds. As the wind and rain lashed the site on Saturday afternoon, nobody was quite sure who'd turn up. Most of the local drivers hadn't raced for at least four years, and a lot of the cars had been sold (a couple of the best Kerry cars finding their way to Wexford!). The enthusiasm was still clearly there, evidenced by the help that was forthcoming for an early February work party to clear some of the undergrowth from the more or less derelict track, but how many of them would still have cars tucked away, fit to be recommissioned at a few weeks' notice?
Encouragingly, the answer was quite a few, as the 31 cars that turned up on Saturday, with 34 drivers, were pretty evenly split between long distance travellers (East Cork and Waterford Raceway regulars in the main) and local racers. More turned up on Sunday and the end total was a promising 46 drivers racing during the weekend. Even more promisingly, there was a steady stream of spectators' cars appearing across the top of the bog during Sunday afternoon and, despite the wild weather, Kilflynn Raceway ended up very busy indeed, boding well for future visits.
The wind and rain never let up on Saturday, although there was some excellent racing in the conditions, ending in virtual darkness. The activity then moved down to Kilflynn village, where Herbert's Bar proved a most hospitable venue for the survivors to be fed and watered, trophies to be presented by regular club sponsor Tom Hickey of Express Cabs, Midleton, and a typical Irish post race session to develop, with estimates of the finishing time varying from 1 am to 5 am depending on how much the individual could remember! That didn't prevent everyone from being up at the track moderately bright, if not too early, on Sunday morning, when conditions for a while looked much improved. The bouts of torrential rain and hailstones that later blew over were broken up with good sunny spells and the whole experience left everyone eager to come back for another go.
SATURDAY RACING
CLASS 1 was the best supported with 12 entries (nine locals and three from Cork) meaning that it was advisable in the conditions to split the class. The very first race looked as though it would go to Cork driver Shane Hickey, but he overshot the end of the back straight, so the honours went to Kerry with Stephen Relihan's Starlet heading the Starlet of Newcastle West driver Dwayne McCoy. The second group also saw a local driver to the fore with Niall Stack's Starlet winning from another Kerry driver, Eamonn Cotter in the Micra he's used in the Rosegreen Productions. Second time out Shane Hickey had a win, chased by Ben Thornton's Starlet, from just over the Limerick border, while Eamonn Cotter took a win over Niall Stack, who was sliding his Starlet round spectacularly, but blamed a broken wheel bearing for that. Listowel driver Robbie Mulvihill managed to get his Starlet well up the outside banking to bring out a red flag in that one. Overall Stephen Relihan won his group from Dwayne McCoy and Shane Hickey, while the other section saw a tie on points between Niall Stack and Eamonn Cotter, with Kieran O'Dwyer and Paudie Griffin next up in their Micras. Jack Hickey abandoned his Micra after the first round to concentrate on flagging, Nicholas O'Leary also only did one race between scrutiny duties and Eoin Relihan couldn't get his Micra going and ended up sharing Stephen's car.
East Cork have adopted CLASS 1B, as run at the Pike, for standard Micras. Joey Dilworth, up from Juniors this year, won the first race from Noel O'Mahony while Jonathan McGovern stopped with a distributor problem. Second time out Joey was running away with the race when his gearbox broke on the last lap; Noel caught up but must have thought the race was over as he slowed behind Joey. Eventually the chequered flag was waved vigorously enough to persuade Noel to pass Joey on the line, making them joint winners of the class.
The other classes were much thinner on the ground but, when mixed up, produced good racing. Michael Baldwin, again using father Eddie's Micra, was on his own in CLASS 2 but featured in two great battles with Kevin Healy, running the Fiat-powered Starlet in CLASS 3, where his opposition came from local Limerick driver Declan Brouder's Starlet. The Healy Starlet-Fiat also took CLASS 4, with Stephen Healy at the wheel. John McElligott's Toyota-powered Micra, familiar from the Rosegeeen FWD class, won outright in the first of the mixed 4/5/6/7 races and took CLASS 5 honours despite losing his exhaust. CLASS 6 featured an interesting chain-driven GXSR1000-powered Starlet driven by West Cork driver Ciaran Kelleher, while CLASS 7 was brought into play to cater for the Semog buggy recently acquired by Listowel-based Mossy Dowling, who'd done a lot to build up the local enthusiasm for the event, and went out to entertain the crowd in the screaming Suzuki-600 powered machine.
The JUNIORS, all but one travelling from Cork or Waterford, were split into two groups with Darragh Walsh continuing his successful start to the season by taking the Junior 1 class. Darragh won the first race comfortably from Tyrone Cusack, Ryan Hickey and Kyle Browne, but in the second race Darragh had to come from the back, finally going for the outside and taking a run out of the last corner to beat Ryan Hickey to the line in one of the evening's best races. Darragh took the overall win with Tyrone and Ryan sharing second ahead of Kyle. Junior 2 saw Sean O'Mahony take the first race after James Deane's speed took him straight on into the bank. James bounced back to win the second race from Sean, Darragh Healy and new boy Luke Buttimer, having a few spectacular moments on his race debut. Killorglin-based Gary Doona was battling well in his Autograss Micra until a coming together took him out of the second race. Sean O'Mahony took the first place trophy with Darragh Healy and Gary Doona sharing second ahead of James Deane.
Finally the restricted ROOKIES saw both their races run in the gathering darkness, with Tommy Cronin winning both times, chased by Aoife Healy and Darryl Deane.
SUNDAY RACING
The ROOKIES were first on track on Sunday with a couple of extra entries, and one of these, Gerard Hartigan, who'd made his debut at the Pike a couple of weeks earlier, took a most impressive win in the first race. Second time out, Molly O'Sullivan held off Gerard for the win, and the third round saw the third winner as Aoife Healy led all the way, with Gerard again very close in second. This gave Gerard the overall win from Aoife and Darryl Deane.
Although there was another big field of CLASS 1, this time the drivers asked if they could all go in together, resulting in three spectacular races. The ten car opening race saw a runaway win for Niall Stack's Starlet, finishing half a lap ahead of the field, but he wouldn't get a chance to repeat that after the car suffered heavy damage when loaned out in another class. The second race coincided with a fierce hailstorm, and only six cars made it out with Eamonn Cotter winning chased by Shane Hickey. For the third round, everyone except Niall was back in action. Paudie Griffin took the lead and got away in front when second placed Nicholas O'Leary got out of shape and collected Eamonn Cotter. Paudie was still in front when the red flag came out due to Robbie Mulvihill bouncing off a tyre wall. Overall Paudie Griffin was the day's winner ahead of Nicholas O'Leary and Shane Hickey.
Joey Dilworth, with his gearbox problem fixed, took a clean sweep of the day's CLASS 1B races, his only problem coming when his bonnet flipped up over his screen in the second race, although luckily for him the race was restarted. Another driver moving up from the East Cork Juniors, Aaron Cotter, took second after some good battles with Jonathan McGovern.
There was no LADIES class run this time although three ladies joined in after arriving at the last minute when the race format was already set. Ada Relihan was the first to appear, in a Class 3 Starlet that had four different drivers during the day; Yvonne Relihan took husband Stephen's Class 1 Starlet out in Class 4 and ended up with a trophy in that class, while Niamh Relihan raced Niall Stack's Class 1 Starlet, also in Class 4, but came back in a cloud of steam after something happened out of our sight.
Despite having been all the way home to Ballyporeen overnight, the Baldwin family were among the first arrivals on Sunday and again Michael Baldwin was dominant in CLASS 2. Again he featured in some super side by side battles with Class 3 contender Kevin Healy, despite Michael losing a bit of power with a throttle body problem. Also running in Class 2 was Philip Jones, sharing Robbie Mulvihill's Class 1 Starlet. The CLASS 3 field had grown to five cars, with the Starlets of Tralee's Tom Relihan and Limerick's Dan Moloney both going well, along with Declan Brouder and Eoin Relihan, sharing Stephen's Class 1 again. Kevin Healy took another overall win, with Dan Moloney second and Declan Brouder and Tom Relihan sharing third.
The mixed field for the bigger classes was unfortunately decimated in the first race, with the CLASS 6 of Ciaran Kelleher and CLASS 5 of John McElligott not even making the start as the chain drive of Ciaran's car made some nasty noises on the warm-up lap and John had a rear suspension breakage. Stephen Healy again led the way overall and took the win in CLASS 4, ahead of the two multi-shared Relihan Starlets, with Nicholas Lawlor taking second from Yvonne Relihan. Daire Horgan, in another 1300 Starlet, completed this class after Niamh Relihan was out of luck. Mossy Dowling continued to play to the crowd with spectacular antics in his Semog Buggy on the way to winning CLASS 7.
The JUNIORS all went in together today, although still scoring in groups 1 and 2. Junior 1 was a three way battle all day between Kyle Browne, Ryan Hickey and Darragh Walsh, but Darragh battled through to take three close fought wins, and won the class overall from Ryan and Carl. Junior 2 honours went to James Deane, who was close behind the top three in every race, followed by Darragh Healy and Gary Doona, with Luke Buttimer having a few interesting moments along the way, but not as drastic as Sean O'Mahony, who ended up stranded on the infield bank after a slight tangle coming off the slippery downhill bend.
The first weekend's racing at Kilflynn ended with a special Class 1 race for the JACK GLAVIN MEMORIAL TROPHY, presented by the family of a popular young local racer who'd sadly died at the age of 17, five years ago. After the damage to his Starlet, Niall Stack was loaned the Tom Relihan car and used it to good effect, pulling out a half lap lead over the field before the red flag came out just over halfway into the 15 lap race, with Stephen Relihan and Ben Thornton facing the wrong way. Before the restart Niall Stack was sent off as it was realised he was in a Class 3 car; however at this stage there was no other suitable Class 1 car he could use, so he was allowed back out, but this time with a half lap handicap behind the others. The rain returned just as the race restarted, but everyone carried on with Stephen Relihan leading all the way, just holding on to win as Niall Stack came through to close right up to Stephen's tail at the finish. Shane Hickey narrowly held off Eamonn Cotter for third ahead of Ben Thornton and Kiaran O'Dwyer, with Dwayne McCoy completing the finishers and Paudie Griffin pulling off.
That was the end of a good weekend's racing, leaving everyone (even the frozen, soaked marshals!) wanting more, which the East Cork club are keen to provide. They'll be carefully working round clashing fixtures elsewhere, but it's hoped that there'll be another weekend of action at Kilflynn before the end of April.