STANDLAKE ARENA
15 March 2020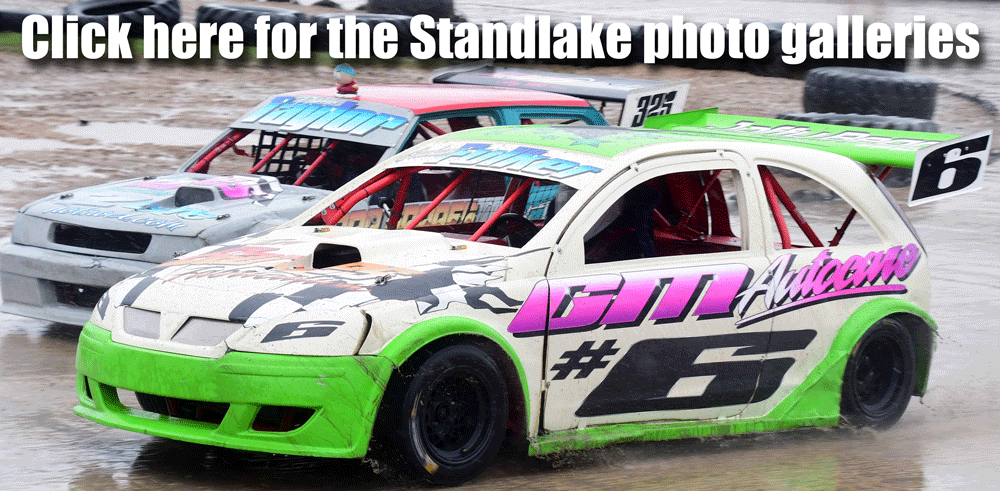 The results quoted in our report are unofficial and approximate, based on what we could decipher from our very soggy notes. Also apologies that we didn't manage to catch the names of some of the new drivers, but if you can fill any of the gaps, please get in touch!
There was a slightly strange atmosphere at Standlake Arena's third meeting of the year. It was the first really busy weekend of the 2020 season, with events going ahead at the majority of UK oval tracks, both ORCi and independent, but with the knowledge that all motorsport had already been put on hold across the Irish Sea, there was a strong feeling that the UK wouldn't be far behind, and that this might be everybody's last outing for quite some time.
The one thing that made the day feel normal was that it was wet – very wet. Maybe even wetter than the year's first meeting, held during "Storm Dennis" in February. As at the first meeting, it was the turn of the Hot Rods to top the bill, with the F2 Stox having an awayday to Swaffham, having had their first Standlake outing a fortnight earlier and being scheduled to return at the end of March.
The HOT RODS fielded five cars, with Darren Taylor joining in after missing the first round, but points champ Pete King missing this time. The two FWD cars as usual had a good start on the three RWDs and Andy King's new Corsa led the first race all the way, lapping fellow Corsa driver Paul Bartlett on the last corner. The main action was provided by Graham Fulker in his 2-litre spec Corsa trying to pass Martin Faherty's Redtop-powered Fiesta on the outside. Graham spun his position away but clawed back the gap and with a lap to go tried the outside again, this time making it past for second ahead of Martin with Darren Taylor's 2-litre Nova dropping back after a spin in the closing stages. Second time out Paul Bartlett led the first few laps before Andy King took over, but this time Graham Fulker had cleared the other RWD cars early on and closed on Andy, taking the lead with five to go and winning from Andy, Martin, Darren and Paul. Paul Bartlett again led away in the final, but Andy King was ahead by the second lap and on the slippery track Andy pulled well away, winning by half a lap as he again lapped Paul on the last corner. Once again Graham Fulker was trying to pass Martin Faherty on the outside, but Martin wouldn't give way and the pair completed the last ten laps of the race side by side, with Martin hanging onto second after an excellent close, clean battle, with Darren Taylor chasing them home in fourth. It would be nice to see Standlake Hot Rod numbers increase again when racing returns, but you can't fault those who do turn up for the quality of their racing.
There were fourteen cars in PRODUCTION A, which is picking up nicely again after some small turnouts during last year. Gary Hicks, with the "alternative" 1200 Corsa, led the first heat away while Keith Passey, returning to the class full time this year, headed the chasing pack including James Watts, Kelvin Passey, Andy Passey, Zak Moores and Colin Passey. With three laps to go the battling red and blue tops caught the leader and Keith Passey slipped through into the lead, only to be confronted by the Micra of Alex Cox sideways in front of him; Keith's avoidance took him into the armco, where James Watts couldn't avoid him and the reds came out with Gary Hicks awarded the win from Kelvin Passey, James Watts, Andy Passey, Zak Moores, Colin Passey, James Strickland, Henry Strickland and Shane Steele. The second heat, sadly without Keith Passey's Nova, again saw Gary Hicks set the pace, but James Watts this time managed to get clear of his rivals as they caught up from the back, and James went through into the lead, chased by Kelvin Passey, just before the red flag flew again, with the unlucky Alex Cox again sideways in his smart Micra in front of the leading battle, this time collecting Andy Passey and newcomer "Noddy", whose Nova's debut had been hampered by a misfire. James's Nova was the winner from Kelvin's Corsa, with James Strickland's Corsa taking third from Gary Hicks, Henry Strickland's Nova, Zak Moores' Corsa, Mike Jones in the ex-Aaron Charles Micra and Terry Iles in the ex-Craig Passey Nova. Eleven cars survived to the final, and this time Gary Hicks wouldn't be caught, leading all the way to the chequered flag. Junior graduate Zak Moores was having another good drive as he came through to second, but he was then caught again by James Watts and Kelvin Passey, with James taking second, just getting the leader in his sights as the laps ran out, with Kelvin third from Zak, James and Henry Strickland and Terry Iles. Mick Jones, Shane Steele, Colin Passey and Alex Cox completing the order.
The 1600 PRODUCTIONS are in a temporary dip in numbers and only five cars raced, with Catherine Lawton's Focus not making it to the track. The Astra of newcomer "Harry" (sorry we didn't catch his real name!) led both heats away, but was soon passed both times by Tristan Stayte's Civic, which went on to win both times, chased by Ash Howard's Saxo, while the Astra took third in the first race but was passed by former points champ Dale Hall, now in a Focus, and Ryan Shelton's Civic in the second heat. The final saw Tristan Stayte complete a hat trick of wins, but this time the Astra held on to a good second from Dale, Ash and Ryan.
The best non-contact field came from the JUNIORS, with 30 cars meaning that, as usual at early season Standlake meetings, the field was split all day. The novices' races brought out sixteen cars, with eleven of them being complete newcomers this year – and they're still all finding Minis, even if they're recycled ones in most cases! We have to say the standard of driving from the novices was excellent in the horrible conditions. Harley Spencer looked very quick as he came through to lead the first race. He was caught in the closing stages by Alfie Harding, but Alfie collected a marker tyre and Harley came home the winner from Rhys Read, Ella Fulker's immaculate 2019 NEC show car, Chloe McQuillan, Violet Cornish, Casey Cole, Bobby Rowland, Alexa Ives, Ryan Wainwright, Chloe Goldup and Archie Parker. Just a few failed to finish, with problems for Jack Cornish, Kayla Seymour, the tidy no 25 car whose name we unfortunately didn't get, and Charley, having her first outing in the Passey car. The second race was incident packed with a couple of red flags before it settled down with Archie Parker in front. He was passed by Rhys Read, who was then caught by Chloe McQuillan but Rhys, Chloe and Jack Cornish all spun off on the back straight and Archie Parker took it up again with a well-controlled drive to hold off Harley Spencer at the finish, followed by Ryan Wainwright, Ella Fulker, no 25, Bobby Rowland, Violet Cornish, Charley and Kayla Seymour. Rhys Read led the final for seven laps or so, but Violet Cornish was steadily picking off the other cars until she emerged in the lead. Third placed Alfie Harding spun out and then Harley Spencer and Archie Parker tangled, which brought out the red flag. That meant Violet scored a most impressive final win in her first meeting, with Rhys read second and Jack Cornish third, ahead of no 25, Ella Fulker, Ryan Wainwright, Chloe McQuillan and Bobby Rowland. Charley, Kayla Seymour, Chloe Goldup and Alexa Ives were the other finishers.
The first race for the "experienced" Junior class, with fourteen cars on the grid, was red flagged two laps early, but nobody looked likely to get near white grade driver Michael Weston, who won from points champion Louis Rayner, while Jay-Dee Boland took third, heading a close group containing Kyle Rayner, Callum Martindale, Tyler Rayner and Ross Burton. Riley Bricknell, Taylor Bligdon, Alfie Parker, Aiden Howell and Riley Staker completed the finishers after Alfie Butler spun and Jay Moores, who would have problems all day, pulled off. Michael Weston also ran away with the second race with Louis Rayner coming through to second again, before Taylor Bligdon headed the main pack from Kyle Rayner, Callum Martindale, Jay-Dee Boland, Alfie Butler, Aiden Howell, Tyler Rayner, Alfie Parker and Riley Staker. The two heat wins meant an upgrade to yellow for Michael Weston before the final, but he still hit the front within a lap and took another clear win to mark himself as one to watch as he enters his fourth season in the class. Louis Rayner again had to make do with second, and again Taylor Bligdon drove a good race to hang on to third, with Tyler Rayner, Jay-Dee Boland, Kyle Rayner, Callum Martindale, Alfie Parker and Aiden Howell all right on his tail. Alfie Butler, Riley Staker and Riley Bicknell came in next as Jay Moores' car ground to a halt again.
The DRIFT RODS had a good field of nineteen cars and put on their usual slightly chaotic show, with the rear wheel drive cars regularly overdoing it on the wet track. Tom Evans came through from near the back of the pack quickly to grab the lead of the first heat and win from Jess Phillips, Gary Godsmark, Darren Taylor and Kev Hardie in the BMW-dominated field, with just a lone Sierra, a Lexus and the ex-Alan Cartwright MGF breaking up the Bavarian ranks. The second heat again saw Tom Evans neatly making short work of the traffic in the early laps and he again came home clear of Gary Godsmark, who headed Jess Phillips, Matt Rowlands, Kev Hardie, Jasmine Hayes, Tracey Green and Steve Cooper – a very approximate and unofficial order, we must stress! The green Sierra led the final away before losing the lead to Matt Rowlands, before the reds came out with the Sierra bouncing off the armco. From the restart Matt Rowlands held on for another couple of laps before Tom Evans came through, Tom taking an impressive third win of the day ahead of Kev Hardie and Matt Rowlands.
The rest of the day was of course taken up with the Bangers. The LADIES' BANGERS had their first outing of the year, with 17 cars racing. Heat winners were Jodie Simmons and Megan Bricknell, while the final saw Abbie Deeprose, who last year raced in the 1600 Productions, building up half a lap lead only to be taken out with two laps to go, leaving Kirsty Brooks to win from Jemma Martindale and Lauren Bricknell, while F2 Stox racer Linzi Richens won the closing allcomers' "dash". The STREET BANGERS fielded 31 cars for their first race, reduced to 23 by the final which was won by Adam Bligdon from Sam Starkey and Luke Martindale. 13 cars made it to the Dash and just two to the closing Destruction Derby which was mercifully quick with Scott Martindale delivering a terminal head-on hit to "Shady's" Focus.
So ended the first part of the 2020 racing season. We'll be back, but when ?????