SWAFFHAM RACEWAY
The Oval Racing Expo - 15 January 2022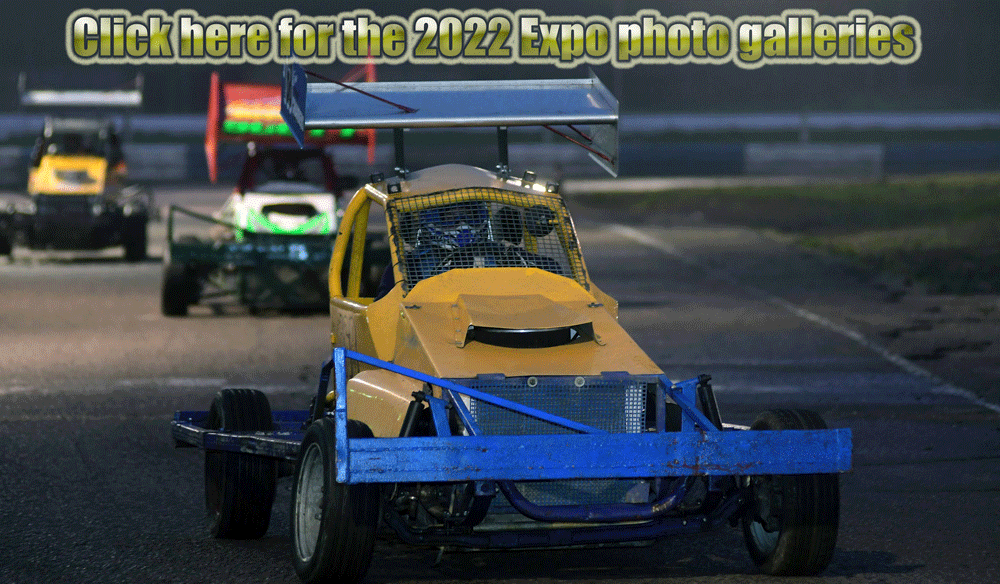 The 2022 racing season started with as close to a return to "normal" as you can hope for. The Banger racing world enjoyed a well-supported "Heavy Metal Classic" at Standlake, played out in front of a packed-out arena, while we started our year with the return of the Oval Racing Expo, now being revived for the first time since the closure of Arena Essex, where it had run for thirteen years, from 2006 to 2018.
After two years operating under extreme time and financial constraints at Lydden, the Rolling Thunder Show moved its regular Saturday "clubbie" oval race meetings to Swaffham last year – probably the closest substitute available to Arena in terms of the quality of the actual race track. Although the location, on the "wrong" side of the fens, doesn't suit everyone, a lot of loyal RTS supporters were still travelling from Essex, Kent, or even further afield, while the hope is that the venue will rediscover the local market it needs if it is to thrive.
During 2021 the RTS at Swaffham attracted turnouts averaging around 60 cars per meeting, although it started to build a reputation as the home for some very attractive "niche" formulae, such as Classic Superstox, which grew throughout the year, and Classic Midgets, which is now attracting great interest for 2022. The most successful move came in mid-season with the creation of a new Junior class, backed by Mark Freeman Motorsport and titled "One Litre Hot Rods". Based on a generic 16-valve K11 Micra spec, which enabled both easy car builds and the transfer of cars built for multiple other venues, this quickly took off to become one of the most successful Junior classes in the country (excepting of course Standlake's Production A Mini based class with its 30-plus turnouts) and it's attracting racing families from all over the South and East of England.
EXPO 2022
Although the entry didn't have the depth of the Arena days (86 cars entered of which 70 actually raced) and grids were variable (from 18 down to 3) every race was closely fought and entertaining so that what had promised to be a long evening flew by without a dull moment. It helped that the expected freezing temperatures became relatively mild, while the fog that descended on the track during the first few heats had lifted before darkness fell. One asset that Swaffham has is lighting that's as good as any stadium track, and better than most, so a mid-January meeting here was much more sensible than some might have imagined! Originally planned as a two-day event, this wasn't going to be sustainable, so it was reduced to a single Saturday afternoon/evening session, with 9 groups racing, 31 races scheduled and a total of 451 racing laps, every one of which was completed in just over four and a half hours. An absolute credit to the small but enthusiastic RTS team!
ONE LITRE HOT RODS
The new Junior class, with a capacity 20 car entry, of which 18 actually raced, had title races lined up for both days in the original format, so rather than lose any races, the Juniors ended up with 6 races and 103 laps (plus practice) on Saturday! Two heats and a final, run in graded order, finished off the three-round "Winternationals" series, with points accumulated from meetings in November and December. They then moved on to two more heats, with drawn and reversed grids, before lining up in points order for the 25-lap East Anglian Championship.
The graded heats both fell to Kyle Wells, from right at the back of the grid, but he found the traffic harder work in the final, picking up a black cross on his way to fourth place, dropping him to sixth in the results. Taking the lead just after half distance, Oxfordshire-based Tom Badger held on in superb style to win – a great achievement from a boy who joined the class last year as a complete novice. He held off East Sussex drivers Callum Woolgar and Callum Perfect, with Kyle Wells' penalty dropping him behind Jack Farley and Alfie Hunt.
Riley Shackleford set the pace in the first East Anglian Championship heat but lost ground to Alfie Hunt after Riley clipped Swaffham's inside kerbs a couple of times; Alfie got through to win from Danny Coombes and Lewis Williams while Riley pulled off on the last lap with a puncture. The reversed grid heat started with Kyle Wells unfortunately pulling out with a rattling engine and race leader Archie Mucci was then sent off due to a faulty "race receiver" radio. Callum Perfect went on to win, putting him on pole for the championship race with Alfie Hunt outside.
The 25-lap final was one of the longest Junior races we remember seeing, but they earned every one of those laps, with the result in doubt until the flag fell. Alfie Hunt streaked off in the lead, but Callum Perfect then reeled him back in and took the lead as they started to catch traffic. Alfie stayed glued to Callum's boot as they worked their way through a big bunch of cars headed by Finley Stickley, in a lone Nova among all the Micras. Approaching lap 20 Alfie took to the outside and briefly got his nose in front but had to tuck in again and look for a gap, which he finally found with a lap to go. So Alfie took a hard earned win over Callum. Danny Coombes was a fairly lonely third most of the way, but Riley Shackleford made up a lot of ground in the closing stages to take third from Danny, with Stanley Crittenden, Tom Badger and Archie Mucci next up. Lapped by the leaders, Lewis Williams, Jack Farley and Alfie Freeman completed the top ten ahead of Callum Woolgar, Finlay Stickley, Jamie Tanner, Frazer Denyer, Caitlin Chandler and Harris Turner.
The only non-starter was Noah Buckett, first time in a Micra after racing a C2 last year. Noah was eliminated in an untidy start to the day's first race, although he later appeared in one of the "Junior Screamers" races.
NINJA KARTS
The class that started life as an RTS invention as "Mini Sprints" is still an essential part of every RTS meeting, and had three races to complete their Winter championship, plus an allcomers race. Jack Garrod was dominant in the points races, winning both heats and the final from the back of the grid. Joey Stickley looked very fast as he set the early pace in the heats, but missed the final in which "Charlie Jnr" took second from Rosie Taber, Liam Rogers, Jimmie Bye, followed by Jimmie's little brother Harry, making a very impressive debut, Ralphie Hendy, Daniel Holland, another newcomer Kian Waller-Barrett, and Freddie Taber. The Ninjas ended their day with an Allcomers race and this time Joey Stickley held on in front and crossed the line just in front of Jack Garrod, Ralphie Hendy and Charlie Jnr.
FWD HOT RODS
Swaffham's other great success story of recent years has been the 2-litre FWD Hot Rod class, enthusiastically promoted by Mark Miller, and seeing steadily increasing grids of well turned out and evenly matched cars. Despite the out of season date, making this the first round of their 2022 championship brought out nine cars and it was good to see former Swaffham promoter Pete Gould stepping in with some sponsorship and support. The seeded grid put 2019 world champion Pete Meekings at the front in his 16 valve Corsa and the Hertfordshire driver held on to take a very close first heat win over Luke Retchless' Saxo, Chris Thirkettle's Fiesta, current Champion Jason Cox's Saxo, Wes Graves' Fiesta, Kev Marshall's Puma and Mark Rodgers, with 8 valve power in the ex-Pete Meekings title winning Corsa. Kev Head's Fiesta and Luke Cundy's Nova completed the field after tripping over each other in the early stages. Second time out Pete Meekings again held on in front of a tight 8-car lead battle, with the closest challenge this time coming from the Puma of Kev Marshall. In the final Mark Rodgers led away from Pete Meekings, but Pete then clipped the kerb and dropped back into the pack, while Mark never put a wheel wrong to come home at the front of the nose to tail train featuring Kev Marshall, Chris Thirkettle, Luke Retchless, Wes Graves, Jason Cox, Chris Head and Pete Meekings, while Luke Cundy completed the order.
SLICK CARS
All the RWD cars were put in together, with a pair of Lightning Rod Sierras leading away from two Classic Hot Rod Anglias and Tongham MC Chairman Laurence Connors in his Outlaw Hot Rod 205, the Vauxhall powered car that was once an Arena Essex regular driven by Mark Cooke and is now having its second spell in Laurence's ownership. Gavin Taber's Anglia looked very rapid as he caught and passed George Morris in the first race, George having his first outing in a Lightning Rod that confusingly still bore the name and number of George Moore. George stayed out front in race two, with Adrian Taber this time holding off Gavin in their two Anglias. Gavin was flying in the final though to take a convincing win from George, Adrian, Brian Smith in the second Sierra, and treating the slippery track with respect, Laurence Connors brought up the rear.
V8 STOCK CARS
A welcome addition to the Swaffham programme, the V8s put in five entries. With one driver down with Covid and another having car problems, only three arrived, but they put on an excellent show between them. V8 veteran Peter Scott, in his classic Ahern livery, held off Colin Moss all the way in the two heats, although the first win went to Colin after they crossed the line in a virtual dead heat. Sam Chambers was given a bit more of a start in the final and upped the pace to hold on all the way and take a close win from the battling Peter and Colin.
ROOKIE RODS
Eight Rookie Rods showed up together with two Stock Rods, which started the first heat from the back but were then moved to start at the front of the field, a lap down. Dan Rowson, in one of the Stock Rods, came through to pass Rookie Rod leader Dean Cook on the last lap in the first heat, and also passed Dean to win the second heat on the road, although Dean took the official win with newcomer Danny Curl going well both times to hold off a competitive field for second, including Ben Lewis' distinctive Vauxhall Adam, standing out among the field of Corsas, points champion George Morris, Billy and Anthony Stickley and Josh Hollingsworth. In the final Ben Curl held onto the lead in fine style, coming under increasing pressure until the last lap when the leaders came onto the back straight four abreast. George Morris dived through a gap on the inside and, although Dan Rowson's Stock Rod beat him to the line, George grabbed the Rookie Rod win from Dean Cook, Billy Stickley, who was then dropped two places after receiving a black cross, Ben Lewis and the unlucky Ben Curl who'd led for all but the last half lap,
SEGTO CLASSES
A couple of NASA cars booked in but didn't appear, leaving five SEGTO drivers to put on a good show. Josh Simmonds won the first heat in his Prod A Micra and led the second heat all the way, only for Thomas Connors in his K10 Micra to steal the win on the line. Despite blowing out more and more smoke, Thomas then fended off Josh all the way to win the final. Billy Turner's Prod A Micra took third, chased by Rob Salter's Prod B Peugeot and Terry Mellish in a standard 1600 Zetec Fiesta, which doubles up as a SEGTO Thunder Rod and an "Eco Rod" at Ringwood.
JUNIOR SCREAMERS
The newly introduced "basic" Junior class is intended to cater for a Junior Banger-type build but racing as non-contact. In practice it's been widened out to include 8-valve junior Rods that don't fit in to the 1-litre Hot Rod class, plus one or two overspill entries for the main class. Five cars put on some closely fought races with Ryan Mower's very quick Saxo given a bigger and bigger handicap each time out. In the first race Ryan came through to pass the Micras of Emilie Smith and Max Constable for the win. Second time out Ryan again caught the winners, but this time the battling Emilie and Max just held him off, with Max taking the win. In the final Emilie and Max again fought it out; this time Emilie managed to hang on for a well-deserved win with Max's challenge round the outside of the last corner letting Ryan snatch second on the line. Maggie Webster was the only Autograss Junior to enter, and she took her Micra to fourth after a few mishaps in her first tarmac outing. Freddie Chandler drove well but had his Micra (brother Stephen's old Arena Essex winning car reunited with the family team but needing a lot of work) splutter to a halt.
SCRAPYARD SCREAMERS
Another class introduced by RTS towards the end of last year, this follows the concept of Stansted Raceway's "Dirt Rods" – Bangers racing to loosely non-contact rules. The class has seemed a bit unpredictable so far, with two alternative sets of rules and on one occasion a complete grid of cars booking in with none of them turning up! But it seems that anyone who does show up is welcomed and gets a race! Four cars lined up with Danny Rumney in an Astra winning all three races from Freddie Crittenden in a Focus Estate with the field made up by Banger driver "Wingnut" in most of a Citroen C4 and SEGTO man Mark Davis in a distinctive, and rare, Nissan Sunny Coupé.
.