LOFTUS HAULAGE FUN SPRINT
Watergrasshill - 30 January 2022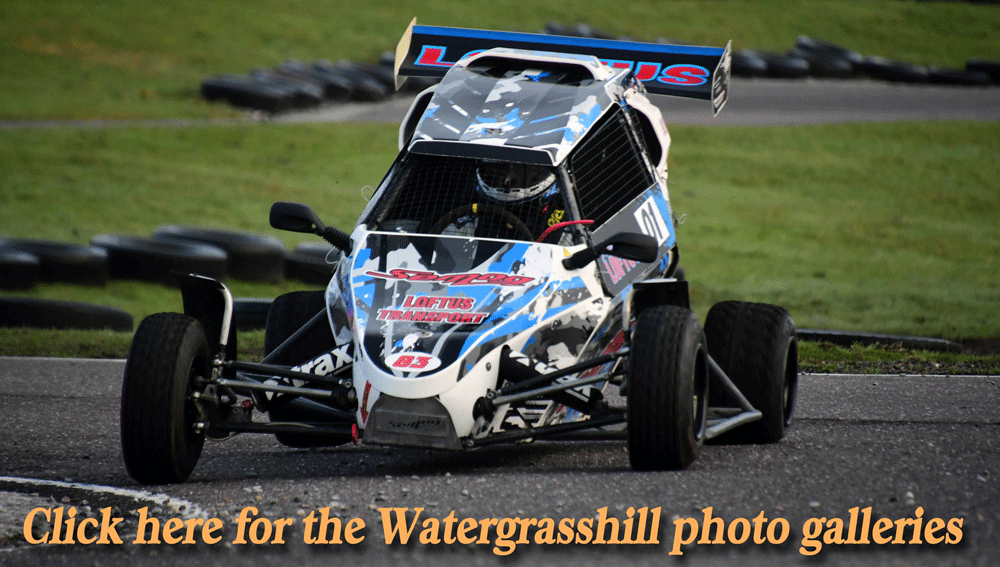 At last we were back on Irish soil, for the first time in nearly two years. Our last trip, with the first lockdowns looming, although at the time a series of winter storms were a more immediate threat, took us to the wild, wet weekend that saw the long awaited, and sadly we now know never to be repeated, return of Hot Rod racing to Kerry. Despite the short notice, and the horrendous conditions, that weekend drew a good crowd, with cars being dragged out that hadn't seen the light of day for several years, but its potential won't now be realised, and we won't get to find out how the remote Kilflynn track would look in better weather, as the site's now been sold.
Our hosts then, as now, were the East Cork Hot Rod Club, who in 2019 had revived the annual season opening "Funsprint" at the Watergrasshill karting complex, just north of Cork City. This event had become a bit of a season opening tradition for us, having been hosted by Mallow Autograss Club, with Donal O'Brien as the driving force behind it, from 2013 until 2017, before a break in 2018 as the New Year's Day date started to be a disincentive to attracting a viable entry. When East Cork stepped in, with a late January date, they were immediately attracting full entries and overflowing reserve lists, which continued in 2020 and even in 2021, when the event was finally able to take place in August.
This year, the feeling at Watergrasshill was very much of optimism that this would be the start of a much more "normal" year for Irish motorsport, albeit with one long standing problem coming to the forefront; the threat posed to motorsport (and virtually every other activity in Ireland) by the disastrous state of the Irish insurance market.
It took no time at all for the East Cork club, with Stephen O'Shea again co-ordinating entries, to fill the 120 available slots for this year, with an ever-growing reserve list. Inevitably there were a few who couldn't make it at the last minute, but 109 competitors on the day (in 91 cars due to the popularity of car sharing) filled the pits and the day's timetable. There was the usual healthy mixture of Hot Rods, Rally Cars, with ever increasing numbers of the rapid Autocross buggies, and a sprinkling of Hillclimbers, Autograssers, and cheap and cheerful all-purpose cars. The big draw for a good crowd of spectators was a couple of top-class drift machines, including local hero and multiple Formula Drift Champion James Deane. Watergrasshill has become a favourite drifting venue and in previous years the drifters had featured with demos and passenger rides, but this year they were also included in the timed runs, which would prove interesting.
The format was three timed runs of three laps, with three cars running at a time, although anyone catching the car in front was under strict instructions to back off and go for a re-run. Once again, the finish time beam was placed in the track exit lane after a tyre chicane, so a tidy exit from the track was crucial. Results were based rally-style on cumulative times, rather than a traditional sprint-style fastest time of the day, meaning that one mistake would see you tumbling down the order. Entries ran in seeded order with the quicker cars going first, even if the many shared cars and re-runs jumbled the order up a bit. After scrutiny on Saturday evening, and a steady stream through the gate from 5.30 am on Sunday, the action was virtually non-stop from 9 am to 5 pm, although unlike the Mallow days, there's no longer a final run under the floodlights!
The one concession to Ireland's continuing restrictions was that the prizegiving, normally held in the clubhouse, was outside in the rain that had set in right at the end of the day. Even so, the literal lorry-load of trophies made a most impressive sight! We hope we managed to pick up all the sponsors' names on these: Alan Loftus Haulage as title sponsor were joined by class and special award sponsors GK Tyres, Jim Scannell Motor Factors, D-Signs, William Walsh & Sons Loadall Hire, John Dolphin Sand Blasting, Paul Browne Ground Works, Ryan Motors Youghal, Glounthaune Tyres, Ben Hickey Auto Service, Tom Hickey Express Cabs, Emmet Cronin Construction, S&B Autobody Repairs and Tyre Sales, SoS Rollcages and Race Prep, Mick Boland Car Fix Garage and Kenneally Agrii Ltd.
With no serious mishaps, everyone enjoyed an excellent day's sport, and there was much chatter about this maybe becoming more than an annual event!
As expected, the fastest machines overall came from the Buggies class, although this had been expanded to include a couple of sports-racing cars. Mike Ward, in his Suzuki-powered Radical PR6, led the standings overall after two runs, but had a bit of a disaster in the damper conditions on his third run, handing the advantage back to the 750 Buggy of Jack Brennan, who ended up the overall winner after three very quick but controlled runs. Second overall, after topping the third run times, was James Lahart's 750 Semog, with the spectacular Alex Loftus coming in third overall and heading the 600cc sub-class. Mike Ward ended up third in the bigger class, from Callum Cullen and Brendan Murphy, who impressed all day in his first ever outing in his Semog. Completing the class (as far as anyone could work out – there was a bit of confusion splitting the 750 and 600 entries) were Chris O'Callaghan, Ray O'Farrell in his Fireblade-powered Raptor kit car and Caine Kiely. One disappointment was that drifting superstar Conor Shanahan had problems with his La Base buggy in the morning and just managed one run in a borrowed car. Behind Alex Loftus in the 600 rankings came the shared Semog of Johnny Kenneally and Paul Boland, and Ciaran O'Shea, whose inside front wheel rarely touched the ground!
Fastest saloon, and an incredible fourth overall, was Brian Kirwin's sensational looking Hillclimb prepared Peugeot 205. The 2-litre Vauxhall-powered car headed the 2-litre Rally Car class from Padraig Egan in the Lyons Motorsport Mk2 Escort. James Deane was included in this class with his 3-litre 800 bhp Toyota-powered Nissan Silvia and tried (some of the time) to reduce the sideways stuff in the interests of a decent time; he was quickest saloon overall on the last run and finished third in the class ahead of Damian Walsh in his SHP RT2000 "Supercar" and the second of the drift cars, Conor Falvey, who decided not to compromise on his drifting style!
The 1600 RWD Rally Car class just featured the shared Fiesta of Evan and Owen Mulcahy, who swapped their fastest times during the day with Evan taking the class win.
The 1600 FWD Rally Car class was another to be split after the entry list was published and there were one or two anomalies around who ran in the 1600 and 1400 classes. There wasn't much doubt about the fastest car, with Peter Keohane sharing his Peugeot 106 Gti with Damien Bennett – Peter ended up the top 1600 and Damien the top 1400! Second in the 1600 class went to Mick Boland, who was actually fastest on the first run, and then came Tommy Moloney O'Connell's Civic and Class 6 Autograss star James Sinnott in a Corsa. A popular entry, winning the "spirit of the event" trophy, was Patrick Croke's Citroen C2 and he split the times of the shared 205 of Kenith Fuller and Pat Casey.
Behind Damien Bennett in the 1400 division came Aidan Jackson, who survived a 2-wheeled moment on his first run in his Nova, Pa O'Mahoney's immaculate Civic, Joey Lyons' Fiesta, the shared Nova of Ricky Mullane and Evan Crowley, and Harry Jennings' Nova.
Quickest of the Hot Rod entries was National Hot Rod man Tom McSweeney's Tigra, needing multiple re-runs as he was catching slower cars every time out. Luke O'Donovan took second in his 2-litre Corsa, unfortunately only managing one run before engine problems sidelined him.
The 1600 RWD Hot Rods featured six drivers and only three cars as Paul O'Sullivan took on board three other drivers to share his 206. The car stood up to the abuse of four drivers and even managed quite a few re-runs, but fortunately its owner ended up the overall winner, ahead of Ian Riordan, Johnny Milworth (who was actually credited with the outright fastest time of the day on his first run) and Austin Fitzgerald, who lost out with no time recorded on his second run. Jim Scannell brought his own similar 206 in third in the class, and the other entry was Seamus Anderson in a classic Starlet.
Fastest of the FWD Hot Rods, and fastest Hot Rod overall in the even more slippery conditions for the last run, was Shane O'Shea in his beautifully turned-out Yaris. Second in the 1600 class was Mark Buckley who, needing a substitute car, acquired an old Class 1A Autograss Micra which proved remarkably competitive.
The 1300 FWD Hot Rod class proved very competitive, but was headed by Aaron Browne's Starlet, which was another hard-worked car with three drivers and multiple re-runs to cope with. Stephen Healy's Fiat-powered Starlet took a close second from Jason Ryan's Micra, and then Aaron's co-drivers Derry Long and Kyle Browne completed the top five. Making a quick jump from Juniors to the 1300s, Toby McGuire was very impressive on his way to sixth in his Micra, while Jimmy Boland looked rapid in his Punto-powered Seicento but lost a lot of time with an excursion on his first run. Next came the Starlets of Conor Harty (sharing Stephen Healy's car), Jamie Scannell, and Mick Boland. Kevin and Darragh Healy shared the second of their Starlet-Fiats but had multiple problems including disappearing in steam on Kevin's first run. Young Ross Ryan shared the Micra with Jason but dropped a time on his second run, and Alan Darcy only managed two runs in his Suzuki-powered Starlet.
The 1-Litre Hot Rods were another closely fought class, with Richie Power taking the honours by 1.4s over Kevin McGann, who was having his first 1-litre outlet, trying one of the two immaculate Micras prepared for Cole's Junior season. Willie Walsh shared one of the family Micras to take third overall ahead of Killian Cotter and Darragh Walsh. Maurice McElligott came next from Joey Dilworth and the older Micra of chief scrutineer Nicky O'Leary. TJ Cotter brought his shared Micra in next. Killian Swayne shared the ex-Jason Ryan Micra that Richie Power used to win the class and was very close on times, but a trip into the gravel at the last hairpin cost him his second run time. Shane Hickey was up in the top three on his first run, but didn't come out again, and Cian Walsh, after switching his entry from his Toyota Twincam to the Micra, also only did one run.
The Ladies' class promised to be very close, but Catherine Walsh, after two good runs, locked up into the gravel on her third and came in hoping for a rerun, which she didn't get! Jenna Morahan's Nissan Sunny was only a few seconds behind Catherine going into that run, and another quick consistent run gave Jenna the win, ahead of Teresa Boland's Fiesta and Chloe Anderson's Starlet. Catherine ended up fourth ahead of Elaine Kirwin's eye-catching Starlet, which would have been well in contention but for a breakdown on her second run. Nathanya Houlihan was even more unlucky with her Micra grinding to a halt on the first lap of both its outings; she then proved quickest in the class, when she borrowed the Richie Power/Killian Swayne Micra for the last run.
There were three entries in the Stocks class, headed by Charlie McNamara in his BMW Mini, who beat Joe Dilworth's Focus and Callum O'Shea, who switched from the Juniors to have a go in the familiar green Mazda 323F.
Then it was on to the massed ranks of Juniors. The Modified class pitched five Class 1/Production spec Micras against two Autograss Specials, with the Micras having the edge. Ted McGrath in the ex-Alex Loftus Micra carried on from his successful class debut at Rosegreen by taking a good win but run very close by the similar car of Ronan O'Brien. Dean McElligott came third ahead of the first grasser, Carlow driver Nik Gribouska. Nathan Graham and Adam Corbett came next in Micras after both switching from the standard class, while the second Junior Special of Darragh Kenny was unlucky not to complete a lap.
The biggest entry was, not surprisingly, in the Standard Juniors, with 23 drivers lined up. After nearly two years away, we had to get used to drivers we'd last seen as Rookies taking their first steps now up among the front runners, while others we'd seen getting into the swing of their junior racing had already moved on to bigger things. Maybe one of the most telling statistics from the event was that standard Junior winner Cole McGann ended up 27th out of the 109 entries overall; on the first run he's been 22nd, quicker than most of the 1300 and 1600 cars! Despite that, Cole wasn't an easy class winner, with James Deane and Davan Leahy only a few seconds behind. Ger Hartigan, who'd made his first outing at the Kilflynn event two years ago, was well on the [pace in fourth ahead of Luke Buttimer and Tommy Cronin. Harry Ellis came next, sharing a car with Daniel Fitzgerald, who ended up just outside the top ten, behind Mark Ryan, Aoife Healy and Aaron Kenneally. Conor Burke, Dean Deasy, Jack Roche and James Corbett were next in the results, ahead of one of the two drivers having their first ever competitive outing, Emily Sisk, who acquitted herself very well despite one or two dramas. Tomas White came next, in the unmistakable ex-Ted McGrath Micra, before the second newcomer, 9-year-old Sean Ryan, who will surely be following in the family tradition after his promising debut. Towards the bottom of the list came a few quick drivers who for one reason or another didn't record times on every run, Ronan Sisk, Luke O'Connell, Brian Scannell and Daryl Deane, while Sherise O'Shea's car didn't quite make it onto the track.
A nice touch was that, with the backing of Kevin McGann and Glounthoune Tyres, every single Junior got a trophy, while there were special awards for the top ladies in the junior classes, taken by Aoife Healy, Emily Sisk and Sherise O'Shea.