SWAFFHAM RACEWAY
Rolling Thunder Show Round 1 - 19 March 2022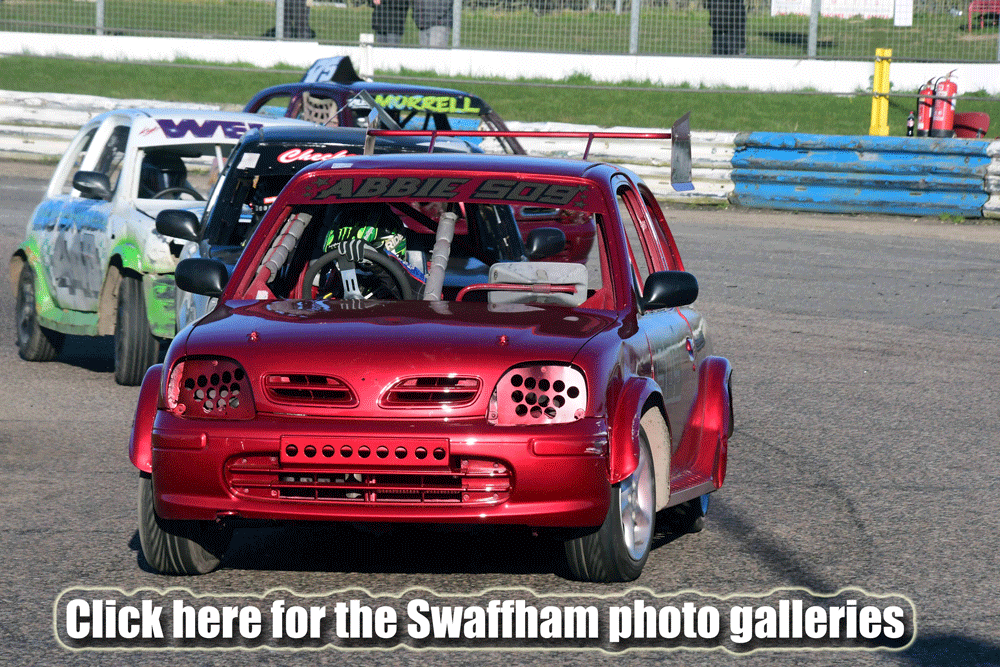 Following the action-packed Expo meeting in January, the regular RTS season at Swaffham Raceway got under way in mid-March, with 16 Saturday evening meetings scheduled between now and November. Despite a few more delays than usual, 24 races featuring 67 cars were run off in just over three and a half hours, with everyone being on the way home before 8 pm, the early finishes being welcome to the many long distance travellers now supporting the RTS meetings.
The Mark Miller Motorsport backed FWD HOT RODS are really doing credit to their position as Swaffham's headline formula, and with quite a few cars not yet ready the eight car field still made an impressive turnout. The immaculate new Saxo of Leon Retchless headed the field in the first heat before his brother Luke's effective outside line in his Saxo took him all the way to the front, Luke then fending off Chris Head's Mk 6 Fiesta and Wes Graves' older Zetec-powered Fiesta. Leon Retchless held fourth from Kev Head, at the wheel of Jason Cox's Saxo, ahead of Kev Marshall's Puma, Mark Rodgers' Corsa and Luke Cundy's Nova.
The second heat had an early stoppage when Chris Head's car unfortunately expired, but on the restart Leon Retchless held on all the way, with Kev Head never quite able to clear him on the outside line, while Kev Marshall chased the battling leaders home.
Leon Retchless again led the final away, but this time Wes Graves made the outside line work to take the lead, only to find he then had Luke Retchless trying everything to pass him on the outside. With three laps to go, Luke cleared Wes to take the win, with wes second and Jason Cox reclaiming his car to take third, ahead of Leon Retchless and Kev Marshall, while the Essex Vauxhall drivers Mark Rogers and Luke Cundy both had problems.
The 1-LITRE HOT RODS were as usual the best supported class, continuing to reap the benefits of it's basic 16 valve K11 Micra format, which is compatible with many different tracks' Junior classes, significantly including SEGTO Production A, so that several of the contenders here had also featured in the previous week's SEGTO round at Angmering. A 23-car entry, of which 20 arrived, meant it was time to start splitting the grids, with seven cars appearing in the novices' section. The newcomers actually provided three close and fast races. The first was won by Abbie Read, with a faultless drive to hold off Reece Checkley, Alfie Waller, Riley Murrell, Noah Buckett and Lewis Renwick, although Harris Turner's car was off song. Alfie Waller's ex-Kyle Wells car was closely chased by Reece Checkley in heat two, with Harris Turner this time on the pace in third. Alfie went on to take the final, this time pushed all the way by Riley Murrell and Noah Buckett, with Abbie Read and Lewis Renwick next after Reece Checkley retired.
The graded drivers' races started unfortunately with Alfie Hunt and Kyle Wells trapped against the fence, while Riley Shackleford came through from the red grade and survived a lurid slide to take the win, with Callum Perfect, Alfie Freeman and Danny Coombes right on his tail. Second time out the one interloper among all the Micras, Finlay Stickley's 1 litre Nova, running to the old RTS Junior Rod rules, held off all the newer cars to take the win from Alfie Freeman and Riley Shackleford, with Stanley Crittenden dropped a couple of places to fourth in the result. The 18 lap final though saw Stanley leading all the way until the second place battle behind him got a bit too close, with the yellows coming out after Danny Coombes was squeezed into the fence. Stanley survived a three lap restart to win, chased by Finlay Stickley, Alfie Freeman, Kyle Wells, Alfie Hunt, Riley Shackleford, Callum Perfect, Lewis Williams, Jack Farley, Tom Badger and Archie Mucci, while Frayzer Dener was well in contention before getting spat out of the last lap.
The NINJA KARTS were impressively led home in their two heats by blue grade driver Harry Rumney, while regular winner Jack Garrod had a quick spin in the first race and didn't quite catch Harry in the second. Harry was unlucky in the final though, heavily collecting Ralphie Hendy as the early leader spun. Max Payne restarted in the lead, but Jack Garrod soon caught and passed him to win with Max second and Rosie Taber taking third ahead of Charlie Jnr, Daniel Holland and Freddie Taber, while newcomer Sonny Hendy completed the finishers.
The CLASSIC MIDGETS promise to become one of the most popular attractions; although only two cars have seen action so far there are half a dozen or so either being restored, or built as replicas, that will make their demonstration events an even more colourful spectacle. This time Eddie Ricketts' 1400 Vauxhall-powered Westfield classic had a few problems, leaving Ben Pashley on his own with his lovely 1968 Dastle Type 3. Joining Ben on track was the lone SUPERSTOX to turn up, Alfie Brooker. Earlier in the day a couple of Outlaw cars expected to race at Grimley has been practicing and they seemed interested to learn that they'd be welcome to race with RTS, so with luck the non-contact F2/Superstox class will soon pick up numbers.
Just four LIGHTNING RODS turned out this time, but still laid on close racing as George Morris, having bought another different car after problems at the Expo, battled past Danny ellis and Brian Smith to win both heats. In the final though, Danny just managed to fend off George's challenge to take the win, with Brian right behind in third, although Dave Imber only managed a couple of laps during the evening.
The "basic" Junior class, the JUNIOR SCREAMERS, is more or less the equivalent of Angmering's "Junior Prods", allowing anything from an 8-valve Junior Rod to Junior Banger style cars. An improved grid of seven turned out, headed all the way in the first heat by Madison Lewis' Fiesta, chased by Emilie Smith's Micra and the Corsa of Jack Garrod, who's being allowed to enjoy a brief overlap between his Ninja Kark career and his next step up. Second time out Jack got through to the lead, but spun it away and Max Constable's Micra claimed the win from Madison Lewis and Ryan Mower's Peugeot, coming through from its handicapped start. The final was interrupted when Ryan Mower got accidentally planted in the fence as he came through the field, but Jack Garrod held his lead on the restart and came home the winner from Madison Lewis, Emilie Smith and Max Constable, while the Micras of Ryan Rumney and George Colvin also retired.
The final class was the SCRAPYARD SCREAMERS, this time bringing out a 17 car grid for their "limited contact" races. James Carter in (maybe) a Primera ran away with the first race, ahead of the similar car of Liam Webster, Taylor Hutchinson's Rover 216 and Jamie Webb's Civic. Second time out, with the first heat winner going to the back, it was Liam Webster's turn to hold off Jamie Webb for the win. The pattern was repeated in the final as this time Jamie Webb led all the way, with Jordan Webb in another Civic second, ahead of Jack Leeks (Astra), Taylor Hutchinson, Jason Webb (Focus), Sasha Rumney (Peugeot 206), Ross Lucas (Honda or Rover?) and Axi Johnson (Audi A3). Other finishers included Russell Thornton (Focus), Tongham driver Billy Turner (Focus), James Hanrahan (unidentified estate car!), Glen Olley (Focus Estate), Grant Kilburn (Astra), while we lost along the way James Carter, Liam Webster, Steve Shaw (Focus Estate) and Tongham man Mark Davis in his rare Nissan Sunny Coupé
.
.