LYDDEN HILL OVAL
Kent Outlaw Oval Racing Round 2 - 9 April 2022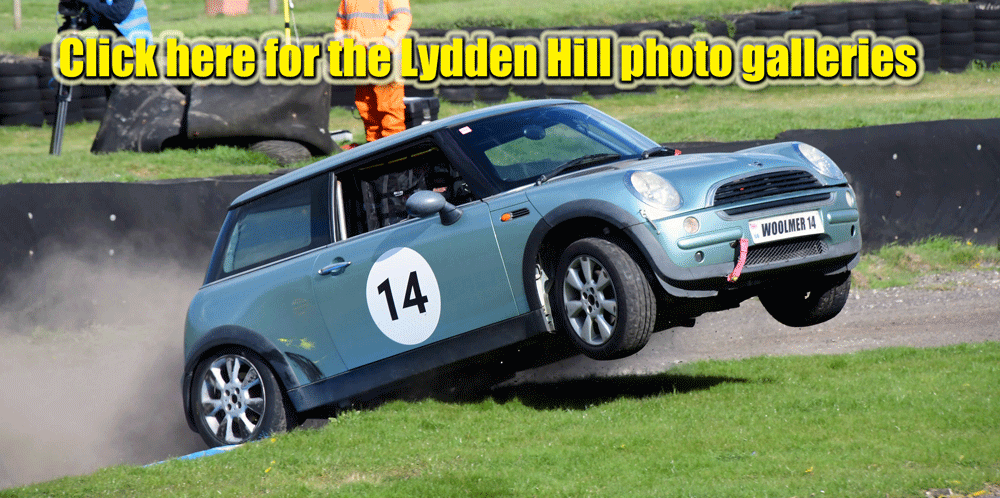 It's not often that we come across something completely new in oval motorsport, but for the past year there have been events taking place at Lydden Hill circuit that represent a refreshingly different approach to promoting club level racing. We didn't get a chance to take a closer look until the second event of the second season for Kent Outlaws Oval Racing, but when we did, we were very impressed with what we saw!
During 2020 the Rolling Thunder Show completed their second season based at Lydden and were the first UK organisation to stage post lockdown race meetings, as opposed to "practice days", albeit behind closed doors. By the end of that year though it was becoming obvious that the RTS style of promotion and Lydden Hill's requirements weren't really compatible, and the RTS moved to the more conventional oval venue of Swaffham in Norfolk.
In early 2021 it looked as though Lydden's oval layout, the longest and fastest in the UK (unless you count Mallory Park) would fall back into disuse but, enter a pair of Kent and Essex-based racers with a vision that would allow a back-to-basics style of tarmac oval racing to continue in East Kent. Tony Rolfe has been involved in many different formulae over the years, best known to us as a long-time Stock Rod racer at Arena Essex, while Colin Smith (not to be confused with the National Hot Rod and circuit racing "Intermarque" racer of the same name, who's now racing with the Kent Outlaws) was in at the start of grass roots racing in Kent, with the Stock Racing Frittenden club that later became HRE and Invicta, and has also raced Stock Rods and Autograss. Tony and Colin set up a structure that would work both for Lydden's management and the drivers and waited to see if anyone would sign up. They did, in very encouraging numbers!
Kent Outlaw Oval Racing was set up as a non-profit making club, with several well-known names stepping forward to assist – so we have familiar faces such as Sharon Ashworth as start marshal, Derek Todd as clerk of the course and Chris Cake as commentator, while Lorna Hales (a past Autograss racer) took the role of secretary and lap scorer. The major difference to any other oval set-up is that the events run in tandem with Lydden's own track days. Hence there is no formal scrutineering, with safety compliance being the competitor's own responsibility (as for a track day visitor) and drivers sign on using their DVLA road licence rather than any race licence. That aspect obviously excludes the juniors on whom most oval events rely for support, so it was important to come up with an accessible range of classes for the more "mature" racer!
During the first year, four groups were run, each having four races in the three-hour time slots available (3 to 6 on a Saturday afternoon). To cope with growing interest and numbers, that's been modified this year to five groups, having a more manageable three races each. After an impressive 77 cars raced at the first 2022 meeting in March, this time there were 76 entries and, on a fine sunny day, nearly all of them braved fuel shortages and Kent's current traffic chaos to arrive at Lydden as a typically varied track day session was coming to a close.
The most popular group by far has proved to be the MINI-RODS – nothing to do with the PRI Mini-Rods, the limited contact 850cc class that was so popular in the 1970s and 80s! The new version uses 1600cc BMW Minis (any variant except Coopers) running in virtually road going spec, making it surely the easiest class to get into for any new racer, but at the same time very promotable, with well-presented cars resembling their circuit racing cousins. The class was actually introduced by RTS during 2021 but wasn't capitalised on until KOOR took it up. They closed the 2022 registration book with 39 drivers signed up, who were split into three groups. These are rotated each meeting, with two groups racing together and the third sharing the track with the "Lydden Rods". This time Group B ran with the Lydden Rods and opened the meeting with Lewis Follett leading the early laps, but losing out halfway through the 10 lap race to Vic Bilkey Jr, who'd come through from the back of the grid, and Vic went on to win, chased by Nathan Moat, with Darren Pinder in third, holding off Jason Woolmer, Lewis Follett, Richard Follett and Craig Woolmer, with none other than Autograss legend Fred Carpenter, in a shared car, bringing up the rear. Second time out Lewis Follett was again leading when the red flag came out with Jason Woolmer stranded after a coming together with Ant Williams sent him flying over the kerb. Nathan Moat closed in and took the lead after the restart, hanging on to win as Vic Bilkey's last corner lunge round the outside launched him over the kerbs. This time the Lydden Rods got mixed up among the Minis at the finish, but Darren Pinder again took third while Lewis and Richard Follett tangled and landed on the infield.
After the two heats were gridded in reverse points order, the day's top scorers stated from the front in the final, and Vic Bilkey led all the way, holding off Nathan Moat until the reds came out a lap early with Andrew Quint's Puma (in the Lydden Rods) rolling. Darren Pinder held off Craig Woolmer for another third place, with Lewis Follett, Ant Williams and Jason Woolmer completing the finishers.
Groups A and C provided a 12-car grid and laid on some ultra close racing, with a bit less incident than the other group. After Kev Ellis and Dean Morgan held the lead, Darren Peacock eventually pulled away to win the first race, with a close scrap for second going to Vic Bilkey (Sr) from Dean Morgan and Matt Haines. In the second race, Steve Cross led away in his ex-Lee Forster car, but gave way to a three-abreast battle which was eventually resolved with Darren Peacock ahead of Adam Rossiter and Dean Morgan, with Vic Bilkey and Matt Haines again well in contention. Everyone had a close race as the rest of the field split into two battling trios; Steve Cross, Peter Jones and Kev Ellis scrapping for sixth, and Darren Carpenter, Andy Reynolds and Anthony Down fighting over ninth.
After two hard fought heat wins, Darren Peacock led flag to flag from pole position in the final, but still under pressure all the way from Dean Morgan and Matt Haines. Adam Rossiter and Vic Bilkey spent almost the whole race side by side and swapping fourth and fifth places, with Adam just ahead at the end, and then came Steve Cross, Darren Carpenter, Peter Jones, Kev Ellis, Andy Reynolds and Anthony Downs, while Wayne Wallis didn't start after the car shared with Fred Carpenter broke a rear radius arm.
Mixing it with the first group of Minis were the LYDDEN RODS, a new formula split out from the Open Saloons class, catering for a variety of more or less standard cars, 1600 to 1800cc with a maximum of 130 bhp. Michael Burke came into the second round heading the points, the long time Honda racer using a well set up CRX with a relatively rare D16 Twin Cam engine. Leading the closely matched group away this time though was Gemma Inglis in a Toyota Yaris, pushed by Robin Miles' Citroen C2, the Pumas of first time racer Andrew Quint and Jack Miles, and David Burke in a Suzuki Swift. David Burke eventually squeezed past Robin Miles with a couple of laps to go to take the win, with Andrew Quint in a good third ahead of Jack Miles and Michael Burke, recovering after an early spin. Neil Longshaw's Ka spun out in the last corner and the other places went to Gemma Inglis and Jon Fowler's Puma. The second race saw Robin Miles again leading away, but this time David Burke found his way to the front much quicker and by the end he was well in among the battling Minis that started in front. Michael Burke was in hot pursuit in second, with Robin Miles, Jack Miles, Gemma Inglis, Andrew Quint and Jon Fowler all fighting over the next places.
Robin Miles' distinctive orange C2 led the final away but David Burke was quickly in front, where he stayed until the reds came out on the penultimate lap, with Andrew Quint, after a good debut performance, getting sideways into the link road and flipping into a quick roll, with Jon Fowler going off in avoidance. Michael Burke was in second from Robin and Jack Miles and Gemma Inglis, after Neil Longshaw pulled out with a puncture.
The HOT ROD group, with National and 2-litre Outlaws running in separate classes, suffered from a few non-starters. The previous meeting had seen quite a few Hot Rods running into trouble with Lydden's strict track day noise limits, but the only one to fail the noise check this time was Colin Smith with his BMW Z4. With Mark Cole's Civic-bodied Outlaw also missing, nine cars lined up for the first heat, headed by Jamie Ward, first time out in the ex-James Griggs Tigra. Jason Anderson soon took his Corrado to the front and went on to win, chased by Dan Rolfe's Saxo and Paul Apps' 206, with Joe Cato's 206 the only other National-spec car to finish. The 2-litre section was dominated by Charlie Sayers in his superb SEGTO Championship-winning Zetec-powered Anglia, chased by Shay Anderson's Nova, with Gary Austin's Starlet in third. Of the two Autograss cars entered, Trevor Mills' Escort didn't make it after starter problems, while Adrian Fryer's Volvo-powered Hyundai unfortunately dumped its oil on the track early on.
For the second race Colin Smith was on the grid – but driving the ex-Martin West Ginetta that he'd been trying in the earlier track day. Colin chased Jason Anderson to the finish, with Dan Rolfe and Paul Apps next up. Mark Cole made it out this time but had to cope with a flapping bonnet and a door blowing off! Charlie Sayers again dominated the 2-litres with Gary Austin ahead of a misfiring Shay Anderson.
In the final Jason Anderson again won in fine style, closely chased all the way by Colin Smith, with Dan Rolfe and Joe Cato completing the placings. Charlie Sayers' rapid Anglia again proved uncatchable in the 2-litres, with Gary Austin and Shay Anderson behind.
The OPEN RODS are just what the name suggests – virtually anything goes, resulting in an eclectic mix of cars from a circuit racing Civic to Thunder Rod type BMWs. Alfie Jones, in the 2-litre Civic Type R, led the first heat from the start to the last corner, where Neil Waite's BMW, the Ringwood Thunder Rod points champion, performed a beautifully judged outbraking to take the win. Craig Taylor's BMW was third, while Chris Reeve's Lightning Rod Sierra beat Neil Tiffin's BMW and Jamie Ward's Mazda RX8 for third. The 14-car field was completed by Andy Burbridge (Lexus LS400), Billy Wilson (the ex-Autograsser in a 2.5 litre BMW), Karl Bentley (Civic), Nick Glover (Mazda MX5), Bob Oxenbury (BMW Compact), Lily-May Burbridge (Lexus IS200), Robin Miles (Audit TT) and Barry Ward (BMW E36). The Kent Outlaws have succeeded in bringing true variety to oval racing – long may it last!
The second race had an early restart with a couple of cars in trouble in awkward spots, but from the restart Alfie Jones' Civic, more often used in the Classic Sports Car Club's Co-ordSport Tin Tops and various other circuit series, led all the way, holding off the Thunder Rods of Neil Waite and Neil Tiffin. This time Neil Waite's outbraking effort saw him lock up and drop to third across the line, while Chris Reeve had another good finish ahead of Jamie Ward.
The final was missing Craig Taylor, Lily-May Burbridge and Bob Oxenbury. Robin Miles' TT was also missing, but he baffled the officials by turning out in his identically coloured and numbered C2 from the Lydden Rods! Unfortunately though he was eliminated in a first corner coming together with Karl Bentley's Civic. Alfie Jones again took the lead, but ground to a halt on the Dover Slope with four laps to go. Chris Reeve took up the lead but another demon last corner late braking manoevre, this time by Neil Tiffin, saw Neil go all the way round the outside to snatch the win from Chris, with Jamie Ward third after another good showing in the Mazda. Then came Neil Waite, Nick Glover and Billy Wilson with Barry Ward completing the finishers.
The final group to perform were the ever popular 1400cc EURO RODS, with an 11-car grid featuring nine Corsas, Graci-Lou Burbridge's Saxo and Mick Letchford in a 206. In the first heat Jack Macey and Danny Reeve led the early laps before Charlie Croucher came through to take the win, with Steven Jeffery just beating Aaron Keynes over the line ahead of Danny Reeve, Chris Kemp, Jack Macey, Joe Goldsmith, Graci-Lou Burbridge and Chris McLean. Charlie Goldsmith dropped out with a lap to go and Mick Letchford brought up the rear. The second race was stopped early with Joe Goldsmith in trouble at Chessons Drift, but Charlie Croucher had again made his way to the front, ahead of Steven Jeffery, Aaron Keynes, Danny Reeve and Jack Macey.
The final proved a bit fraught among the evenly matched pack, with Aaron Keynes getting squeezed off the track completing the second lap, but Charlie Croucher again showed great pace to break away for a convincing win. Danny Reeve hung on for second ahead of Steven Jeffrey, Chris Kemp and Jack Macey. Charlie Goldsmith, Graci-Lou Burbridge and Mick Letchford were the other finishers.
The day finished with the presentation of an impressive set of trophies, with every class now being sponsored for the season, and the next meeting on 7 May was eagerly awaited.
CLASS SPONSOR CREDITS:
Mini Rods – Norfolk Road MOT Centre (Gravesend)
Lydden Rods – RJ Blake Landscaping and Birds Family Funeral Directors
Euro Rods – CTM Performance Engineering
Open Rods – DPF Doctor and Wardie motors
National Outlaws – Pro 2 Vehicle Solutions
2-litre Outlaws – PD Racing
.