TONGHAM MOTOR CLUB
10 April 2022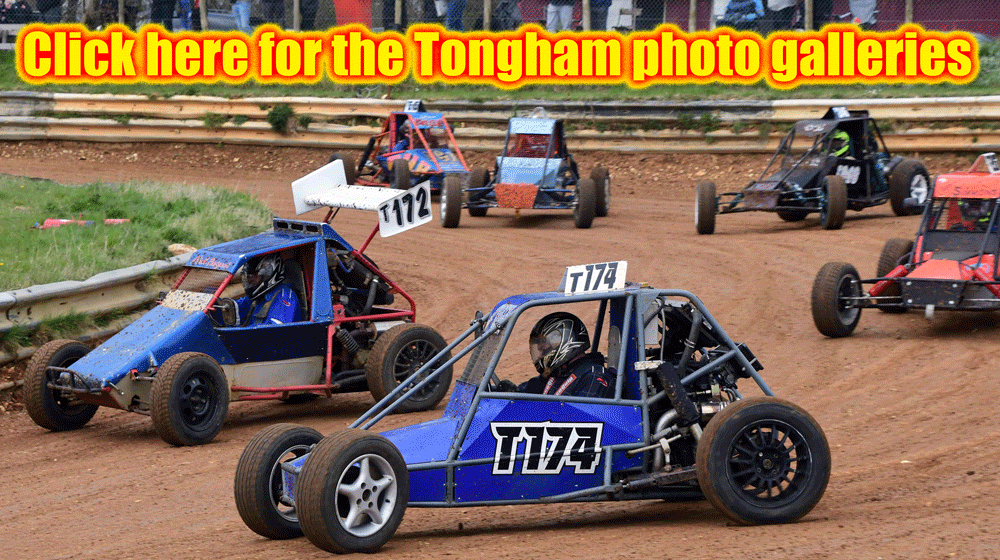 Tongham Motor Club's second meeting of the 2022 season saw a fine sunny day at the Brick Kiln Farm track and a good turnout, in most classes at least, with 75 cars in the various SEGTO groups, plus 30 Rookie Bangers for the "nudge and spin" races that start each set of heats at Tongham.
The biggest field of the day was 17 cars in PRODUCTION A, comprising 11 K11 Micras, plus one K10, three Novas, a 106 and an AX. Tyler Cummins made spectacular progress in his Micra to lead the early stages of each race, but in the first heat he was passed in the closing stages by Paul Mainwaring, who held off Alex Smith to take the win with Rory Bennetts' Nova just ahead of Tyler Cummins and Josh Simmons for third. The second race was red flagged after a tangle in which Alex Smith came off worst. Tyler Cummins led the restart until Paul Mainwaring again hit the front in the closing stages, but this time he was pipped for the win by James Simmons, with Josh Simmons grabbing third from Tyler Cummins, Graham Goddard's AX and Bob Salter's Peugeot. By the final we'd lost newcomer Rob Channon, in Fred Barnes' Nova, and Billy Turner. Again Tyler Cummins led before being relieved of the position by Paul Mainwaring, but just as the race was stopped, with Aaron Hough's Nova in trouble, Paul lost his passenger door and got black flagged. Tyler Cummins got ahead of Adam Dade on the restart, but when comfortably in front he too was black flagged, for a flapping bonnet, and it was Josh Simmons who came through to win, with Alan Goddard taking second from Rory Bennetts, Bob Salter and Lee Winter, in the ex-Lee Young Nova. Adam Dade and James Feltham completed the finishers, while others to retire included Laura Connors, Matt Gurr and Thomas Connors. The trophies were awarded on points from the three races, with Josh Simmons taking first from Rory Bennetts and Alan Goddard.
A six car grid in PRODUCTION B was headed away by Kodi Page's Micra, until he went straight on at the first corner. Rob Salter's 106 then held off Tom Chance's Nova for the win, with Barney Hayhoe's Nova just beating Peter Barber's Corsa for third and Fred Barnes' Nova bringing up the rear. Kodi Page led the second race for four or five laps until he again lost his steering. This time Rob Salter won by the best part of half a lap from Barney Hayhoe, Peter Barber and Fred Barnes, with Tom chance retiring. It looked like third time lucky for Kodi Page in the final, but yet again he headed straight on, this time coming to rest against the armco as Tom Chance took a clear win. Peter Barber slowed in the closing stages with a badly rattling engine, and was passed for second by Barney Hayhoe, with Fred Barnes fourth and Rob Salter this time right at the back. Overall Rob was still the winner though, from Barney and Peter.
Unfortunately club chairman Laurence Connors has found himself on his own in the SUPER SALOONS so far this year with the famous "growler" 205, so he was left to chase after the four 1450 HOT RODS. There was a close RWD v FWD battle all day in the 1450s; Jason Woodgate's ex-Nicky D'Souza Mini-Vauxhall held on to win the first heat, and did the same in the final, but in the second heat Nathan Loader's evenly matched FWD Fiesta, with Rover K Series power, managed to find a gap to take the win. Stuart Blair's R1-engined Cinquecento held off Robert Gray's still very competitive Mini for third in the heats, but dropped out of the final, letting Robert take third overall in what might be the last surviving old school A-series powered Hot Rod Mini.
The seven-car field of SPECIALS included five ex-NASA Class 8s of varying vintages and one Class 9 style car, leaving Mick Baigent's Vauxhall-powered car as the only one-off SEGTO car in the field. Mick battled with son David's Zetec-powered car, but both were passed and left behind by David Simmons' ex- Mark Stephens ARD-Hayabusa. Chris Carter's newly acquired car split David and Mick Baigent to take third, while Ashley Lock and Shaun Page battled behind, while early leader Glyn Law struggled with horrible understeer. Ashley Lock was sidelined at the start of the second heat when his Blackbird gearbox blew up, and this time Chis Carter shot through on the first lap to lead David Simmons, Mick and David Baigent to the flag. Chris was again on top form to win the final, chased closely all the way by David Simmons, with Mick Baigent in third. David Simmons took the overall win from Chris Carter and Mick Baigent.
There are good numbers of JUNIORS at Tongham this year, with 14 cars turning out in the main class and another 13 in the Novices' races. One driver who'd moved up from the Novices for this meeting was Harvey Green, and he led the first heat most of the way before finally being caught by Harry Loader. Harry just held off Ryan Adamson, in the lone AX among a grid of Micras and Ryan Blair, with Harvey taking a close fourth from Riley Rogers and Francesca Ellis. In the second race Harvey Green again pulled out a good lead, and this time he wasn't caught before the red flags came out to end the race a couple of laps early. Ryan Adamson got spun out in the middle of the chasing pack, getting collected by Ryan Blair, and then next time round Ryan Blair found himself sideways in front of Aaron Culley and Francesca Ellis to cause the stoppage. George Langley had just moved up to third, splitting the white grade brothers Tyler and Jayden Cushing, with Lacey Chance, Harry Loader, James Rich, Lexie Silk, Riley Rogers and Cherie Wells all involved in the battle behind. George Langley and Ryan Blair were both missing from the final, which went back to a full restart after Ryan Adamson spun. On the restart Jayden Cushing beat Harvey Green away and Jayden then led until Ryan Adamson caught him, with Ryan going on to win as Jayden held on to a good second from James Rich, Francesca Ellis, Lacey Chance, Harvey Green and Tyler Cushing. |Lexie Silk and Aaron Culley completed the finishers as Riley Rogers blew up his engine to join Cherie Wells and Harry Loader as retirements. Overall Ryan Adamson won from Harvey Green and Francesca Ellis.
The NOVICE JUNIORS' races also featured a bit too much action. The first race was interrupted by Todd Wallace hitting the pit gate flat out, wrecking his very smart Micra, although Todd and his passenger were unhurt. Despite a rough sounding exhaust, Charlie Turner's Micra led the way up to the stoppage, winning from Madison Lewis' Nova, Fin Chance's nova, Chloe Duce's Micra and Tommy Turner's 205. Next time out Madison Lewis led the way while Charlie Turner slowed with a puncture and Chloe Duce moved up ahead of Fin Chance, Harris Turner and the immaculate orange Saxo of Archie Ginns. For the final we'd lost Braydon Dixon's Nova and Harris Turner, while Charlie Turner again led the way impressively until this race too was stopped early, when Fin Chance and Chloe Duce tangled in their battle for second. Sonny Dering's Micra was second as the reds came out, ahead of Chloe, Alexia Bowen's Micra, Archie Ginns, Jamie Dade's Micra, Tommy Turner and Freya Dixon's Nova. Overall, Charlie Turner was the winner from Archie Ginns and Alexia Bowen.
The THUNDER ROD class, intended as the most basic class within SEGTO, is attracting some well-turned-out cars at the moment and they provided good racing, headed each time by the Fiesta of Mac Dixon. In the first heat Mac was running wider and wider in the bends and was passed for the win by Lewis White's Mazda MX3, with Mike Cummins' Focus taking third from Pete Stevens' MG ZR, Shaun Maynard in another MG, Dave Purt in a Sierra Estate and Lee Tong's Clio. Second time out Mac Dixon couldn't be caught as Lewis White came through to second just ahead of Pete Stevens, while Chris Brown brought his focus home fourth. With Chris Snook's Seat and Ashley Cousins, the Standlake Prod A driver now in an Astra, both non-starters for the final, the grid was down to 11 cars. Mac Dixon's Fiesta took another runaway win. Lewis White beat Pete Stevens and Shaun Maynard for second, and Charlie Freeland's Rover came in fifth ahead of Chris Brown, Angmering regular Jamie Sayers' Fiesta, John Burt's Audi A3 and Dave Purt, with Lee Tong and Mike Cummins retiring.
The ROOKIE BANGERS were split into two groups, for "normal" cars (up to 1800cc, mainly Focuses) and "small" cars (Micras, Kas etc), although with only three of the seven small cars surviving to the final, they started behind the bigger cars. The small car heats were won by Dean Tompkins and James Holmes, while the more hectic races for the 1800s, which included Alfie Turner getting on his roof, went to Clayton Wheeler and Craig Benham, who also took the final, while Jeff Woolford won the closing allcomers' race that led into a (brief) DD.