STANDLAKE ARENA
Easter Monday - 18 April 2022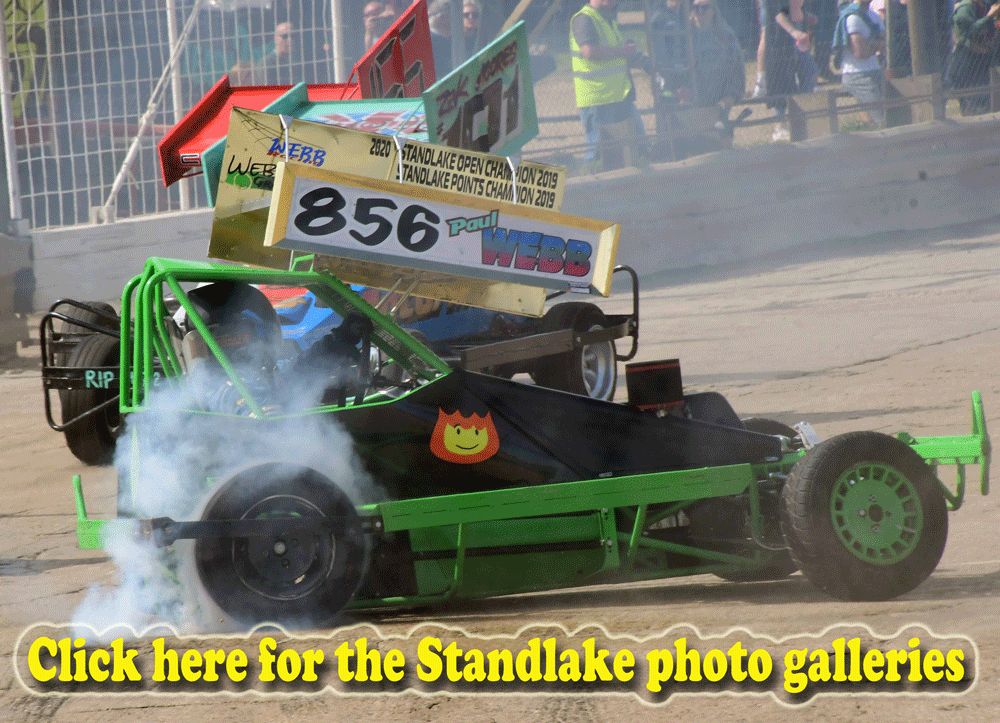 Bank Holiday Mondays are always highlights of Standlake Arena's year, and with remarkably warm sunshine dominating the Easter weekend, there was a good turnout on both sides of the fence for the first of this year's holiday fixtures. With over 160 cars booked in the race schedule was busy, but completed in Standlake's usual slick style. Topping the bill was the third outing of the year for the Outlaw F2 Stox, supported by the Juniors, 1600 Productions and Drift Rods. The Banger side of the meeting featured 1800 Street Bangers, which had a team racing theme to add a bit of colour, while the Ladies' Bangers were also in action.
F2 STOX
With 28 cars entered, and 25 actually racing, they were treated to a two-out-of-three heats format, and the grids of 15, 18 and 17 cars allowed fast action in the heats and helped all 25 cars survive to the final. 18 of them then made it for the Grand National. The opening heat, first race on the day on a slightly dusty track, was led most of the way by the eye catching orange car of Charlie Heffer, chased in the early stages by Kyle Broadway as Rob Dobie held on well in third. Rob was eventually passed by the smartly re-liveried James Trigg, and the blue grade driver then reeled in the leaders and hit the front with a few laps to go, then holding off red tops Andy Webb and Jim Muckian to the finish. Ash Greening, one of the many Grimley-based drivers present, took fourth from Paul Webb, then Charlie Heffer just pipped Kyle Broadway, Henry Breakspear, returning from the Hot Rods in the ex-Jack West car, Jess Webb, Stuart Biddle and Patrick Somerton. Completing the finishers were Rob Dobie, Mick Jackson and Worcester based newcomer Ryan Weston, with Martin Chard the only retirement as his car cut out after two laps.
The second heat again saw Charlie Heffer setting the pace, with Patrick Somerton second until spinning out at half distance, by which time there'd already been plenty of action with Harry Heffer, Jim Muckian and Ash Greening among those bouncing off the fence. Izzy Jackson was turning in a fast and consistent performance that brought her right onto the leader's tail, but Izzy couldn't make a last ditch bid for the win as they were too busy avoiding the crashing Kyle Broadway on the back straight, so Charlie Heffer took a good win from Izzy, with Ryan Stoodley coming through for third in front of Carl Lewis, Kyle Williams and Gary Webb. James Trigg beat Keith Richens and Stuart Biddle for seventh, with Phil Trigg the last one on the lead lap, ahead of Patrick Somerton and Ryan Weston. Other retirements were Zak Moores and Steve Goldup.
In heat three it was again the Heffer family to the fore, but this time it was Harry who grabbed the lead, while there was trouble for the red graders as Carl Lewis and Gary and Paul Webb tangled. Carl was soon up to speed, unlapping himself from the leaders, but it was taking much longer for anyone else to catch Harry Heffer, who took the chequered flag just as Andy Webb had him in his sights. Ryan stoodley took another third, with a battling group following him over the line, Louis Williams heading Zak Moores, Jess Webb, Keith Richens, Henry Breakspear and Gary Webb. Carl Lewis made it back to tenth, but Paul Webb dropped out with a puncture after spinning on the finish straight. Rob Dobie, Will Jackson and Martin Chard were the other finishers as Phil Trigg, Steve Goldup and Izzy Jackson dropped out.
Nineteen qualifiers lined up in grade order for the final, with the six non-qualifiers joining in at the back. Harry Heffer led briefly before brother Charlie took over at the front, but this time the star graders were making much quicker progress, headed by Ash Greening, and by half distance Ash was in front, pulling away to win, chased by Carl Lewis. The other places took a shake up as Andy, Gary and Paul Webb all tangled with Louis Williams and Harry Heffer, eliminating Harry. Charlie Heffer tangled with Kyle Broadway crossing the finish line but held on to pip Louis Williams and Paul Webb for third, with Jess Webb and Keith Richens chasing them over the line. Just lapped by the leader, Gary Webb recovered to beat Stuart Biddle and Rob Dobie for eighth, ahead of Kyle Broadway, Patrick Somerton, Martin Chard and Ryan Weston. The hectic action left a long list of retirements, starting with James Trigg, who fell foul of the infield tyres at the start. He was joined by Ryan Stoodley, Izzy Jackson, Henry Breakspear, Jim Muckian, Zak Moores, Will Jackson, Steve Goldup, Harry Heffer, Andy Webb and Phil Trigg.
The Grand National, Standlake-style, started with the top three from the final on a lap handicap. Kyle Broadway led away, soon to be passed by Patrick Somerton, but Izzy Jackson, after a couple of unlucky retirements, was showing her pace from earlier in the day, took the lead on the fifth lap and never looked back, taking a well deserved win and not letting the chasing Jim Muckian, Andy Webb and Ash Greening get close enough to worry her. Louis Williams held off Jess Webb for fifth, wth Gary Webb, Carl Lewis, Paul Webb and James Trigg completing the top ten. Lapped by Izzy, Kyle Broadway was next up in front of Martin Chard, Mick Jackson, Rob Dobie, Ryan Weston and the troubled steve Goldup, while Patrick Somerton spun out in the closing stages and Charlie Heffer also dropped out.
JUNIORS
The Juniors have passed the stage of the season when the novices have their own races, but with 31 of the 32 entries present, they had good grids for the now regular split heats. The first group was led by rapid novice Joel Pledge until Tyler Rayner came through and eventually took a clear win, with Jack Fulker holding off Aiden Powell and Michael Weston for second, and Jolene Cornish taking a very good sixth, ahead of Joel Pledge who unfortunately didn't appear again. Heat two has an early stoppage after a pile-up; the action continued with only 6 out of 16 starters making the finish, but there was no doubt about the winner with Finlay Kew coming in well ahead of Archie Parker, Charlie Bendle, Harvey Breakspear, Jacob Turnage and Chloe Goldup.
Finlay Kew took another clear win in his second race after passing novice Alfie Martell, who'd been going well in the lead. Michael Weston and Aiden Howell came through the field for second and third, with Alfie Martell holding on for an excellent fourth in front of Jay Moores, Bobby Rowland, Jack Fulker and Taylor Bligden.The last heat saw the normal status quo restored as Tyler Rayner made rapid progress to take the lead at half distance from Gary Weston. Tyler won with Ella Fulker in hot pursuit, while Gary Weston held off Ryan Wainwright for third.
16 cars qualified for the final and Ellie Packer set a good pace in the lead, while Finlay Kew, from the blue grade, and Jay Moores, from the reds, carved through the traffic. As Finlay emerged in the lead Ellie and Tyler Rayner tangled, with Ryan Wainwright hitting the fence. Finlay came home with another convincing win as Jay Moores took second from Aiden Howell and Alla Fulker. Jack Fulker took fifth from Archie Parker, who'd picked up a black cross, dropping him behind Alfie Martell. Jacob Turnage, Ellie Packer and Harvey Breakspear completed the top ten ahead of Chloe Goldup.
12 cars made the non-qualifiers' race, with Isaac Harris, Joel Pledge and Violet Cornish being non starters. Morgan Cooper led the early laps but Jolene Cornish got past and carried on to an impressive first win, holding off Ollie Ireson. Taylor Bligden came third from Harvey Breakspear and Morgan Cooper held off Charley St Clear for fifth. Fighting out the next places were Bethany Lawrence, Maddie Oxlade, Alisha Lawrence and Brayden Richards, whose car had sounded sick all day, while Cody Keitch and Nicole McIntyre completed the runners.
1600 PRODUCTION
A 21 car grid soon ran into trouble on their first clap, with a pile-up taking out Jazz Kelt's Civic, Michael Bayford's Fiesta and others who managed to rejoin for the restart. Andy Tuck's Civic fought off Bristol visitor Benny Bridgman's Rover on the restart and led until a lap before the end when Dan Powell's Civic, from the back of the grid, swept round the outside to take the win. There was havoc behind as Benny Bridgman spun in the middle of the pack and was collected by Tim Edwards' Fiesta, while Tristan Staite's Civic emerged in third from Owen Hunt's Rover, Nick Taylor's Yaris, and points leader Dean Quinsee, who'd got separated from his usual sparring partner Dan Powell in the traffic. After breaking down at the start of the first heat, Kyle Escott's Fiesta led the early laps of the second heat before Owen hunt took it up, holding off Tristan Staite until Tristan finally found a gap with two laps to go. Tristan took the win from Owen, with Dean Quinsee this time holding off dan Powell for third, although a black cross dropped Dan behind Nick Taylor, with Ben Tuck's Civic, George Taylor in the other Yaris, Lee Loxton's Fiesta and David Oxlade's Focus completing the top ten.
The final was clearly going to be fraught with 12 qualifiers lining up in front of a block of 7 non-qualifiers, with Dave Quinsee's Nova and Mark Woodward's BMW Mini being the only non starters. Andy Tuck got away well in the lead, chased by Owen Hunt, while everyone else joined the queue for third as they were held back by a couple of lapped cars. Dan Powell worked his way to the front of the queue before escaping, but he was too late catching the leaders and Andy Tuck held on for a close win over Owen and Dan. Tristan Stayte took fourth from George Taylor, Nick Taylor, Stuart Turnage's Focus, Dean Quinsee, Paul Burgess and Ben Tuck, with Stuart Pitson's Focus heading the lapped cars from Lee Loxton, Jazz Kelt, Benny Bridgman and fellow Bristol driver Alistair Edgecombe, while Tim Edwards, David Oxton, Michael Bayford and Kyle Escott retired.
DRIFT RODS
17 cars lined up for the first heat, probably an ideal number to stop the track getting too crowded, with everyone's attention focused on class stalwart Sheldon Gardiner's new creation – a Marina Coupé with Mazda Twin Cam engine! Sammy Cartwright's Carlton led away before John Hardie's BMW settled into the lead, with a long queue of battling cars closing up. They all came together on the last lap and chaos ensued, with Kai Armitage-Gardiner's Lexus sent spinning and quite a few cars picking up damage as they scattered. We didn't hear an official result and our notes got totally confused, but it looked as though Gary Godsmark emerged in front of Kai, Kev, Chris Deverick's Toyota S2000, Rikki Talboys, Steven Hart and Neil Sparks' Lexus.
The second race was without Kai Armitage-Gardiner, Neil Sparks and Kev Hardie. Sammy Cartwright, Stuart Davis' Lexus and Carl Lindsey's CLK all had turns in front before Steven Hart took over. David Wilson's Jag got up to a good second but was black flagged after his passenger door flew open, and Steven Hart crossed the line just ahead of Kev Hardie, Gary Godsmark, Chris Deverick, Carl Lindsey and Stuart Davis, with Sheldon taking a steady seventh in the Marina, ahead of John Hardie, Sammy Cartwright and Tommy Cox.
The final settled down with Rikki Talboys making a break for the lead and staying just ahead of Chris Deverick, Gary Gosmark, Steven Hart, David Wilson and Carl Lindsey, with Stuart Davis and Sheldon Gardiner ahead of Alan Cartwright's drifting Scorpio, John Hardie and Sammy Cartwright. Tommy Cox pulled off but still secured the best drifter's drophy, while Morgan Gardiner's MX5 took a bit of a beating from the bigger cars.
BANGERS
The Ladies' Bangers were back in action, with a 12 car field, racing well in the heats and getting more stuck in as the final started. Chloe Bricknell won the first heat from Linz Richens and Gemma Gardner, and Chloe won again in the second heat from Louise Ankerson and Megan Bricknell. Best of those who survived the final was Tracey Green, ahead of Megan Bricknell and Linz Richens. 9 cars survived to the closing Dash, won by Louise ankerson.
The Street Bangers, with 46 cars racing by our count, used the team racing as an excuse for some very enthusiastic action through four heats, with 43 cars still making the all-in final, and 32 of them even surviving to the Dash at the end of the day. Jack Aldridge, Louis Rayner, James Gardner and Dan Toepfer won the heats before Lee Charles took the final, from James Gardner and Reece Yemm. The Dash ended with a dash for the line in which Steven Grant just beat Deejay Tyler, Lee Charles and Bradley Dee. That led into a 7-car DD with some heavy hits before Tommy Cox was declared the winner. The team winners were declared as the "Bristol Boys", featuring Aaron Charles, Louis Williams, Lee Charles and honorary Bristolian Kyle Carpenter.