SWAFFHAM RACEWAY
Rolling Thunder Show Round 3 - 23 April 2022

The third Saturday evening of the RTS Swaffham season promised something special – the first visit to Norfolk of the European Late Model Series. The late models (essentially older examples of the sort of machinery that would race in regional NASCAR series in the US) had been regular visitors to RTS meetings in their Lydden days, but more regularly race at Warneton in Belgium and Lelystad in the Netherlands. Inviting them to the much smaller Swaffham oval was a bit of an unknown quantity, but they responded with a 7 car turnout, which was more than enough – five UK based drivers joined by the prime mover of the series, Wim Moonen and his travelling companion from the Netherlands, Peter van Hamond.
Unfortunately off track and practice issues then decimated the field before racing started. Keith Whalley's car suffered a misfire in practice that stopped him racing. Stu Whalley had already been ruled out by injury but his "reserve driver" Dave Evans also didn't race due to lack of oil pressure. Mark Carnwell had a rear axle problem and Paul Sweeney also didn't make it out for the races. The three drivers who did get out to race still put on a good show in the tight confines of Swaffham. All three had spectacular spins at least once but with no damage. Wim Moonen led Marcus Bicknell and Peter van Hamond home in the first race, while Peter finished ahead of Wim and Marcus in the second, before they opted out of a third run.
A bit of an antclimax then, but it was good to see the Late Models in action again. It's likely that there'll be one more chance to see them in the UK this year, as part of the Classic & Modern Motorsport Club's meeting at Lydden Hill on 23 July, and we hope a return to Swaffham will be on the cards at some point.
Among the regular RTS classes the Junior 1 LITRE HOT RODS naturally had the best field, with 14 cars this time. Two relative newcomers headed the pack in the heats, with Reece Checkley holding off Lewis Renwick to win both races, as the close racing back through the field meant the star drivers didn't get through the draffic in time to chase down the two rapid white tops. For the final Reece's two heat wins earned him instant upgrading to yellow, and it was Lewis Renwick who set the pace, reeling off 15 of the 18 laps without putting a wheel wrong, until the yellows came out for an incident involving the other white grade driver, Noah Buckett. The restart, for a three lap dash, saw Reece Checkley grab the lead on the outside before Lewis ran wide out of the first corner and George Smith, in what we think was his first Swaffham visit, took advantage to shoot from fift to second. Reece held on for his third win of the day, with George fending off Kyle Wells and Lewis for second – meaning that Kyle was the only red grader to get in the top three all day. Lewis Williams came home fifth from Alfie Hunt, Tom Badger, Alfie Freeman, Riley Shackleford, Frazer Denyer, Archie Mucci, Stanley Crittenden and Danny Coombes, although Alfie Freeman was docked a couple of places in the official results.
The FWD HOT RODS had an 11 car field, with new boy Ryan Mower now out of his Junior Saxo and into the ex-Shaun Brooker Fiesta, although Wes Graves was a non-starter after his engine problems at the previous meeting. Mark Rogers led away in his Corsa and held on until nearly halfway, when Chris Head completed his pass round the outside and pulled away to win. Luke Retchless took second from Mark Rogers, while Kev Head held off the rest of the pack. In the second heat Dean Fuller made the early running in his Citroen before pulling off. Mark Rogers then took it up, but Luke Retchless was making all the right oves and hit the front at half distance, going on to win from Chris Head, Mark Rogers and Kev Head. Dean Fuller was missing from the final, which saw Mark Rogers enjoy another five laps in front before Luke Retchless, already through from sixth on the grid, got past, and Luke then pulled out such a lead that he came up to the tail of the five car battle for third place. Chris head also pulled clear of the traffic to take second, while that battle for third went to Kev Head from Mark rogers, Chris Thirkettle, Jason Cox and Leon Retchless. Ryan Mawer had a steady day getting used to his new car, but had to pull off in the final, while Kev Marshall's Puma and Luke Cundy's Nova were also retirements.
Another formula looking good at the moment is the LIGHTNING RODS, which had grown to ten cars, with another two or three on the way. Some very close battles between the Sierras ensued, without too much paint swapping (by Lightning Rod standard anyway!). Danny Ellis proved hard to catch, and even harder to pass in the heats, but Jason Mills managed it in the first heat, drawing ahead on the last lap after several laps of clean side-by-side racing, with George Morris grabbing second on the line. The second heat was, if possible, even closer. Although Jason Mills made it to the lead earlier this time, he had Dave Imber and George Morris to contend with. Jason just held on at the end as they lapped a backmarker, while Danny Ellis fought back to snatch third from George on the line. With the same cars starting in the same positions in each race, somehow the races developed differently each time, and in the final Danny Ellis pulled out such a lead that the others didn't get a sniff of him. As Danny took a well deserved win, the close racing was all for second, where Dave Imber just held off Billy Stickley and George Morris. Jason Mills had to make do with fifth, holding off Sam Shirmer and Brian Smith, while Kevin Goddard completed the finishers and Russell Thornton's now nicely painted new car retired.
Rolling Thunder Show programmes are nothing if not varied and this time the open wheel action comprised two CLASSIC MIDGETS, one SUPERSTOX and one HERITAGE F1, all out together – not so much a race as a spectacular demonstration of some superb machinery, which is marking out the RTS meetings as the ones to come to if you like seeing something different on track. Obviously Rob Taylor's contemporary F2 car was the quickest, while out of the two beautiful Midgets, Eddie Ricketts' Vauxhall powered Westfield outpaced Ben Pashley's earlier 1275 BMC-powered Dastle. Crowd favourite though was Darren Burkitt, throwing around his self-built replica of George Ansell's 1967 BriSCA F1 World Final winning car, complete with 6.6 litre Pontiac engine, and as little grip as it would have had in period!
The NINJA KART heats saw two fairly dominant wins by Max Payne, but a spin by Max early in the final shook up the order for their East Anglian Championship race. After a restart, due to a spin from Harry Rumney, Rosie Taber led all the remaining laps in fine style to take the trophy, with Charlie Jnr taking second from the recovering Max Payne. Jimmie Bye, Freddie Taber, Ralphie Hendy and Sonny Hendy took the other places.
A 5-car line up in the JUNIOR SCREAMERS provided some competitive racing, with one newcomer, Daks Weir-Tubs in a Nova, showing great promise, having been persuaded to race when he'd been there for his first practice day! Max Constable won the first race as things got a bit too close behind on the last lap between Lewis Baldry's Fiesta, Emilie Smith's Micra and Ryan Rumney's Micra. Second time out Lewis Baldry held off Max all the way, while new boy Daks impressed by holding second until he started pushing on just a bit too hard into the corners. Max Constable then led the final all the way, chased by Lewis Baldry, while Emilie Smith just beat Ryan Rumney and Daks Weir-Tubs for third, after Daks wiped off his passenger door against the fence!
That just leaves the SCRAPYARD SCREAMERS, which had six entries after getting 17 a couple of meetings earlier – maybe a problem of running a "limited contact" Banger class as the contact allowed will always be too much for some and not enough for others. As the meeting started, none of those six had turned up! One car arrived, went out with the Lightning Rods but thought better of it. Then a second turned up and did the first heat on his own! When a third car arrived halfway through the meeting, they had a re-set and started again. But they finally redeemed themselves with a really close battle in the final, Steve Shaw's Focus Estate beating Jack Leeks' Astra, while Reiss Carroll's Corsa retired.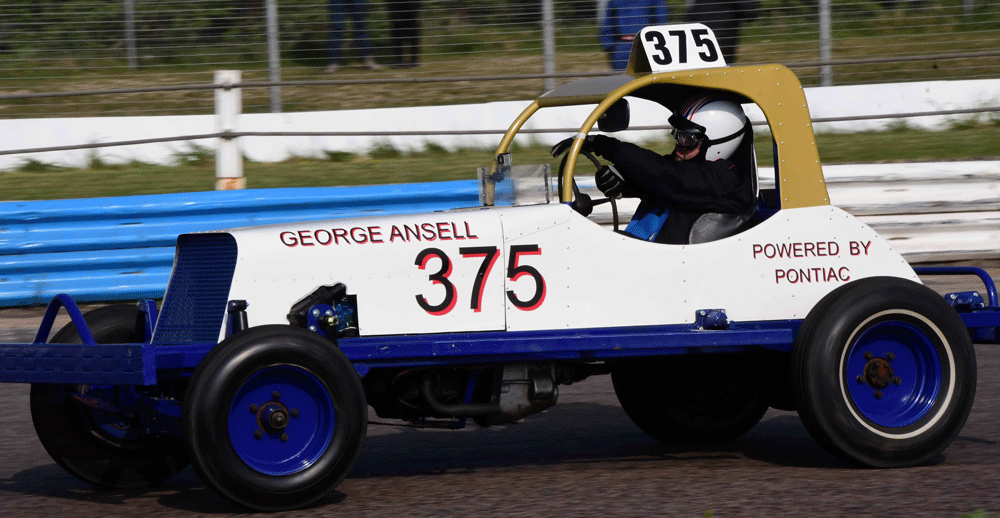 .