TONGHAM MOTOR CLUB
24 April 2022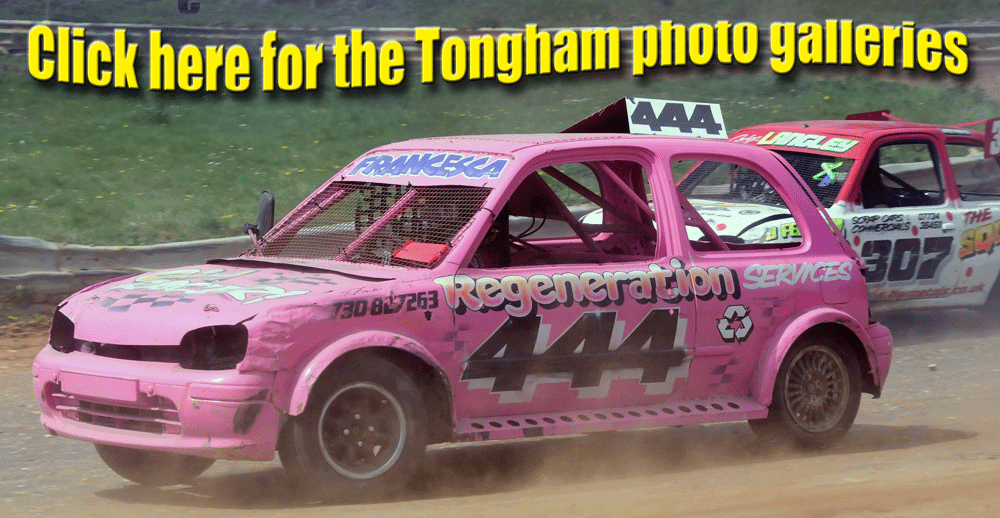 Tongham's third meeting of the year had a special addition to the programme – the first visit to Brick Kiln Farm by the V8 Stock Car Tour. Another fine sunny day brought a good crowd to see the V8s as well as all the regular SEGTO classes, with some very good grids making up for small fields in a few of the classes.
The V8 STOCK CARS have an interesting schedule this year; already having visited Standlake, Ringwood and Brampton, they'll continue to support the smaller independent tracks including Swaffham, Smallfield and Trent. The mainly (but not entirely) southern-based group, the successor to the various previous guises of non-BriSCA Formula 1 Stock Cars, currently have 16 registered drivers of whom seven made it to Tongham. Both heats provided runaway wins for Trowbridge-based Jeff Johnson, who's adapted quickly to something totally different from his previous Outlaw Hot Rods. Veteran Essex driver Peter Scott headed the chase in the first heat, holding off Cheshire's Sam Wainwright and Berkshire based Brad Moss, but unfortunately Peter was sidelined with a rattling engine in the second heat, where gold top Brad Moss came through to second. Jeff Johnson had a closer run in the final, as Sam Wainwright and Brad Moss chased him down, but as Brad spun Sam on the last lap, Jeff held off Brad to the finish. Colin Moss came in third, just ahead of James Taylor and Sam Wainwright, while Ben Edwards didn't make the final after problems in the second heat.
The PRODUCTION A races were again very busy, with 16 cars turning out. Paul Mainwaring's Micra was looking just as quick as it had in the previous round, coming through to pass Aaron Hough's Nova for the lead in heat one, and going on to win as Alex Smith headed a battle for second with Thomas Connors, Alan Goddard, Josh Simmons and Bob Salter. The second race saw Paul Mainwaring again coming through from the blue grade to lead, despite losing his exhaust, and he was still in front when the reds came out a lap early with Rory Bennetts sideways on the pits bend. Alex Smith was again holding on to second in front of Josh Simmons, Thomas Connors and Lee Winter. In the final, Paul Mainwaring took another runaway win to catapult himself to the top of the points. Josh Simmons this time came second, with Aaron Hough, Lee Winter and Alex Smith fighting over third after Alan Goddard and Thomas Connors both retired in the closing stages. Billy Turner took sixth, heading a group including Tyler Cummins, Scott Halliday and Bob Salter, while Rory Bennetts, Simon Newens, Laura Connors, Adam Dade and James Feltham completed the finishers.
The PRODUCTION B grid was up to nine cars, but further swelled by the addition of four Euro Rod racers, joining in before their regular venue of Smallfield started for the year, although a couple of them had also raced at Lydden. Chris Searle won both heats in his smartly turned-out Nova, chased closely to the finish by Kodi Page's Micra, Peter Barber's Corsa, Rob Salter's Peugeot, and the Nova of Tom Chance, with Barney Hayhoe recovering from problems in the first heat to beat Tom in the second. Chris Searle again set the pace in the final, but this time Kodi Page managed to find a way past with three laps to go, so Kodi came home the winner from Peter Barber, Chris Searle, Rob Salter, Barney Hayhoe and Tom Chance. Terry Searle's Corsa and Constantin Longu's Corsa D didn't make the final, while Dean Withall's immaculate Starlet unfortunately got collected in the first heat. Cliff Hutchings headed the Euro Rod Corsas from the back of the grid, chased by Chris McLean and Chris Kemp, although Sean Ryan's car caught fire in the second heat.
There were just three 1450 HOT RODS this time, and although a repeat battle between Jason Woodgate and Nathan Loader was on the cards, Nathan dropped back with a sick engine in his K Series-powered Fiesta, loading up with a suspected dropped valve. Robert Gray's normally ultra reliable Mini also had problems in the second heat, leaving Jason's RWD Mini-Vauxhall on his own in the final, chased by the two SUPER SALOONS. Lawrence Connors had company in the class for the first time this year, but Chris Jewer, returning in the ex-Kevin Ambrose etc etc RWD redtop-powered 106, pulled off overheating in the final, after a promising run.
The SPECIALS grid was also depleted after a few mechanical issues at the previous meeting. David Simmons' ARD-Hayabusa was chasing down Shaun Page's Kawasaki powered car in the first heat when David had his rear suspension collapse, spinning him out on the last lap and leaving two cars for the rest of the day. Mick Baigent's one-off Vauxhall-powered car followed Sean Page home each time.
The SEGTO JUNIORS had a 13-car grid, which grew to 15 for the final when the rapid Charlie Turner and Sonny Dering were promoted from the novices' class. Cherie Wells led most of the first heat but was caught and passed in the closing stages by Francesca Ellis, who came through well from the back of the gris to beat Cherie and George Langley. Francesca then pulled off a repeat performance in the second heat, waiting to the last lap to grab the lead and beat Cherie and Lacey Chance to the flag. In the final though, the close battling all the way down the field helped Cherie to get away, and this time she was never caught, taking a well-earned win as George Langley headed Francesca and previous round winner Ryan Adamson's AX (again the only non-Micra in the field) for second. The rest of the field eventually split into two five-car battling groups; for fifth place Lexi Silk headed Lacey Chance, Harry Loader, Aaron Culley and Charlie Turner, holding his own after his last-minute promotion from the novices. In tenth place James Rich held off Jayden Cushing, Sonny Dering, Tyler Cushing and Harvey Green, while Riley Rogers was a non-starter.
The NOVICE JUNIOR class, which started as a way to let a few newcomers find their way round the track, had grown to a packed grid of 18 cars – if that carries on its in danger of needing split grids at some stage. Charlie Turner, after impressing at the last meeting, took his Micra to a runaway win in the first race. Madison Lewis, this time in a Micra rather than her previous Nova, came through to take second from Chloe Duce's immaculate pink Micra. Second time out Tommy Turner's 205 led the early laps, but Madison Lewis took over and came home a clear winnwe as fin chance's Nova, Chloe Duce, Tommy Turner, Charlie Turner and Sonny Dering's smart Micra fought over second. For the final the field was slightly reduced as it was decided that Charlie Turner and Sonny Dering were ready to move up to the main SEGTO Junior class. Chloe Duce this time led all the way, while Madison Lewis pulled off when holding second. Fin Chance eventually took second from birthday boy Harry Backhurst's balloon-festooned AX, with the rest of the finishers (in very approximate order after an incident packed race) being Harris Turner, Alexia Bowen, Tommy Turner, Archie Ginn, Jamie Dade, Fin Lucas, Isle of Wight based newcomer Kara Duff and Freya Dixon. Lewis Walsh's enthusiastically driven micra retired, as did the immaculate nova of Standlake Mini regular Isaac Harris, while Skye Plant had problems before the start and Braydon Dixon was also a non-starter.
14 cars turned out for the THUNDER RODS, headed for most of the first race by John Burt's Audi A3, before Lee Tong's Clio came though in the closing stages to win, with Charlie Freeland's MG in third. Second time out the Thunder Rods were the ones to catch a freshly watered track, on what was generally a dusty day, and all were pushing on in the tight bends as John Burt again led the way. Mac Dixon was the first to find a drier line on the outside and his Fiesta surged through the field to end up taking the win from Pete Stevens' MG, Lewis White's MX3 and John Burt. In the final John Burt's time in front ended when he pulled off after three laps, while Mac Dixon retired after his wide line finally met the fence and Charlie Freeland also pulled out. Lee Tong in the Clio took command of the race and finished well clear of the pack, headed by Lewis Carter's focus from Lewis White, Shaun Maynard's MG, Steve Gear's Civic and Jamie Sayers' Fiesta. Andi Wood returned with his distinctive Toyota MR2 and took seventh from Peter Stevens, Chris Snook's Seat and Ryan Stafford, making a very welcome return to the track in a nicely turned-out Fiesta.
The MECHANICS' RACE brought out 15 cars, and suffered a couple of red flags before being won by whoever was driving Scott Halliday's Prod A MNicra. The ALLCOMERS' RACE saw Barney Hayhoe taking another step to retaining his T1 number, by winning from Lee Tong, Tyler Cummins and Shaun Maynard.
The two classes of ROOKIE BANGERS had slightly reduced turnouts, with 8 of the smaller cars and 13 in the medium-sized category, but they laid on plenty of action. Among the "micros" James Holmes, in a well-used Micra, looked far quicker than anything else on track and stayed out of trouble for three wins, finishing the final a lap clear of the only other survivors, Michael and Paul Hopcroft in a Fiesta and Corsa. The bigger group all got well stuck in, with race wins going to Brian Pugsley and Shaun Bennett, before Jeff Woolford just got the better of Shaun Bennett in the final, all in various types of Focus. Shaun Bennett won the meeting closing allcomers' race, with nobody seeming to want to finish off with a DD this time.