STANDLAKE ARENA
May Bank Holiday - 2 May 2022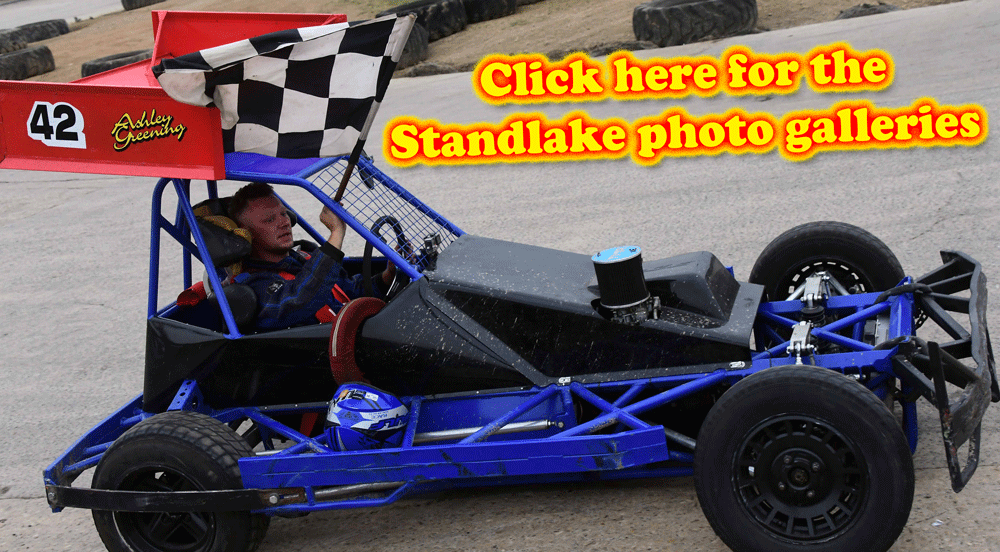 Standlake's May Day fixture saw rather dull and grey weather compared to the Easter Monday event a fortnight earlier, but that was the only downside as a bumper holiday crowd packed the arena. Of course, a good proportion of them was there mainly to see the ever-popular caravan DD, back for the first time since 2019, but before then they witnessed, and obviously enjoyed judging by the atmosphere around the track, some first class racing and action from the Outlaw F2s, Production As, 1600 Productions and Juniors, plus senior and junior Bangers.
F2 STOX
Out of an entry of 29 cars, 26 arrived for a 2-out-of-3 heat format, followed by all-in final and Grand National. A dusty track, cleaned up after recent drifting activity, greeted the 16 cars for heat one, in which Harry Heffer took an early lead, and held on in front for 14 of the 18 laps, despite all sorts of action going on around him, including an early tangle that took will Jackson and Paul Webb out of contention. Towards the end Ryan Stoodley and Keith Walding were closing on on Harry, and not far behind them was track champion Carl Lewis (with his gold wing back in place!) and it was Carl who shot from third to first in one move, before pulling well clear in the last three laps. Harry Heffer and Keith walding tangled and spun out, leaving Ryan Stoodley in second and Martin Chard just holding onto third ahead of Easter's final winner Ash Greening and Jim Muckian. Stuart Buddle, Kyle Broadway and another Easter winner, Izzy Jackson, were next across the line, with Will Jackson lapped in tenth ahead of Pete Webb, Keith Walding, Harry Heffer, Joshua Heffer and Standlake debutant Gary Kitching, who was delayed by a couple of spins, while Tyler Newman and Paul Webb retired.
Two of the non arrivals had been drawn in heat one, so there was a bigger field of 18 cars for heat two. Zak Moores led away but soon spun, while will Jackson was again in trouble with the Webbs, this time courtesy of Gary. Harry Heffer ahain took the lead and again looked very impressive as he hung on, with Keith Walding being the first to eventually put him under pressure. Keith was shot out wide by James Trigg though and James closed in on Harry, not quite fast enough as Harry held on to win from James and Carl Lewis. Keith Walding pulled off in the closing laps as Andy Webb came through to fourth from Louis Williams, Gary Kitching, Keith Richens, Gary Webb, Kyle Broadway, Pete Webb and Patrick Somerton. Charlie Heffer was the first lapped runner in twelfth, ahead of Tyler Newman, Rob Dobie and Zak Moores. Leo Freebody had his first Standlake outing after a few events at Ringwood, but was in trouble early on and eventually retired.
17 cars came out for heat three, with Leo Freebody the only one missing. Zak Moores and then Martin Chard led the early laps, but it wasn't long before Izzy Jackson hit the front and for a while she was looking like a winner – setting a good pace but steady enough to keep out of trouble – so it was a surprise when she got boxed in coming up to lap the battling Martin Chard and Zak Moores. In an instant Ash Greening had closed the gap and nipped inside Izzy, who then ended up in the fence in the company of Martin Chard. Ash went on to win with Ryan Stoodey again second from Jim Muckian. Then came Andy Webb, just ahead of Keith Richens, Louis Williams and Patrick Somerton, while Charlie Heffer was lapped in eighth, chased by Zak Moores and Gary Webb. Paul Webb, Josh Heffer, Stuart Biddle, James Trigg and Rob Dobie all failed to finish.
24 cars made the final; James Trigg was the only one of the 21 qualifiers who didn't make it, while Josh Heffer, Rob Dobie, Keith Walding and Paul Webb lined up as non qualifiers, with just Leo Freebody missing. Zack Moores once again was the first to show in the lead; Harry Heffer then took it up but a couple of laps later spun out, leaving Zak and then Martin Chard briefly in front before Ash Greening emerged in front after only nine of the 20 laps. With Ash well in front though, the reds came out with Alex Broadway's car stuck in the firing line. The restart, with 18 cars still running was for a four lap dash, but even in that time Ash Greening pulled out a clear gap again to win, with Carl Lewis beating Will Jackson for second after Louis Williams and Jim Muckian tangled. Ryan Stoodley leaded Gary, Andy and Paul Webb for fourth, while Harry Heffer took eighth just in front of Gary Kitching, Pete Webb and Stu Biddle, with Keith Richens, Zak Moores, Josh Heffer and Rob Dobie completing the finishers.
There was only 40 minutes or so to turn round for the Grand National and just 15 cars made it. Zak Moores this time lasted for 15 laps in the lead. Harry Heffer was pushing him hard, but spun and lost exactly a lap before finally passing Zak, but now only to unlap himself. Ryan Stoodley closed right in with a few laps to go, but closing on him was Ash Greening, who'd made excellent progress from the final winner's one lap handicap. When Ash caught the leaders he pushed both Ryan and Zak wide together, and completed the last four laps in front for an impressive final and GN double. We think that's the first time this has been achieved at Standlake, and it a rarity anywhere without the help of yellow flags! Louis Williams, after disposing of Gary Webb earlier in the race, made up ground in the closing stages to take second from Ryan Stoodley, Will Jackson, Paul Webb, Andy Webb, Carl Lewis, Martin Chard and Stu Biddle. Rob Dobie ended up tenth, a lap down, while Harry Heffer, Zak Moores after being spun out by Will Jackson, Josh Heffer and Keith Richens were the other finishers.
PRODUCTION A
17 of the 22 entries turned up, including four newcomers to the class. One of these, Michael Spicer in a Nova, led the first heat for ten out of 18 laps and was only passed by points champion Kelvin Passey, while Kyle Williams just beat Andy Passey for third.
Second time out Michael Spicer was upgraded to yellow, but it still made no difference as he took the lead from fellow newcomer Aaron Best's Mini and led until the last five laps, when Kelvin Passey again took it up, with Kyle Williams and Any Passey again fighting for third, but being split at the flag by Colin Passey.
For the final we'd lost one of the newcomers, Adam Ward's smart Corsa, while Lee Maslen's Mini had expired in the first heat. Aaron Best led the first few laps in his Mini, but couldn't keep the whole pack behind him and it was Kyle Williams in the Micra who made quick progress to take it up, holding the lead to the finish. Ricky Jenkins' Nova also did well in the hectic early laps and ended up second from Michael Spicer, who by now had been upgraded to blue, and still held off Andy Passey. Bradley Stafford's Nova came in fifth from Kelvin Passey, who'd been really boxed in among all the early traffic, Geoff Davis' faithful Mini and Colin Passey's Nova. Aaron Best was lapped by the leader but still put up a good showing to take ninth from Steve Goldup's Corsa, Jason Kay's Saxo and Michael Gaut's nicely re-liveried Mini. Katy Kerbey showed well while trying out a spare Nova, but ended up in the armco along with Terry Iles, while Jason Keitch, another with a new colour scheme, also retired.
1600 PRODUCTION
A 17-car field provided more than enough action here, with the first heat interrupted after Tristan Staite's Civic ended up on its roof on the back straight. Stuart Pitson's Focus had been leading up to that point, but on the restart Nick Tuck's Civic took over for a few laps before Owen Hunter went on to win in his Rover, with Ben Tuck leading the chasing group from Lee Loxton's Fiesta and Dean Quinsee, who'd been in the thick of the action bringing his Civic through from the back.
The second heat had a full restart after Ben Tuck's Civic got turned into the pit gate. Nick Tuck and Stuart Pitson them broke away at the front, while a close pack from fifth place down meant the red tops were finding it hard to make any progress. Eventually cars went spinning in all directions across the finish line, with Dean Quinsee singled out for a black flag as Nick Tuck took the win from Stuart Pitson, Michael Bayford and Ben Bridgeman.
The final started with Michael Bayford's Fiesta, Nick Tuck and Ben Bridgman's Rover all swapping the lead, until the reds came out with Tristan Staite and Lee Loxton having cancelled, while David Oxlade had already retired his Focus and Ben Bridgman was sent off before the restart. Jimmy McDermott's very tidy new Focus led the restart away, but this time Dean Quinsee was making all the right moves through the traffic, and he made it to second place after ten laps and hit the front four laps later, going on to win the 18-lap race with Jimmy McDermott second. The next eight cars were all tied together, Stuart Pitson taking third from Tim Edwards' Fiesta, Stuart Turnage's Focus, George Taylor's Yaris, Owen Hunt, Michael Bayford, Paul Burgess' Civic and Kyle Escott's Fiesta. Nick Tuck and Jazz Kelt's Civic completed the 12 finishers.
JUNIORS
32 cars turned up for what's the now standard split heat format. The first race was led all the way by the very well-prepared car of novice Isaac Harris, who's also been racing an equally smart Nova at Tongham. Chasing him all the way were fellow 2022 novices Jolene Cornish and Alfie Martell, with Aiden Howell the best of the graded drivers in fourth. The second group had a particularly fraught race, led by Ellie Packer until a pile-up involving Jack Umney and Archie Parker brought out the reds. The race had barely restarted when it was stopped again, with Finlay Kew perched on top of Harvey Breakspear, while Tyler Rayner also picked up damage. Jay Moores was left on the line at the next restart. Leader Sllie Packer got caught up with the marker tyres, then Madie Oxlade led only to be taken off by a spinning car. Alisha Lawrence emerged in the lead but was passed on the last lap by a recovered Jay Moores, who won from Alisha and Jack Fulker.
Thankfully things calmed down, just slightly, second time out. Alisha Lawrence led her race all the way, holding off a rapidly closing Finlay Kew, with Alfie Martell heading the rest. The other group were led all the way by Charlie Bendle, with Jolene Cornish taking another close second and Bobby Rowland holding off Aidan Howell for third.
15 cars qualified for the final, in which another of the novices excelled, with Harrison Quinsee holding the lead for eight laps before losing out to Alfie Martell and then Finlay Kew. Finlay went on to take his second final in a row, with Alfie next and Harrison hanging on to third, so that the podium featured an 11-year-ols and two ten-year-olds! Behind Harrison came Isaac Harris, Madie Oxlade, Braydon Richards and Aidan Howell. Bobby Rowland headed the next group from Jay Moores, Jack Fulker, Jacob Turnage, Charley St Clair and Alisha Lawrence, while Charlie Bendle and Jolene Cornish retired.
13 cars made the non-qualifiers' race with no-starters including drivers you'd never expect in the non-qualifiers, Tyler Rayner and Alfie Parker, as well as Jack Umney and Bethany Lawrence. The race was led all the way by Gary Weston, while Ella Fulker came through from the back to pip Morgan Cooper for second, ahead of Violet Cornish, Taylor Bligden, Ryan Wainwright, Cody Keitch, Ellie Packer, Joel Pledge and Ollie Ireson, with newcomer Rosie Stoton, in a very well presented car, next up ahead of Chloe Goldup, while Harvey Breakspear retired.
TEEN STREETS
23 of the Junior Bangers appeared, and they seemed to be in a very destructive mood, with lots of heavy hitting doing on. Alfie Harper and Kyle Rayner won the two all-in heats, before Tyler took the final ahead of Billy Jarvis and Kyla Seymour. 17 cars survived to the final dask, which was won by Billy Jarvis.
STREET BANGERS
The 1800 Bangers also raced in an all-in format, with the expected carnage, although 30 cars were still fir for the final, and 20 even survived that to race in the closing dash. Much attention focused on a couple of familiar names, Ralph Saunders and Steve Radband, who were having their first taste of Bangers, in aid of charity, and (mainly) kept out of trouble, both still being running at the end of the day. Among the more seasoned Banger racers, aaron Charles and Louis Rayner won the heats and James Gardiner took the final from Steven Grant and Darrell Wilkins. Dan Toepfer won the Dash while the money for the DD had to be split between Deejay Tyler and Glyn Stanton
CARAVANS
The sizeable proportion of the crowd who'd come to see this didn't leave disappointed. 12 outfits were booked in, although 13 actually appeared, taking part in a lunchtime parade in which many completed two laps – which was two laps more than they'd do once the action started! Highlights included Simon Scott hitching a ride for his Focus on someone else's caravan chassis, and Tommy cox dragging his van round on its side for ages before finding a way of tipping it back on its wheels, so that it could be properly destroyed. As far as we could tell, these were the last two left running, but whoever did win, the crowd went home happy, and the big clear-up could begin!