LYDDEN HILL OVAL
Kent Outlaw Oval Racing Round 3 - 7 May 2022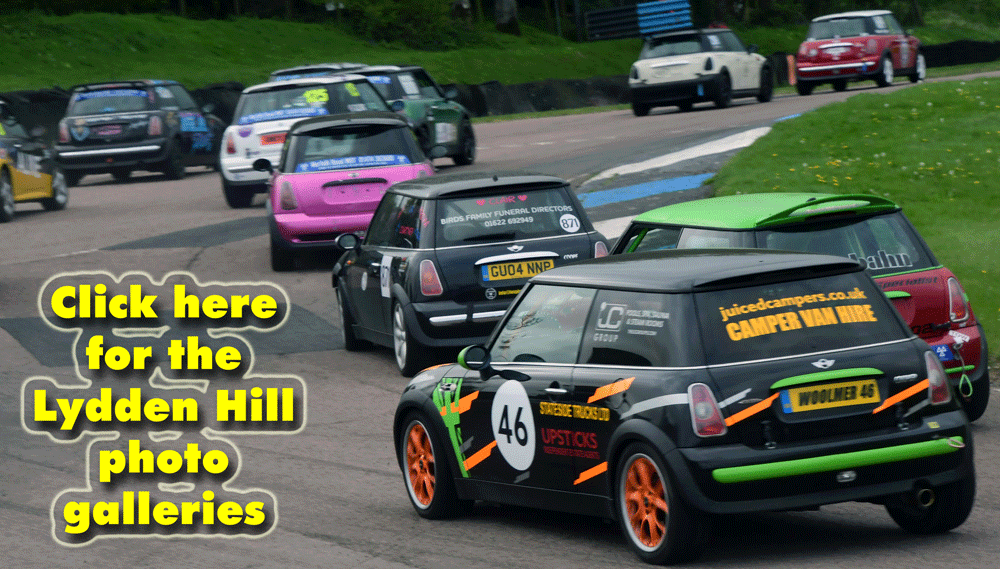 APOLOGIES FOR THE QUALITY OF A LOT OF THESE PHOTOS – THE RACING WAS SO GOOD THAT WE DIDN'T NOTICE UNTIL TOO LATE THAT WE'D MESSED UP THE CAMERA SETTINGS!
The Kent Oval Outlaws' third meeting of the 2022 season underlined the growing reputation of this new, and different, oval racing club. All five of their regular groups attracted good turnouts, with quite a few newcomers trying their luck on the fast Lydden oval, and virtually every race was close fought and entertaining, while living up to the good driving standards that the club's promoters are effectively encouraging.
The OUTLAW HOT RODS drew a 12-car entry, of which Billy Perry was the only no-show after his engine problems at the first round. Making a move from National Hot Rods to a more easy-going style of racing, Stephen Phillips was making his first Outlaw appearance with one of the distinctive AutoXross Fiestas. Jamie Ward had the ex-James Griggs 206CC that he raced briefly at the last meeting in a new red colour scheme, while the 2-litre class was swelled by Jayden Anderson, who we followed through his Junior career at Arena Essex, now in a Pinto-powered nova, purchased a fortnight earlier and a long way from being sorted!
Thankfully everyone passed Lydden's stringent (and very necessary!) noise tests this time, meaning that Colin Smith was out on track in his own car for the first time this year, and Colin's BMW Z4 won all three races, closely chased each time by Jason Anderson's Corrado. In the final, a spectacularly fast race to watch, Colin's efforts to hold off Jason backed them both up towards Dan Rolph's Saxo, and another very promising showing by Dan brought him a close third place. Jamie Ward also looked promising in his first full meeting in a National and bought his slightly tail-happy car in just ahead of Stephen Phillips, who seemed very happy with his first taste of Outlaw racing. Paul Apps, starting from the back in the heats as the points leader, went well but couldn't catch the fast-paced leading group, so he ended up sixth ahead of a much-improved Joe Cato, in his 206.
Charlie Sayers' beautiful Anglia-Zetec, providing a stark contrast on track to Stephen Phillips more futuristic Ford, again dominated the 2-litre class, chased by Gary Austin's Starlet-Pinto and Shay Anderson's Nova-Zetec. Other than Jayden Anderson, who had a good try but pulled his unsorted car out of all three races, every car completed the day and they all finished the final on the lead lap – not always the case in Outlaw racing!
While the Hot Rods provided the fastest racing, the MINI RODS were as usual the best supported, with 20 of the 1.6 BMW Minis turning up, one of these being double-driven. Groups B and C raced together, while it was the turn of Group A to race with the Lydden Rods. Ant Williams' striking yellow car made a break in the early stages to take a convincing win in the first heat, chased by Craig Woolmer and Jason Moat, who both had to battle through from the back of the grid. In the second heat, Ant took another win after passing early leader Lewis Follett, with Nathan and Craig moving up to second and third after a red flag and restart when the battle behind got too close, sending Richard Follett flying across the infield grass. With the top point scorers starting from the front in the final, it was a straight fight between Ant Williams and Craig Woolmer, with Craig holding off any all the way to win. Nathan Moat beat Steve Golding for third and Rick Percival took a close fifth from Piers Shaw. Lewis Follett got the better of Andy Reynolds, Darren Carpenter and Anthony Down in their battle for seventh, and showing that there was close racing throughout the field, Giles Parker took eleventh when Peter Jones took a trip across the infield on the last corner. Out of luck again was Richard Follett, whose bonnet flipped up over his screen.
The Group A Mini Rods also enjoyed close competition although the starting gap between then and the Lydden Rod grid proved a challenge to get right. In the first race the leading Minis had to lap most of the battling Lydden Rods and in the process Darren Peacock got past long-time leader Adam Rossiter to take the win, with Matt Haines third from Kev Ellis. In the second race Adam made the break to win and Darren just beat the side-by-side Steve Cross and Matt Haines for second. Darren Peacock took pole for the final and led the race all the way, with Adam Rossiter glued to his back bumper. Matt Haines took third from Steve Cross and then came the shared car of Julian Pitts and newcomer Dave Mayer, while Kev Ellis retired after overshooting the link road bend.
The concurrent LYDDEN RODS had grown to nine cars with the addition of Ben Reynolds, in his Autograss Stock Hatch AX, and Matthew Power, in an Escort previously seen in Angmering's Thunder Rods. Both heat wins went to Robin Miles's Citroen C2, chased by Gemma Inglis' Yaris, although David Burke in the Suzuki Swift took second on the last corner in the first heat. In the final, the battle intensified with Ben Reynolds catching the leaders, followed by Michael Burke's Honda CRX. As they got mixed in with the Minis, Ben took the lead from Robin Miles, and Ben then hung on to win after a final challenge from Michael Burke. Robin came in third from Jack Miles' Puma and Gemma Inglis. David Burke, with the Swift no longer looking quite as quick, dropped to sixth ahead of Matthew Power and Neil Longshaw's Ka, while Jon Fowler's Puma went straight on at the link road and had an exciting time stopping on the grass.
All ten EURO RODS entered turned up, with a few car/driver swaps. Charlie Goldsmith led the first race away, but it only took a lap for Charlie Croucher to get from the back of the grid to the lead, and he then led all the way, with Aaron Keynes keeping pace with him in second ahead off Ross Marchese, while Danny Reeve had a problem that sent him spinning out of fourth on the last corner. In the second race it was Aaron Keynes who made the quickest progress on the first lap, and that was decisive as it was then his turn to hold Charlie Croucher off all the way, with Charlie Goldsmith beating Steven Jeffery and Jack Macey beating Graci-Lou Burbridge in a couple of side-by-side battles that lasted virtually the whole race. A close final was in prospect, but the lead battle broke up on the third lap, with Charlie Croucher controlling a long moment round the grass at Chessons, but dropping to fifth. Aaron Keynes led the rest of the way, chased by Steven Jeffery, with Charlie Croucher recovering to third. Charlie Goldsmith's engine expired from fourth on the last lap, so Graci-Lou Burbridge took fourth from Ross Marchese, Jack Macey, Chris Kemp and Mick Letchford's Peugeot 206.
The final group, the OPEN RODS, had 15 of the 16 entries on track, although we never found out why Steve Tandy's BMW Z4 never moved from its paddock spot. Newcomers to the class included a couple of cars familiar from Angmering, where quite a few drivers are looking at Lydden as an option for when their track closes. Adam Fry brought his 1300 crossflow-engined Starlet, a car that no longer really fits in any class apart from the Angmering "Hot Rods B" while Jamie Howlett was in a Stock Rod Nova – neither really expecting to be competitive in the Open Rods' broad mix of cars. Also having his first outing of the year, but knowing his way round Lydden, was Marcus Reeve with his ex-Lightning Rod Sierra and he ran away with both heats. While Neil Tiffin's BMW and Chris Reeve's Sierra battled through from the back, having a scare on the way as Billy Wilson's BMW spun in front of most of the pack at Chessons, ending up backwards in the tyre wall and bringing out red flags. Billy was back on the grid for race two though, taking a good fourth.
With Neil Tiffin and Chris Reeve promoted to the front of the grid with Marcus for the final, it was much closer at the front. Marcus took an early lead, but Chris found a way by and the blue Sierra held off the red one the rest of the way – Marcus stayed very close but thought better once or twice of trying to outbrake his dad! Neil Tiffin was right there in third, keeping the place after he locked-up and went wide in the last corner. Billy Wilson was fourth early on but was sent off for exceeding noise limits, with exhaust damage from his earlier moment.Bob Oxenbury's BMW Compact held off Jamie Ward's Mazda RX8, Andy Burbridge's big Lexus and Nick Glover's open-top MX5. Competing the finishers were George Ball's BMW, Lily-May Burbridge's Lexus, Jamie Howlett's Nova and Barry Ward's BMW. Non starters were Adam Fry's Starlet, Robin Miles' Audi TT and Nat Oxenbury's BMW 330 Touring.
Despite a late start, after delays with the earlier bike track day sessions, and the couple of red flags, the Kent Outlaws crew raced through the programme in ultra efficient style to finish with half an hour to spare before the 6 pm curfew. The always excellent set of trophies funded by the individual class sponsors were presented, bringing another most enjoyable Lydden meeting to a close.
CLASS SPONSOR CREDITS:
Mini Rods – Norfolk Road MOT Centre (Gravesend)
Lydden Rods – RJ Blake Landscaping and Birds Family Funeral Directors
Euro Rods – CTM Performance Engineering
Open Rods – DPF Doctor and Wardie Motors
National Outlaws – Pro 2 Vehicle Solutions
2-litre Outlaws – PD Racing