TONGHAM MOTOR CLUB
8 May 2022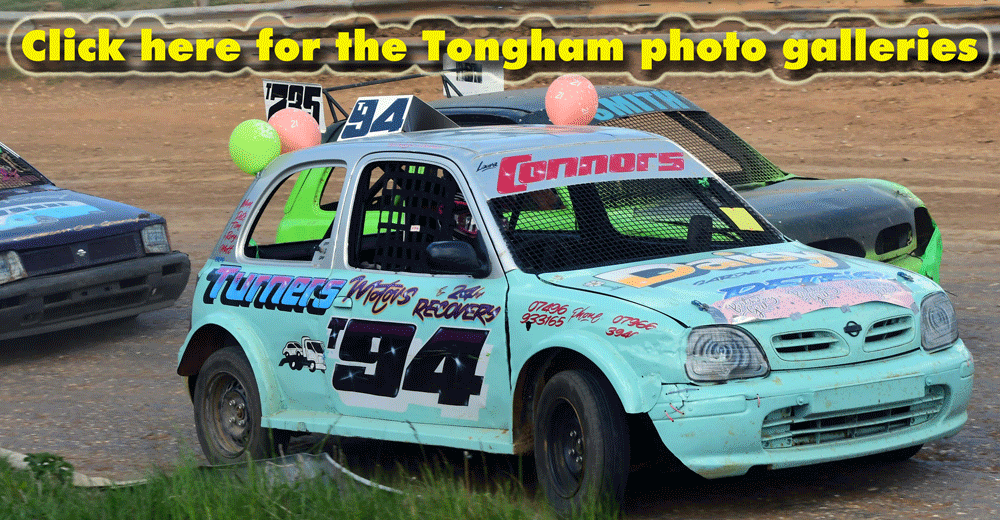 Tongham Motor Club's fourth meeting of the year, yet again in warm sunny weather, saw the club faced with quite a few problems through the day, yet was completed on schedule after some excellent racing from a strong field of 76 race cars, plus 22 Bangers. There was an unusual number of red flags during the day, and a potential disaster that the club's efforts turned round in an unbelievable time.
As the second heats began with the Rookie Bangers, a car was propelled into the pits bend barrier and somehow split the two rows of armco that face the earth bank, twisting the top row into a most unconventional shape. Most onlookers just couldn't imagine how the barrier could be made safe again, but Tongham's best brains quickly assessed it and, with the lunch break brought forward, the track crew and other volunteers got to work and racing resumed just an hour and a half after the barrier had been destroyed – a most impressive achievement. A quick turn round of races for the rest of the afternoon led to a finish comfortably before 5 pm.
PRODUCTION A had a packed grid of 18 cars for their first heat, although an early red flag was needed after newcomer Liam Matthew didn't get away. Aaron Hough led the restart away, but his Nova cut out after a couple of laps, leaving Adam Ward's new Corsa (one of the few 1 litre cars in the field at Standlake the previous week) in front before Bob Salter took over in his 106, going on to a good win from Thomas Connors' Micra K10. Alex Smith's K11 headed a nine car bunch in third place, this battle having lost Lee Winter's Nova with a heavy crunch into the back straight armco. Second time out Aaron Hough held the lead for a few laps despite a very sick-sounding engine, but Bob Salter soon got to the front to win by an even bigger margin, with Thomas Connors coming second again and new points leader Paul Mainwaring doing a good job to battle through to third ahead of Josh Simmons, after Alex Smith faltered in the closing stages.
A pile-up on the Farm bend took out Tyler Cummins and James Feltham's Micras and Simon Newens' Nova to stop the final. Aaron Hough's car was sounding better this time and led for seven laps before Bob Salter came through to take his third win of the day, with Aaron second in front of Thomas Connors. Again there was a big traffic jam fighting for the other places with Alex Smith emerging in fourth ahead of Josh Simmons, Paul Mainwaring, Alan Goddard, Lee Winter, Matt Gurr, Billy Turner and Rory Bennetts, with (almost) birthday girl Laura Conners and the 106 of Andy Backhust completing the finishers.
PRODUCTION B had a 6-car field but lost Dave Blackburn's Corsa after problems in the first heat. Rob Salter took advantage of Kodi Page's Micra running wide to snatch the first heat win, with Tom Chance's Nova completing a close three-way race at the front. The second race saw these three battling again, with Kodi hanging on to the lead all the way, Tom second and Rob third. The final followed a similar pattern until Tom got out of shape when he bid for the lead and rejoined a lap down, leaving Kodi left well in the lead. Peter Barber, getting quicker all day with a fresh-from-the-road engine after a blow-up at Angmering, briefly took second until Rob Salter retook the place, with Peter finishing third, Barney Hayhoe fourth and Tom Chance fifth.
The 1450 HOT RODS brought out the usual four evenly matched entries. The two RWDs, Stuart Blair's Cinquecento-R1 and Jason Woodgate's Mini-Vauxhall, swapped paint in the first corner while Nathan Loader's FWD Fiesta-K Series emerged in front, going on to win from Jason, Robert Gray's Mini and Stuart. Nathan followed that up with wins in the second heat and final while Jason, with his engine losing power had his hands full holding off Robert Gray in the second heat, and Robert then beat Jason into second in the final, with Stuart Blair fourth.
Laurence Connors was joined in the SUPER SALOONS this week by Ollie Adamson, with a 1400 Peugeot engine in his AX, which was eligible as a 1450 but taking the SEGTO option to run one class up. Laurence won every race as Ollie had a few teething problems.
There were six SPECIALS in the line-up although they were thinned out with Glyn Law's ARD car blowing its engine early in the first heat, while Graham Baker, in the freshly repainted ex-Danny Stafford Crossflow, dropped out in the second heat. Chris Carter threw his Hayabusa-powered ARD round in his normal style to win all three races. Mick Baigent's Vauxhall-powered car was second in the first heat, but Sean Page's Honda CBR1000 was the closest to Chris in heat two. Sean led the way in the final, while Mick Baigent's rear suspension broke and spun him out. After Chris Carter moved up to grab the lead, Sean's engine went sick and he soon pulled off as Ashley Lock came through to second.
The JUNIORS are the only class where the numbers actually increase as the day goes on. At the last meeting Charlie Turner and Sonny Dering moved up from the Novices class; this time Chloe Duce and Fin Chance were both promoted, bringing the "premier" Junior field up to 17 cars, with only one missing from all those who've raced this year. Charlie Turner led the first race, but after it had been red flagged a couple of times, Sonny Dering had the better getaway on the restart and he led all the way, with Ryan Blair being the first of the red grade drivers to get through the traffic. Ryan closed on Sonny but only caught him on the last lap, both crossing the line together, before Lacey Chance took third at the head of a 12-car train. Sonny Dering again led the second heat all the way, holding on to win even after he was caught by Cherie Wells and Aaron Culley, while Harry Loader headed a nine-car pack for fourth.
Sonny Dering was missing from the final, and Charlie Turner pulled off before the start. Chloe Duce was leading until the reds came out, with Lacey Chance in trouble. Chloe again led from the restart, and although she lost ground running wide a couple of times, it took seven laps for the pack to catch her. When they did, it was Riley Rogers who took the lead and he won from Aaron Culley, Harry Loader and Francesca Ellis. Ryan Blair took fifth from Chloe Duce and Harvey Green, while Tyler Cushing beat Cherie Ewells and Fin Chance for eighth. George Langley, Jaydon Cushing and James Rich retired, and Ryan Adamson was a non-starter.
After the 18-car turnout last time, there was a more manageable ten JUNIOR NOVICES, and this was reduced to six by the final after a couple moved up from the class and two others suffered damage. The first heat was abandoned a few laps in after Alexia Bowen had a heavy impact with the barrier; at the time Tommy Turner's 205 was leading from Fin Chance, Harry Backhurst and Chloe Duce. The second heat also had an unfortunate stoppage after Skye Plant spun, clipping the unlucky Alexia Bowen and sending her headfirst into the barriers again, while Harris Turner collected Skye. The rerun saw Fin Chance holding off Harry Backhurst to win. Harry Backhurst took the lead from Tommy Turner halfway through the final and won with Tommy second, while Isle of Wight driver Kara Duff, driving well in her second meeting, lost drive coming out of the last corner and lost third to Harris Turner. Braydon and Freya Dixon completed the finishers.
The THUNDER RODS' first heat was another interrupted by red flags; Bridport-based former Autograss driver Ash Cousins had moved on from the Prod A Saxo and Thunder Rod Astra he raced earlier in the year into an eye-catching BMW 323, but unfortunately his first taste of RWD ended when he spun and was collected by the Fiestas of Jamie Sayers and Mac Dixon. The rerun, on a watered track, was led by Keith Lovegrove's 206 until Pete Stevens took over in his MG, winning from Steve Gear's Civic and Shaun Maynard's MG. Pete Stevens also won the second race, the first on track after the barrier repair break, chased by Steve Gear, Charlie Freeland's MG, John Burt's Audi A3 and Jamie Sayers' straightened Fiesta. The final was led for a long time by Lewis Carter's Focus, with Steve Gear, Charlie Freeland and Jamie Sayers all closing up to look for a way by. Steve Gear found a way round the outside and went on to win from Jamie Sayers, with Lewis Brown just holding third from Charlie Freeland, Lewis White's MX3, Shaun Maynard, Robbie Ferguson's Escort and Dave Purt's Sierra Estate. Pete Stevens and Danny Stafford both pulled out after Pete accidentally spun out Ryan's Fiesta on the first lap, while non starters included Adam Styles' Mondeo.
The ROOKIE BANGERS are normally split between "small" cars in the first group and "medium" cars following, but when only three lined up for the first "small" race they were all thrown in together. More cars turned up later in the day, illustrating the relaxed approach to the Bangers at Tongham, although some enthusiastic action reduced the field to 13 cars for the final, with just four finishing. A running battle between Shaun Bennett and Zach Stevens in the first heat ended with them opening the door to Dave Cushing's Astra to take the win while James Holmes' Micra was again the best of the small cars. The second race was rerun after the armco splitting incident, and Zach Stevens this time just beat Shaun Bennett. In the final Zach Stevens ended up in a heap of cars on the first lap (to be fair he'd put them all there) and Shaun Bennett and Darren Jones were the only two to finish on the lead lap. A couple of the small cars were still running on the last lap, but both got removed by one of the bigger cars before reaching the flag. Just five cars survived to the closing Allcomers race in which Zach Stevens, one of a group of Standlake regulars enjoying a trip to Tongham, again won.