SWAFFHAM RACEWAY
Rolling Thunder Show Round 4 - 14 May 2022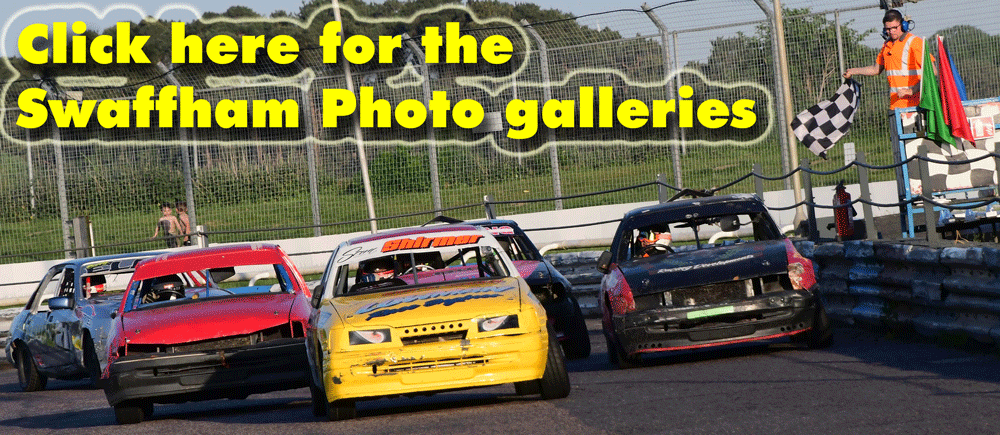 Highlight of the fourth regular Rolling Thunder Show Saturday evening of the year (now co-promoted by Pete Gould's PRI) was the first of four scheduled visits by the V8 STOCK CAR TOUR.
On a warm sunny evening, eight of the V8s turned up and put on their usual entertaining show. The first heat was led away by Birmingham driver Paul Collins in the only-Rover-engined car in the field (all the others were 350 Chevy-powered), but he was passed first by Sam Chambers and then by veteran racer Peter Scott, and the Romford driver then kept the famous Ahern colours in front. Brad and Colin Moss closed right up in the closing stages, but when Colin put the bumper in on Brad on the last lap, it sent Colin sideways; he was clouted in turn by Ben Edwards, who spun out. Brad took second from Colin, Ant Filby, Sam Chambers, Paul Collins and Staines-based Irishman Jimmy Rispin.
Heat two saw Colin Moss coming through to be the first to challenge Paul Collins for the lead, and when Colin hit the front he stayed there all the way, chased by Peter Scott. Gold top champion Brad Moss and points champion Ant Filby raced side by side, swapping places on every corner, for virtually the whole race, with Brad coming out on top from Ant, while Sam Chambers, Paul Collins, Ben Edwards and Jimmy Rispin were all lapped by the leaders.
Paul Collins held on for six laps in the lead of the final, but when Ben Edwards challenged him on the outside, Peter Scott shot through on the inside of them both, and Pete was never again challenged for the win. Brad Moss emerged in a clear second, while it was Colin Moss' turn to battle with Ant Filby, Colin ending up third from Ant and Ben Edwards, with Sam Chambers and Jimmy Rispin completing the finishers after Paul Collins pulled off.
The Junior 1 LITRE HOT RODS were contesting their Supreme Championship, which involved drawn and reversed grids for the slightly smaller than usual 13-car field, with the highest points taking pole for the final. Kyle Wells drew the top spot for heat one and led all the way, chased by Alfie Hunt and Riley Shackleford. The reversed grid put Lewis Williams' smart new car on the front row for heat two and he led the early stages before Alfie Freeman managed to draw ahead on the outside. Alfie went on to win, chased by Riley Shackleford, with Lewis Williams hanging on to third, although we lost Abbie Read, who pulled off after battling for third, while Kyle Wells and Alfie Hunt made it through to fifth and sixth, behind Lewis Renwick.
The heat results put Alfie Freeman, Kyle Wells, Riley Shackleford and Alfie Hunt at the front of the grid for the 25-lap final. Kyle it was who grabbed the lead at the start and held it all the way to take the title; it looked as though his only problem might be that the champion's red and white chequered roof could clash with his colour scheme! The next three were tied together all the way, with Riley Shackleford eventually taking second from Alfie Hunt and Alfie Freeman, and Callum Woolgar closing up in fifth. Lewis Williams took sixth and newcomer Anthony Weaver (grandson of classic Hot Rod racer Hughie Weaver, switching from the Junior Micra Stox) came though to take seventh from Stanley Crittenden. Lewis Renwick, Riley Murrell, Tom Badger, and Reece Checkly completed the twelve finishers.
The FWD HOT RODS fielded 12 cars, including former Rookie Rod winner Dean Cook in a Zatec-powered Fiesta. Luke Retchless was again on unstoppable form in his Saxo, coming from seventh at the start to be challenging Chris Thirkettle's Fiesta for the lead within five laps. Jason Cox and Chris Head emerged from the battling pack to take second and third, with Chris Thirkettle holding on to fourth. Luke Retchless was moved further back in the single-file start line-up for the second heat, with Dean Cook and Andrew Buckett's C2 promoted to the front of the queue. Andrew took over the lead and held it for half the race, but again Luke came through to take over and went on to another dominant win. Jason Cox and Chris Head again came come in second and third, but Chris was later docked three places to drop him behind Andrew Buckett, Pete Meekings and Leon Retchless.
In the final Andrew Buckett was moved up to pole position and took off to build up a big lead as Dean Cook did well to defend second place until nearly half distance. Luke Retchless made all the right moves through the close back jostling behind Dean and when Luke finally got through to second he quickly started closing the gap to the leader, only for the red flags to come out as the engine bay of Kev Head's Fiesta erupted in flames. Kev very quickly jumped out and the extinguishers quickly arrived, before the survivors lined up for a four lap restart. Luke Retchless quickly moved to the outside and took the lead, winning from Chris Head while Andrew Buckett held third from Jason Cox, Pete Meekings, Chris Thirkettle and Leon Retchless. Dean Cook completed a good first day in the Hot Rods as he took eighth from Luke Cundy and Ryan Mawer, while Mark Rogers had pulled off during the red flags.
The LIGHTNING RODS have been providing some of the best racing at Swaffham this year and this meeting was no exception despite a reduced 7-car field. Russell Thornton led all but one corner in the first heat; unfortunately that was the last one! After being challenged by Jason Mills, Russell pulled out a lead after Jason got a bit sideways, but Russell was soon under pressure again as the battle between George Morris, Dave Imber and Billy Stickley was resolved with a spin for Dave, who later tangled with Billy. George then moved up outside Russell and they completed the last few laps side by side until on the last lap Russell spun, letting George win from Jason Mills, Sam Shirmer and Danny Ellis. In heat two all seven cars were glued together as Russell Thornton held the lead again. Jason Mills finally managed to open a gap on the inside but Jason was soon racing side-by-side with Dave Imber. With a couple of laps to go they clashed, leaving Jason with a broken front wheel, and George Morris came out in front to win again from Sam Shirmer, Billy Stickly and Dave Imber.
Sam Shirmer managed to squeeze past Russell Thornton much earlier in the final, and Sam pulled out a big lead as the others fought between themselves. George Morris moved up to second but didn't look like catching Sam until Jason Mills landed in the fence to bring out yellow flags. In the three lap dash to the finish, Sam held on, crossing the line sideways to win with Dave Imber inches ahead of George Moore for second, and Billy Stickley, danny Ellis and Russell Thornton right behind.
The eight NINJA KARTS were led in the first heat by Max Payne, who held on in front of Jack Garrod, with Jimmie Bye taking third from Charlie Jnr and Rosie Taber. Second time out Jack Garrod made quicker progress to get in front and win from Max Payne, while Jimmie Bye spun out of third. In the final Jimmie Bye led the way from Max Payne while Jack Garrod, Rosie Taber and Charlie Jnr raced three-abreast for several laps. Max Payne eventually got to the front and took the win from Jack Garrod while Jimmie Bye spun out of his battle with Charlie and Rosie, with Charlie taking third from Rosie, Jimmie, Ralphie Hendy, Freddie Taber and Sonny Hendy.
The CLASSIC MIDGETS made another welcome appearance for three demo races in which Eddie Ricketts' Westfield-Vauxhall headed Ben Pashley's Tastle Type 3-BMC.
Four cars raced in the JUNIOR SCREAMERS. Max Constable won the first race in his Micra but blew his engine in heat two, chasing Stanley Crittenden who was getting in some extra races in a Micra he was using the next day in Junior Bangers at Stanstead. Max switched to make his commentating debut in the final, where Jack Garrod's Corsa held off Lewis Baldry's Fiesta.
Finally the SCRAPYARD SCREAMERS brought out just three cars. Jordan Webb's Civic was a lap ahead in the first race, but in the others started behind the father and son duo of Roy and Mushy Cornell. Jordan took until the last lap to take the win in the second race, but made shorter work of the final as Mushy beat Roy for second.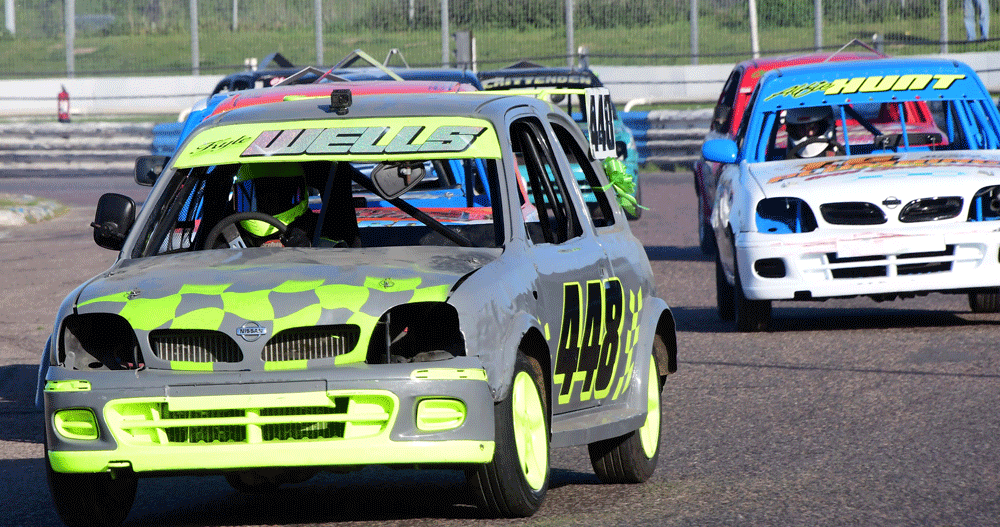 .