SWAFFHAM RACEWAY
Rolling Thunder Show Round 5 - 28 May 2022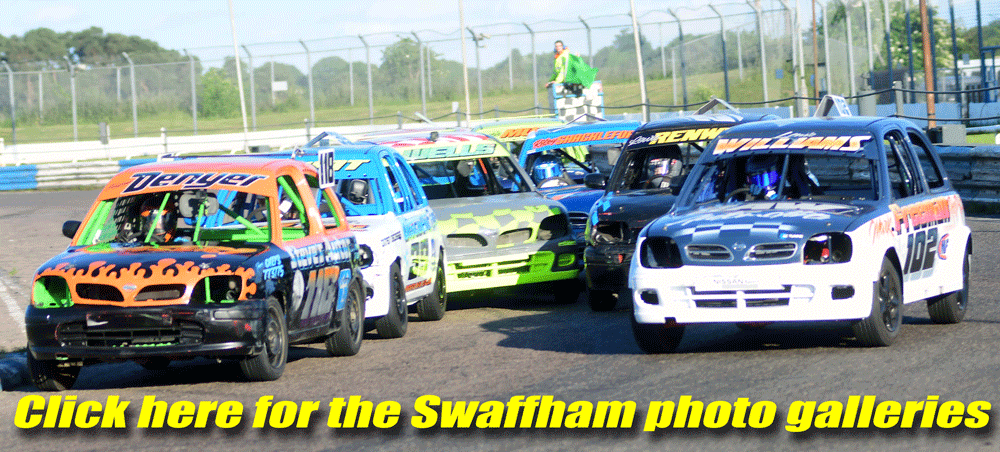 The latest Rolling Thunder Show/PRI meeting brought a few changes to the usual routine; a later 5 pm start time, with the gates only opening to racers (in theory!) at 4 pm suggested a rather tighter schedule. There were also a few personnel changes. Commentator Dave Lawday and lapscorer Mel Turner have been an essential part of the RTS team right from the start at Arena Essex, but their recent relocation to the Yorkshire Dales has sadly meant the travel time to Norfolk has got the better of them. At the same time Stacy Lawday stepped back from his duties as race manager and steward, with his new responsibilities as a soon to be fully qualified Motorsport UK Clerk of the Course (alongside sometime RTS steward Luke Caudle) creating too many date clashes.
The meeting still ran ultra-smoothly though, with co-promoter Pete Gould bringing in some of his experienced team from previous years at Swaffham and, more recently, Birmingham Wheels. Jon Covey took charge as steward, with Denise Covey lapscoring and the other member of the lapscoring team, Debbie Plumador, stepping in as commentator.
With no "guest" formulae on the programme, the entry was reduced to the six current core RTS classes, with only 46 cars in the pits in total – something that should be reversed at the next meeting (on 18 June) when the V8 Stock Cars return along with Open events (which we hope will attract some entries!) for F2/Superstox and Midgets. That meeting will see a return to the earlier start time as well, but on this occasion it didn't matter, with the 18 races rattled off in less than two and a half hours.
The FWD HOT RODS had a 13-car field with a few newcomers. Dean Cook, after his debut in an older fiesta at the last meeting, had upgraded to a 2-litre Mk6 shelled Fiesta sourced from Buxton raceway. Former Superstox racer Jayden Brooker followed his father Shaun into the formula with a Tigra, and Chris Cole made his debut in the ex-Kev Marshall Puma. The final newcomer was Alfie Brooker in a Vauxhall Adam that was supposed to be the only entry in the new "Eco Rod" class, but proved very competitive against the bigger engined, and bigger tyred, opposition.
Dean Cook led the first heat away, but the similar Fiesta of Chris Thirkettle was soon in front, and Chris pulled out a healthy lead, which he kept to the end despite catching up with the midfield traffic. Chris Head's Fiesta came in second from Jason Cox's Saxo and Kev Head's Fiesta, looking none the worse for its fire last time out, with Dean Cook in fifth. Luke Retchless' winning streak came to an end when he was nudged into a spin in the hectic early laps, but he recovered to unlap himself at the end.
The second race was led away by Chris Cole, with the slight problem that his bonnet had flipped up over his windscreen. When he was flagged off after a couple of laps it left Leon Retchless' Saxo in front and he held on under intense pressure from Chris Thirkettle and Chris Head, wth Jason Cox joining in to split the two Fiestas over the line, while Luke Retchless recovered from another early spin to take fifth.
With Mark Rodgers, Luke Cundy and Ryan Mower having problems, ten cars lined up for the final, and Luke Retchless was in trouble again, just holding onto a big slide into the first corner. Dean Cook led the first couple of laps before Chris Thirkettle took over and looked set to repeat his first heat win. With the longer 20 lap final distance, though, the chasing pack, headed by Chris Head, caught up in the closing stages, with Luke Retchless right there after another excellent recovery. Exiting the final corner Luke dived for the outside and crossed the line inches ahead to win from Chris Thirkettle and Chris Head, with Jason Cox beating Kev Head and Chris Cole for fourth. Leon Retchless took seventh just ahead of the battling Alfie and Jayden Brooker, with Dean Cook completing the ten finishers.
The Juniors in the 1 LITRE HOT RODS also had a 13-car grid, but for them it was a reduction on their normal numbers. One newcomer was Owen Langridge (son of Superstox star Chris Langridge) with, as you'd expect, an immaculately turned out bright red Micra. The first heat was led virtually all the way by Danny Coombes, who was chased in by Lewis Williams while Archie Mucci held off Anthony Weaver for third and Alfie Hunt headed the battling red graders in fifth. Second time out Danny Coombes was out of luck, pulling off before the end, but this time the race was dominated by Frazer Denyer, who came under increasing pressure and ended up leading a close train of Archie Mucci, Kyle Wells, Riley Shackleford, Alfie Freeman and Anthony Weaver over the line.
The final was down to ten cars with Danny Coombes, Jamie Tanner and Noah Buckett missing. Frazer Denyer again took the lead, and held on to half distance, but this time Anthony Weaver found a way past before disappearing into the distance to take a convincing win in only his second meeting in the class. Frazer held on, just, to second but Alfie Hunt, alongside him past the flag, was dropped a place, promoting Archie Mucci to third, with Kyle Wells right there in fifth. Riley Shackleford, Alfie Freeman and Lewis Williams filled the next places ahead of Owen Langridge, who had a very impressive debut from the back of the grid, while Lewis Renwick pulled off after spinning out of the battle for second place.
The third biggest grid was the LIGHTNING RODS with seven cars providing as much action as ever. Russell Thornton continued his recent form by leading the first heat away, but lost the lead to Jason Mills. Jason then got boxed in lapping a backmarker and ended up spinning, promoting Sam Shirmer to the lead. Dave Imber closed up to apply pressure, getting alongside as Sam got sideways on the last lap, but Sam held on to win from Dave and George Morris, now recognisable at last in his own orange colours. In the second heat Dave Imber was the first to catch Russell Thornton for the lead, and Dave then pulled away to win as the action all took place behind him. Sam Shirmer locked-up and accidentally spun out Billy Stickley; Billy then rejoined a lap down and, when the time was right, repaid the compliment and earned himself a chat with the steward! George Morris ended up second from Russell.
Russell Thornton again led away in the final, but this time nobody could pass him. There was a sort-out behind as Sam Shirmer took to the outside to pass Jason Mills. When George Morris and Dave Imber went for the inside they all ran out of room, and Dave spun across George's bows. Sam quickly caught Russell but Russell couldn't be budged and held on for a very hard earned first win, from Sam, Jason, George and Billy, with Dave Imber and Kevin Goddard lapped.
A few regulars from the NINJA KARTS were missing, leaving a grid of six. Jimmie Bye held off Charlie Jnr and Harry Rumney to win the first race. Jimmie held on again in the second heat, with Harry, Ralphie Hendy and Charlie right behind him. The final was unfortunately interrupted when Harry Rumney had a hard encounter with the armco. Ralphie Hendy was well in front at the time and on the restart he held on impressively to win from Charlie Jnr, Jimmie Bye, Daniel Holland and Sonny Hendy.
Just two JUNIOR SCREAMERS turned up but raced closely all day. Madison Lewis, who's also a regular (with different cars) in Tongham's Novice Juniors, won the first heat and final in her Fiesta, while Emilie Smith got past to win the second race in her newly signwritten Micra.
Finally, it was the SCRAPYARD SCREAMERS, with five cars on hand although Mushy Cornell's Civic never made it to the track. The assorted Hondas of Liam Webster and Ross Lucas topped the first heat but Glen Olley's Focus Estate beat them both in the second. In the final Ross managed to hold off Liam and Glen, with newcomer Joe Barber's Primera in fourth.
.