EAST CORK HOT ROD CLUB
Glounthoune Tyre Centre Funsprint
Watergrasshill - 12 February 2023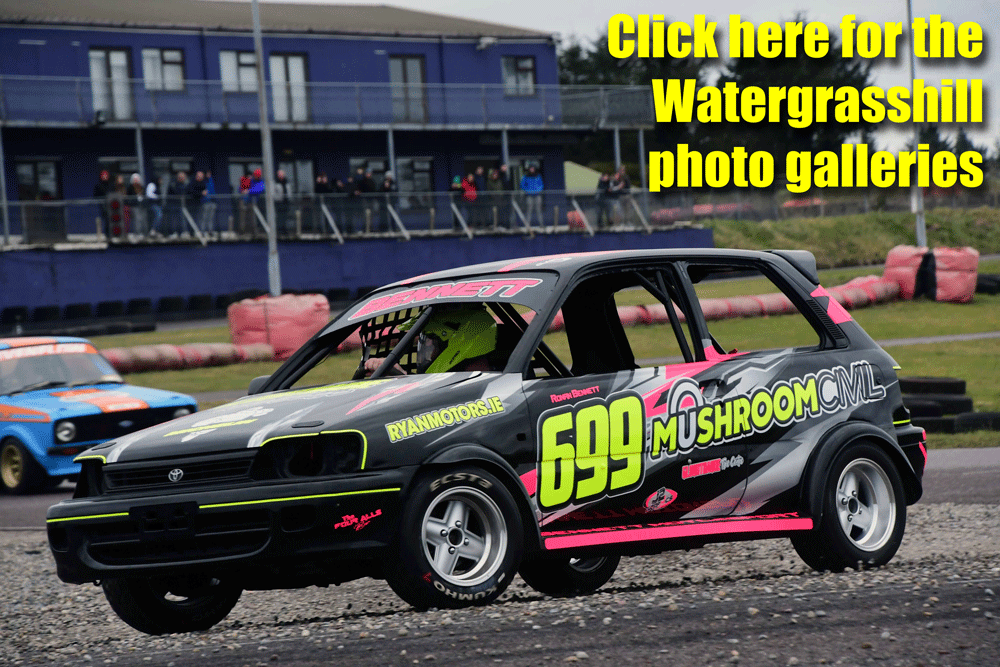 The East Cork Hot Rod Club's "Funsprint" at the Watergrasshill Kartworld track is now an established curtain raiser for the Irish season, with this year looking to be more promising on the racing front with the news that the Waterford Raceway has found a route to return to regular racing action.
The East Cork event has proved so popular that, for the last couple of years, it's also acquired a summer edition, which looks to be on the cards again for this August, but for now all the focus was on blowing away the winter cobwebs. The original date, at the end of January, had to be rescheduled a fortnight later, and a few entries dropped out as a result, but the meeting still hit its cap of 100 entries, of whom 92 actually turned up on the day. A little bit down on the 109 drivers who recorded times last year, but perhaps a better number to ensure a smooth running event. Other factors that made a difference were a much more disciplined use of the space in the top pit area, so that nearly everybody could be accommodated there, and most importantly a dry and mild day. There was also a new title sponsor, with Kevin McGann's Glounthoune Tyre Centre stepping in with some very valuable support.
The on track action started just after the scheduled 9 am, and a few drivers were quickly finding their limits on the still slightly damp track. With three cars running at a time, well spaced off the start, there are strict instructions that anyone catching the car in front mustn't overtake but should come back for a rerun. As first lap spins and off course excursions came thick and fast, there were quite a few reruns in the first runs, and one or two recovery jobs needed, most notably when Peter Keohane's rapid Peugeot 106 headed for the undergrowth! The only casualty, though, was Peter's front bumper.
Conditions improved throughout the day, to the extent that all but twenty drivers put in their fastest time on their last run, and times for the three lap runs fell by an average of 15 seconds or so during the day. The second and third runs, with a short lunch break and drifting passenger rides in between, were completed in good time, just a few minutes after the 3.30 cut-off time for adding in a fourth run. The fourth timed run wasn't needed anyway, because a high proportion of entrants had come equipped with a passenger seat in the car. Last August's meeting had raised over 1,000 Euro for charity from passenger rides, and this time there was a never ending queue of customers wanting to part with 10 Euro for a spin, with all the proceeds going to Maymount Hospice in Curraheen, Cork. The track stayed open for well over an hour with some lurid driving to give the passengers their money's worth. The very satisfactory end result was a cheque for 1,500 Euro being handed over to Marymount the next day.
Back to the competitive stuff. The fastest times around Watergrasshill these days tend to come from the very rapid and manoeverable Autocross BUGGIES, mostly powered by 750 or 600 Suzuki engines, and this time there was an epic battle for overall honours between two drivers schooled in the Autograss Junior Specials. Daryl Culbert's Casmat headed the first run and although Jack Brennan in the Belgian-built TN5 was quickest on the second and third runs, Darryl's advantage from his first run wasn't overhauled and he took the top trophy by a margin of 2.73 seconds over the three runs. In an event tailor made for car sharing, their respective fathers were also at the sharp end with Trevor Culbert taking third and Peter Brennan fifth. They were split by former event winner Alex Loftus, this time sharing the Semog buggy of Brendan Murphy. Another former winner, Mike Ward, looked very unspectacular compared to the buggies in his Hayabusa-powered Radical PR6 sports racer, but as usual was deceptively quick on his way to seventh in class, while other buggy contenders were Colin O'Meara in the LDR Casmat and the shared Ya-Car of Kenneth and John Cullinane.
The cars many of the good crowd of spectators had come to see were the fearsome machines of international Drifting stars James Deane and Darren McNamara. As well as laying on some spectacular demo runs, both were entered into the timed competition, in the 2-LITRE (and over!) RALLY CAR class and James in particular showed that he could drive his 900bhp monster Toyota-powered BMW relatively tidily when he wants to and took the honours for fastest overall saloon. Darren was less willing to tone down the sideways stuff and he was a few seconds back before missing the third run, after blowing a tyre in one of his lunchtime runs with a distinguished passenger on board!
Second in class to James was former Opel Manta driver Ian Laracy, now at the wheel of one of the SHP-built "Irish Supercar" racers. The first actual Rally car was familiar Autograss face Alan O'Riordan, sharing his Subaru Impreza with son James. Barry Meade was impressive in his 2.5 Cosworth-powered Mk2 Escort and just missed out on the trophies as he beat Michael Murphy's Sunbeam Lotus. Also in the class was Lightning Rod racer Ronan O'Connor, who looked totally calm and smooth at the wheel of his Sierra, which was trying its best to be an absolute handful. Two more spectacular Drifting-orientated cars completed the class; Derek O'Brien's Ford Sapphire and Luke Buttimer, making the massive leap from the Junior Micra he'd run at previous Watergrasshill events, into a 2.8 BMW.
The closest rival to James Deane for the overall top saloon actually came from the 1600 FWD HOT ROD class, with Shane O'Shea putting up a superb performance in his Toyota Yaris to finish less than two second adrift. Runner-up to Shane in his class was Luke O'Donovan, driving well in his "Red Bull" Honda-powered Starlet, while Wayne O'Shea's upgraded Micra had problems on his last run.
The National Hot Rods have been contenders for overall victory here in the past, but this time had to be content running for class honours in the 2 LITRE RWD HOT ROD group. Mike McElligott, often a contender in Rosegreen's Open FWD class in a BMW Mini, brought out his Peugeot 206 and beat regular Watergrasshill entrant Tom McSweeney's Tigra. Thomas Daly completed the class in his 2-litre Hot Rod-spec Corsa.
The 1600 FWD RALLY CAR class was one of the most hotly contested. Jason Ryan took an early lead in his Starlet with a very quick first run that put him in seventh place overall, but he was headed on the second and third runs by Owen Murphy, having a guest drive in Mick Boland's Citroen C2 R2 and Owen ended up stealing the class win by less than a second. Sometime Micra Hot Rod racer Derek Butler, in his Civic, put in three fast and consistent runs to take third in class, ahead of Mick Boland himself, sharing his hard worked Citroen three ways, with Paddy O'Dwyer making sure all three drivers were in the top six. Splitting Mick and Paddy was Stephen Healy, sharing his circuit racing Fiat Punto with uncle Seamus Healy. Also competitive in this class were Damien Bennett, sharing Peter Keohane's 106, Aaron and Kyle Browne's shared Civic, that ended up rather smoky, Ross Ryan in father Jason's Starlet, Ger Walshe's 206 and Podge Cronin's Civic.
The 1600 RWD RALLY CAR class had a mixed entry, but just topping the list on all three runs was Mike Deane's immaculate Mk2 Escort. Just behind him and taking second and third places was a Corolla Twincam, shared in spectacular style by drifting star Jack Shanahan and his dad, none other than former Autograss ace John. Seamus Anderson's Starlet was the only 1600 RWD Hot Rod entry so ended up in this class and drew the biggest cheer of the day when he dropped the car back on four wheels after coming so close to rolling it on his third run. Completing the class was the Mazda MX5 of Andrew McCormack.
Fastest of the massed ranks of Micra K11s was Killian Swayne, who was a very creditable 15th overall, against some theoretically much more potent machinery, while winning the 1300 HOT ROD class. Second was Derry Long in the familiar Aaron Browne grass racing Starlet, with the other class trophy going to the immaculate new Starlet of Ronan Bennett, having its shakedown outing. Conor Harty was out in the ex-Stephen Healy Fiat-powered Starlet, while Kildare driver John Gray stepped back from his Stock Rod to have a run in his original Micra, but had a few problems with it.
The 1-LITRE HOT ROD class was as hotly contested as ever, but Ted McGrath convincingly headed the order on each run with his regular Rosegreen Production-winning Micra. James Deane (the other one!) was second ahead of Jack Hickey, sharing cousin Shane's Micra, while Killian Cotter brought his Micra in fourth ahead of Shane Hickey and Maurice McElligott. Brian McSweeney's "boxy" Starlet, Nick O'Leary, breaking off scrutineering duties for long enough to run his trusty K10 Micra, and the Starlet of Conor Cotter completed the order.
The STOCKS class featured three drivers and two cars, but with the shared Focus of Joe and Joey Dilworth giving trouble all day, Charlie McNamara had a clear run to the top trophy with his BMW Mini. The Focus finally ran relatively cleanly for young Joey on his last outing, when he actually beat Charlie's time, so Joey took second ahead of his dad.
The LADIES ended up with three runners and it was Catherine Walsh in her always immaculate Micra who set the pace throughout, although she was given a good run for her money by Chloe Anderson's Starlet. Completing the trio with a good debut outing was Sarah Fitzgerald in a 1-litre Micra.
Then it was on to the very busy JUNIOR classes. The fastest outright Junior time of the day was clocked on his final run by Dean McElligott, but he was deemed a bit too quick for all the other Micras and was moved on his own to a modified class, running against the Autograss Junior Special of Darragh Kenny, with Darragh narrowly winning the class on total time.
In the 19-strong Junior Production class, young Sean Ryan impressively headed the times after his first run, but from then on Cole McGann continued his winning ways from the past season, eventually winning the class by five seconds from Sean. Oisin O'Gorman came in a close third ahead of Callum Swayne and Conor Burke. Then, we weren't seeing double, there was a second bright green no 916 Micra going very quickly round the Watergrasshill twists and turns. This was actually Cole McGann's spare car, in the hands of his friend Kaylem Flavin, who'd never driven anything before but looked extremely impressive, so we hope he becomes a regular racer. Just outside the top six, lots more Micras were very close on time, with Aaron Kenneally ahead of Daryl Deane, the Autograss car of Sean Beresford, Cian Brennan, Tommy O'Dwyer, Jack Roche and Dean Deasy, with the only non-Micra being Adam Galvin's Autograss Yaris. Completing the class (every Junior received a trophy in a nice touch from Glounthourne Tyre Centre) were more Micras for Luke O'Connell, Ronan Sisk, Evan O'Mahony, Ben Fitzgerald and the unlucky Joey McElligott, who had problems on his first run and didn't make it out again.
Uniquely this event gives the girl racers among the Juniors their own class trophies to race for. With six entries, a well deserved win went to Molly O'Sullivan, who had the day's biggest advantage in any of the classes, nearly 30 seconds in front after three consistent runs. Sherise O'Shea came second and Maria O'Keeffe was third in her first ever event, ahead of Katelyn O'Connell, Anna Fitzgerald and Emily Sisk.
Once all the passenger rides were over, a very impressive array of trophies (again, literally a lorry load) were handed out and it was time to thank Stephen O'Shea and his East Cork team for another very well run and entertaining event. We'll look forward to the next one, but hope to see plenty of racing action before then!
WATERGRASSHILL RESULTS FILES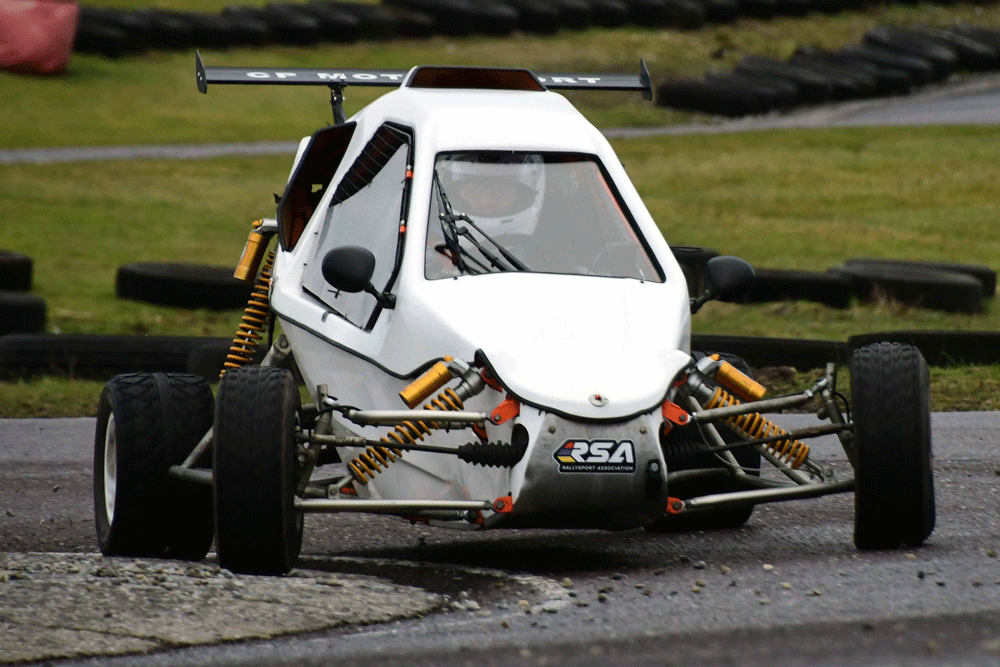 .