SWAFFHAM RACEWAY
Rolling Thunder Show Winter Round 2
18 February 2023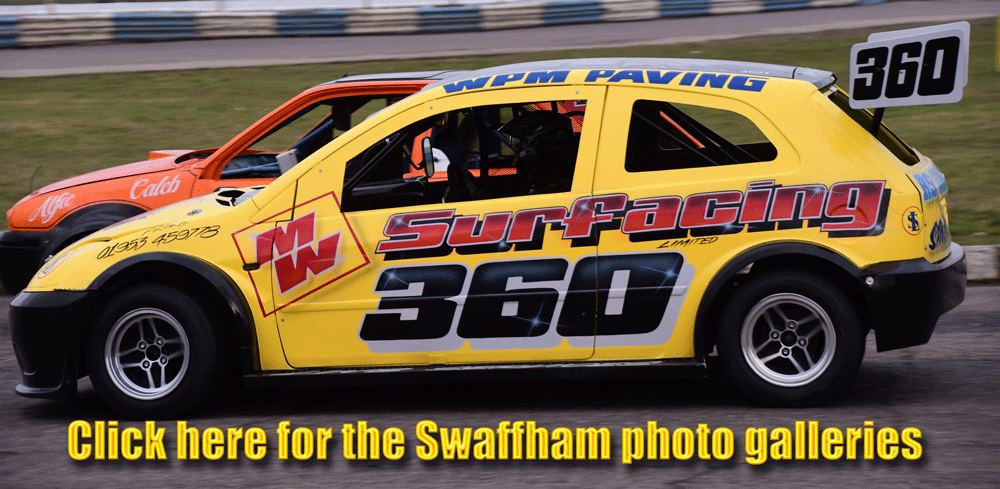 The second of the Rolling Thunder Show's two out of season Saturday afternoon events showed an encouraging boost in support, with 37 entries, compared to 20 for the January session. In overcast but dry conditions some very competitive racing resulted, boding well for the regular season that starts on 4 March.
The biggest news was the return of the FRONT WHEEL DRIVE HOT RODS, with four of last year's regular drivers being joined by one Lincolnshire visitor. With a number of cars being built or rebuilt, the local drivers seemed confident that once the season's properly under way, they'll be getting back to last year's average turnouts of a dozen or so cars. There's also a possibility that with a few changes, such as relaxing the single tyre rule that applied for the last three seasons, more visiting drivers can be encouraged. This time, Chris and Kevin Head arrived with their Zetec-powered Fiestas immaculately re-panelled and liveried, along with Chris Cole's Puma and Andrew Buckett's Citroen C2, while Scunthorpe regular Kev Brocklesby turned up in Jem Probert's 1600 8-valve Corsa.
The racing proved as close as it ever was. Chris Cole took the first heat, although he was neck and neck for most of the race with Chris Head, who couldn't quite get far enough ahead to cut in from the outside line. Second time out Kev Brocklesby in the slick-shod Corsa had a big sideways moment in the first corner, resulting in Kev Head shooting through from fourth place to the lead. The race developed into a Head family exhibition of close side-by-side racing, with Kev holding off Chris all the way, while Kev Brocklesby had a good race to fend off Chris Cole and Andrew Buckett for third. Kev Brocklesby's pink Corsa made the early running in the final, but Chris Head this time found the grip he needed on the outside and hit the front, pulling away a bit to win from the Lincolnshire man, while Kev Head squeezed past Chris Cole on the last lap for third. Andrew Buckett was well in contention before a quick spin dropped him a lap down.
The other local headline class needing to rebuild its support is the JUNIOR 1-LITRE HOT RODS, which this time featured an immaculate new car for local driver Emilie Smith, and a new driver in Karl Renwick. Karl picked up pace as Emilie won the two heats, before Emilie opted to start with a lap handicap in the final. Karl drove well in front but was slowed by a brush with the armco, letting Emilie through. Emilie then backed off a bit and was caught again by Karl, who repassed her on the last lap to take a debut win.
Two scheduled classes dropped off the programme; no LIGHTNING RODS turned up while there was just one SUPERSTOX with Craig Davis hoping to debut a car he'd been preparing for a couple of years. As he was also looking after three Junior racers, Craig opted not to take the car out to run on his own.
In contrast the NINJA KARTS had one of their best recent turnouts with twelve drivers present. Two of these, Karter Smee and Isabelle Rumney, looked promising in practice but hadn't yet had a chance to take their novice tests, meaning they couldn't race, but the other ten put on a good show. Thomas Wilkins came through the field quickly after a restart to take the lead from Freddie Taber and win the first heat. Thomas was out of luck in the second heat, going backwards into the armco avoiding a bunch of spinning karts. Freddie Taber led away from the restart and held off Parker Smith for the win when the reds came out a lap early after an incident for Stanley Mattioli. Everyone made it back out for the final in which Daniel Holland came through well from the back to take the lead from Freddie Taber at half distance. Daniel was caught by Thomas Wilkins but held on to take the win with Thomas second and Parker Smith heading Maddilyn Davis, Freddie Taber and Tyler Stephens for third. William Myatt was next up, on his first RTS outing, heading fellow newcomers Marley Smee and Frankie Read, while Stanley Mattioli's unlucky day ended with another retirement.
The JUNIOR SCREAMERS also featured a ten car grid and action packed racing. The Fiestas of George Davis and Jack Pilgrim headed the first heat, while the battle behind involved Billy Parker's Fiesta, Teagan Davis' Peugeot, Evie Smith's Fiesta and Danny Coombes' Micra, after Josh Garrad's Micra got spun out. Second time out Billy Parker led all the way, under pressure from Danny Coombes, Teagan Davis and Jack Pilgrim. The final needed a restart after a first lap spin, and George Davis then held on in front, just beating Teagan Davis, Josh Garrad and Evie Smith. Next up were Isabella Draper's Fiesta, Billy Parker, Tommy Rolfe's sick sounding Micra and the Micra of new Ninja graduate Rosie Taber. Jack Pilgrim brought up the rear after a spin and Danny Coombes pulled off.
Finally, there were seven cars in the SCRAPYARD SCREAMERS. Matt Butcher's Fiesta just held off Nick Coombes' shared Micra to win a very close first race. These two again headed the second heat, but staying right with them were Scott Davis' Astra, Stuart Back's Civic and Dan Booker's Focus. The final was stopped to separate the tangled Stuart Back and Dan Booker, and Matt Butcher then led to the finish, blowing up as he crossed the line just ahead of Nick Coombes. Brooklyn Parker's Micra came in third ahead of Dan Booker, while Joe Barber's Focus was among the retirements.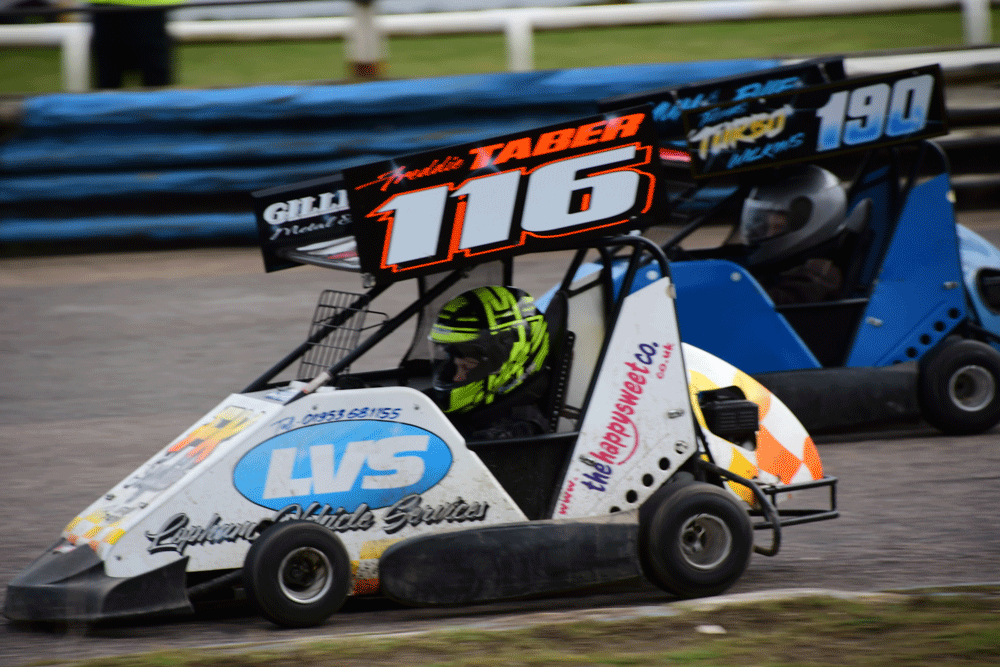 .