STANDLAKE ARENA
26 February 2023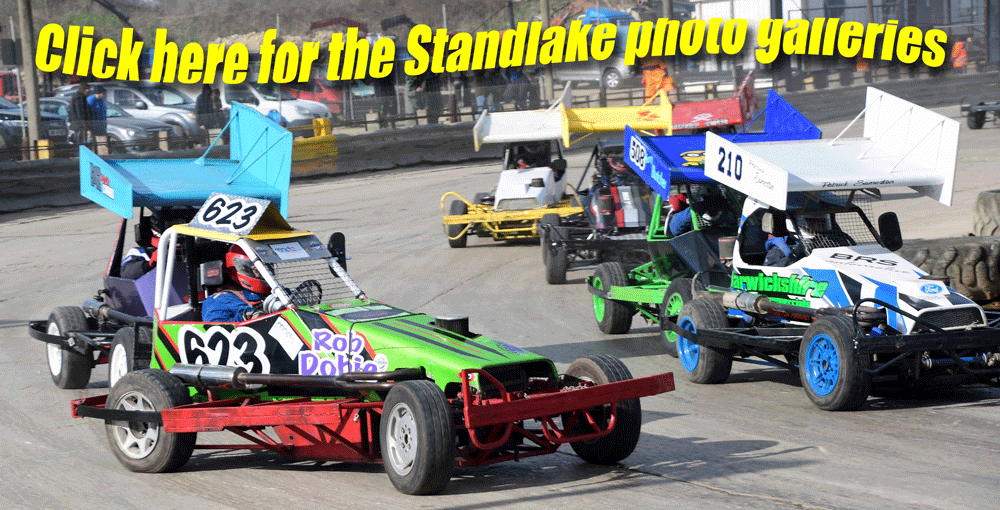 Our first visit of the year to Standlake Arena featured the first 2023 outing for the Outlaw F2s. The Hot Rods had been in action at Standlake a fortnight earlier but we missed that due to a clash of dates with the East Cork Hot Rod Club's Sprint at Watergrasshill. Standlake's second date produced a well balanced programme with 20-odd entries in every class, with dry and alternately sunny and cloudy weather – pretty much ideal conditions for a February event.
The racing was consistently good all day, with just a couple of moments of unwanted drama in the F2s and the Production A final. 23 F2 STOX were in the pits and 22 made it out onto a slightly dusty track for the day's first race. Making the early running was the ex-Tom Smart Randall car of Owen Strong, grandson of legendary Autograss marshal Paul Strong. Owen held on in front until half distance when Zak Moores took it up, but tearing through the traffic from the red grade was Jim Muckian's now all gold car, and Jim hit the front in the closing stages, chased all the way by Andy Webb, with Zak Moores in third ahead of Patrick Somerton, Gary Webb, James Watts and Tom Stoodley. Harry Heffer, Mick Jackson, Martin Chard, Izzy Jackson and Jess Webb all ran well while Terry Butcher and Keith Walding recovered from an earlier tangle.
The second heat saw Terry Butcher establish himself in an early lead, with the track now much greasier than it had been earlier. The conditions had already caught out a few drivers when Kyle Broadway ploughed heavily into the armco, with Owen Strong clipping him and also going in hard. As Kyle bounced out of the fence he was collected head-on by Izzy Jackson, and then the next bunch all piled in with F2 newcomer Damian Light (the Drift Rod regular having a one-off outing) ending up wedged underneath Izzy's car, with Andy Webb in turn buried under Damian's back axle. Once the debris had been cleared the surviving 14 cars restarted with Harry Heffer leading the remaining laps to come home the winner from Tom Stoodley and Keith Walding. Charlie Heffer held off the battling Jim Muckian and Gary Webb for fourth, and the chasing train of cars comprised Zak Moores, Martin Chard, Tyler Newman, Terry Butcher, Mick Jackson, James Watts, Patrick Somerton and Rob Dobie.
19 cars made it out for the final, including Andrea Nash, who was thrown in at the deep end for her first ever F2 drive after her car refused to go for the heats. It proved a very fast and furious 18 laps with Terry Butcher leading most of the way, but going into the closing stages with James Watts and Harry Heffer right on his bumper. It was Harry who grabbed the lead and came home the winner from Tom Stoodley and Jim Muckian. with Andy Webb, James Watts and Terry Butcher completing the top six. Gary Webb got into trouble in the dash for the line and was collected by Martin Chard as Zak Moores, Patrick Somerton, Tyler Newman, Izzy and Mick Jackson and Jess Webb came through. Kyle Broadway and Rob Dobie were also in contention, while Andrea Nash did well to stay out of trouble and made it to the finish. Keith Walding and Charlie Heffer were early casualties, and Owen Strong, Damian Light, Steve Goldup and Nathan Lewis didn't make the grid.
20 cars came out for the Grant National as Steve Goldup rejoined the fray after problems in the first heat. Harry Heffer, Tom Stoodley and Jim Muckian all started from the one lap handicap position. Reds flew at the start as Kyle Broadway was left facing the wrong way, but they all made the restart and yet again it was Terry Butcher establishing himself in the lead. In another very fast race, Terry was still in front as the last lap board came out, but James Watts was right with him and down the back straight James made his move, snatching the win from Terry, with Patrick Somerton, Zak Moores, Izzy Jackson, Jim Muckian, Harry Heffer, Keith Walding, Tom Stoodley, Andy Webb and Tyler Newman all closing up behind. Jess Webb and Martin Chard tangled in the closing stages, but Rob Dobie, Charlie Heffer, Kyle Broadway and Mick Jackson finished, as did Andrea Nash after another steady learning race.
PRODUCTION A had a healthy field of nineteen cars, including a few graduates from the Juniors, although Charley St Claire's Mini didn't come out and Cody Keitch's Nova only appeared in the final. Davis Heale's Nova made the early running before being passed by Josh Cornish's Mini, but when Josh had a quick spin Dave Robins' Micra took over and was soon half a lap in front. That margin was reduced a bit but Dave still came home a clear winner from Liam Ivins' Nova, with Lee Maslen's Mini holding onto third from Kelvin Passey's Nova, while the Minis were doing well with class stalwarts Geoff Davis and Michael Gault credited with completing the top six. The second heat saw another Mini leading away with Madie Oxlade up from the Juniors and looking good until she spun to bring out the yellows. Dave Robins was in front for the restart and took another convincing win, while Andy Passey, Kelvin Passey, Liam Ivins, Mike Spicer, Ricky Jenkins and Katy Kerbey were next in line in their Novas, ahead of Kian Williams' Micra.
The final had the day's biggest grid, with five of the 18 starters going from the non-qualifiers' grid at the back. Madie Oxlade again went well from the front, while Kelvin Passey quickly carved through the traffic to second. A few dramas behind saw Kyle Robert' Corsa, Josh Cornish, Barry Hudspeth's Nova and Ricky Jenkins in trouble, but that was all forgotten when a minor brush with Dave Robins saw Andy Passey facing the wrong way on the start straight. He was still there when the pack came round; Kelvin aimed between Andy and the fence and came out with slightly narrower wheel arches, but an unsighted Dave Robins ploughed head-on into Andy. Both drivers climbed out of the wrecked cars more or less unharmed and the eight survivors lined up for a six lap dash to the finish. Kelvin Passey led from the restart to win from Liam Ivins, Kian Williams, Katy Kerbey and David Heale, while Barry Hudspeth, Madie Oxlade and Lee Maslen joined the long list of retirements.
17 cars lined up for the 1600 PRODUCTIONS with Jordan Bowen in an ex-Chris McLean Euro Rod Corsa the first to show. He was overhauled by the Civic of Adam Spencer, which went on to win from Jordan, Mark Lewsey's Focus and Kyle Escott's Fiesta, with Owen Hunt's Rover, Rhys Cane's Astra, Dean Quinsee's Yaris, Shaun Turnage's Focus and Paul Burgess' Civic all battling for the other points positions. Second time out, with grids reversed within each grade, it was Mark Lewsey who made the running from the start and was only passed in the last couple of laps by Shaun Turnage. Adam Spencer was next over the line, but must have lost a lap out of our sight as Dean Quinsee took third from Paul Burgess, Lewis Stayte's smart new Civic and Alan Cooper's Fiesta. 16 cars made the final, with Lewis Stayte the only one missing. Adam Spencer came through quickly from the middle of the yellow grade to take the lead, but was soon pulled off with a dragging exhaust. Kyle Escott followed Alan Cooper round the early laps, but emerged in front and went on to take the win, while Alan held second despite being caught by Owen Hunt, Dean Quinsee and Paul Burgess, who were all chased home by Adam Limbert's BMW Mini and Jasmine Kelt's Civic. Mark Lewsey completed the unlapped runners, and the other finishers were the Fiestas of Colleen Stothard, Lawrence Allen and Beth Talbot and Mark Tyson's Ka.
The JUNIORS were running to their usual early season format, with the white grade, including plenty of novices again, getting their own races. The ten starters in the first race were led by Gary Weston, until James Sharp, in the ex-Aiden Howell car, took over, only to tangle with Rosie Stoton, putting Gary back in front to win from Oscar England, Bradley Ball-Nichols, James Walker, Rosie Stoton and the immaculate car of Bobby Cushion, with Connor Pullen completing the finishers after Lucas Turnage and Mollie Packer had problems. Second time out Gary Weston led all the way, with Oscar England taking another promising second and Mollie Packer's car keeping going this time to hold off James Sharp for third. The novices' final got a bit hectic, with Mollie Packer leading the way but coming under pressure from a growing bunch of cars until, as they lapped a couple of backmarkers, James Sharp emerged in front. Mollie then found herself sideways and collected Bradley Ball-Nichols, bringing out a red flag as James Sharp took the win, from Gary Weston and James Walker, with the others still running being Connor Pullen, Bobby Cushion and Lucas Turnage.
The experienced Juniors gridded 15 cars, but in the first heat none of them could get near the well turned out car of Jack Umney, who ended up over half a lap clear as Jack Fulker demoted Bethany Lawrence from second, with Isaac Harris, Harvey Breakspear, Archie Parker, Ella Fulker and Finlay Kew all coming past Bethany, who still held off Morgan Cooper, Alfie Martell, Ollie Ireson and Jacob Turnage in the very competitive field. Second time out Joel Pledge, a non-finisher in the first race, led away, but Jack Umney was soon ahead and pulling clear until the red flag stopped the race a couple of laps early, with a pile-up involving Jack Fulker, Ollie Ireson and Harvey Breakspear, among others. Jack Umney took the win from Joel Pledge and Morgan Cooper. The final needed a restart after problems for Jack Fulker, but this time Joel Pledge led all the way to the chequered flag, with the ever improving Morgan Cooper having one of her best runs yet, to second ahead of Jack Umney, Alfie Martell, Isaac Harris, Harvey Breakspear, Bethany Lawrence and Finlay Kew. Jacob Turnage was next with Ella Fulker a lap down after an early incident with Archie Parker and Ollie Ireson, while Charlie Bendle and Michael Weston didn't make the final after problems in the heats.
The LADIES' BANGERS had a 19-car field, with Tracey Green and Jemma Martindale winning the heats. 15 cars survived to the final in which Jessica Tout's Focus Estate led nearly all the way under strong pressure from Chloe Bricknell's Focus, until Jessica joined a pile-up with two laps to go. Chloe took it up to win from Lauren Bricknell, Linz Richens, Tracey Green, Kirsty Brookes and Carley Gabriel. The closing "Dash" saw Tracey Green take another win over Sarah Lacey and Kirsty Brookes.
The main Banger class for the day was NATIONAL MICRO BANGERS of which 24 started the first race and 19 lasted as far as the Dash. Kyle Rayner and Kyle Carpenter won the heats, with Kyle Carpenter taking the final from David Tyler and Luke Martindale.
.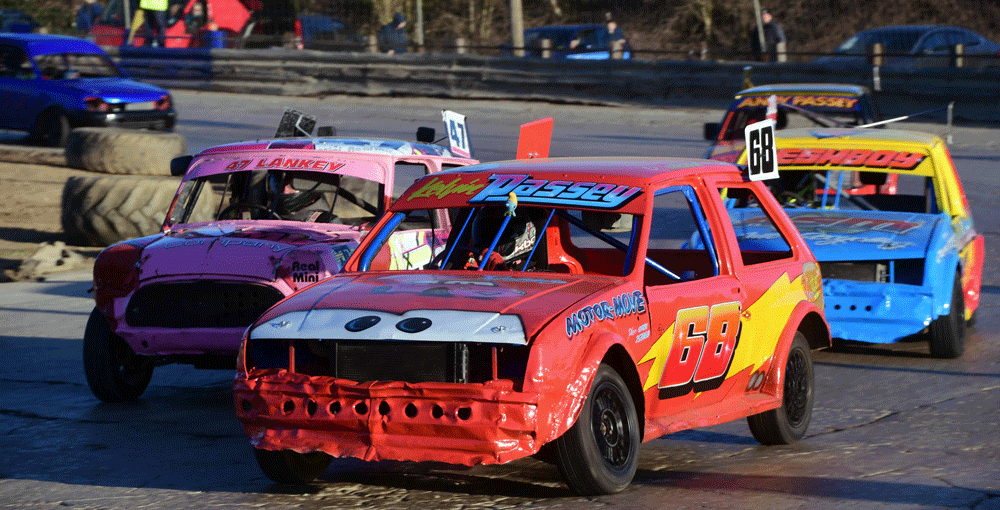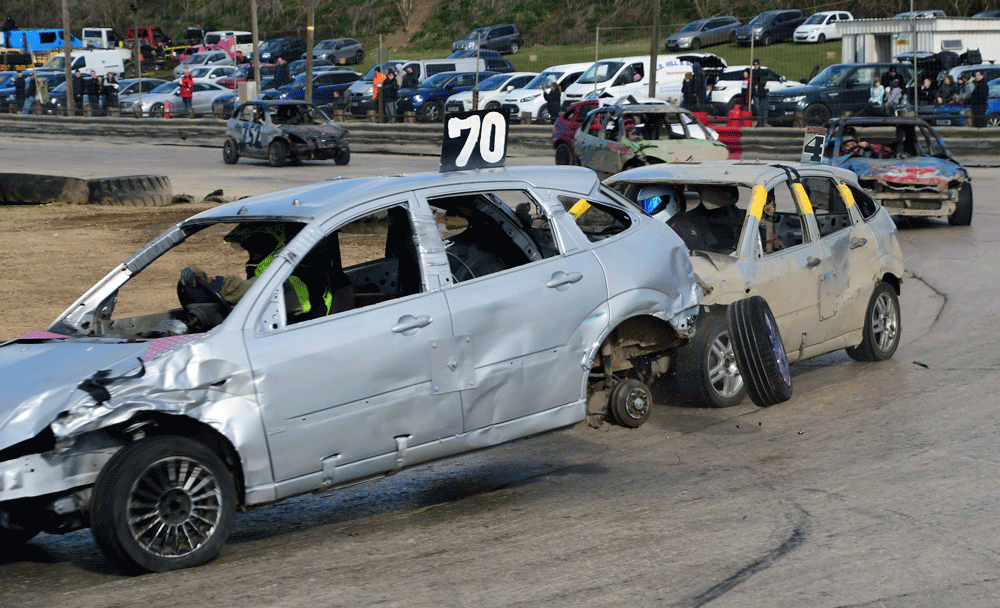 .