SWAFFHAM RACEWAY
Rolling Thunder Show Round 1 - 4 March 2023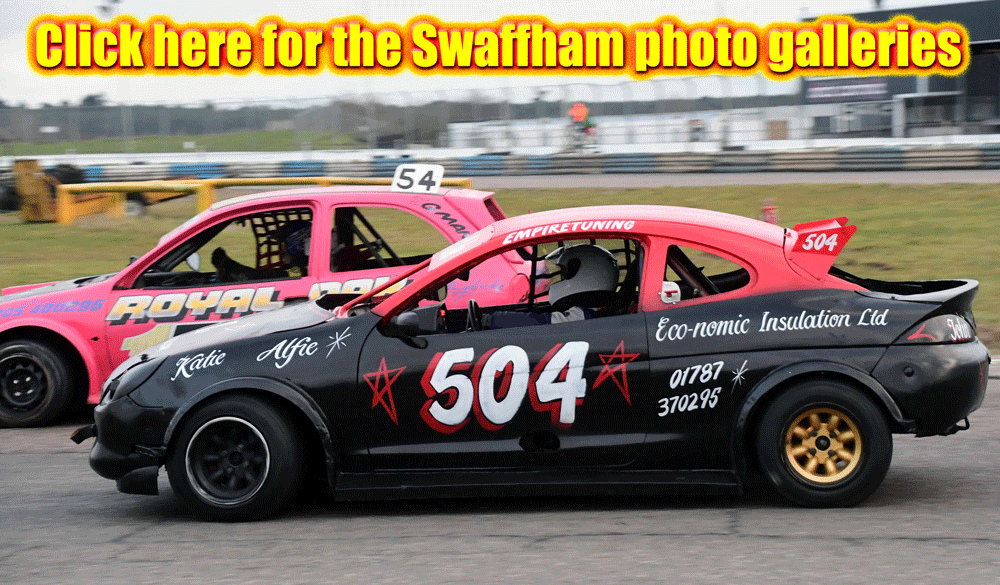 The first meeting of the regular season for the Rolling Thunder Show at Swaffham gave plenty of cause for optimism. Although overall grids were still on the low side (37 cars appearing) each of the seven formulae racing has plenty of enthusiasm in the ranks, with loyal supporters of each class working to gather support and build up (or rebuild) numbers.
After switching from a 4pm to 3pm start, this time the first race was on the track pretty promptly and the turn-around of races was noticeably quicker, despite two or three unfortunate incidents holding the show up. The finals were eventually rushed through, with reduced laps, to squeeze everything in by 6pm and the RTS crew just managed to get done without the need to turn the lights on!
The FRONT WHEEL DRIVE HOT ROD field was one car down from the last winter meeting, with Kev Head out of the country on family business, but one up with Chris Thirkettle rejoining the fray in his immaculate Duratec-powered Fiesta, and the five cars put on another good show, until disaster struck! Race one ran to form with Kev Brocklesby's Corsa leading the early laps before Chris Cole's Puma found a way round the outside and proceeded to hold off Chris Thirkettle to the finish. Chris Head spent most of the race trying to get by Kev Brocklesby, and finally took third on the last lap, with Andrew Buckett's C2 close behind in fifth. Kev Brocklesby's pink Corsa led the second heat away, but Andrew Buckett in second had a problem and was collected by Chris Head and Chris Thirkettle, with heavy damage to both the Fiestas. Kev Brocklesby then held off Chris Cole to win the shortened rerun. These two were the only survivors for the final and in another shortened race, Kev just stayed ahead of Chris in a close side-by-side duel.
A promising line-up of seven cars appeared in the JUNIOR 1-LITRE HOT RODS, with a couple of welcome additions being Courtney Hales and Annabelle Palser, currently searching the country for substitutes for their lamented home track at Angmering. For this first points meeting a drawn and reversed grid format was adopted, with the intention of forming a grading list for the next round. Courtney had a very good drive to win her first Swaffham race, under pressure all the way from Danny Coombes. From the reversed grid in heat two, Annabelle led away but local racer Emilie Smith was soon past, and she went on to win from Danny Coombes and former Cambridge Autograss racer Sid Pearl, who was chased home by the two Sussex girls. In the final Courtney beat the pole positioned Danny Coombes from the start and then drove faultlessly to hold off track experts Danny and Emilie all the way. Owen Langridge and Annabelle Palser chased the top three home, with novice Karl Renwick completing the finishers.
A 10-strong field of NINJA KARTS produced good racing, with Charlie Barber Jr on top form to win all three races. In the first race Charlie came through to pass Tyler Stephens after a late restart cased by Tyler tangling with Daniel Holland. In the second race Tyler again led most of the way before a tangle when lapping newcomer William Myatt, and Charlie went on to win from Tyler, Parker Smith and Harry Harwin, all of whom got into another tangle with Frankie Read in the last corner. The final was incident free, with Charlie Jnr overhauling Tyler Stephens again to win, while Daniel Holland came through to take second from Tyler and Freddie Taber. Completing the order were Parker Smith, Harry Harwin, Marley Smee, Frankie Read and William Myatt.
It was a pretty disastrous day for the LIGHTNING RODS, starting with an hour and a half diversion off the M11 for the currently exclusively Essex and Kent based drivers. They were moved back in the running order and had what promised to be an excellent first race, with Sam Shirmer slowly reeling in the returning Tyler Younger and catching him on the last lap. Sam saw the opportunity to go round the outside on the last corner and reached the finish line inches ahead, but unfortunately Tyler's car was pushing on and the result was Tyler's outside front wheel knocked askew against Sam's door, while Sam's outside front corner was ripped off on the fence. With an immediate red flag thrown, the result had to go back a lap, giving Tyler the win. Tyler managed to repair his car for the second heat, winning from Russ Thornton, who recovered from being almost taken into the fence in the same spot as Joe Allen spun. The final was a close duel between Tyler and Russ, with Russ getting past for a well-deserved win, and Joe taking third. These drivers are now on a mission to rustle up as much support as they can from the rest of the seventeen drivers who appeared as some stage with RTS last year, and maybe encourage a few newcomers to pick up the relatively cheap remaining stock of "classic" Lightning Rod Sierras.
No SUPERSTOX appeared this time, so there's work to be done there, but the CLASSIC MIDGET field had grown to three for the first of their monthly appearances. Again, the number of cars in build/restoration is giving hopes of 6 or 7 Midgets on the track by mid-season. Joining regulars Ben Pashley (Dastle Mk6-BMC) and Eddie Ricketts (Westfield-Vauxhall) was long time Midget supporter Steve Lay, albeit in a fairly recent offset Suzuki-powered car, which he's picked up at short notice, having run out of time to finish his "genuine" classic Fireball. Eddie headed Ben home in all three races/demos, with Steve struggling home with a misfiring engine.
That leaves the two "non-contact Banger" classes, which this time had reduced grids of four cars each – hopefully this will pick up again during the summer, when RTS won't be able to rely on support from visiting Stansted dirt racers. The JUNIOR SCREAMERS was a battle between the two Fiestas of George Davis and Jack Pilgrim, George winning the first heat and final, while Jack took the middle race. These two were chased by the Micras of Josh Garrad and Poppy Hendy. The SCRAPYARD SCREAMERS were led in their first race by Glen Carter in a Rover 216, holding off Scott Davis' Astra until the Rover suddenly cut out two laps from home, leaving Scott to win. The second heat and final both saw good drives by local lad Joe Barber in his Focus, holding off Dan Booker's Focus and Scott's Astra.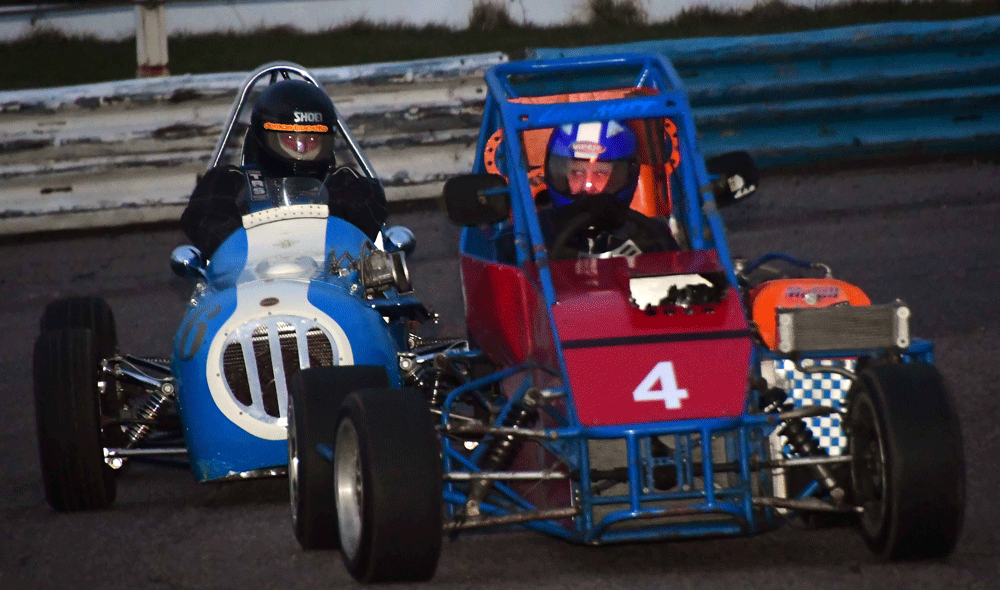 .