BRSCC SILVERSTONE GP
Mini Seven Racing Club round 1 - 18-19 March 2023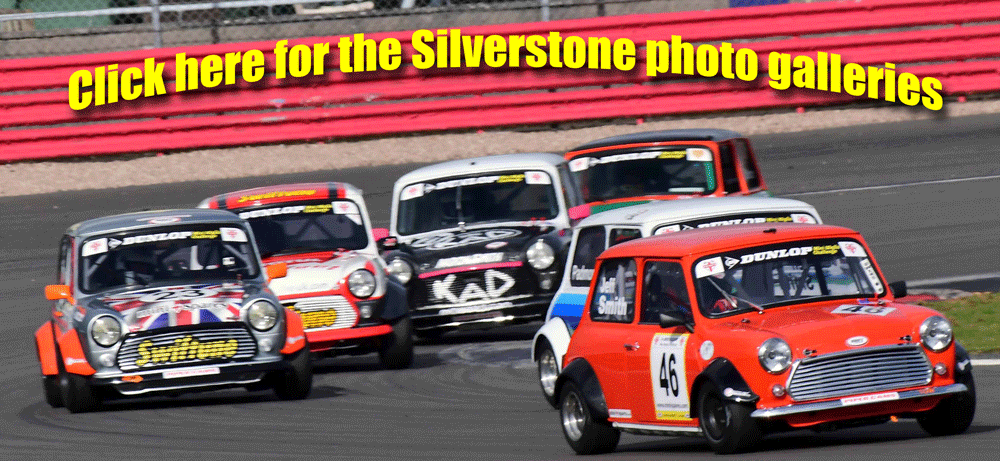 The Mini Seven Racing Club's 2023 season got under way in the rather inhospitible surroundings of the Silverstone Grand Prix circuit, where the economics of the track time charges regrettably meant a combined race for all classes. Changeable weather throughout the weekend also had an effect with a slightly damp qualifying followed by cold dry conditions for the first race on Saturday, before rain set in towards the end of the day's programme. On Sunday morning the track proved deceptively slow to dry out, making tyre choice critical for the second of the weekend's two races.
57 cars in total turned out for qualifying - 24 Miglias, 5 Libres, 16 Mini Sevens and a slightly depleted field of 12 S Classes. The 20-minute session was largely about coping with the speed differential as well as the not-quite-dry track, with a 40 second spread between fastest and slowest. Nobody got in more than 7 or 8 laps round the 3.66 mile circuit and top of the times was Jeff Smith's new Owens-built Miglia with a 2m 33.626s lap, pulling off a final lap a full second faster than Rupert Deeth, who'd just taken the top spot from Nick Padmore, in the first of what may be only two Miglia appearances this year, was next, with Aaron Smith, Andrew Jordan, Ben Colburn, Colin Peacock, Kane Astin, Rob Hoard and James Cuthbertson' also in a brand new Owens car, completing the Miglia top ten. Richard Colburn, however, sneaked into the top ten overall with the quickest of the Libre entries, although he'd have to start at the back of the Miglia block, ahead of fellow Libre contenders Peter Hills, Phil Harvey, Les Stanton and, first time out in the class, Julian Proctor. Perhaps illustrating that this isn't really a "Mini" track, there was a 6-second spread across the top ten.
Heading the Mini Seven grid, with a 2m 49.796s lap, was Joe Thompson, although he only had a 0.04 second advantage over Mike Jordan, with the quickest S Class of Matt Ayres remarkably within half a second of the best Mini Seven time. Thereafter the Seven and S-Class times were well mixed in, but Spencer Wanstall, Tom Mills, Glen Woodbridge, Connor O'Brien, Graeme Davis, Jordan Sims, S-Class champ Damien Harrington and Tina Cooper completed the Mini 7 top ten. With only one time split possible in the grid, the S Classes would be starting together with the Sevens, but lined up behind them, creating a potentially fraught first lap. Lining up behind Matt Ayres were Jonathan Page, Jack Vanner, again on good form in his third meeting, Frazer Hack, Lee Poolman, Andy Hack, in his newly aquired ex-Hayman shell, Chris Prior, Dave Rees, Ollie Handley and new boy Kieran Edgecombe, who'll be sharing the Edgey racing car with brother Declan. Another newcomer to the club, Nigel Fraser Ker, debuted the ex-Geoff Williams car that he'll be sharing with his daughter Kate, lining up alongside Mal Dickinson. The other complete novice on the grid, young Jamie Payne, settled in well with his Mini 7, although there was no luck for Steve Youle, whose Miglia debut ended without completing a lap, with some major engine issues.
Problems heading for the grid removed Tom Mills from his top four Mini 7 place, with a water leak, and Mal Dickinson from the S-Class. There was quickly a 7-car breakaway among the Miglias as the race got under way, with Jeff Smith heading the first lap and Rupert Deeth, Nick Padmore, Andy Jordan, Aaron Smith, Ben Colburn and Kane Astin in his slipstream, while Mark Sims headed the rest and Richard Colburn's leading Libre had slipped to nineteenth, just ahead of Peter Hills. Some way back, the Sevens had a first lap sort out with Mike Jordan emerging ahead of Spencer Wanstall, Connor O'Brien, Ross Billison and Joe Thompson. Matt Atyres had allready put nearly half the Seven grid behind him, with Jonathan Page giving chase. We'd already lost Glen Woodbridge from the Mini 7s and, although Glen found a safe-ish place to stop as Copse, there was then an almost race-long comedy of errors as Silverstone's teleporter through it would be a good idea to tow Glen's car into the middle of a waterlogged gravel trap, where the whole lot inevitably got stuck. Eventually they were rescued at the cost of really unacceptable damage to Glen's car.
The top seven Miglias continued to battle, with Nick Padmore moving up to challenge, leading over the line on the third and fourth laps, but not necessarily everywhere else. By and large, though, Jeff Smith held the advantage and after 8 laps, by which time the field was spread over more than two laps, Jeff headed home Nick Padmore, Andrew Jordan, Kane Astin, Ben Colburn, Rupert Deeth and Aaron Smith. Mark Sims held eighth all the way, to earn the reverse grid pole, chased by Phil Bullen-Brown, James Cuthbertson, Tony Le May, Dan Wheeler, making a comeback in Lewis Selby's car, Nick Paddy, Lee Roberts, in his first Miglia race, Shaun King and Larry Warr. Colin Peacock departed from among this lot on the last lap and the remaining Miglia finishers were Thorburn Astin, Gareth Baldwin, Asley Davies, after an incident or two, and former S class man Ben Butler. Jonnie Kent probably should have finished but wasn't classified after crossing the line in the pit lane, out of fuel, while Rob Howard dropped out on the third lap.
Richard Colburn led the Libre boys all the way, with Peter Hills taking a strong second ahead of Phil Harvey, Les Stanton and Julian Proctor.
In the Mini Seven race Mike Jordan led more or less all the way, challenged throughout by Spencer wanstall, while a good battle for third saw Joe Thompson finally pass Ross Billison on the last lap. Darren Thomas narrowly headed Jordan Sims for fifth, and then came Graeme Davis, Damien Harrington, Tina Cooper, Graham Penn, Paul Woodbridge and Jamie Payne, who had a good debut race, managing to rejoin and finish after a last lap spin. Connor O'Brien dropped out on his third lap and Jo Polley was another retirement after a pit stop.
Matt Ayres' winning S-Class drive brought him up to fifth overall among the Sevens, with Frazer Hack in hot dispute. Jonathan Page completed the padium, ahead of Chris Prior, Andy Hack, Dave Rees and Jack Vanner, who'd had an off course excursion on his third lap. Nigel Fraser Ker was another who should have finished but was recorded as a retirement after crossing the line in the pit lane, getting flagged off in the confusion as the Miglia winner completed an extra lap. Kieran Edgecombe's debut ended with a blown engine, while Lee Poolman and Ollie Handley were also non-finishers.
53 cars lined up on Sunday, missing Steve Youle in the Miglias, Graham Penn (with work commitments taking him away) and Paul Woodbridge in the 7s, and Ollie Handley in the S-Class. Glen Woodbridge, after Saturday's disaster, lined up in father Paul's car after written consent was obtained from every other driver in view of the exceptional circumstances he'd suffered.
Sunday's race was all about tyres, with the wet-shod Miglias having a massive advantage over those starting on slicks. Mark Sims, Julian Proctor, Damien Harrington and Jack Vanner lined up on pole for their respective classes, with the top 8 (or in the Libre and S-Class, all survivors) from Saturday's race inverted. By the end of the first lap, though, Andy Jordan and Aaron Smith were battling for the lead, with Ben Colburn and Mark Sims giving chase and a big gap before the slick-shod Rupert Deeth headed the rest. Mike Jorfdan had grabbed the Seven lead from Ross Billison and Spencer Wanstall, while Matt Ayres was already with this trio. The Seven and S Class grid already had a scare when, besides being too far back for most of them to see the start flag, they found a parked Miglia in their path, alongside the pit wall, with Dan Wheeler having had a battery failure.
Andy and Aaron continued their battle for the Miglia win, with no other worries apart from battling through crowds of lapped cars. Aaron grabbed the lead a couple of times and took the advantage over the last couple of laps, but Andy judged his last lap move just right and came home the winner from Aaron. In what was one of the most spread-out Mini races we've ever seen, Ben Colburn held a good third all the way, but an amazing 20 seconds in the end behind the leaders. Mark Sims held fourth for over half the race, but was eventually swallowed up by the next bunch, a mixture of slick and wet shod cars, with Colin Peacock again departing from eighth place in the closing stages. Jeff Smith emerged fourth ahead of Rupert Deeth, Nick Padmore, Kane Astin, Nick Paddy and Shaun King, with Libre winner Richard Colburn mixing it with this lot as he'd got his tyre choice right! Ashley Davies completed the Miglia top ten, ahead of Phil Bullen-Brown, Mark Sims, James Cuthbertson, Thorburn Astin, Lee Roberts and Ben Butler, while Jonnie Kent, Tony Le May and Gareth Baldwin completed the Miglia finishers. Rob Howard and Larry warr were among the retirements.
Richard Colburn was again the Libre winner, with Les Stanton and Julian Proctor having good runs to second and third, with Peter Hills fourth after Phil Harvey dropped out.
There was a fine battle for the Mini 7 lead, so it was a shame that it was buried in such a spread out field, on a circuit where spectators see very little of the action (unless they're tuned in to the live stream, which did afford occasional glimpses of the class battles!) Mike Jordan made the running until Spencer Wanstall and Joe Thompson found a way past, and it was Joe who then narrowly held off Mike and Spencer for the win. The former single-seater and sports prototype racer Tom Mills continued to take well to front-wheel-drive, bringing his ex-Jonathan Lewis car through from the back to a good fourth, after his disappointment on Saturday. Then came Connor O'Brien, Graeme Davis, Glen Woodbridge, Jordan Sims, Damien Harrington and Jamie Payne. Tina Cooper dropped to the back after getting caught up in a first lap tangle with a couple of the S-Class, and Ross Billison rejoined after an earlier problem in last place. Jo Polley's unhappy weekend continued with another retirement, along with Darren Thomas.
Once again only the top three Sevens could stay ahead of S-Class winner Matt Ayres, with his nearest challenger Frazer Hack dropping out after two laps and his other class rivals all a lap down at the end as Andy Hack beat Jonathan Page and Jack Vanner for second. Lee Poolman, Dave Rees, Nigel Fraser Kerr and Mal Dickinson completed the finishers, with Chris Prior and Declan Edgecombe both going out on the first lap.
The most interest on the BRSCC's support programme at their season opening meeting came from the 47-car grid in the MODIFIED FORD series, with the star performance coming from rally driver Josh Payton, making what we think was his circuit racing debut in his superb 2.5 Millington-powered Mk2 Cortina. In the damp practice, the Cortina qualified third, but dropped to ninth in the first, dry, race, as Simon Light's V8 Capri took the win from James Allen's Focus RS. The second race was late on Saturday afternoon, with rain arriving and in gathering darkness. Simon Light's Capri failed to make the grid as others scrambled to change tyres in the assembly area, but Josh Payton made spectacular sideways progress in the Cortina, moving up to challenge for the lead until one or two moments dropped him to third, with James Allen winning from Kester Cook's Fiesta ST150.
The BRSCC CLUBSPORT TROPHY has a 45 minute pit stop race with a 59 car grid starting in sunshine and ending in steady rain. The top two on the grid didn't get round the first lap and that left Liam Crilly's BMW Z4 so dominant that he could take his stop right at the end of the pit window without losing the lead, completing 15 laps haldf a minute clear of James Alford's Golf.
Much of the programme was devoted to the BRSCC's various well-supported MAZDA MX 5 CHAMPIONSHIPS, with the Mk3 "Supercup" and Mk1 "Championship" and "Clubman" divisions (49, 29 and 34 cars respectively) having a total of eight races between them. Sunday afternoon was then devoted to a 4 hour race for a 61-car field in the SILVERLAKE C1 ENDURANCE series.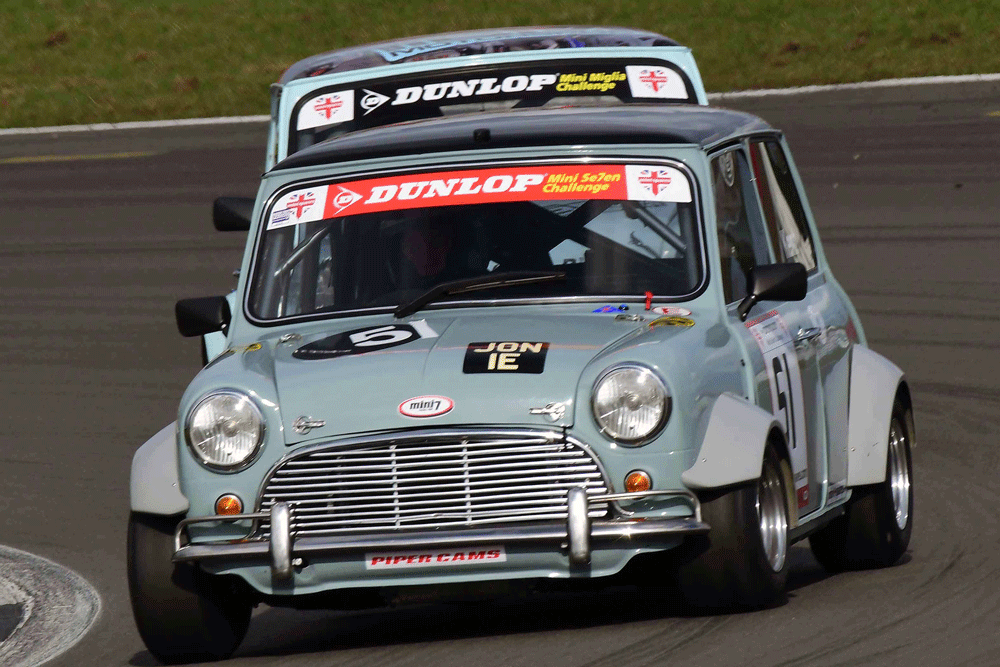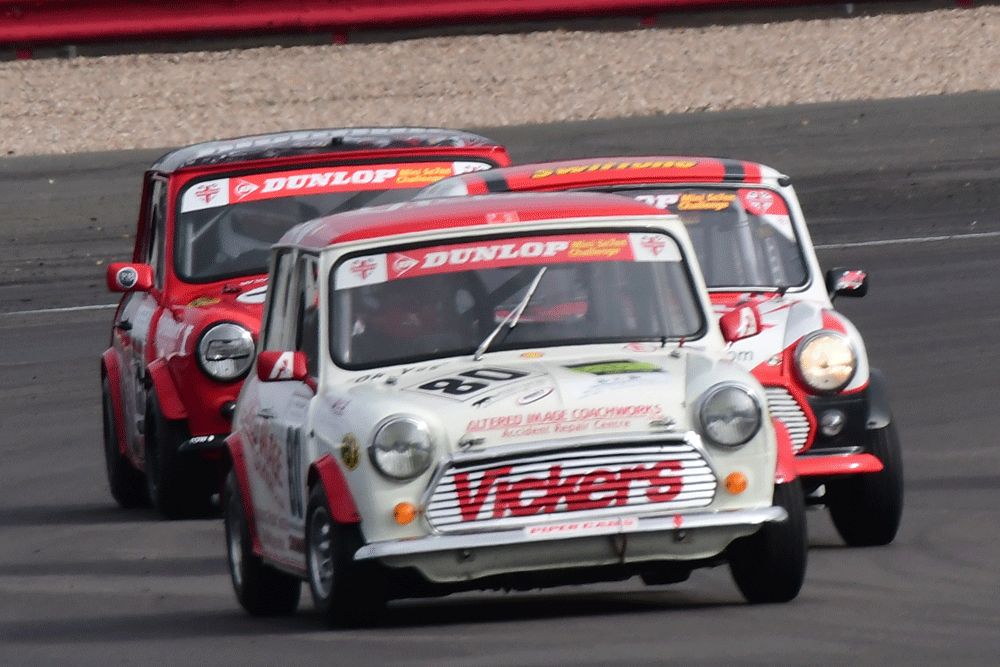 .