STANDLAKE ARENA
26 March 2023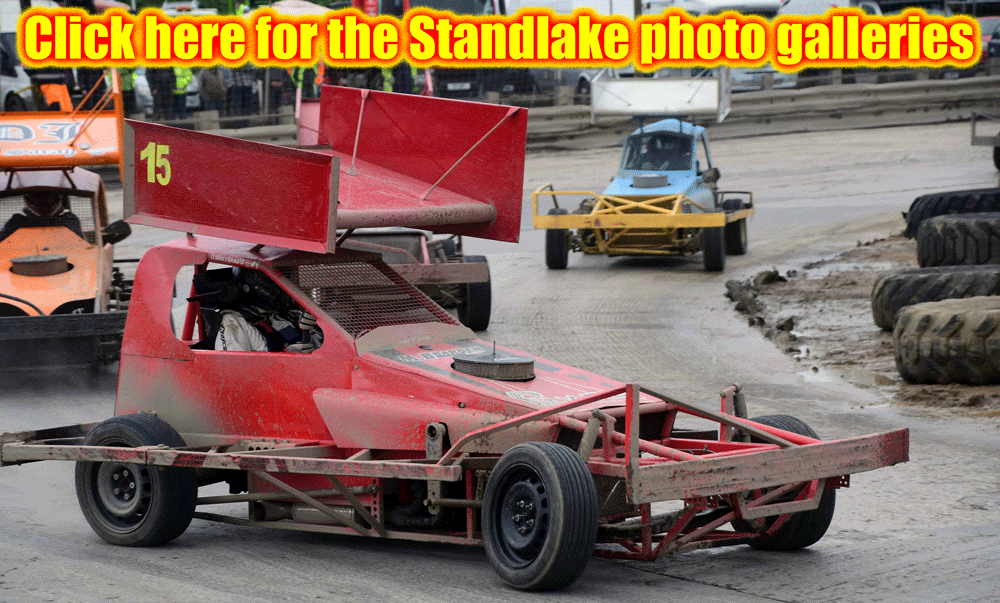 This promised to be an action-packed day of racing at Standlake and it didn't disappoint, despite a rather wet start leaving a very slippery and tricky surface that continued to produce chaotic races from the generally strong fields of cars throughout the day. With only one grid of Bangers featured among the seven classes in action, dare we say it, the day flowed well, with few delays and an earlier than usual finish.
Although the F2 Stox were featuring with a very full grid, many spectators were looking forward to the guest appearance of the V8 STOCK CAR TOUR, who will be fitting in three dates at Standlake this year, after their well-received trial run a year ago, including their "gold roof" race, running alongside the F2 Open Championship in September.
15 of the V8s entered their season opener, although Jimmy Rispin and Paul Collins didn't make it to the track. After a brief pre-event practice, 11 cars lined up on a very greasy track for the first heat, missing Daniel and Micky Jennings, with Micky not getting out at all after clutch problems. Leading them away on her debut outing was former National Ministox racer Ellie Dickerson, who held on in fine style for several laps before being passed by ex-Hot Stox racer Matt Smith, making a guest appearance in the Rover-powered Hot Stox car of Rob Scriven. Matt was caught by Sam Wainwright but Matt fought back to take the win when the reds came out a lap early after Max White, who'd been stalled on track for a while, had his air filter go up in flames. Brad Moss took second from the impressive Ellie Dickerson and Sam Wainwright, with the immaculate new car of Ben Edwards next and Sam Chambers, Colin Moss and James Taylor completing the finishers. Two veteran racers hit problems in the early stages, Peter Scott and Paul Conde, the former Super Rod legend joining the V8s for his racing comeback.
Second time out, on a drying track, Dan Jennings joined the field. Paul Conde again had problems in the early stages, with Max White and Ellie Dickerson featuring at the front before Ben Edwards came through, with close company from Brad Moss. It was Brad who came out in front and led the rest of the way, chased by Matt Smith, Sam Wainwright, Colin Moss, James Taylor, Max White, Sam Chambers and Ellie Dickerson. Pete Scott lost a lap after an early spin, while Dan Jennings and Paul Conde retired.
With Paul Conde missing from the final, Max White headed the field away, but it wasn't long before Matt Smith took it up, the Rover again proving just as quick as the Chevies round the unique wide Standlake oval. There was no stopping Brad Moss though, and he made it to the front after half distance to head the field home. James Taylor was going well, battling with Sam Wainwright and Matt Smith, but James clipped a marker tyre and spun out with a lap to go, with Sam taking second from Matt, James and Max White. Ben Edwards was eventually lapped in sixth ahead of Pete Scott, Sam Chambers, Ellie Dickerson, Dan Jennings and Colin Moss. The V8s' next Standlake outing, on 11 June, will be eagerly awaited.
The F2 STOX had a 27-strong entry, and with an all-in four race format there was far too much action to keep track of on the crowded raceway. There was no doubting who the drivers on top form were, though, with Josh Heffer leading the way in the first heat before Owen Strong took it up, with 16-year-old Owen then putting on a very mature and controlled drive to take the chequered flag ahead of Josh, Zak Moores, Andy Webb, Keith Richings, Tom Stoodley, James Trigg, Izzy Jackson and Stu Biddle.
The second heat started with multiple cars sliding into a big pile-up on the pits bend, but Owen Strong again took the lead from Josh Heffer and these two once more stayed safely ahead of the pack, Owen taking his second win from Josh, while James Trigg emerged in third ahead of Jim Muckian, Ryan and Tom Stoodley, whose matching cars headed the red graders' progress through the pack. Keith Richens, Andy Webb, Keith Walding and Patrick Somerton completed the top ten, with 18 cars making it to the finish.
Just 13 cars "qualified" for the final by taking top ten positions in the heats, and of those Stu Biddle and Keith Walding were unable to take up their places, but as usual at Standlake all the non-qualifiers were able to line up at the back with only Kev Goldup and Henry Breakspear missing. The two white grade qualifiers again didn't put a wheel wrong but this time Josh Heffer, after losing the lead to Owen Strong in the early stages, managed to get back past as they headed into all the traffic from the non-qualifiers' grid, and Josh then held on all the way to take the win from Owen, while Izzy Jackson had an excellent showing to take third. Tom Stoodley this time headed the red graders as he took fourth from Jim Muckian and Andy Webb, with Zak Moores, James Trigg, last month's final winner Harry Heffer and Alan Cornock completing the top ten. In the closing stages Charlie Heffer and James Watts tangled avoiding Nathan Lewis, and Ryan Stoodley got sideways and collected Patrick Somerton, leaving the other finishers as Rob Dobie, Jess Webb and Mick Jackson. Others who'd got into trouble somewhere along the way were Leo Freebody, Charlie Webb, Terry Butcher, Stuart Langridge and Keith Richens.
After all this, 16 cars came out for the Grand National, with Josh Heffer among those missing, leaving Owen Strong and Izzy Jackson to take up the challenge from the lap handicap. Leo Freebody led away and held on for half a dozen laps before Terry Butcher, who'd had no luck in the previous races, took over and went on to take a clear win. Leo drove one of his best races to date to hang on to second to the finish, while Rob Robie was on excellent form to hold third until Jim Muckian moved him wide with a couple of laps to go, and was inevitably followed through by a train of cars. Jim took third from Tom Stoodley and Zak Moores, with Rob fighting back to pip Andy Webb to the line for sixth, with James Watts and Alan Curnock right behind. Ryan Stoodley was tenth, chased by Izzy Jackson and Owen Strong, with Mick Jackson and Charlie Webb completing the finishers and James Trigg and Nathan Lewis the only casualties.
The non-contact programme was headed by a 20-car grid of 1600 PRODUCTIONS, whose racing proved every bit as hectic as the F2s. The first race needed a restart five laps in, with Jordan Bowen's smoky Corsa leading but soon being caught by Stuart Pitson's Focus and Lewis Stayte's Civic. Lewis led to the closing stages but Dean Quinsee's Yaris had emerged from the pack and grabbed the lead in the last two laps, winning from Lewis Staite and Shaun Turnage's Focus. Jasmine Kelt had a good run to fourth in her Civic, but was dropped a place in the result behind Stuart Pitson, with the top ten completed by Ben Bridgeman (Civic), Michael Bayford (Focus), Kyle Escott (Fiesta), Rhys Cane (Civic) and Nikita Ball (Civic).
Nikita Ball led away in the second heat, soon being passed by Harry James' Civic and Rhys Cane, before the leaders tangled with the lapped Fiesta of Lawrence Allen, who'd been in the fence on the first lap. Nikita briefly retook the lead but Rhys Cane recovered to lead the rest of the way, holding off the similar Civic of Adam Spencer and Shaun Turnage. Dean Quinsee came in fourth from the BMW Mini of Adam Limbert, Paul Burgess' Civic, Lewis Stayte, Kyle Escott and Tim Edwards' Focus, with Michael Bayford a lap down heading Harry James and Glenn Lewsey's Civic.
14 cars qualified for the final, although Nikita Ball, who should have led the grid, was missing, with non-qualifiers making up the field to 17 cars. From the back of the yellow grade, Adam Spencer hit the front on the first lap and then proved unstoppable, taking the chequered flag half a lap clear of the pack. Jasmine Kelt had another good drive to fend off a long queue of cars for second until two laps to go, when red grader Paul Burgess took the place from Shaun Turnage, with Stuart Pitson getting third and Dean Quinsee promoted to fifth when Jasmine was docked a place to sixth, ahead of Ben Bridgeman and Lewis Stayte. Harry James was lapped in ninth, chased home by Michael Bayford, Tim Edwards, Rhys Cane and Glenn Lewsey. Beth Talbot's Fiesta was next and the final finisher was Mia Cliffe, who did well to stay out of trouble and finish all three races on her debut in "Roary", a 1.2 Fiat Punto that was giving away a good 400cc to most of the field.
The JUNIORS again raced in split groups, with 14 graded drivers on their grid, for a rather fraught first heat on a very slippery track. Ella Fulker was the first who was brave enough to find the grip on the outside line and, from the back of the grid, she emerged with a big lead by the fourth lap, only to lose it when the reds came out, with her brother Jack caught up with a couple of other spinning cars. Ella led from the restart, survived a sideways moment and a tangle with Jack Umney, and recovered to win from Finlay Kew. Joel Pledge, Archie Parker, Beth Lawrence, Jack Umney and Isaac Harris the only other survivors. The second heat saw Joel Pledge build up a big lead as Alfie Martell held off the rest of the field. Eventually Archie Parker worked his way to the front of the queue, then caught and passed Joel in the closing stages for the win, with Joel second and Isaac Harris ending up third from Jack Umney, Finlay Kew, Ella Fulker, Alfie Martell, Harvey Breakspear, Jacob Turnage, Ollie Ireson, Jack Fulker and Beth Lawrence. The final needed a full restart after Charlie Bendle lost a wheel, and Alfie Martell then held on in front for ten laps, coming under increasing pressure as Archie Parker and Finlay Kew moved up to second and third. Eventually Alfie ran a little wide, just enough for "Fast Fin" Kew to grab the lead and hold off Archie Parker to win, while Alfie Martell took a well deserved third as he still held off Isaac Harris, Ella Fulker, Harvey Breakspear, Joel Pledge, Jacob Turnage, Jack Umney and Jack Fulker. Beth Lawrence was spun out of the pack and ended up 11th ahead of Morgan Cooper, who had a troubled day, with Ollie ireson picking up a black flag.
The JUNIOR NOVICES also fielded 14 cars, headed in the first race by Daniella Cliffe, who held on despite being caught by Ellie Packer, Oscar England and Gary Weston, with Rosie Stoton next up after a battle with Tommy Lee, and James Sharp, James Walker, Alexia Parker and Connor Pullen completing the finishers. Lucas Turnage was unlucky to hit the fence and didn't come out again. The second race was led by Alfred Morris and Bradley Ball-Nicholls before Rosie Stoton came through and pulled away to a very good win. Tommy Lee came in second from Oscar England, Gary Weston, Ellie Packer, Alfred Morris, James Sharp, Bradley Ball-Nicholls, Alexia Parker and Daniella Cliffe. The final brought another different winner as Bradley Ball-Nicholls drove a good race to lead all the way, chased to the flag by James Sharp, James Walker, Ellie Packer, Oscar England, Daniella Cliffe, Alfred Morris, Rosie Stoton, Tommy Lee and Alexia Parker, with Connor Pullen completing the finishers. Showing how quickly this year's novices have settled in, all but one car finished on the lead lap, and every one of them drove well in the tricky conditions.
The final (more or less) non-contact class was the DRIFT RODS which inevitably had a few messy moments with an 18-car grid on the slippery tack, well up on a couple of ten car turnouts at their opening two meetings. A welcome addition was one of the top Thunder Rod racers from Angmering, Andy Stephens, although he was out of luck and only managed one race, while fellow Angmering exile Dean Page was back for the third time this year, with his Sierra Estate offering variety from the BMW masses. Raymond Tunnicliffe led the early laps of the first heat, but Tom Evans came through quickly from the back, dodging enough of the spinning cars to come home the winner, chased by Steven Hart with Ray Tunnicliffe holding third from Chris Deverick's Z3, Tracey Green, Brandon Lawton, Charles Warwick, Dean Page, Dave O'Sullivan and Brad Lawton.
The second race saw a similar pattern, with the likes of David Oxlade, David Hands, Michael Lee and Tommy Cox all-out drifting as the others raced round them, headed by Ray Tunnicliffe until Tom Evans came through for another win from Steven Hart, with Raymond again third. Brandon Lawton came in fourth ahead of Chris Deverick, Brandon Lawton, Tracey Green, Charles Warwick, Brad Lawton and Patrick Mully.
16 cars for the final where Brad Lawton led the way until Ray Tunnicliffe got past, and held the lead until an early red flag stopped the fun, with a wheel off Tommy Cox's car. Tom Evans took second from Brandon Lawton, with Steven Hart fourth ahead of Chris Deverick, Charles Warwick, Tracey Green, Carl Lindsay's Mercedes CLK, Brad Lawton, Dean Page and Jemma Martindale. The "best drifter" award went to David Oxlade despite the disadvantage of his BMW Compact not being able to rub quite as much bodywork off on the fence as the full booted versions!
That just leaves the BANGERS, where a single grid running to 1800 Street Banger rules brought out 25 cars for the first race, growing to 27 for the second heat, with 23 still running for the final and 20 for the "Dash" that closed the day. Louis Rayner's Focus won both heats, chased in the first by Jack Bunyan and Luke Martindale, and in the second by Samuel Lewis and Adam Bligdon. Louis didn't survive the final though, and Luke Martindale came out in front, from Ben Shoebridge, Tom Castle, Jack Bunyan, Aaron Charles and Tom Valentine. As so often happens, the Dash was a fast and close race to the line with Aaron Charles just beating Louis Williams, Tom Valentine, Samuel Lewis, Ben Shoebridge and Louis Rayner. At the end everyone headed for the infield, meaning there were no takers for the DD and a relatively early finish to a very good value day.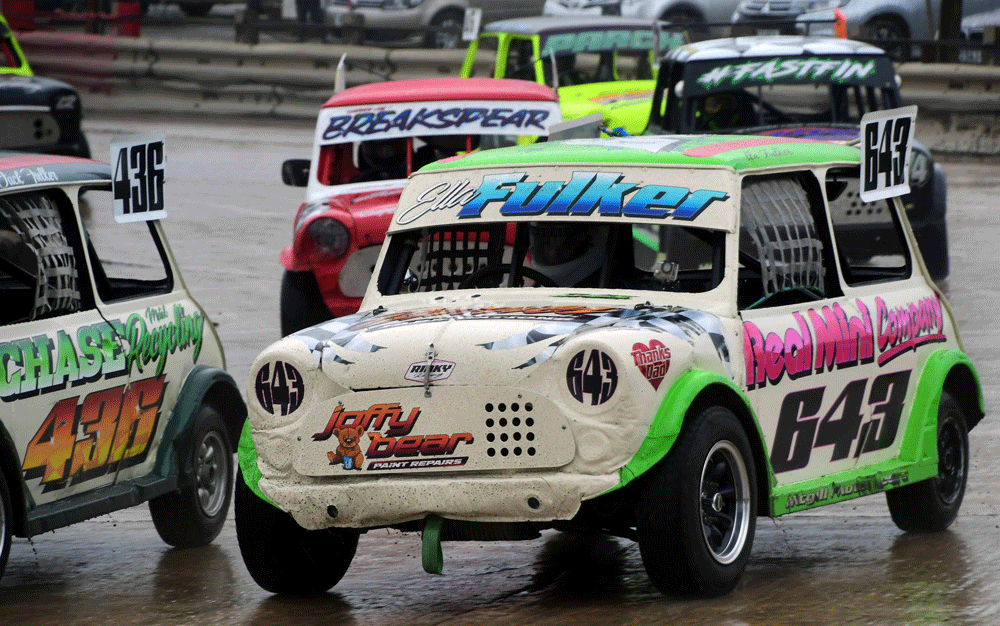 .