WATERFORD RACEWAY
Re-opening meeting - Easter Monday - 10 April 2023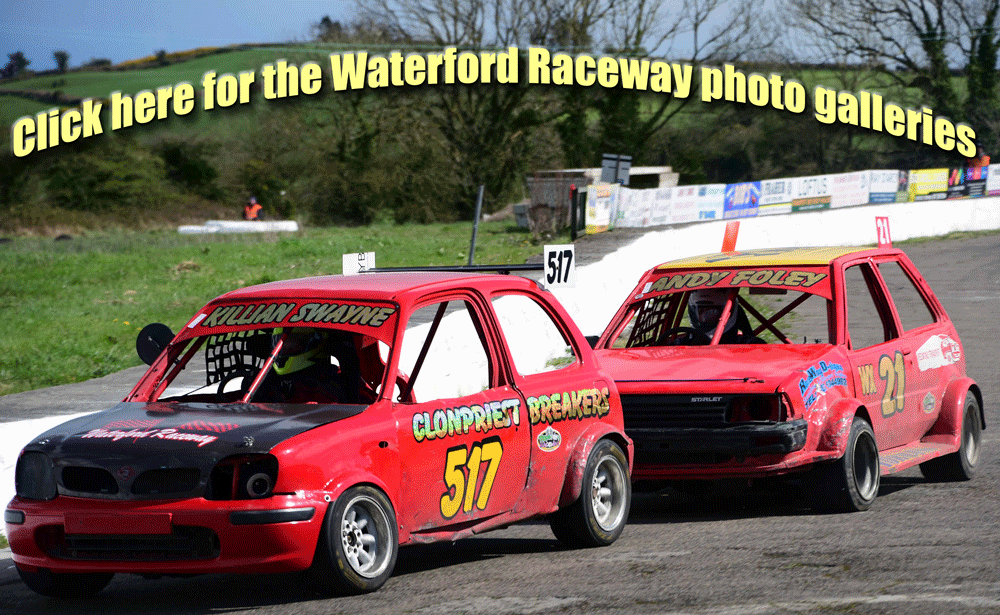 It was good at be back at The Pike, after an absence of three years! Our regular attendance at Waterford Raceway came to a halt after just one event in 2020 and, although the track re-opened for a brief 4-meeting season in late 2020, and a fuller schedule in 2021, the continuing Irish travel restrictions at the time kept us away. Then everything was again put on hold in 2022, this time purely due to the disastrous state of the Irish insurance market (arising from a seemingly uncontrolled "claims culture") which means that even the best-run Irish-based organisations can't get public liability insurance for virtually any type of activity.
The solution for the 2023 season has been affiliation to Motorsport Ireland. Similarly to Motorsport UK, the national governing body has never involved itself with short oval racing, but an arrangement's been reached whereby Waterford Raceway can run under a Motorsport Ireland permit and insurance, in the context of a continuing programme of safety improvements at the track (all effected, of course, by voluntary labour and equipment supplied by some of the track's loyal supporters).
The price of that is that the Hot Rod drivers for the first time require a Motorsport Ireland speed event licence in addition to their Waterford Raceway membership. That involves being a member of a mainstream MI member club, but the local Carrick-en-Suir Motor Club has stepped in to smooth the way for those who didn't already have a qualifying club membership. Then there are medical certificates etc to factor in, all adding to costs, although it has to be said it all comes to a quite modest total compared to most other motor sports. The nature of the Irish motorsport scene means that a fair proportion of competitors are involved in more than one branch of the sport, so may already be fully licenced.
All the work behind the scenes came to a head on Easter Monday, when the Pike opened its gate for the first time in 18 months. A small entry was inevitable, with many potential or returning racers content to watch from the sidelines until they knew it was really happening, while a busy Easter weekend kept others away. Eventually 19 cars and 21 drivers attended, with one of those not ready to race, but a full programme was put together that gave everyone plenty of track time, produced some good racing from the small grids, and most importantly reminded everyone what a friendly and welcoming venue the Pike is, as well as being a uniquely challenging and spectacular track.
A day of sunshine and showers started with a couple of extended practice sessions, before heading into four rounds of racing, with more classes being combined in the third and fourth rounds.
CLASS 1 and 2 began by running together. Conor Harty's Fiat-powered Class 2 Starlet eventually got past the battling Class 1 Micras of Kevin McNamara and James Organ. In the second run Kevin, who was turning to tarmac after his long and successful Autograss career, with a new Stephen O'Shea built Micra, was hampered by a last minute tyre change after a puncture on his way to the line. James Organ, returning to the Pike around nine years after he raced as a Junior, went on to win, while Conor Harty's day ended in flames as he took a second class win before overflow petrol ignited under the bonnet. James Organ then completed his day running against the Class 4 and 5 cars, and put up a good show.
CLASS 4 was a battle between RWD, in the form of Jim Scannell's 8-valve Opel-powered 206, and FWD, with Killian Swayne's very quick Micra. Killian missed the first race after breaking a shaft in practice, and had the shaft pop out again when convincingly leading his second race. After lunch, though, Killian featured in the two most spectacular races of the day as he battled with Wexford ace Andy Foley, running in CLASS 5 with his Starlet-Honda. Andy also lost his first race to a driveshaft failure but won his second, settled for a class win in the third, and in the fourth race Killian just grabbed the win with a brave move on the last lap. Jim Scannell had a few sideways moments when the rain came, but held off Killian to win their third race and took the overall Class 4 win.
CLASS 1B had one of the better entries, with five cars, although Jonathan McGovern wasn't able to race. Nicholas O'Leary, with his trusty K10 Micra, led the early laps of each race, but after some close battles, Ross Ryan in his shared Micra came out on top with four wins, taking the overall win from James Deane, who clocked up two seconds and two thirds, while Nicholas got onto the podium, sharing third place with Michael Kiersey, who was well in contention after curing some problems earlier in the day.
The LADIES and STOCKS raced together. Catherine Walsh, with her ever immaculate 1300 Micra, dominated the Ladies' class, although it remains to be seen whether she can complete a full season as her rallying career starts to take off. In the final race, when the ladies mixed it with the Class 1, 4 and 5 cars, Catherine impressed but was slightly slowed by her tyre choice as the rain briefly reappeared. Steadily improving all day, in her first race appearance after debuting at the Watergrasshill Sprint, was Maria O'Keeffe, sharing the ex-Peter Keohane Micra with Ross Ryan. Joe Dilworth's Focus was alone in the Stocks class and had a couple of good races before falling sick again.
The JUNIOR PRODUCTIONS had a five car grid, but one step ahead all day was Callum Swayne, having his first day at the Pike and loving it! Although he was moved further back on the grid in each race, Callum was quickly getting to the front, and ended up with four straight wins. Darryl Deane took a couple of seconds and a third, but missed his last race, so second overall after some good drives from the back of the grid was Toby McGuire, back to his roots after his recent Rallycross performances and having a test run in his new Autograss Yaris. Liam Kiersey was well in contention in the later races after his shared car wouldn't run cleanly early on, and Aoife Healy was also competitive, especially when holding off Toby in the first race.
The ROOKIE JUNIORS featured a couple of cars; 10-year-old Sean Ryan was making his Pike debut, although he already has a year's experience in his Micra, while Molly Walsh was having her first ever drive. Sean won all four races, and the bonus fifth run, while Molly steadily picked up speed and confidence all year.
It all bodes well for the season, which continues with round 2 on 30 April.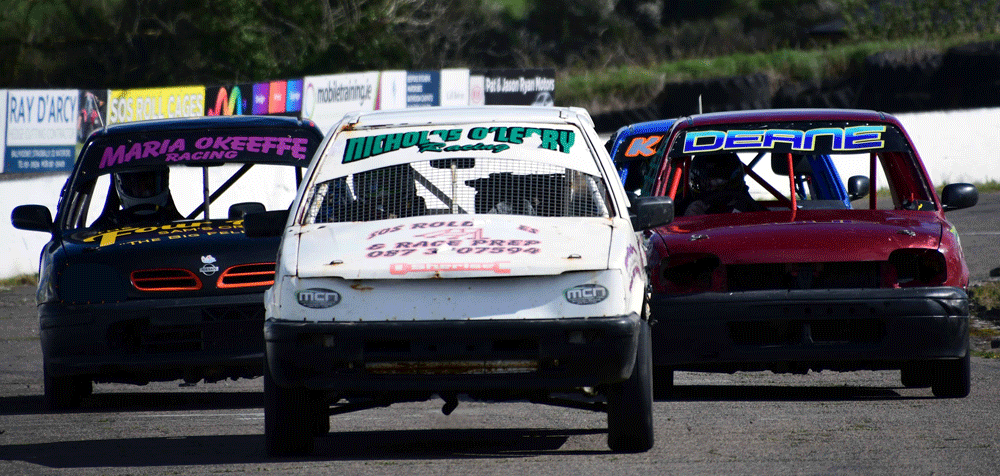 .