SWAFFHAM RACEWAY
Rolling Thunder Show Round 4 - 22 April 2023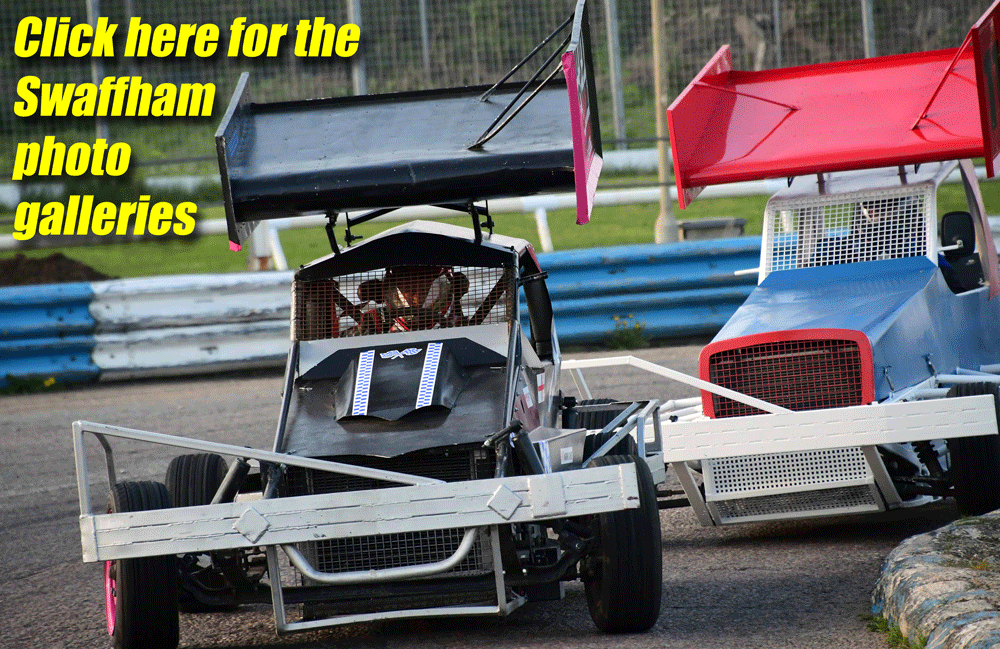 Round four of the Rolling Thunder Show Swaffham season (we unfortunately missed rounds two and three due to clashing dates) provided the best turnout of the year so far, with 46 cars on hand, and also some of the best racing, with a slick turn around of races (bar one unavoidable delay) on a dry and mainly sunny evening.
Headlining the meeting was the second attempt at the East Anglian Championship for the FRONT-WHEEL-DRIVE HOT RODS. The first attempt, at Easter, had been abandoned after just two laps' racing when Chris Head's Fiesta punched a hole in its gearbox, the resulting oil slick taking out all but two cars. This time there was a very encouraging nine car turnout (already getting closer to last year's numbers) but it was almost déja vu in the first heat as Kev Brocklesby's Corsa fell foul of the kerbs on the first lap and immediately oiled down most of the track. This time the situation was saved by rapidly stopping the race for a 20-minute clear-up, before the action resumed with Chris Cole's Puma holding off the Fiestas of Chris Head, Chris Thirkettle and Kev Head. The second heat had the five surviving point-scoring drivers reversed on the grid. Kev Head led them off but Chris Head, despite running a standard gearbox and open diff after his Easter problem, held on round the outside for several laps before finally clearing his uncle's line and winning from Chris Thirkettle and Chris Cole.
These results put Chris Head on pole for the 30-lap final and it proved to be a fast, close and incident-free race with Chris Head leading all the way from Chris Cole and Chris Thirkettle, although it got very close at half-distance when the leaders were trying to lap two cars having an intense side-by-side battle. Kev Head dropped back a bit but came a good fourth ahead of Wayne Hewitt, making his first appearance in one of Jem Probert's pink Corsas, and holding off Andrew Buckett's Citroen C2. Jem Probert himself was out in a newly built 1.6 16 valve Nova, with a spot of understeer, but dropped out five laps from home, while the other retirement was Matt Carter, second time out in his 8v Corsa, resplendent in a very striking new gold and pink livery, who pulled off at half distance after a close duel with Wayne Hewitt.
The other star attraction was the V8 STOCK CAR TOUR, making the first of several Swaffham appearances this year, with 12 cars travelling from far and wide. The first race saw a convincing win by young Ellie Dickerson, taking her first win in only her third meeting with the V8s, with Pete Scott, 60 years her senior, making it through from the back to take second in the closing stages from Bill Chance. The second heat saw plenty of hard hitting action, starting with Max White propelling Ellie Dickerson wide, while Pete Scott and Colin Moss headed for the fence, soon joined by Sam Wainwright and Paul Collins. Micky Jennings led the early laps before finding the standing water on the outside of turn four and also heading fencewards. Bill Chance took over for a strong win, with Ellie recovering to second and Sam Wainwright, Pete Scott and Colin Moss completing the top five despite losing a lap at the start.
The final was missing Micky Jennings, while Paul Conde had another troubled outing, only managing a couple of laps in the first heat. Paul Collins had been going well all evening and this time grabbed the lead, holding on for four laps before Bill Chance came through, with Bill never being challenged for the rest of the twenty laps. Ellie Dickerson got another great result in second, with Pete Scott rapidly closing in third, ahead of a last lap sort-out that saw Colin Moss grab a close fourth from Sam Wainwright and Paul Collins. Sam Chambers was next, with Ant Filby being chased home by Max White and Dan Jennings.
The 1-LITRE HOT RODS again provided good racing, with Freddie Chandler joining in on a rare opportunity to race between his family's ever-busier circuit racing commitments. Also joining the group was Dominic Thornton, having his long awaited first race. Ex-Autograsser Sid Pearl held off Emilie Smith and Danny Coombes to win the first heat, while Emilie took the second with Sid just beating Danny for second. The final provided the day's third winner as Danny Coombes drove a perfect race up front, while Sid Pearl fended off Emilie Smith for second. Courtney Hales yet again made the long trip from Sussex and took a very competitive fourth, ahead of Freddie Chandler, while Dominic Thornton had a very sensible first meeting, picking up speed all day but giving the battling leaders plenty of room.
Eleven NINJA KARTS turned up and enjoyed an action-packed evening. Tyler Stephens won the first race, chased by Parker Smith, Stanley Mattioli, Leo Mayes, Daniel Holland and Thomas Wilkins, with early leader Harley Flegg also caught by Connor Watson, a "Sunday" Swaffham regular making his RTS debut. The second race was red flagged after a tangle between Frankie Read and Harley Flegg. The restart was supposed to be a two lap dash but was quickly stopped when Daniel Holland and Leo Mayes went spinning. Through it all William Myatt held the lead and claimed a good win from Stanley Mattioli, Tyler Stephens and Parker Smith. The final was also stopped after Frankie Read and Leo Mayes spun, with a couple more getting in trouble as the yellows came out. From the restart, Tyler Stephens led all the way to the finish, but he was judged to have been too quick on the restart and was dropped to third, giving the win to Stanley Mattioli from Thomas Wilkins. Leo Mayes was close behind, while William Myatt just beat Connor Watson and Daniel Holland after Freddie Taber stopped on the last lap.
After a healthy 8 car turnout last time, the LIGHNING RODS were down to two cars this time, but provided a very close duel. Danny Sanderson continued his successful return after several years away by winning the first heat, but in the second Russ Thornton stayed with him all the way before grabbing the lead back on the last lap. Russ won again in the final, hanging on for the second half of the race after some good side-by-side action.
Also down to two cars were the JUNIOR SCREAMERS. Evie Smith's Fiesta had the advantage over Rosie Taber's Micra in the heats so Evie was given a half lap handicap in the final. Rosie responded by continuing to pick up speed and finished still well clear of Evie to take her first win.
There were four cars present for the SCRAPYARD SCREAMERS but only three raced after Gary Carter's Rover broke its diff. Kieran Robinson's Rover Coupé won both heats but in the final couldn't get past the battling Focuses of Joe Barber and Dan Booker, with Joe taking a close win.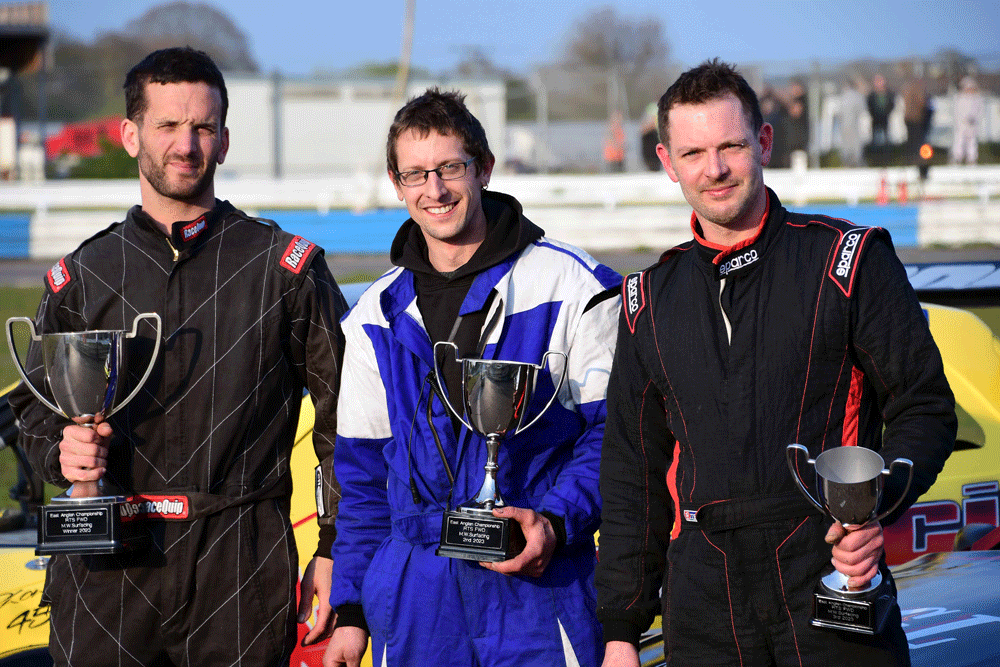 .