STANDLAKE ARENA
23 April 2023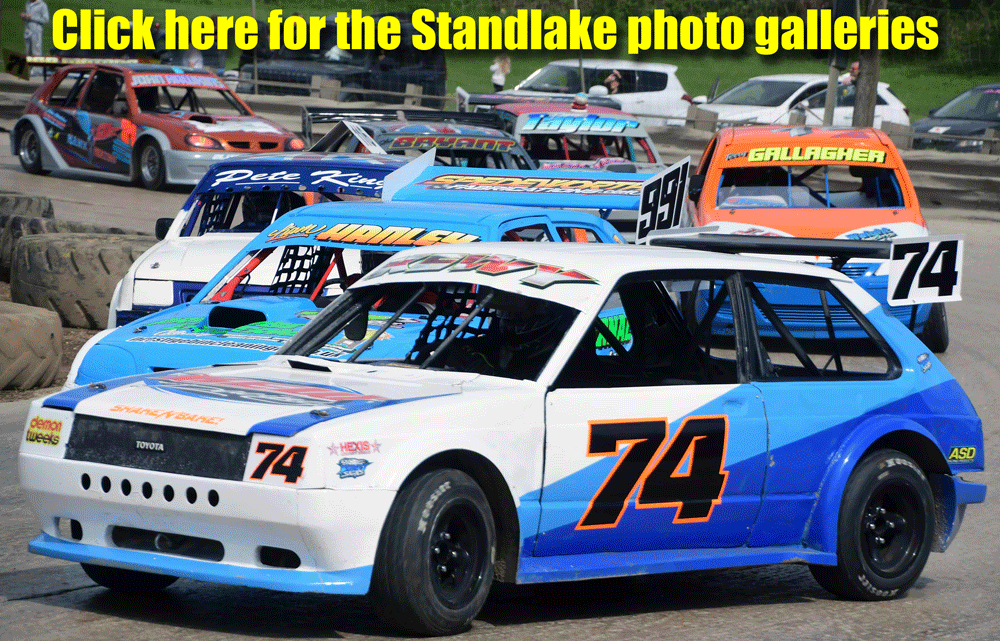 Another very busy meeting at Standlake, sandwiched between two Bank Holiday dates, provided loads of action, some of it wanted (especially the show put up by the 1-litre Stock Cars), and some of it unwanted with both the Prod As and the 1600 Productions having the riot act read to them at one stage. Big entries meant that three of the classes (the 1 Litre Stocks, the 1600s and the Juniors) needed split heats, with a two thirds format in each, resulting in a longish 28-race programme, mostly in dry weather with one or two heavy showers during the finals.
Heading the bill were the HOT RODS, having their third outing of the year, with an encouraging entry of 18 cars, after grids of 13 and 10 in their first two rounds. The unique Standlake format mixes the RWD Outlaws with FWD 1450s, mostly in Stock Rod form, and this time, although Rowland Passey's FWD Corsa didn't make it out, there were 11 FWDs starting half a lap ahead of the 6 RWDs. It didn't take long in the first heat for the leading FWDs to catch the RWDs, with the Corsas of Nick Price and John Hatch swapping the lead until John got spun into the armco in traffic, leaving Nick well in front to take the win. A bit of chaos in the pack saw Josh Campbell Breakspear's RWD Nova facing the wrong way and Peter Harris' Stock Rod Vauxhall Adam balanced on top of a marker tyre, while John Hawkins' Saxo emerged as the quickest of the Outlaw cars, catching up to third behind Nick Price and Pete King's Nova. Les Hatch and Terry Gallagher in their Corsas were fourth and fifth ahead of the next of the Outlaw cars, Martin Faherty's redtop-powered Fiesta, just staying ahead of the leaders on the road. Next up was Chris Kew, going well in the beautifully turned out ex-Andy Goodman Duratec-powered Starlet, in front of Josh Cornish's new Stock Rod Corsa and Steve Bryant's Pinto-powered Fiesta. Completing the finishers were a recovering Josh Campbell, Naomi Harvey's Tigra, Kevin Bowen's Nova, and Jamie Webb's SEGTO 1450 Nova. Liam Hanley's eye-catching Outlaw Saxo dropped out with a misfiring engine and Darren Taylor's redtop-powered Nova pulled off in the warm-up laps.
The second heat was led for a few laps by Kevin Bowen, before Nick Price took over and pulled away to another convincing win, chased all the way by John Hatch and Naomi Harvey. Until the closing stages these three were the only ones to escape the queue that built up behind Kevin Bowen in fourth, with Nick Price soon catching the back of the queue and having to work his way through the traffic. It all came to a head with Kevin Bowen getting bundled out of the way onto the infield, several cars including Steve Bryant and Darren Taylor spinning, Liam Hanley dumped in the fence and Pete King off with heavy damage. The survivors all ended up a lap behind the flying Nick Price, with Josh Campbell taking fourth ahead of Terry Gallagher, Martin Faherty, Les Hatch, John Hawkins, Chris Kew and Pete Harris, while Jamie Webb was an early retirement.
This just left ten cars for the final on a damp track, reduced to nine when Les Hatch had what sounded like a driveshaft problem in the warm-up. Long time Stock Rod racer Pete Harris went straight to the front this time and led all the way to come home a delighted and deserving winner in his first Standlake outing, while Josh Campbell came through to second and Nick Bowen took the third trophy as he held off the battling Chris Kew and Darren Taylor. Naomi Harvey got the better of John Hawkins for sixth and Martin Faherty struggled for grip in eighth after John Hatch pulled off.
The 1-LITRE STOCK CARS have been a highlight on all their visits to Standlake and this time were treated to a trophy race titled the Oxford Championship. The K11 Micra-based class started as a popular local Angmering invention, and was also briefly a SEGTO class, but didn't last long at its original home before a split in the ranks and diverging specs came into play. However, it's now found its place as a well-run national independent class with over 50 active drivers, racing at venues such as Ringwood, Swaffham and Grimley as well as Standlake. The 23-car field raced in graded order for their three split hearts with an all-in final starting in points order. The racing was action packed throughout, the beauty of this class being that they can use the bumpers as much as they like, with anyone who takes a hard hit just burying the right foot to straighten up, or using a bit of help from the armco! The first heat saw Jamie Eltham pull out of the lead, leaving Chris Polley briefly in front. Emmanuel Ellul led after a restart caused by a marker tyre straying on the track, but Chris Polley took the advantage back and won from Emmanuel, with Bradley Eltham heading a battling pack for third ahead of Danny Johnson, Colin Wilkinson, Jamie Lee Thompson, Alec Constanduros, Tim McConnachie-Brown, Kellie Weeks, Francesca Ellis, Adam Ward and Jack Bailey, with Lee Britton a last corner casualty to join Jamie and Gary Eltham on the infield.
Heat two was led away by Joe McConnachie-Brown, with Jamie Eltham taking another turn in front before Lewi Hart took over to win. Jamie Eltham held on in front of the main hard-hitting pack for second, with Craig Eltham, Joe McConnachie-Brown, Gary Eltham, Adam Ward, Standlake regular Luke Martindale, making his class debut, Bobby Johnson, Jake McCarthy, Emmanuel Ellul, Kellie Weeks, Luke Tombs, Francesca Ellis, Jamie Lee Thompson and Lee Britton all in the thick of it, and Harry Truman being the only casualty.
Heat three featured Joe McConnachie-Brown and Chris Polley at the front before the reds came out with Tim McConnachie-Brown walloping the fence. Craig Etham snatched the lead from Chris Polley on the restart and Lewi Hart had a turn in front before Danny Johnson came through to win from Craig Etham, Chris Polley, Bradley Eltham, Bobby Johnson, Joe McConnachie-Brown, Colin Wilkinson, Alec Constanduros, Luke Martindale and Luke Tombs.
19 cars lined up for the final, with Lewi Hart, Tim McConnachie-Brown, Luke Tombs and Harry Truman not making it, while the heat results had put Chris Polley and Danny Johnson at the front. These two proceeded to swap the lead for most of the race, with Chris seeming to establish himself in front before getting caught up in a big tangle with lapped traffic and a car rejoining from the fence all contributing to major chaos in which Chris was sent spinning across the infield. The reds came out and the 17 survivors (everyone except Bobby Johnson and Emmanuel Ellul) lined up for a five-lap dash, with Adam Ward, a newcomer to the class after racing Prod A at Standlake and Tongham last year, having worked his way to the front of the queue. Adam then made a perfect restart and kept clear of all the potential hits from behind to take a well earned first win, and first championship title, in the class. Craig Etham emerged second, ahead of Luke Martindale, who claimed yet another Standlake trophy. Jamie Lee Thompson was a good fourth, just ahead of Chris Polley, Luke Tombs and Colin Wilkinson. The next bunch was headed over the line by Joe McConnachie-Brown, from Alec Constanduros, Jake McCarthy, Bradley Eltham, Francesca Eliis, Jamie Eltham and Kellie Weeks, while Lee Britton completed the finishers after Danny Johnson and Gary Eltham got into a late tangle.
PRODUCTION A started with a strong turnout of 20 cars. Two Tongham visitors both somehow ended up in the white grade and Aaron Hough in his immaculately refurbished Micra led most of the way to win the first heat, his only worries coming when he had to steer clear of one or two local rivalries! Lance Webb, in the ex-Tyler Cummins Micra was close behind in second, with Mike Spicer's Nova coming through to take third after class newcomer Rich Webb in another Nova slowed on the last lap. Andy Passey headed the next bunch from Liam Ivins, Dave Robins' Micra, Kelvin Passey, Jason Keitch's Corsa and Bradley Stratford's Micra, while Katy Kerbey was in contention with her Nova before suffering "traffic" problems.
The second race was impressively led all the way by Rich Webb, with Jason Keitch second from Dave Robins and Mike Spicer taking fourth from Aaron Hough, who prioritised staying out of trouble. The race was dominated through by an incident that saw Andy Passey shoved hard into the fence, left facing the wrong way on the outside of the track, while subsequent incidents on the infield led to a couple of drivers earning loading-up orders – just hoping that such incidents don't get reflected in the future support for a class that's been getting good turnouts lately.
14 cars came out for the final, on a wet and greasy track, with Aaron Hough leading the way for 16 out of the 18 laps despite coming almost to a halt to avoid a car spinning in front of him. That saw Aaron caught and it was Jason Keitch who came through in the closing stages to win from Aaron and Dave Robins, with Geoff Davis an excellent fourth in the best of the Minis. Rich Webb had another good run to fifth in front of David Heale's Nova, and then came Liam Ivins and Lance Webb. A lap down in ninth was Ricky Jenkins' Nova, ahead of Lee Maslen's Mini and the second Tongham visitor, Kyle Hough's Peugeot, while Madie Oxlade's Mini, Terry Iles' Tigra and Cody Keitch's Nova retired.
The 1600 PRODUCTION field also benefited from a couple of Tongham visitors, Matt Gurr and Jack Soper in the pair of smart Fiestas they'll be running in the Thunder Rods. A 27 car entry meant split heats, although only 22 eventually raced. Even with heats of 14, 14 and 10 though, the action was hectic with quite a few drivers letting their frustration in the traffic queues get the better of them! Matt Gurr and Jack Soper ran away with the first race, with Rhys Cane's Astra taking third from Mick Jones' Focus, Owen Hunt's Rover and Jazz Kelt's Civic.
Matt Gurr had another runaway win in heat two, spending most of his race carefully picking his way past the queue of cars jostling behind Daniel Cliffe's second placed Fiesta. Daniel held second to the end, fending off Paul Burgess' Civic, Adam Limbert's BMW Mini, Kyle Escott's Fiesta, Owen Hunt, Glenn Lewsey's Civic, Ben Tuck's Civic, Stuart Pitson's Focus and Rhys Cane, although there were several cross flags and one black dished out among that lot.
With just ten cars in the third heat, they all queued up behind Leigh Kellaway, in the 1.2 Punto previously raced by Mia Cliffe, who defended the lead until he was spun into the pit gate for his trouble! Ben Tuck took over to win from Mick Jones, Jack Soper, Adam Spencer's Civic, Stuart Pitson, Kyle Escott, Lawrence Allen's Fiesta and the Civics of Lewis and Tristan Stayte.
17 cars qualified for the final, with just one non-qualifier lining up at the back. Daniel Cliffe took over from early leader Glenn Lewsey and then held on in front until Matt Gurr finally found a way past with five laps to go. Matt went on to another win, while Daniel held off Rhys Cane for second. Jazz Kelt continued her good run of results with fourth (before getting dropped a place for a cross flag), clear of the main pack in which Adam Spencer headed Glenn Lewsey, Paul Burgess, Stuart Pitson, Adam Limbert, Kyle Escott, Owen Hunt, Tristan and Lewis Stayte and Ben Tuck, while Jack Soper was a lap down after getting spun on the first lap and Ben Parsons' Fiesta completed the finishers, Lawrence Allen and Mick Jones retiring.
The JUNIORS had their first event of the year with the novices joining the graded drivers, and a three heat format for the 28 car entry – it apparently could have been four heats had not too many left their entries to the last minute. The first heat was a bit fraught, with two restarts after incidents for a couple of the novices, but Archie Parker came through to take the lead from Jacob Turnage, with Jacob holding second at the end from Alfie Martell, Isaac Harris, Ella Fulker and Harvey Breakspear. Charlie Bendle, Oscar England, Bobby Cushion, Alexia Parker and Connor Pullen completed the order.
The second heat was led for a while by Ellie Packer until Jacob Turnage took it up, and Jacob was still in front when the reds came out for an early finish, after a coming-together for Morgan Cooper, Ellie Packer and Ollie Ireson. Joel Pledge took second ahead of Alfie Martell, Ella Fulker, Isaac Harris, Finley Kew, Jack Umney, Freddie Truman, James Sharp, Bethany Lawrence, Bradley Ball-Nicholls, Alexia Parker and Lucas Turnage.
Heat three also ended with an early red flag, this time with Harvey Breakspear in front of Jack Fulker and Finley Kew, with earlier leader Rosie Stoton in fourth, when Ollie Ireson, Bethany Lawrence and James Walker tangled. Fifth place went to Jack Umney, and then came Joel Pledge, Archie Parker, Charlie Bendle, Ellie Packer and Feddie Truman, with Bradley Ball-Nicholls, Bobby Cushion, Harry Gingell, Lucas Turnage and Connor Pullen all still running.
Fourteen cars qualified for the final, which started in heavy rain and finished in bright sunshine. Not for the first time, Ella Fulker shone in the wet conditions, finding grip where nobody else could and coming through to take the lead at half distance after Oscar England and Rosie Stoton made the early running. Jack Umney chased Ella home in second, with Rosie Stoton in a good third. Joel Pledge was fourth in front of Isaac Harris, Alfie Martell, Finley Kew, Harvey Breakspear, Oscar England and Jack Fulker, with Archie Parker, Freddie Truman and Jacob Turnage completing the finishers after Charlie Bendle caught the fence.
A non-qualifiers' race brought out 11 cars, although Bobby Cushion and Ellie Packer both had problems before the start, and James Walker quickly joined them on the infield. Bradley Ball-Nicholls and Bethany Lawrence both led, but when Ollie Ireson hit the front he pulled out half a lap's lead to win from Bethany, Morgan Cooper, Bradley, Lucas Turnage, Connor Pullen, Harry Gingell and Alexia Parker.
The main Banger action came from the LADIES' BANGERS with 22 cars racing. The first heat went to Naomi Harvey, doubling up from the Hot Rods, chased by Abbie Deeprose, and Abbie then held off Gemma Gardner to win the second heat. Both heat winners got disposed off during the final, and it was Sarah Lacey's Focus that came home the winner from Chloe Bricknell and Allie Goodall, with Tracey Green, Alisha Lawrence and Zoe Fermandel completing the top six. There were still 16 cars running for the closing Dash, in which Tracey Green held off Abbie Deeprose to win, with Lauren Bricknell, Gemma Garner, Chloe Bricknell and Sarah Lacey in hot pursuit.
NATIONAL BANGERS up to 2 litres were also on the programme, with a dozen of the 15 entries turning up and enjoying some fast racing with certainly less contact than the ladies (and some of the other classes!) laid on. Aaron Charles' Focus won the first heat, chased by Tom Castle, while a close second race was snatched on the line by David Tyler from Aaron and Tom. The final provided yet another win for aaron Charles, who was chased by David Tyler, Kenny Gabriel and Adam Bligdon, with Brad Deeprose and Alex Ganter completing the top six. Eight cars came out for the Dash, also won by Aaron from Brad Deeprose, before Aaron made a quick switch to another Focus for the 4-car DD, which came down to a showdown between Aaron and Brad with Brad getting the verdict.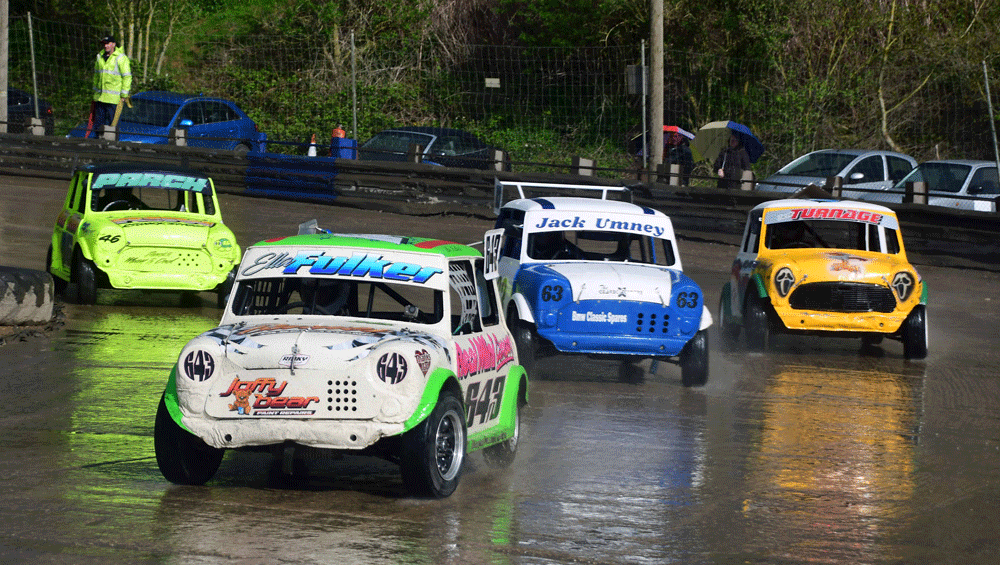 .